Draymond Green turned on Team USA's critics after landing another basketball gold medal at the Olympic Games, saying: "Somebody needs to teach these people some loyalty."
A sketchy start to the Tokyo 2020 mission was followed by steady improvement from Gregg Popovich's team, and an 87-82 win over France in Saturday's final tied up a fourth successive gold-winning campaign.
Pre-tournament losses to Australia and Nigeria hinted at teething problems in fusing together a new-look squad, and an early-group stage loss to France only fuelled doubts that this side might come up short.
But the United States team came good when it mattered, fending off a France side who kept coming back for more in the gold game.
Golden State Warriors power forward Green has now played on two of the Americans' triumphant men's basketball Olympic teams, and he was keen to hit out at what he called "a lot of doubters".
"You turn on American sports talk, TV, or whatever, and you got guys like Kendrick Perkins doubting us," Green said.
Perkins, 36, is a former NBA championship winner with the Boston Celtics who now works as a television game analyst and commentator.
"Somebody needs to teach these people some loyalty. How about you cheer for your country?" Green said.
"When a guy doesn't play they say, 'Oh you need to represent your country', and then you lose, hit a little bump in the road, and everybody is mad in America. You are an American too, act like it.
"Do your job. I do some media stuff, I understand doing your job, but when you talk about a special group, you better be sure you are right, and a lot of people got it wrong.
"And trust me, I will be posting those guys, I'll be posting everyone I find who said something. No one holds anyone accountable any more, but I will."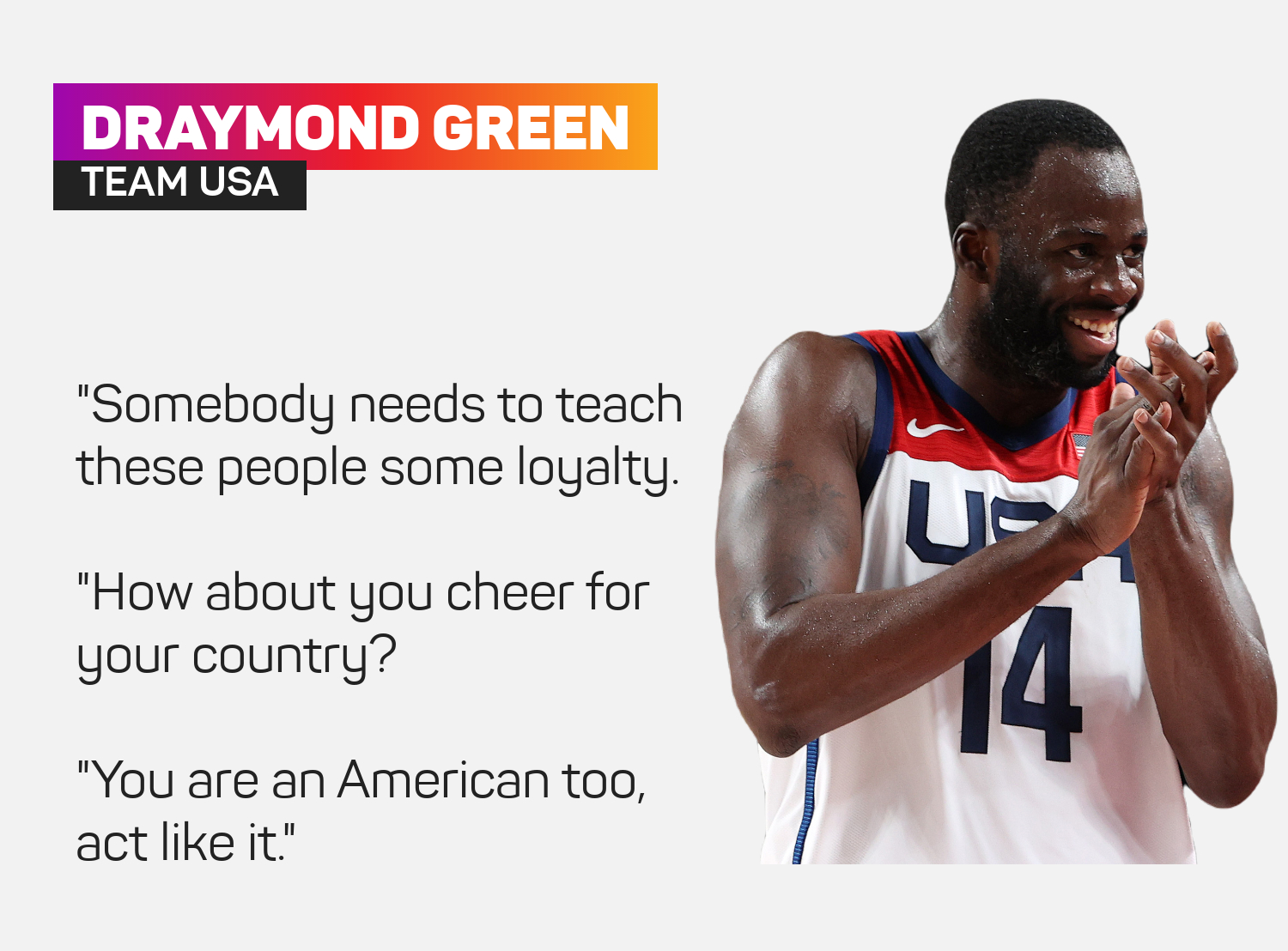 Kevin Durant was the driving force behind the USA's success, scoring a game-high 29 points in the final and being a powerful presence during the tournament.
Like others, Green said that Durant "carried" the team, but he also pointed to the efforts of Jayson Tatum, Devin Booker and Jrue Holiday as being significant.
"It's a challenge to do special things," Green said. "I know it seems as if it has come easy for so long, but I played in 2016. It wasn't easy then, it wasn't easy this year.
"If it's worth having, you have to fight for it. We fought, they fought, I think the better team came out with the gold medal."
With families unable to join the team in Tokyo, and the Games coming on the back of a taxing NBA season, Green suggested this was a win to savour perhaps more than the Rio success, where there were no issues as imposing as the ongoing COVID restrictions.
"Don't get me wrong, I don't take either one for granted, but this one feels sweet," Green said. "It feels a lot sweeter."