Barcelona lack many things right now: a top level coach, a Champions League wage budget, Lionel Messi, of course. But a nose for narrative? That has never been in question.
Luis Suarez's apologetic celebrations at the Wanda Metropolitano on Saturday, as Ronald Koeman checked the charge on his mobile phone, represented merely the latest desperate development for those of a Blaugrana persuasion – all too predictable, all too preventable.
For so long Suarez, who made one and scored one for Atletico Madrid in this 2-0 victory, had been in the Barca ranks, an unwitting spectator for a stretch of their spectacular collapse from European football's shining example to its great crisis club.
Barca at least had rather less say in the departure that kickstarted this decline than in Suarez's.
The beginning of the end, it seemed, came on the night of one of their greatest wins, a stunning 6-1 success against Paris Saint-Germain orchestrated by Neymar. In overturning a hefty first-leg deficit but allowing the Brazil superstar to step out from Messi's shadow, Barca's joy emboldened his desire to be the main man in his own team – the other team, to be precise.
Of course, Neymar left, and Barca, rather than rallying from behind, twice in the next two seasons built big European leads of their own – at home to Roma and Liverpool – only to remarkably let both bring about return-leg remontadas.
The Blaugrana, seemingly without a thought for their finances, responded to the Liverpool reverse with their third nine-figure signing in three years, as Antoine Griezmann followed Philippe Coutinho and Ousmane Dembele to Camp Nou and followed both in underwhelming.
By the time their next Champions League campaign concluded in typically farcical fashion, all three were on the bench – Griezmann and Dembele for Barca, Coutinho for opponents Bayern Munich. On came Coutinho, still on loan from Barca, to score twice in 15 minutes against his parent club. Since returning to Catalonia, he has scored three times in 1,041 minutes, missing their best chance on Saturday.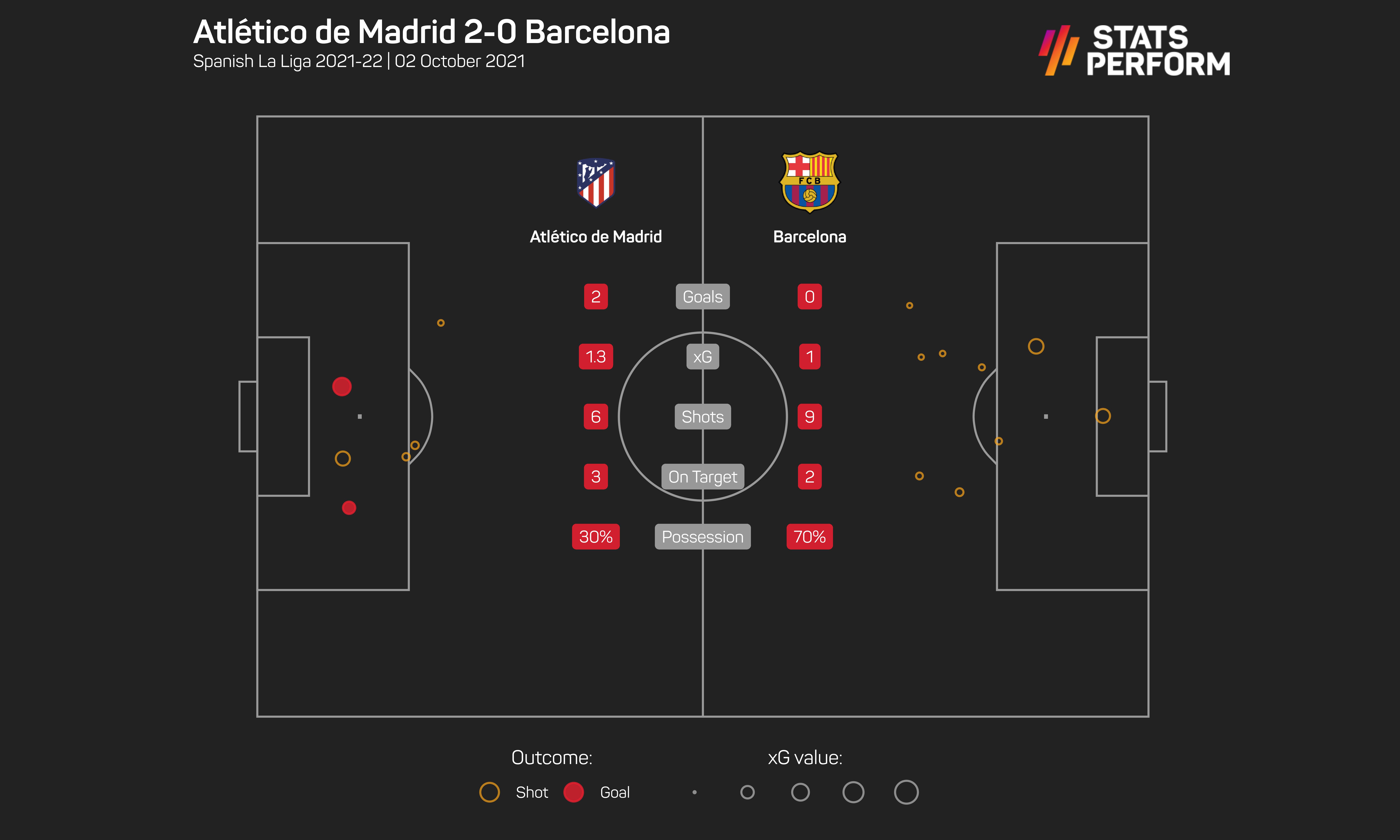 Bayern's 8-2 win prompted Quique Setien's sacking and Koeman's appointment, which surprisingly then spelled the end for Suarez. "The coach did not count on me," the striker said as he joined Atletico. "I expected it, it had already been said before he told me."
From an eight-goal humiliation, a club of Barca's size should only be able to head in one direction, back on the ascent. But Suarez's departure deepened the damage. An unsettled Messi allowed his contract to run down and, in a manner that only Barca could manage, had to leave even once he changed his mind.
Four years of bad decisions led Barca to this point and Suarez, starting in the Atleti attack, was never likely to be one for sympathy. With neither a coherent plan nor an individual of era-defining talent to fall back on, Koeman's side were ill-equipped to deal with a man he had deemed surplus to requirements.
Twice Atleti pulled the Barca back line apart, Koeman phoning in from the stands due to a touchline ban but mirroring the gesticulations of Gerard Pique, Sergio Busquets and Memphis Depay as the visitors failed to get close to Suarez.
A drop of the shoulder from Joao Felix for the first brought him inside from the left to find his strike partner, whose first-time pass around the corner set Thomas Lemar clear to finish high into the net.
The same trio combined for number two, Lemar playing a patient one-two with Joao Felix down the same left flank and then lofting an inch-perfect pass over last defender Pique for Suarez to control, compose himself and steer past Marc-Andre ter Stegen.
"The opponent in front of us is special, but my work must be dedicated 100 per cent to Atletico," Suarez told Movistar afterwards – the Atleti goal never truly troubled as they earned a third straight LaLiga clean sheet against Barca for the first time ever.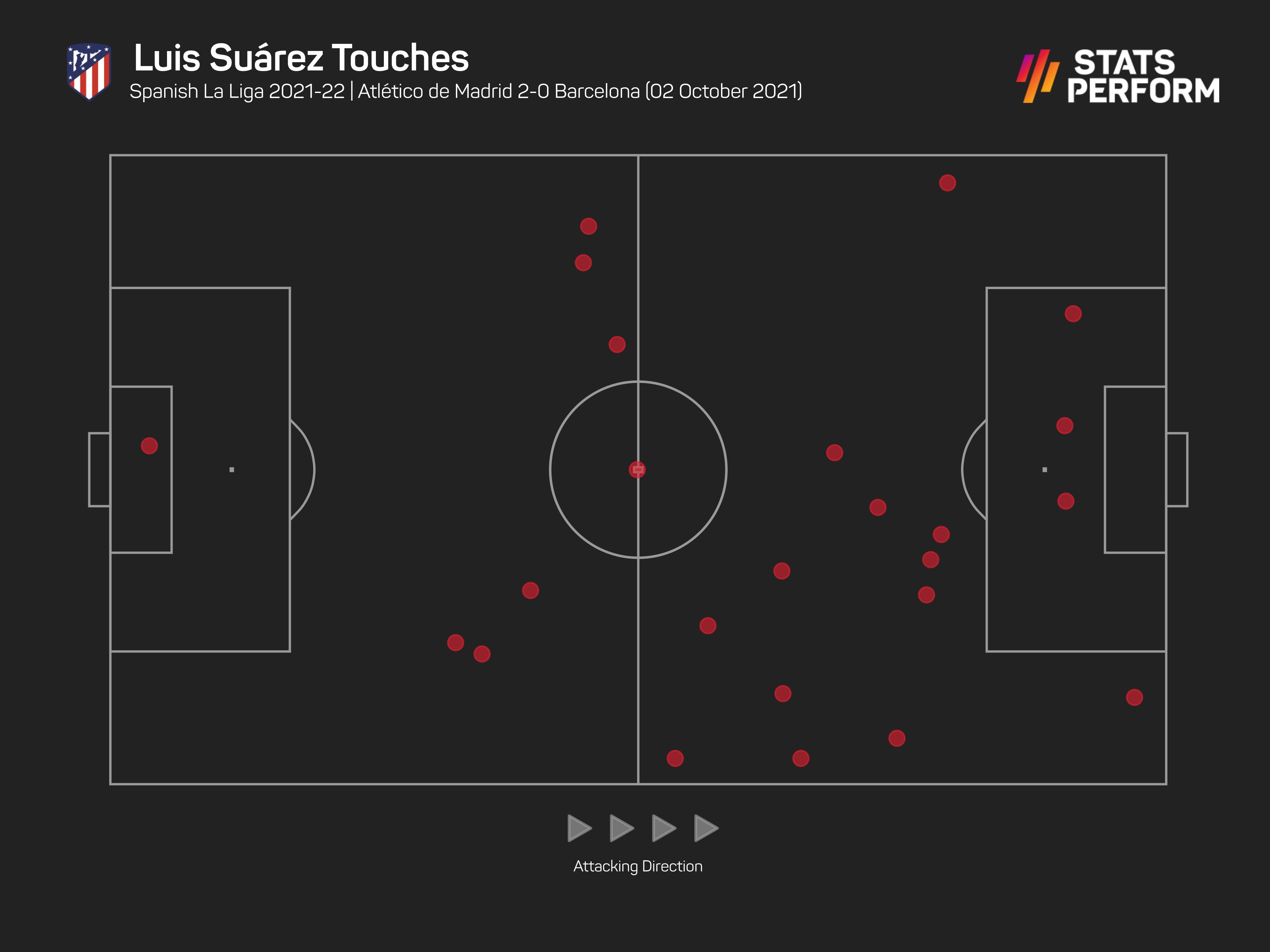 By full-time, Suarez had been able to remove the wide grin from his face long enough to console his former team-mates, having moments earlier been hopping with glee on the Atleti bench.
He was replaced with 18 minutes remaining but surely would have added to his tally had he stayed on the pitch. Instead, Atleti's final big opportunity fell to Griezmann, back on the bench in a big Barcelona game, this time playing the Coutinho role for the opposition. Rather than ruthlessly finish like either of the ex-Liverpool men when faced with the chance to punish the club he used to call home, Griezmann went for a pass, which he comically misplaced. With a future obligation in his loan switch meaning he will not return to Camp Nou like Coutinho, the France international need not have been so generous.
Despite sharing more than seven years between these two teams, Griezmann has somehow never scored in this fixture – featuring in every edition in that time – and never won LaLiga. Atleti had gone 20 without a win against Barca before last season's meeting, in which Griezmann started for the Catalans.
An underwhelming start to his second Atleti career saw him dropped for this game, setting the stage for Joao Felix to excel, contesting 10 duels, winning four fouls and playing a key role in both goals. Griezmann is an expensive substitute; Barca's €97million salary cap could not even fit him in the first team.
Nor, it seems, can they afford to sack Koeman, out of his depth but determined to stick around. His future, Joan Laporta said, was safe regardless of this result.
Surely only that financial factor will prevent Suarez from seeing off the coach that ended his Barca stay. Scoring against the 31st of 31 LaLiga opponents, the forward gave it a good go, at least.