Ole Gunnar Solskjaer deserves credit for making "big improvements" at Manchester United as he approaches his three-year anniversary in charge, says Bruno Fernandes.
United manager Solskjaer remains under intense pressure ahead of Saturday's Premier League derby with Manchester City following an underwhelming start to his third full season in charge.
The Red Devils have won just half of their opening 10 Premier League matches, a run that includes a record 5-0 home loss to fierce rivals Liverpool in their most recent match at Old Trafford.
A 2-2 draw with Atalanta in the Champions League in midweek has scarcely lifted the pressure off Solskjaer, who has yet to win any silverware since his appointment in December 2018 on an initial caretaker basis.
But Fernandes – brought to United in January 2020 – insists the players are just as much to blame as their manager for results.
"He brought me to the club, he gave me the chance to play in this amazing club, he made my dream come true," Fernandes told Sky Sports. "He is a great person and everyone knows the human part of him.
"It's normal people get upset because the results don't come, but it's too easy to blame only the coach. We go on the pitch, we should do better.
"We could say the system is not good enough, but we played 4-2-3-1 for three years. We got to some finals, which we didn't win, I understand that, but we got to second place last season and no one was expecting us to have as good a season as we did.
"It was not as good as we want, but it was a good season overall after what everyone was thinking.
"If we didn't drop those points in January, February, we could have been much closer to City. There has been big improvements in the team, big improvement in the club since he arrived, and I think he deserves credit.
"I think he's capable to do more and us as a team are capable to do more. That doesn't depend only on the coach. We have to try to help him because he is trying to help us."
United have 17 points from their opening 10 league games and are eight points adrift of leaders Chelsea. That compares to 19 points at the same stage last season when going on to finish third and 13 after 10 games in 2019-20 when finishing sixth.
"It's not what we want, of course, and we dropped points against Everton, Aston Villa, and Liverpool at home," Fernandes said.
"Last season it was a problem at home, we started the season really well at home to Leeds and Newcastle and in the Champions League too. But we're still dropping points at home and we know that. It's not only the coach's fault."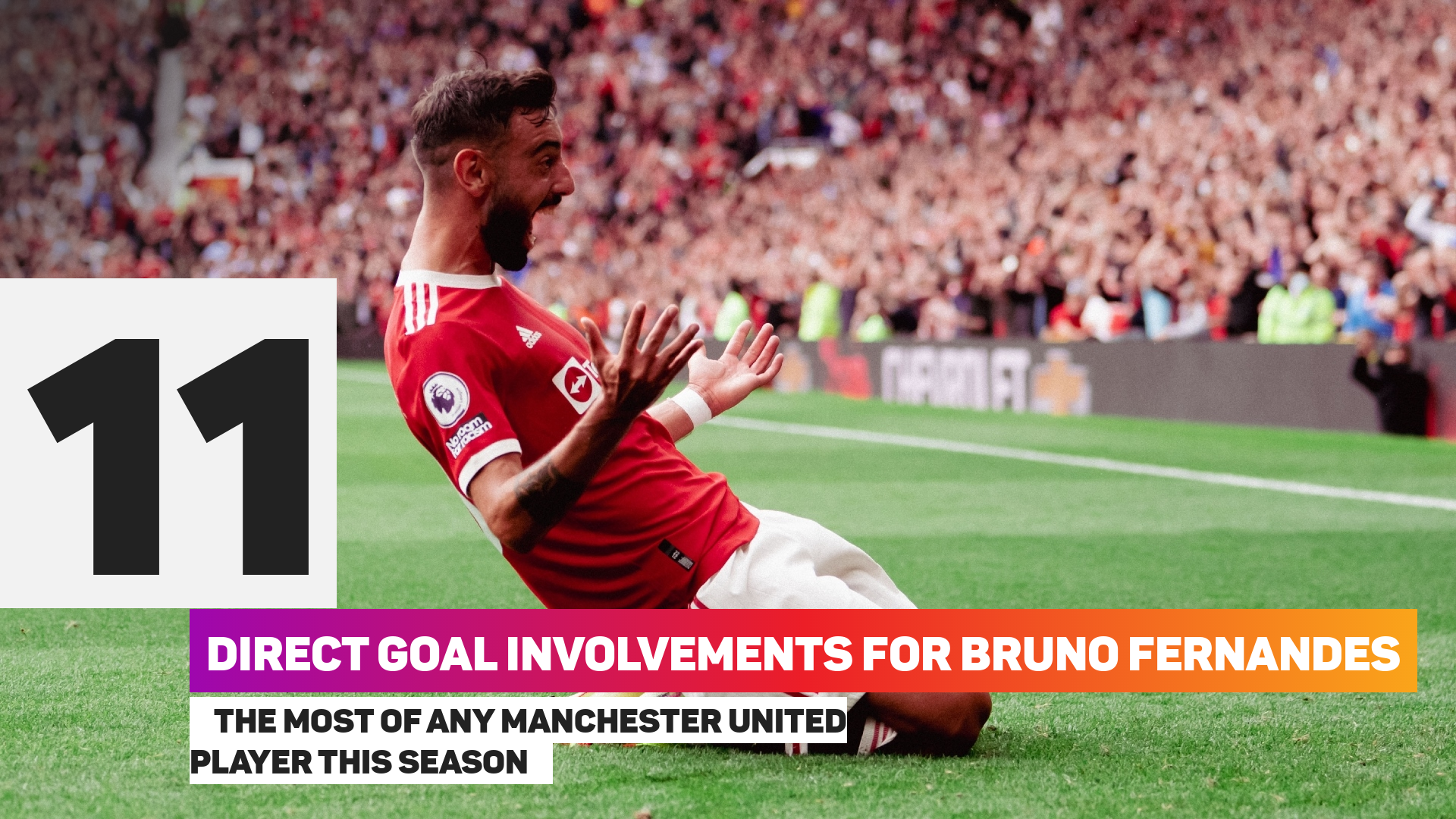 Fernandes was directly involved in 46 goals in all competitions last season – 13 more than next-best Marcus Rashford – and again leads the way among United players this term with his four goals and seven assists.
The most recent of the Portugal international's four goals this term arrived against Newcastle United on September 11, though, and there is a perception that his importance to United is dwindling now that Cristiano Ronaldo is back at the club.
However, Fernandes is creating more chances per 90 minutes this season compared to last season (3.94 to 2.69) and more big chances (0.74 to 0.65), all while playing in a more reserved midfield role.
"The way we played in the last two games, I've played a little deeper,, but it's because we changed system and you have to adapt," Fernandes said. "Everyone was adapting themselves. We have to do what is better for the team.
"I can still do my game wherever I play. I know people are upset because the numbers are going a little bit low – goals are going low, but assists are coming up.
"The importance for people of scoring goals is always better than doing assists or a great game. Last season everyone was like, 'he's scored a lot of goals but he also scores a lot of penalties and he doesn't perform'.
"Now I perform and give a lot of assists and people say 'he's not scoring goals'. There will always be a problem. I'm never happy with myself. I want always to improve and do better."
He added: "The teams know me better and I don't get the space I got in the beginning because I was someone coming from Portugal and most players didn't know who Bruno is.
"Now the space is a little bit short for me, the time is a little bit short, and I have to improve on that to be quick on shooting and passing and everything to make my game work."