Mikel Arteta has questioned Arsenal's lack of courage in their potentially costly 2-1 home loss to Brighton and Hove Albion.
The Gunners registered 20 shots in Saturday's match – four of which were on target – but they struggled to provide a genuine threat to Robert Sanchez's goal prior to mustering a desperate late push.
Martin Odegaard found a way through for Arsenal in the 89th minute but only with the help of a deflection, and Leandro Trossard's curler and Enock Mwepu's fine finish had Brighton two goals up at that point.
And while Arsenal's final flurry saw them end the game with an expected goals return of 1.9 compared to Brighton's 0.7, Arteta accepted his side were not good enough.
"The first half we were sloppy, imprecise and did not take the right approach with the right courage," he told Sky Sports. "We were cold and didn't transmit any energy.
"The first chance they had they scored. In the second half the reaction was better, especially late on. It's great not to give up, but we have to do it from the start.
"We didn't have the speed, purpose and courage to attack. We were predictable and were second-best to a lot of balls."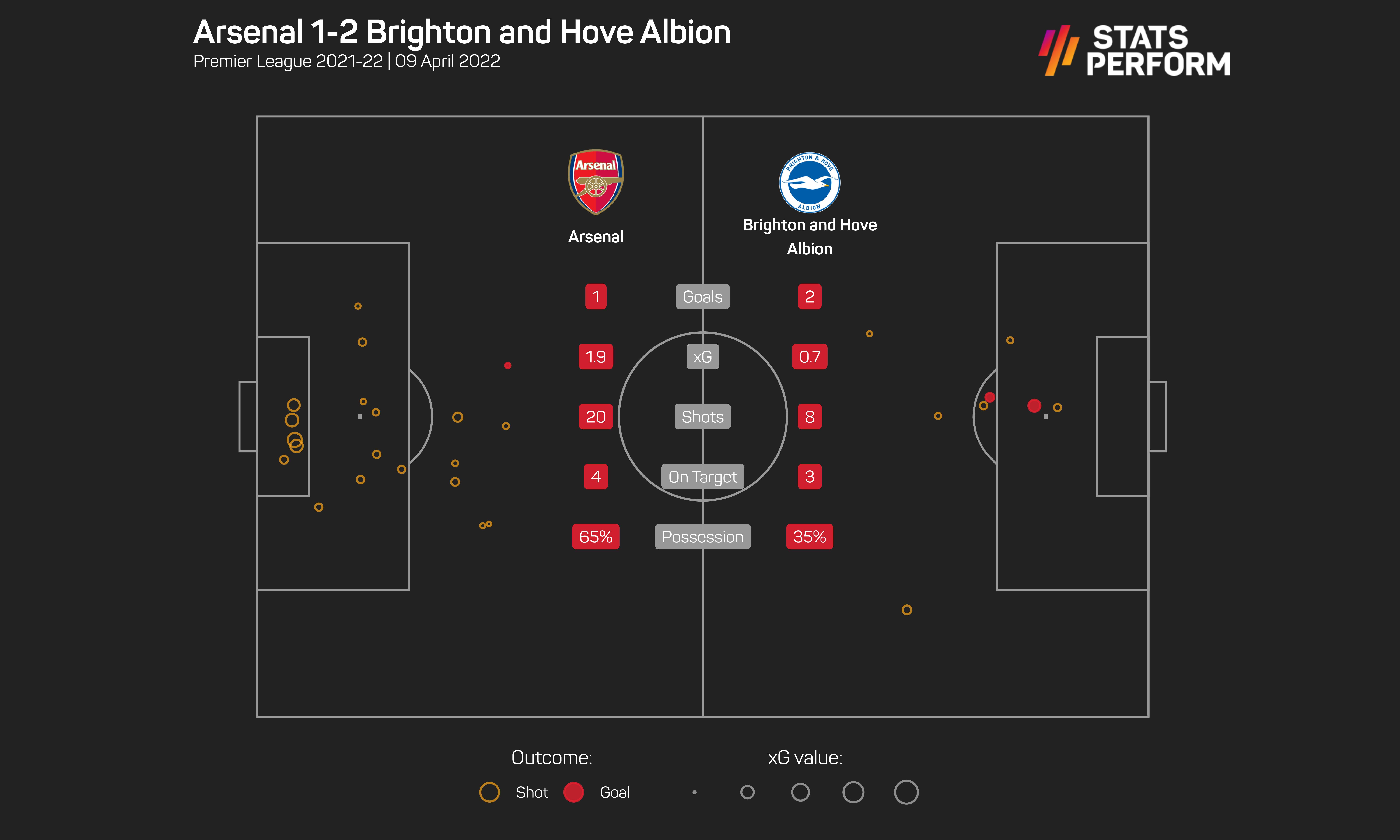 Arsenal have now lost back-to-back matches – having gone down 3-0 to Crystal Palace earlier in the week – to hand the top-four initiative to fierce rivals Tottenham.
Those two games are the first time Arsenal have conceded the first goal in consecutive league games since their opening three matches of the season – three defeats.
But while not pleased with the performance of his side on Saturday, Arteta was quick to point out the same group guided Arsenal into the top four to begin with.
"It's the same players that have played the whole season," he said. "They took us here. Not everything is smooth and there are always difficult moments in seasons.
"We've shown for many weeks how well we can play. It has been a difficult week, but this is our team in the good moments and the bad."
Brighton's victory snapped a seven-game winless streak and was their first Premier League win in the month of April at the 16th attempt.
Reflecting on a much-needed victory for his side, Brighton boss Graham Potter told BBC Sport: "It's a fantastic performance from the players and an even better result.
"We've had a tough time, but we reset with a strong performance against Norwich and a really good one today. You can see how tough it is to win games in the Premier League.
"We had to hang on and suffer, but we did, and the result makes it worth it. Arsenal are top quality and we respected that."