England star Georgia Stanway insists the resignation of Spanish football federation president Luis Rubiales has to be "the start of something, not the end of something".
Rubiales finally announced he was quitting as president of the RFEF on Sunday night, three weeks after he kissed Spain midfielder Jenni Hermoso on the lips during the World Cup final trophy presentation in Sydney.
Hermoso later said she had not consented to the kiss, but Rubiales has spent the last three weeks standing firm in saying he would not quit over the incident despite the opening of disciplinary proceedings by football's world governing body FIFA and the instigation of a criminal complaint in the Spanish courts.
Defenderé mi honorabilidad.Defenderé mi inocencia.Tengo Fe en el futuro.Tengo Fe en la verdad.

Gracias a todos. https://t.co/yS9rM1HBTm

— Luis Rubiales (@LuisRubiales17) September 10, 2023
Stanway was part of the England team beaten by Hermoso and her team-mates in Sydney, and hopes the controversy over how this matter has been handled has a wider impact than just being the eventual trigger for Rubiales' exit.
"Everybody's fought and we fought as a women's football group," Stanway said.
"We fought as players, we've fought as staff, we've fought as journalists for the outcome to be what it is.
"Obviously, the outcome is what we want. But at the same time, we want this to be the start of something, rather than the end of something.
"We want to continue to be able to have these conversations, to feel comfortable to have these conversations, feel comfortable in your workplace, to be able to stand up for whatever you think is right."
Rubiales had told an RFEF emergency general assembly on August 25 that he would not quit his post, but was provisionally suspended by FIFA the following day pending an investigation into his conduct.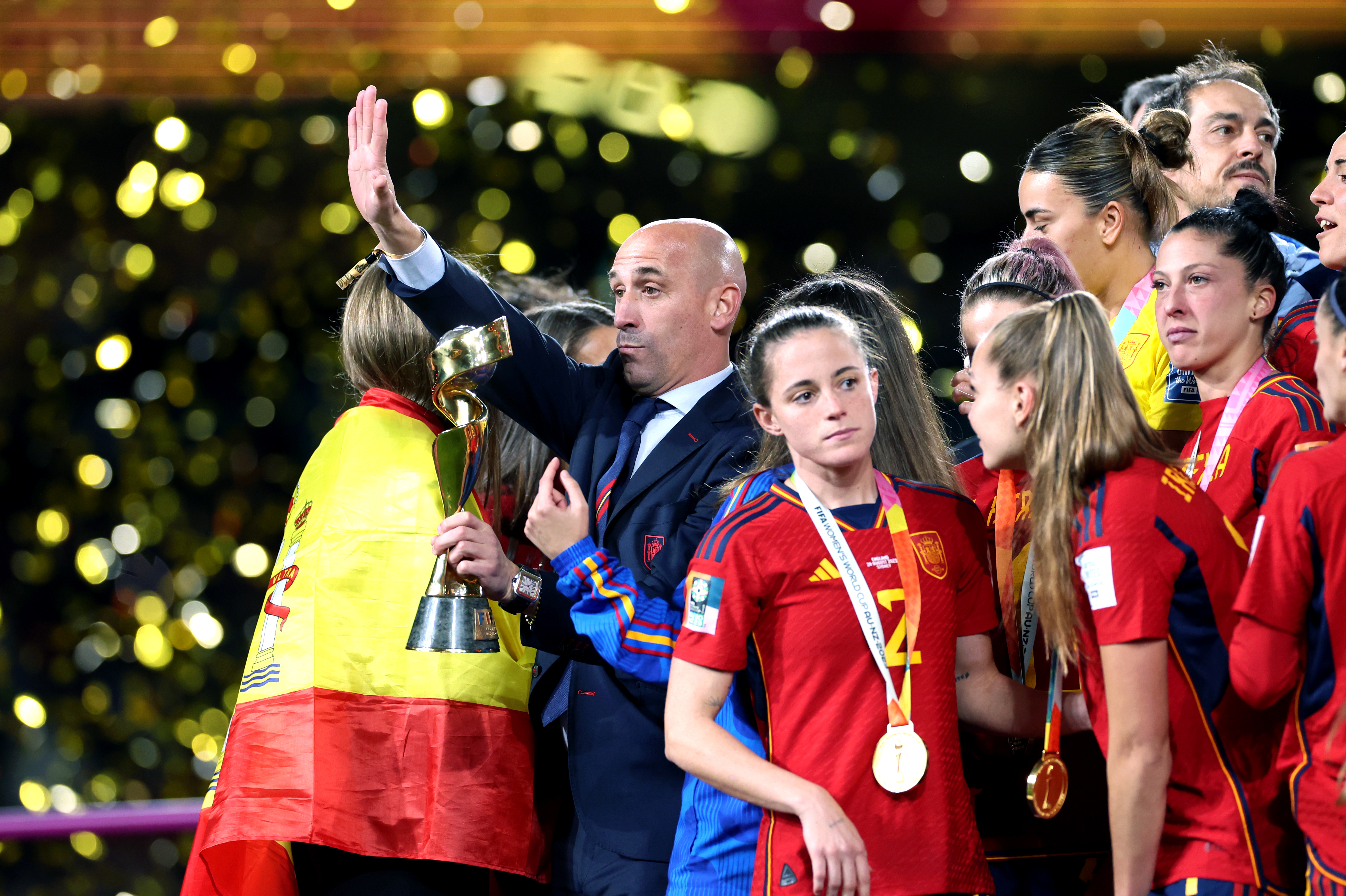 As well as kissing Hermoso, Rubiales was also pictured grabbing his groin in celebration of the World Cup win while standing metres from Spain's Queen Letizia and her teenage daughter.
Rubiales posted on the social media platform X on Sunday night: "After the rapid suspension carried out by FIFA, plus the rest of proceedings open against me, it is evident that I will not be able to return to my position.
"Insisting on waiting and holding on is not going to contribute to anything positive, neither to the federation nor to Spanish football.
"I have faith in the truth and I will do everything in my power to prevail.
"My daughters, my family and the people who love me have suffered the effects of excessive persecution, as well as many falsehoods, but it is also true that on the street, more and more every day, the truth is prevailing."
What exactly was Luis Rubiales thinking when he kissed World Cup winner Jenni Hermoso?

And he may be resigning… but is he sorry?

Tune into Tuesday's Piers Morgan Uncensored at 8pm for this world exclusive interview.@piersmorgan | @TalkTV | #PMU pic.twitter.com/W6oQ1cmh1O

— Piers Morgan Uncensored (@PiersUncensored) September 11, 2023
Rubiales has also done an interview with chat show host Piers Morgan concerning the matter, which is due to air on Tuesday evening.
There has been no public statement yet from Hermoso, nor from the rest of the Spain squad who had said they would not represent their country while Rubiales remained in post.
Spain are due to play Sweden and Switzerland in the Nations League on September 22 and 26.