It felt like a landmark moment in European football.
In August 2017, Paris Saint-Germain forced Barcelona to hand over one of their prized assets when they triggered the €222million release clause of Neymar, apparently signalling a power shift from the more traditional European powerhouses to the French giants.
It has not quite been that simple in the five years that have followed, though.
Barca have not won a Champions League since Neymar left, but neither have PSG, and the Catalan club can probably point to wider issues as to why their trophy haul has dried up in recent times, like how poorly they spent all the money they received for him.
The Brazil international remains the most expensive footballer in history, even if his transfer did signal a general explosion in fees across the top level of the game, but has he been worth it for PSG?
Half a decade since he swapped Spain for France, Stats Perform has taken a look at Neymar's five years in Paris.

Bye-bye Barca
Neymar's name first came to prominence when he was called up to the Brazil squad for the 2010 World Cup at the age of just 18. Immediate comparisons were made to Ronaldo, who was taken to the 1994 World Cup by the Selecao at a young age, before latterly becoming one of the greatest strikers the game had ever seen.
The new kid on the block was clearly a different kind of player to the legendary forward, but Neymar's flicks and tricks at Santos excited onlookers enough that the whole of Europe was trying to sign him, with Barca winning the race in 2013.
Neymar went on to become part of a fabled front three at Camp Nou alongside Luis Suarez and Lionel Messi, winning two LaLiga titles, three Copa del Rey trophies and the Champions League in 2014-15.
During his four years at Barca, he was directly involved in 164 goals in 186 appearances (105 goals, 59 assists), and in his final season in Spain, Neymar was the only player in Europe's top five leagues to record 20 or more for both goals (20) and assists (21) in all competitions.
It was therefore quite a blow when PSG came along and took him in 2017.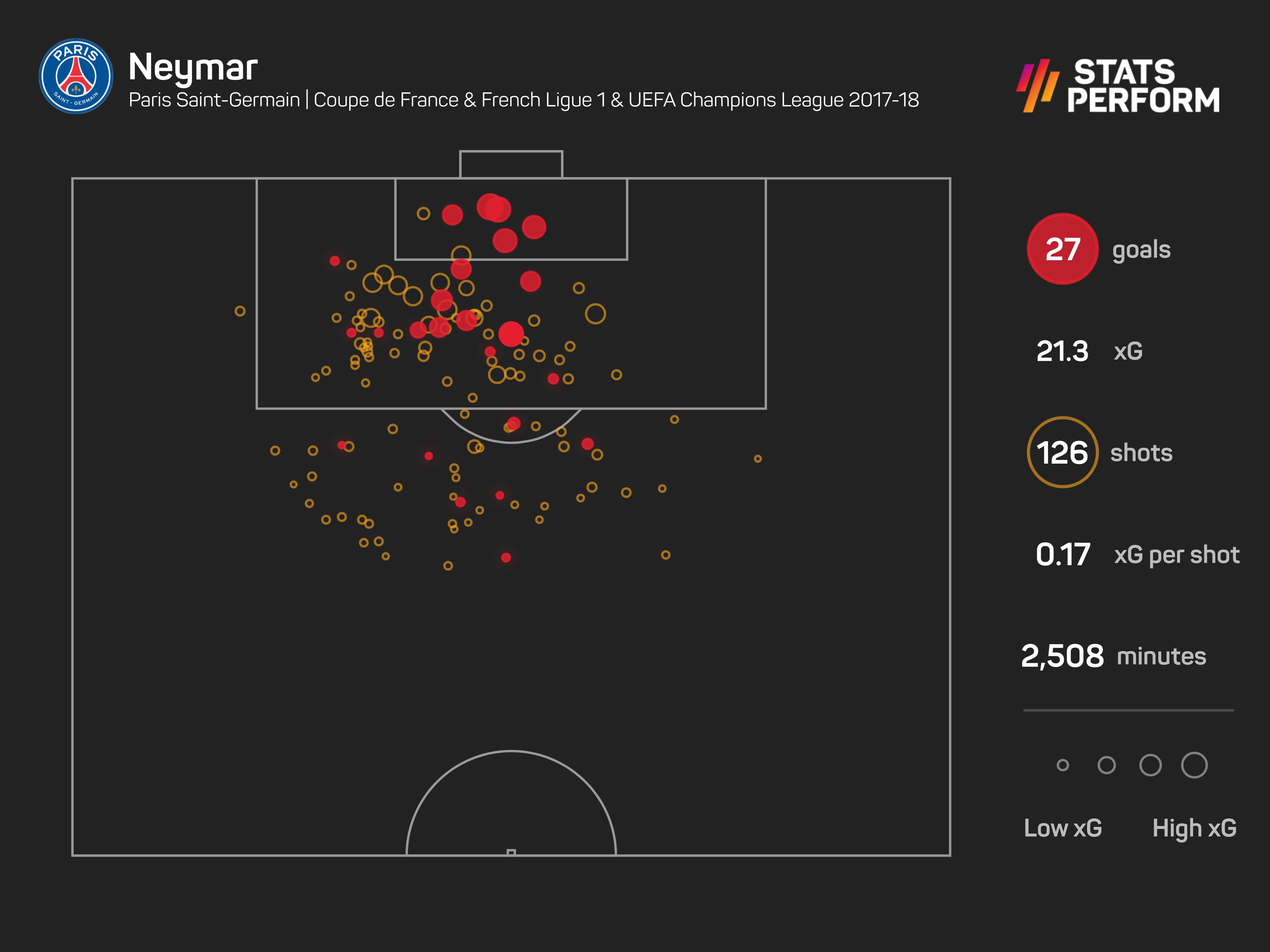 Life in Paris
Despite having been in Paris for a year longer than he was in Barcelona, Neymar has so far played 42 fewer games for PSG than he did at Barca, with 156 goal involvements (102 goals, 54 assists) to his name in 144 appearances in all competitions. 
The Brazil international has been largely ruthless, converting 52.9 per cent of his big chances, bettering Mbappe (46.4 per cent) and Messi (26.1 per cent).
He made an impressive start, scoring 28 in 30 games in his first season, followed by 23 in 28 the next.
His lack of availability has often been an issue, though, seemingly unable to stay fit for long enough to truly dominate across a season.
That being said, Neymar currently sits fifth in the club's all-time leading scorers alongside, but well behind team-mate Kylian Mbappe (171), who has become the face of the current PSG side, particularly now he has committed his future to the club after penning a new deal in May.
On the surface, you would say those numbers suggest Neymar has been a relative success at the Parc des Princes, particularly as he has also won four Ligue 1 titles, three Coupe de France trophies and twice lifted the now defunct Coupe de la Ligue.
However, you cannot really mention Neymar or PSG without then discussing Champions League ambitions.
Having ironically been at the centre of PSG's embarrassing elimination at the hands of Barca just months before leaving the latter for the former in 2017, it was hoped that adding Neymar would tip the scales in the Ligue 1 side's favour as they looked to lift Europe's most prestigious prize for the first time.
As it is, they have reached just one final, losing 1-0 to Bayern Munich in 2020, and they once again suffered a humiliating collapse against Spanish opposition last season as they crashed out against eventual champions Real Madrid at the Santiago Bernabeu, despite holding a 2-0 aggregate lead heading into the second half of the second leg.
Following that loss, PSG fans turned their ire on Neymar, believing the superstar to have not done enough to prevent their elimination, but he was not the only one receiving boos from his own supporters, with a well-regarded Argentine also being partly sneered at.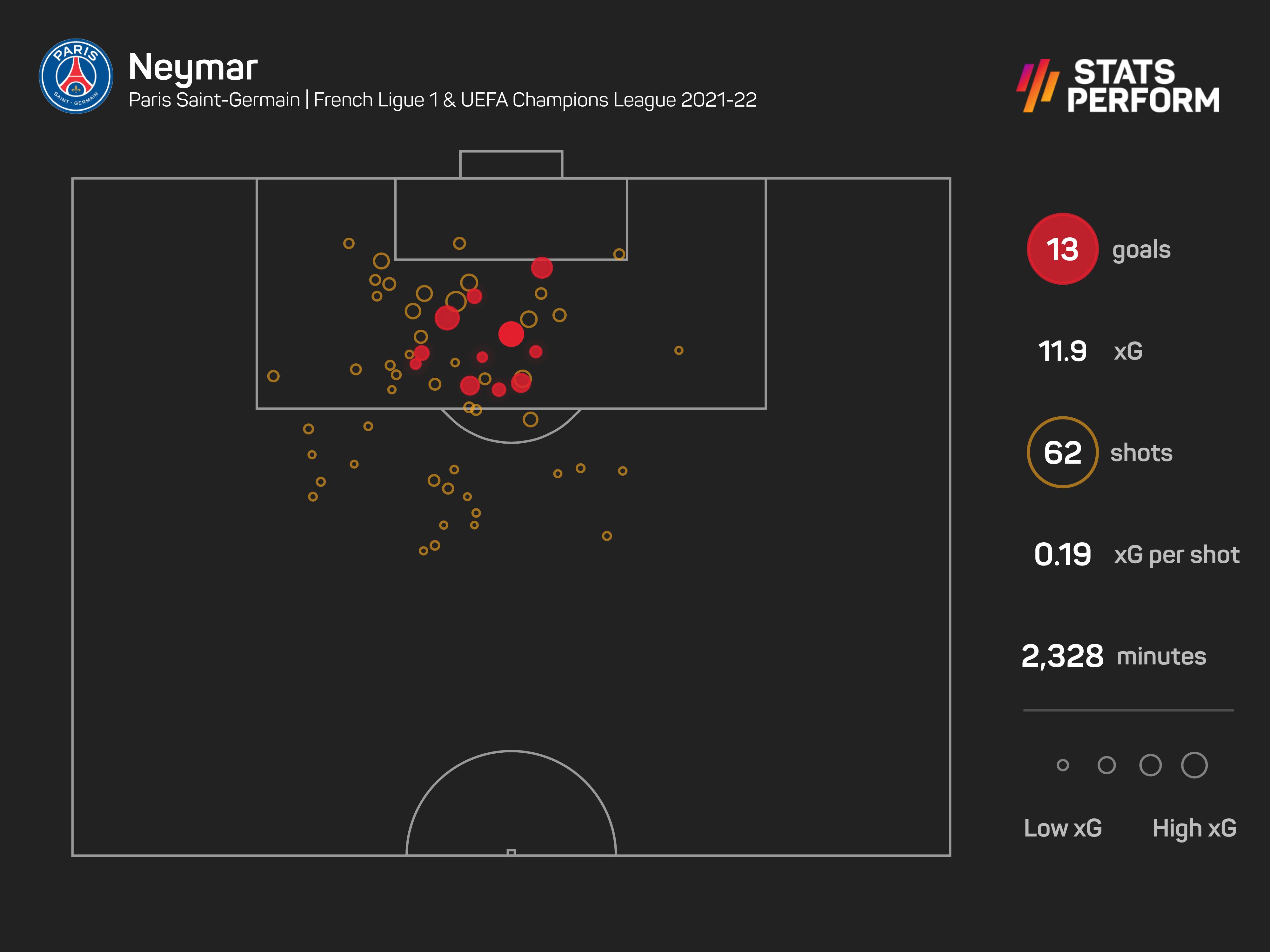 Friends reunited
Since Neymar left Barcelona, barely a transfer window has passed without him being linked with a move back to Camp Nou, with suggestions that Messi wanted to play with his former partner in crime again.
What many hadn't seen coming was that they would indeed be reunited, just not in LaLiga.
Barca's inability to give Messi a new contract after the league imposed financial restrictions on them in 2021 meant he had to leave, with PSG waiting with open arms to bring the Argentina legend to link up with Neymar once again.
It has not quite been the same, though, and while you can excuse Messi not setting the world alight in his first season having only played for Barcelona at senior level in his illustrious career, Neymar also failed to light up many games in which he featured.
He again missed several games through injury, making just 28 appearances in all competitions in 2021-22, scoring 13 goals, three of which were penalties.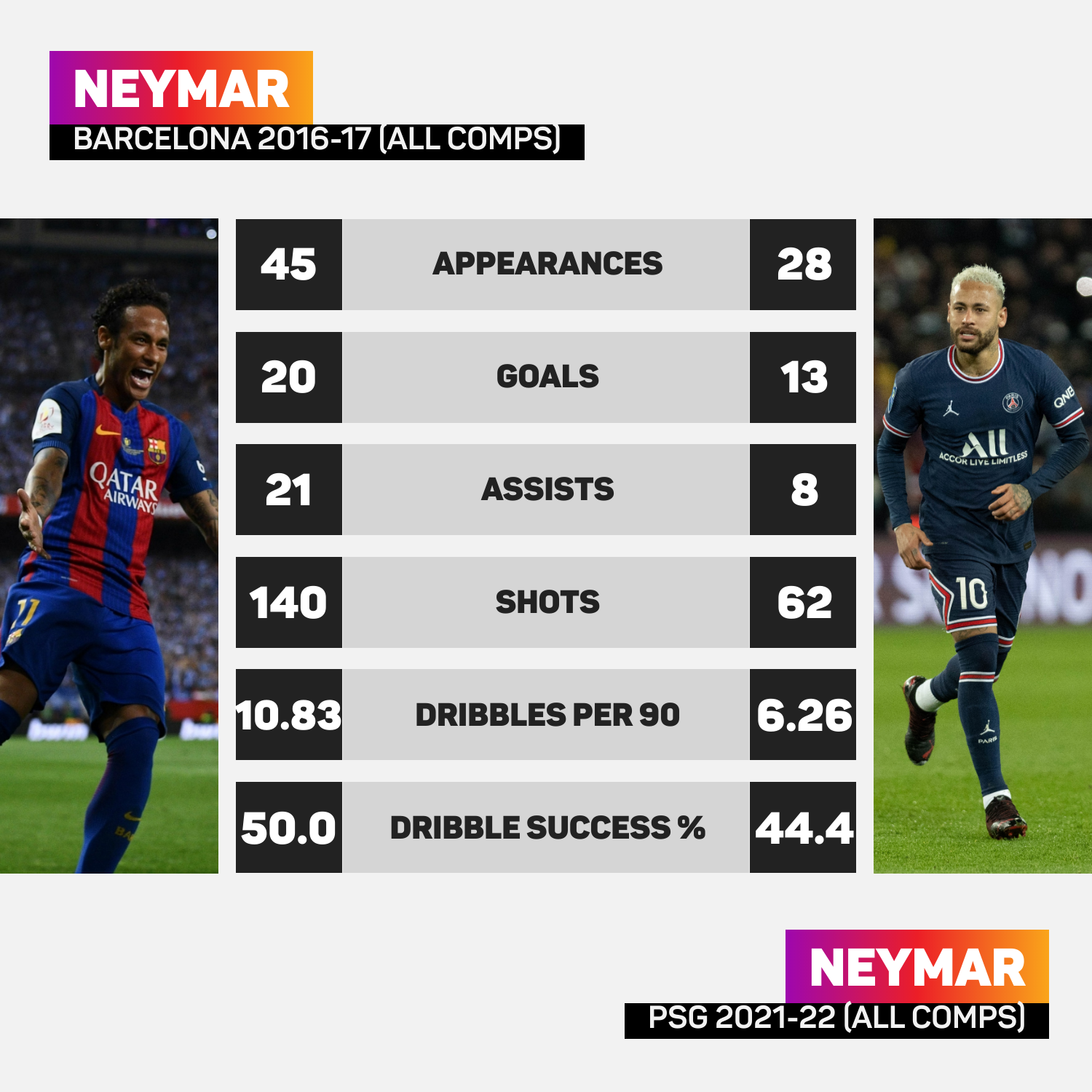 Notably, he also failed to register a single goal in the Champions League, the competition he was essentially signed for such vast money to lead the club to winning.
There have been murmurs about PSG moving on from the Neymar experiment, with fans turning on him and club president Nasser Al-Khelaifi recently saying he wants to move on from the "bling bling" era and bring in more local players like Mbappe over the next few years.
Whether anyone is willing to take a gamble on a player who will still cost a lot of money remains to be seen, with Manchester City seemingly distancing themselves from a move in this transfer window.
It might not be too late for Neymar, though. The talent is undoubtedly there, and he has shown he is capable of putting up tremendous numbers, it's just a case of remaining available and turning up in the big games.
The arrival of Christophe Galtier as head coach appears to be a step in the direction Al-Khelaifi was alluding to, and the former Lille and Nice boss has said he would love for Neymar to stay and be a part of things next season.
As far as starts go, Neymar made a strong one to the new campaign, netting twice in Sunday's 4-0 rout of Nantes in the Trophee des Champions, a game that Mbappe missed.
With PSG looking set to play with a back three, there might be even more room for their attack to flourish, and Neymar could prove his doubters wrong.
11 - Paris have won their 11th Trophée des Champions, improving the record they already held. PSG have won 9 of the last 10 editions of the competition. Usual. #PSGFCN pic.twitter.com/qQqVSTNeP2

— OptaJean (@OptaJean) July 31, 2022