And so, the countdown begins…
The 2022 World Cup is just over a year away, with Qatar set to begin the tournament against a still-to-be-decided opponent on November 21, 2022.
Even writing it feels strange. A World Cup… starting in November. But that is the reality, with Qatar's controversial – to put it kindly – hosting of the competition effectively rendering a tournament in June/July impossible due to the conditions.
With only a year to go, 13 of the competing nations (including Qatar) have confirmed their qualification, including record five-time winners Brazil and defending champions France.
Of course, most countries will have a fairly settled group of players, but a year is a long time in football, and a few newcomers will make the breakthrough.
As such, Stats Perform has identified 11 uncapped players who could break into their respective national teams by this time in 2022, and those players' progress will be tracked over the next 12 months in follow-up features.
Without any further ado, here are the chosen players...
Luis Maximiano (Portugal) – 22, goalkeeper, Granada
Yes, yes, Maximiano's inclusion here already implies a massive assumption that Portugal will even make it to Qatar, given their 2-1 home defeat by Serbia left them needing to go through the play-offs.
Nevertheless, it's reasonable to expect them to make it, and if they do, Maximiano may fancy himself as being in with a shot, particularly after a strong start to 2021-22.
He replaced compatriot Rui Silva – who left for Real Betis – between the posts at Granada after falling out of favour at Sporting CP, and he's showing his quality.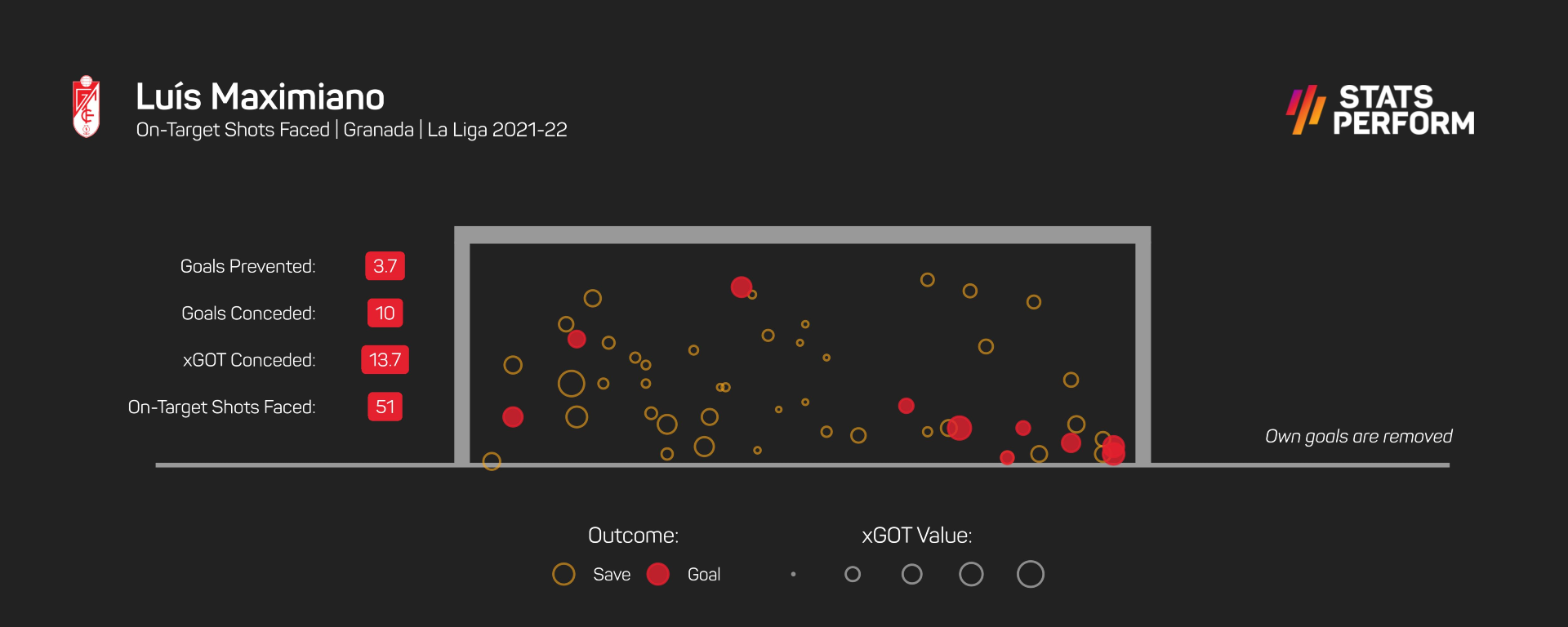 According to Opta's xGOT (expected goals on target) conceded data, Maximiano has already prevented 3.7 goals in LaLiga this season, the second-most in the division.
Of course, such metrics are weighted in favour of goalkeepers in teams are that kept defensively busy, and Granada are 17th in LaLiga, but we can create a fairer comparison by standardising for the number of shots each keeper faced by looking at their 'goals prevented rate'.
Maximiano's goals prevented rate of 1.37 means he was expected to concede 1.37 goals for every goal actually conceded, and again this is the second best in the league this season.
His shot-stopping abilities have reportedly caught the attention of Barcelona, and given Portugal's lack of a standout goalkeeper (and that's including first-choice Rui Patricio), Maximiano certainly isn't out of the running for Qatar 2022.
Jonathan Clauss (France) – 29, right-back, Lens
Football loves a late bloomer; maybe it's because they convince some of us we can still make it as a professional player. Lens star Clauss is a fascinating embodiment of the phenomenon.
Now 29, Clauss did not make his top-flight debut until the start of 2020-21, but it's fair to say he's been a revelation in a Lens side who have truly captured the imagination since they were promoted back to Ligue 1 in 2019-20 – 13 games into the current campaign, they're second to PSG.
A year out from Qatar 2022, Clauss is being mentioned in France media conferences, with Didier Deschamps last week asked why he wasn't called up. Of course, the coach's decision to go with options he knows when qualification wasn't assured is fair enough, but the Lens man is seemingly now in contention.
He has already had a hand in eight Ligue 1 goals this season, with six assists the joint-most in the division. His positivity on the flank as a wing-back is proving a massive asset to Lens, for whom he also set up six goals last term.
Of course, his greater comfort as a wing-back rather than an orthodox full-back may in the long run count against him, but Clauss is demonstrably effective going forward – usual France right-back options Benjamin Pavard and Leo Dubois aren't, and that may be his 'in'.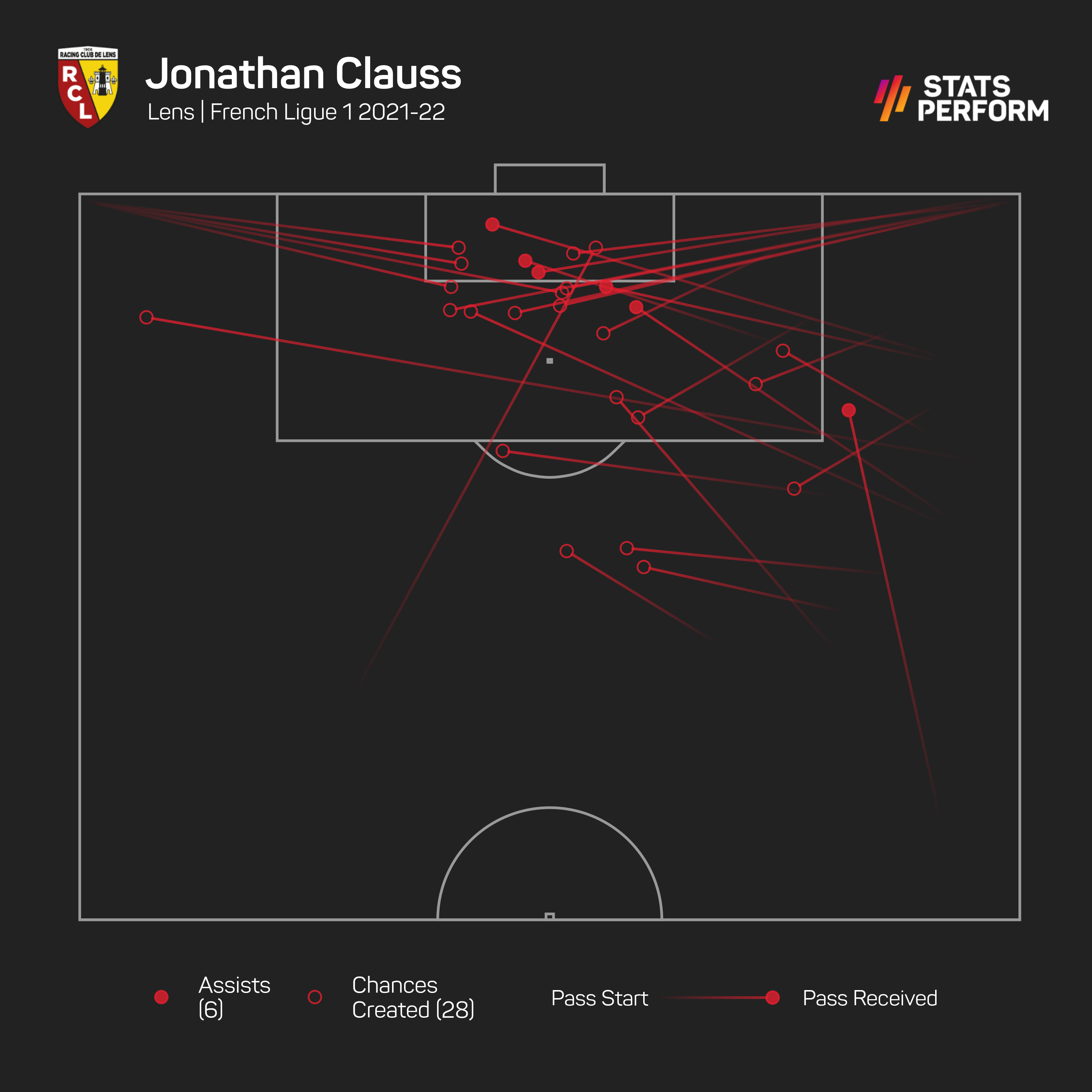 Bremer (Brazil) – 24, centre-back, Torino
Playing in a generally poor team can go one of two ways for a centre-back: you're either considered a big part of the problem, or you thrive because you're given more opportunities to show your strengths.
For Bremer in a Torino team that have finished 16th and 17th in the past two seasons, it's definitely been the latter.
The 24-year-old has reportedly attracted the interest of numerous Premier League clubs, with Liverpool seemingly the team that are most keen.
While he's not a particularly great progressor of the ball, his 4.9 passes into the final third per 90 minutes since the start of last season being almost half the figures of the highest-ranking Serie A defenders, Bremer is a reliable centre-back first and foremost.
His four clearances per game is up there with the best (only one player averages more than 4.7), while Bremer's positional sense is highlighted by 2.6 interceptions every 90 minutes, a figure bettered by only five defenders (min. 1,000 minutes played since 2020-21 started).
Similarly, the centre-back wins 3.2 aerial duels per 90 minutes, which again is the sixth-highest among that group of defenders.
Brazil don't have outstanding depth at centre-back, all the more reason why Bremer is in with a shot – a move to Liverpool or another 'giant' would only help his cause.
Sven Botman (Netherlands) – 21, centre-back, Lille
Ball-playing centre-backs grow on trees in the Netherlands, or so you'd think. Botman is another off the very reliable production line, having come through the esteemed ranks at Ajax.
Lille signed him for roughly €9million in July 2020 after he enjoyed a promising loan spell with Heerenveen, and he went on to play in all but one Ligue 1 match as Les Dogues won the title.
Life's been a little tougher for Lille this term following the loss of coach Christophe Galtier to Nice, but Botman remains a key player and retains a fine reputation from 2020-21.
Since the start of last season, his 1,295 forward passes is the second most in the division and he ranks 11th for the most ball carries (635).
He's a progressive centre-back who offers plenty of forward-thinking but is also reliable when it comes to getting stuck in.
Over the same period, he's come out on top in 67.8 per cent of his duels, which is the second-best success rate among players to have engaged in at least 150.
Granted, the Netherlands' centre-back options are deep, but Botman's been in the squad before and there's little doubt he would be a good fit for them stylistically.
Angelino (Spain) – 24, left-back, RB Leipzig
It may surprise a few people to learn Angelino has never played for Spain. In fact, he's never even received a call-up to the senior side.
Let's not forget, Spain are blessed with a lot of quality in left-back and wing-back roles. Currently, Jordi Alba, Marcos Alonso, Jose Gaya and Sergio Reguilon are the favoured options, but Angelino is arguably in better form than any of them.
All five players are probably at their best as wing-backs rather than full-backs, and Luis Enrique's current system does allow for such players, which is another reason for Angelino's suitability. Then it comes down to effectiveness on the pitch.
Since the start of last season, in league competition Angelino tops a host of attacking metrics among the aforementioned players. He creates 2.2 chances per 90 minutes on average, with Alonso and Alba next on 1.6.
While Angelino's 0.16 assists every 90 minutes is lower than Alba's 0.22, the Leipzig man is seemingly being let down by poor finishing as his expected assists each game is 0.31 – again, this is the highest.
On a per-90-minute basis, Angelino creates the most chances from open play (1.6), plays the most crosses (5.5) and passes into the box (9.9) most frequently among this group.
Of course, this is partly explained by him playing slightly further forward than his counterparts, but Spain spend most of the time on the ball anyway – having someone as effective as Angelino in attack must be a consideration for Luis Enrique.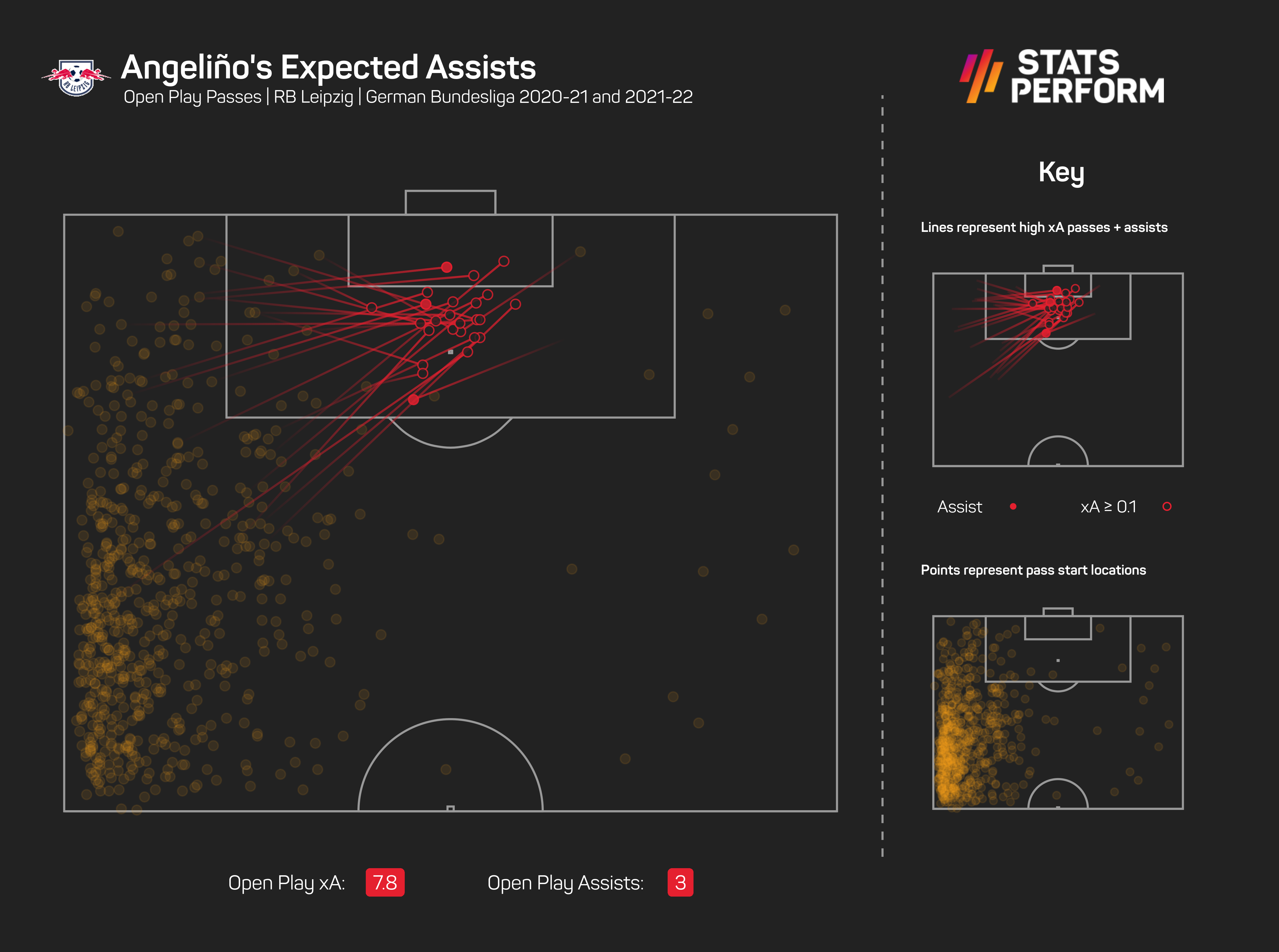 Riqui Puig (Spain) – 22, midfielder, Barcelona
It feels like Puig has been around for a long time, because even before he was around the first-team squad, Barca fans were singing his praises.
He had been considered as potentially their next legendary midfielder, such was his blend of technical excellence and fine passing skills, two staples of Barca's La Masia academy.
But it's not quite worked out that way.
In the past three seasons, he's only played more than 300 minutes over the course of a LaLiga campaign once, under Quique Setien in 2019-20. While he did feature in 14 league games for Ronald Koeman last term, that amounted to 283 minutes at an average of 20.2 mins in each appearance, and that did not improve this term prior to the Dutchman's sacking.
So, why is he even on this list?
Well, as much as anything because his progress will be intriguing to watch once again now that Xavi is at the helm. If there's anyone who can appreciate Puig's qualities, it'll surely be him.
Christopher Nkunku (France) – 24, midfielder, RB Leipzig
While Nkunku has generally been considered a versatile central midfielder for much of his career, he's excelled in a slightly different role since Jesse Marsch's introduction as Leipzig coach.
He's operated more from the flanks and is getting into the opposition's penalty area with greater frequency, his touches in the box up from 5.2 per 90 minutes to 7.7 this season.
As such, he's getting more shots away in the area (2.2 every 90 minutes, up from 1.7) and that's unsurprisingly led to an increased xG average of 0.45 each game.
He's already got 11 goals across all competitions, four more than he managed in 2020-21, suggesting the change in role is paying dividends, though he remains an able option in the middle such is his quality on the ball and ability to break forward.
In each of the past two seasons, Nkunku didn't manage to start more than 21 league games, but he's already on 11 this term. He's maturing and seemingly found his niche – now all he needs is that elusive first call-up.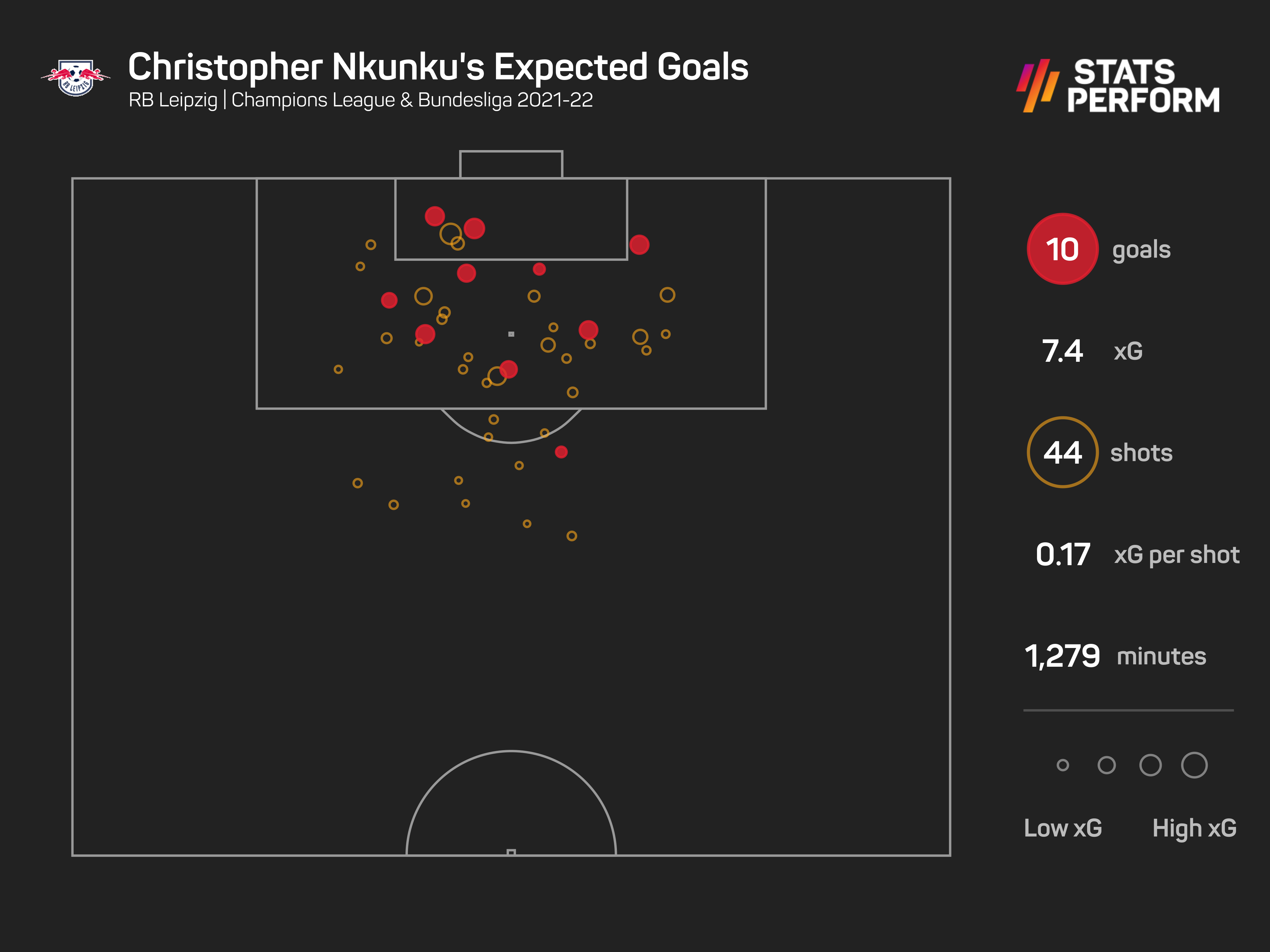 Alan Velasco (Argentina) – 19, winger, Independiente
Lionel Scaloni has restored a significant amount of respect for Argentina's national team, guiding them to Copa America success earlier this year – that was their first international title at senior level in 28 years.
During his three years in charge, Scaloni has used 75 different players in matches, which shows both the wealth of options he has but also how willing he is to give individuals a chance.
In attack is arguably where Argentina's depth is greatest, but Independiente talent Velasco is surely one of the likeliest to earn a first cap over the next 12 months.
A positive and direct left-winger who likes to cut inside onto his right foot, Velasco has been enjoying something of a breakthrough season in Argentina's Primera Division, particularly during the second stage.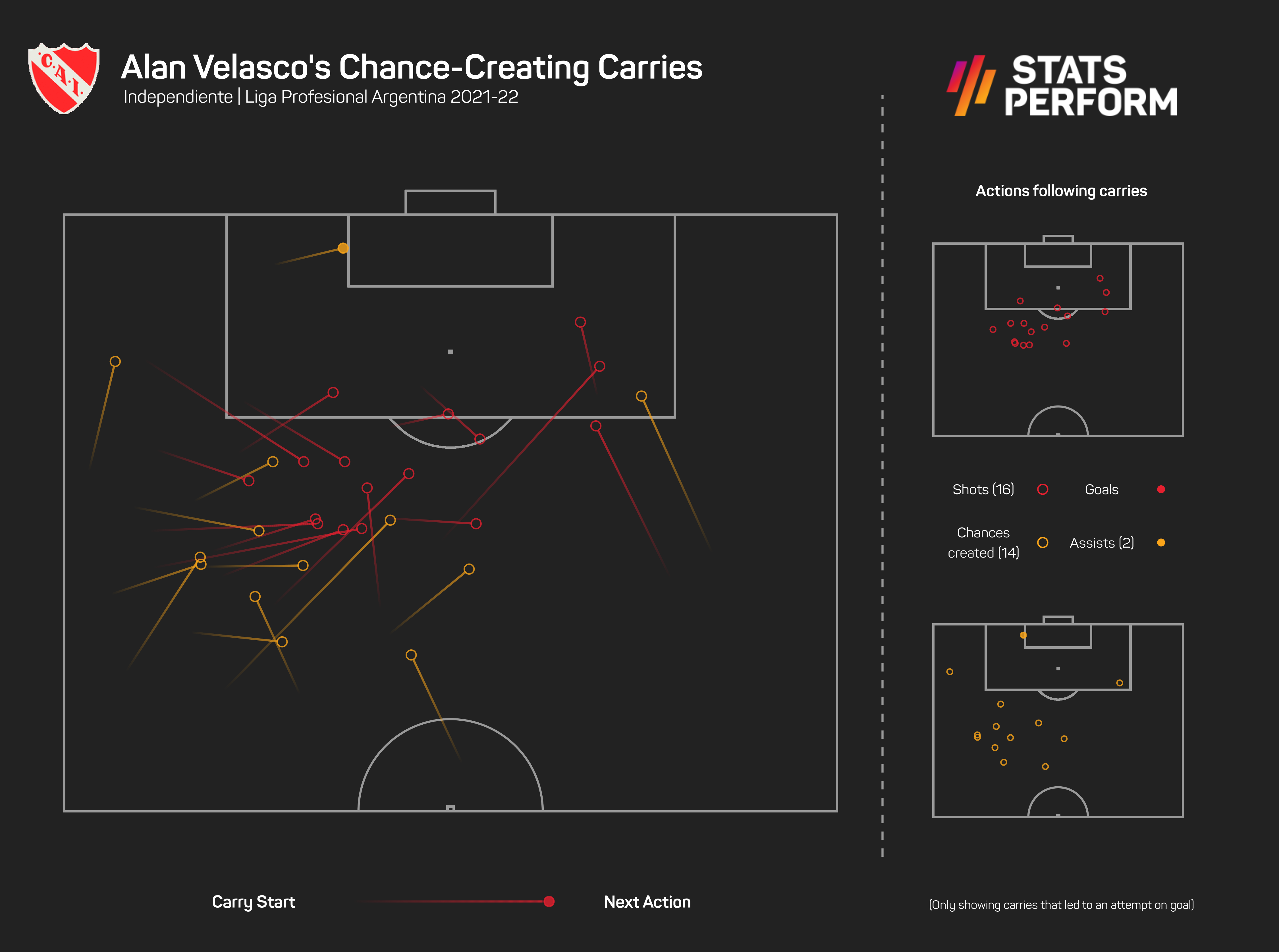 He has five goal involvements (one goal, four assists) since mid-July, with no one in the division managing to set up more than five in the entire year, and he has unsurprisingly become a bit of a target for opponents, as highlighted by his 2.9 fouls suffered every 90 minutes being the third-most among players with at least five appearances.
But that doesn't deter him. His 41 chances created is the third highest in the division, and the most among under-21 players, while his 91 dribbles completed and 4.8 per 90 minutes are both league highs.
Velasco also works hard off the ball, making 47 recoveries in the opposition's half, which is fifth among all players. The teenager is a big talent who also boasts strong work ethic – Scaloni will surely have him earmarked as one to watch.
Cade Cowell (United States) – 18, forward, San Jose Earthquakes
There aren't many countries in the world producing more exciting young talent than the United States at the moment, with their squads for the next few World Cups shaping up to be very promising.
While 2022 will probably come too soon for Cowell – arguably the wildcard of this list – he certainly shouldn't be written off, given he has already spent time training with the senior squad before.
A dynamic, quick and strong attacker who play out wide as well, Cowell is the third-youngest player in MLS history to reach 50 appearances, having reached that landmark at 18 years and 16 days old. Only Freddy Adu (16y, 2m, 25d) and Alphonso Davies (17y, 7m) got there quicker.
This season, despite only starting for 14 of his 33 MLS appearances, Cowell has amassed 11 goal involvements (five goals, six assists), which only Jesus Ferreira (17 – 8g, 9a) and Ricardo Pepi (16 – 13g, 3a) can better among under-21 players.
There's no mistaking Cowell is very much a rough diamond. He doesn't create a huge amount of chances (1.3 per 90 mins), his duels (32.2 per cent) and dribble (47.6 per cent) success rates aren't great, but he's young and raw. Improvements here should come naturally, and a big 2022 might just propel him into a national side that's not afraid to give youngsters a chance.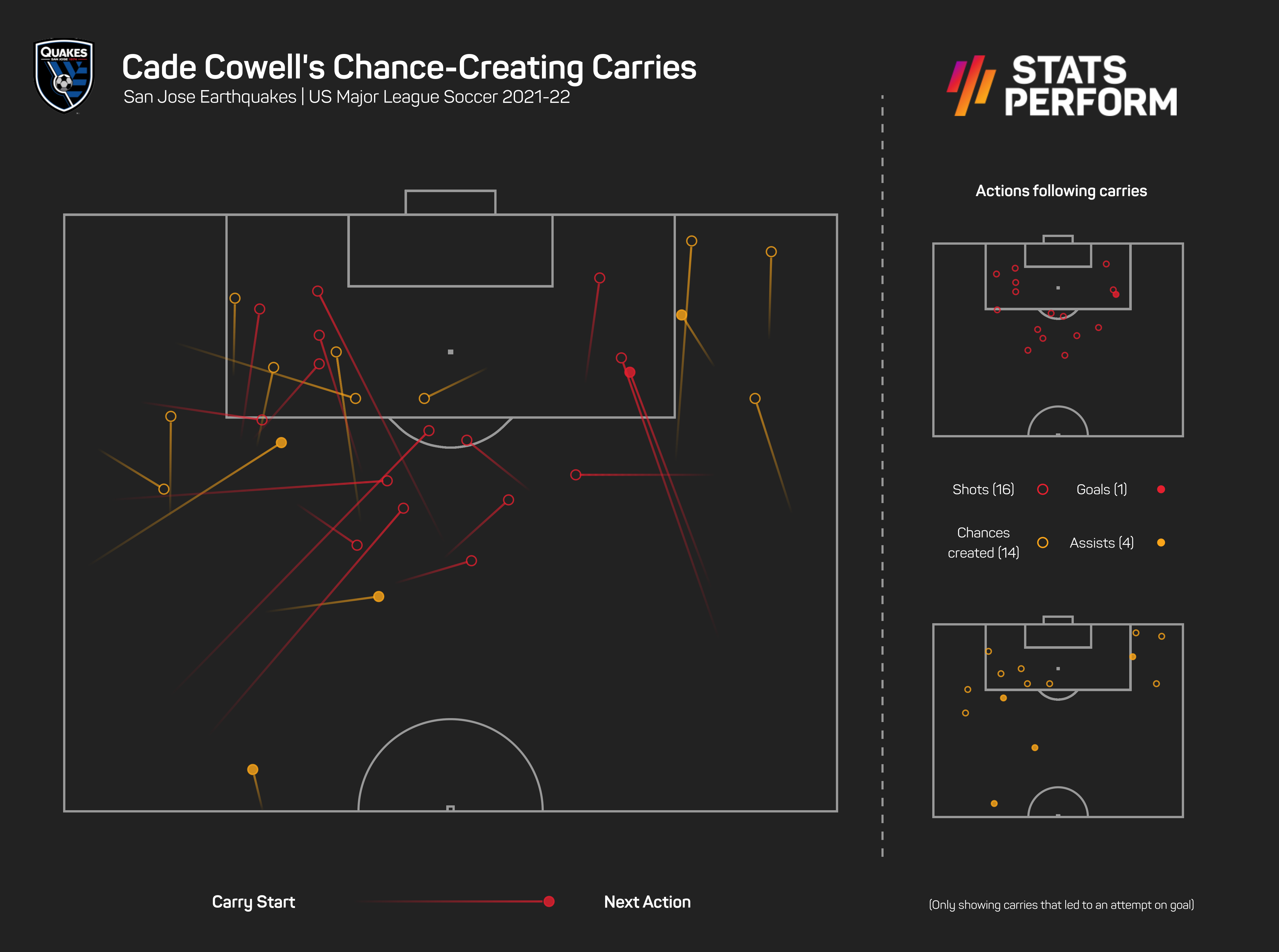 Amine Gouiri (France) – 21, forward, Nice
If there's one team in international football that would be the toughest to break into as a forward, it's probably France, but Gouiri looks special.
It now looks utterly astonishing that Nice managed to get him for as little as an initial €7million from Lyon in 2020, and the versatile forward – who is comfortable on the left or through the middle – is enjoying the kind of consistency not always associated with young players.
The 2020-21 season was his first as a regular starter in top-flight football and he went on to score a highly respectable 12 goals. While that failed to match his 14.6 expected goals (xG), perhaps showing a degree of inexperience, he did also lay on seven assists.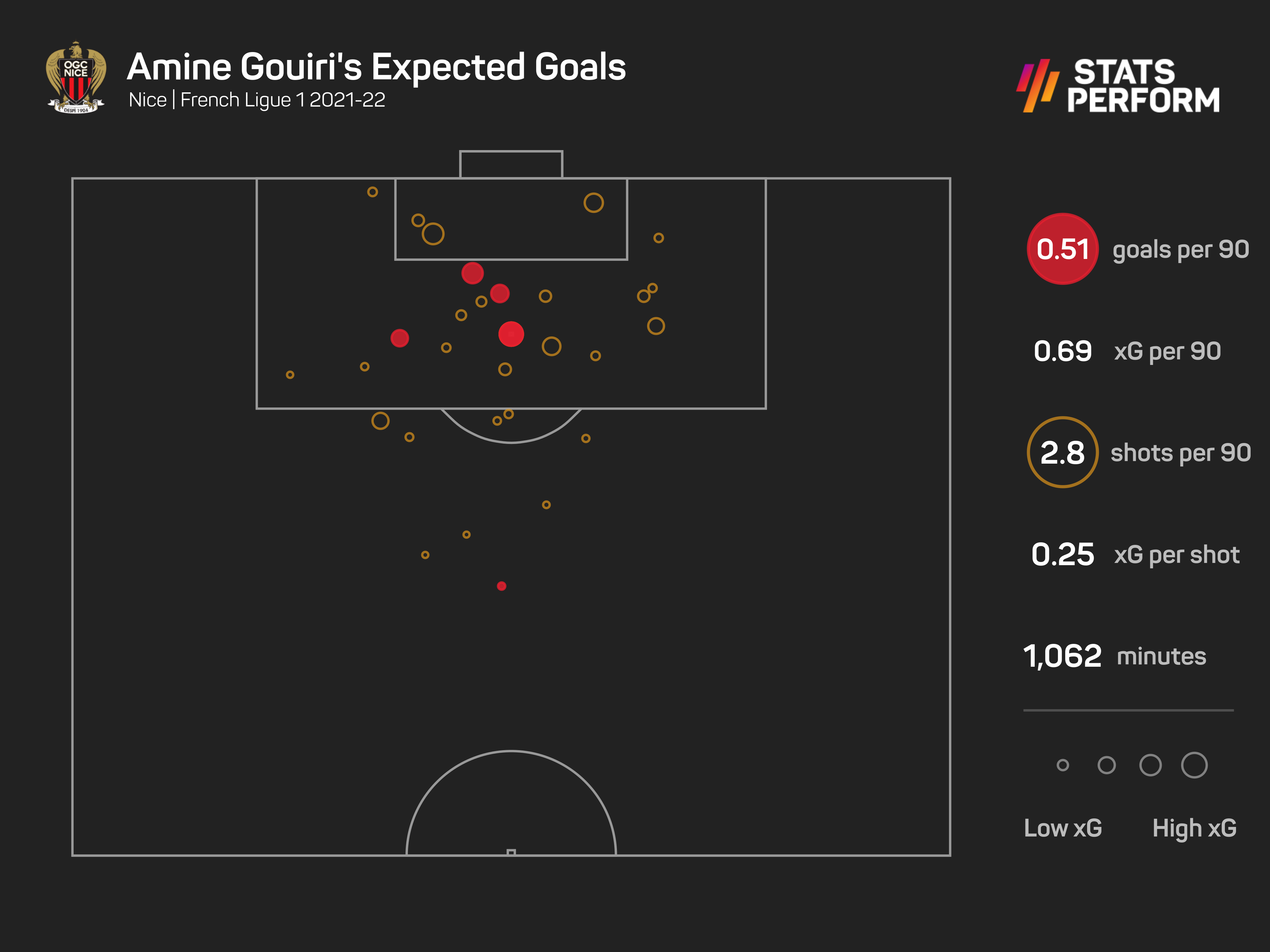 Once again, Gouiri's goals haul of six is a little behind his xG (8.1), suggesting a hint of wastefulness, but only three players are providing greater service than him, with his 3.3 expected assists (xA) ranking high.
Technically, Gouiri is exceptional and explosive, and this undoubtedly helps him create openings and space in the final third, with his combined average of 0.97 expected goals and assists every 90 minutes this season the second-highest in Ligue 1.
Gouiri is too good to never play for France – it's only a matter of time until he gets the call-up, and if he carries on his current trajectory for the next 12 months, Qatar will beckon.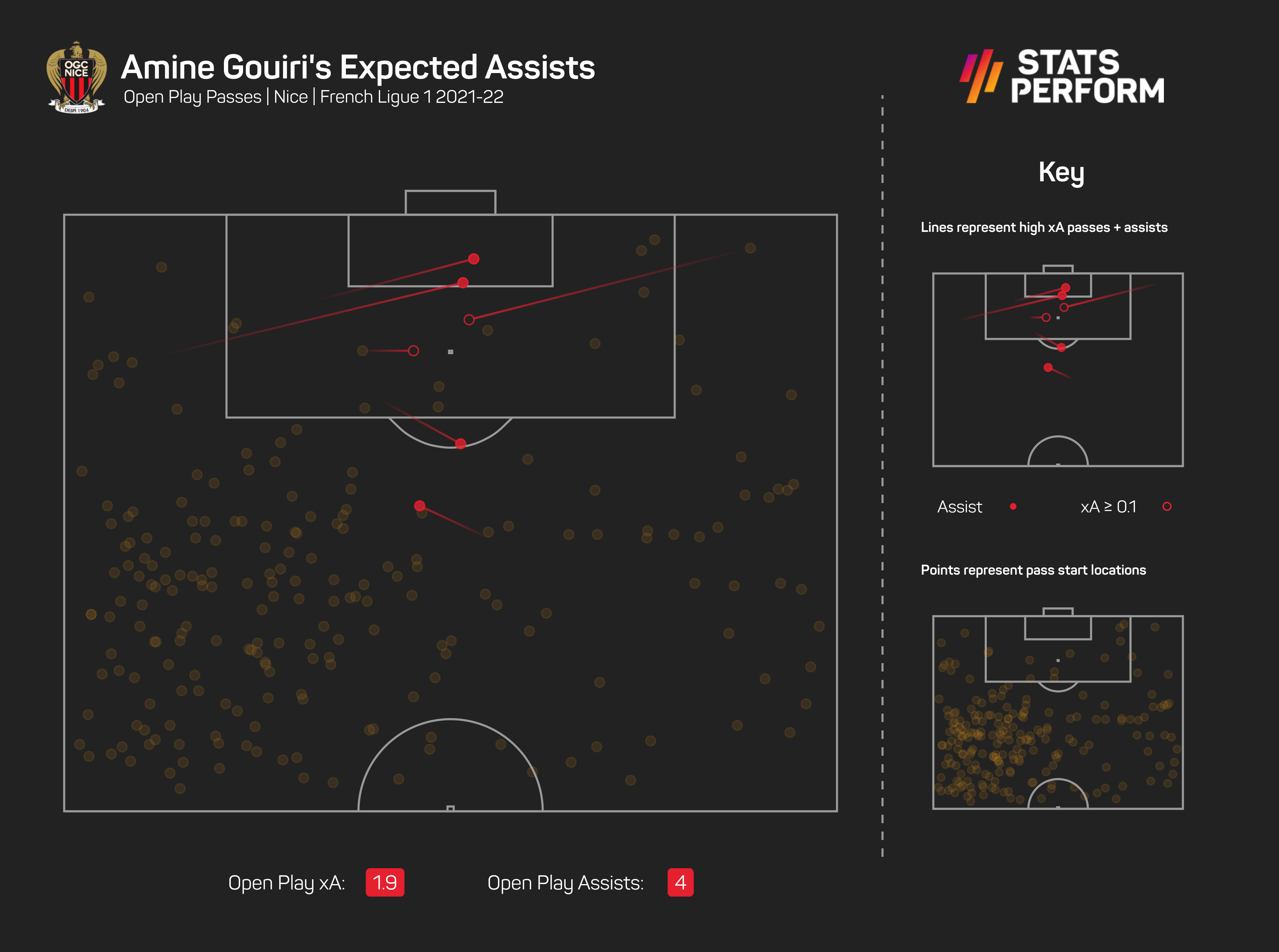 Matias Arezo (Uruguay) – 18, forward, River Plate (URU)
Uruguay has produced some truly great strikers down the years. After more of a barren spell in that regard since Edinson Cavani and Luis Suarez came through, there is once again a cause for optimism with Darwin Nunez, Agustin Alvarez and, arguably chief among them, Arezo.
The teenager turns 19 this November, so he's still got lots to learn and much room for growth, but the early signs are hugely promising – his stocky appearance, powerful style of play and feistiness (13 yellow cards over 2020 and 2021) have earned him the nickname 'Buffalo', and he's already a reliable source of goals despite his youth.
Arezo scored 13 times in 35 Uruguayan Primera appearances last term – he's matched that haul from 26 outings this year. For comparison's sake, Suarez got 10 in 27 in his first full season in the division with Nacional, while Cavani recorded nine in 25 appearances for Danubio before moving to Europe.
Qatar 2022 will almost certainly be the last World Cup for Suarez and Cavani if Uruguay make it, so they are likely to be involved – but otherwise, La Celeste's forward options are up in the air.
Arezo has been coping well in the physical competitiveness of South America's domestic football and must be in with a great shout of forcing his way into contention for the mission to Qatar.