Diego Simeone believes Joao Felix was unfortunate to be sent off in Atletico Madrid's draw with Athletic Bilbao, suggesting no one else would have seen red in similar circumstances. 
Atletico slumped to a third successive home draw across all competitions for the first time since October 2019, as Athletic frustrated them in a 0-0 stalemate. 
The visitors created the better chances, their accumulative xG total of 1.2 coming from six shots whereas Atletico recorded 1.1 from 14 attempts, though Marcelino Garcia Toral's men wasted two glorious opportunities. 
Simeone's side were not helped by the dismissal of Joao Felix for two bookings in quick succession 12 minutes from time, the Portugal international first shown a yellow card for catching his marker with a flailing arm and then his protests earned him another, resulting in a red card. 
Joao Felix's reaction included a gesture that most people would consider was questioning the referee's sanity as he pointed to his head, but Simeone seemingly thought official Jesus Gil Manzano's decision to send the forward off was harsh. 
"I did the same thing a lot of times," the former Argentina midfielder told reporters. "I was not in line with what I should have done, but as I grew older I corrected that. 
"I'm close to Joao and I don't care about this episode. If that gesture is made by someone else, he probably wouldn't be sent off. The referee doesn't react in the same way. 
"There were a lot of yellow cards. It's necessary to look for the sensitivity of the moment of the yellow cards – sometimes players have to talk [to the referee] during the game. It's not a yellow for asking a question. 
"Gil Manzano told me not to tell him to be calm when he was calm... He's a great referee, he has had very good performances for us last season, but the sensitivity depending on the day generates different feelings."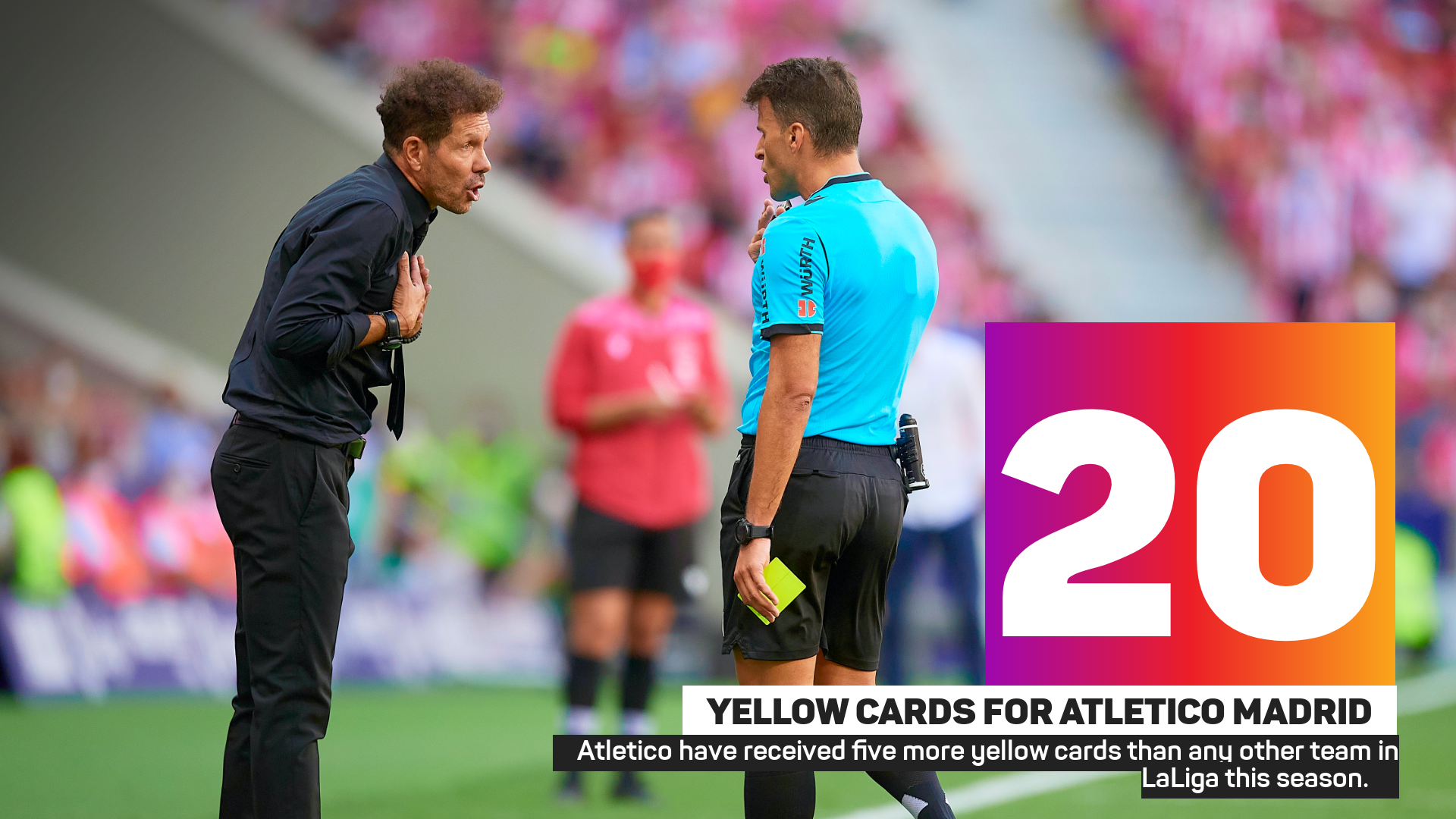 While Simeone was somewhat magnanimous regarding Gil Manzano, Stefan Savic was clearly perturbed by the officiating of the referee, who was also in charge in April when Sevilla beat Atletico 1-0 thanks to a Marcos Acuna goal that was allowed to stand after a handball in the build-up was deemed accidental. 
Atletico ended Saturday's game with four players on a yellow card and Joao Felix having been dismissed – that took them to 20 from just five games, five more than any other team and Savic is baffled. 
"We are calm, but we don't know what's happening. We're unlucky or this is crazy," Savic added. "We have to look ahead. 
"We must think about the things that we can influence, but it cannot be that they [officials] give 15 [20] cards to us. 
"We're not the only ones who protest in a match. The tempo rises, the tension rises – there are hot heads, and you have to understand that. 
"Everyone must understand that it's not the same to speak with a cool head, as during the match your adrenaline rises. 
"You cannot speak with Gil Manzano. We told him that he can't draw a card for each word that's said, so it's better to not say anything [about the referee]."