A leading Saudi Arabian human rights activist says Newcastle are being used as a "tool" to legitimise Mohammed bin Salman's regime and urged supporters not to underestimate the power of protest.
Members of the NUFC Fans Against Sportswashing group are set to stage a demonstration outside St James's Park on Friday night, prior to the first of two international friendlies set to be staged by the Saudis at the venue this month.
Lina al-Hathloul, whose sister Loujain was imprisoned and tortured after leading a campaign to allow women to drive in her homeland, was on Tyneside this week to stress that shows of dissent can still have a significant impact on the actions of the regime.
NUFC Fans Against Sportswashing (NUFCFAS) – staunch critics of Saudi Arabia's Public Investment Fund (PIF) purchasing the club in 2021 – is co-ordinating a protest and has urged people to meet outside the @alanshearer statue at 7.15pm, 45 minutes before the game kicks off. pic.twitter.com/gCScbgEBxv

— NUFC Fans Against Sportswashing (@NoSaudiToon) September 6, 2023
More than two years after Newcastle's controversial takeover by Saudi Arabia's Public Investment Fund, the small minority of dissenters among the club's fan-base is refusing to give up hope of pricking the consciences of enough fellow supporters to make an impression.
Speaking at a public meeting close to the stadium, Hathloul said: "They (the Saudi regime) really think that they've bought everyone's silence, but you should not underestimate the power one word can have.
"We're still in a phase where image is important for the Saudi regime. That's why they do as much as they can to cover up the (human rights) violations.
"We're not asking you to choose to love your club or to speak up – both can work together. You can be happy about Newcastle winning and still criticise what is happening in Saudi."
Saudi Arabia's two friendlies, against Costa Rica on Friday and South Korea four days later, are widely regarded as further proof of the regime's links to the takeover, despite "legally binding assurances" given to the Premier League in 2021 that it had no such influence.
Al-Hathloul called the Saudi claim a "lie", adding: "I love my national team, and for me it's always difficult to dissociate the regime and what I love about my country.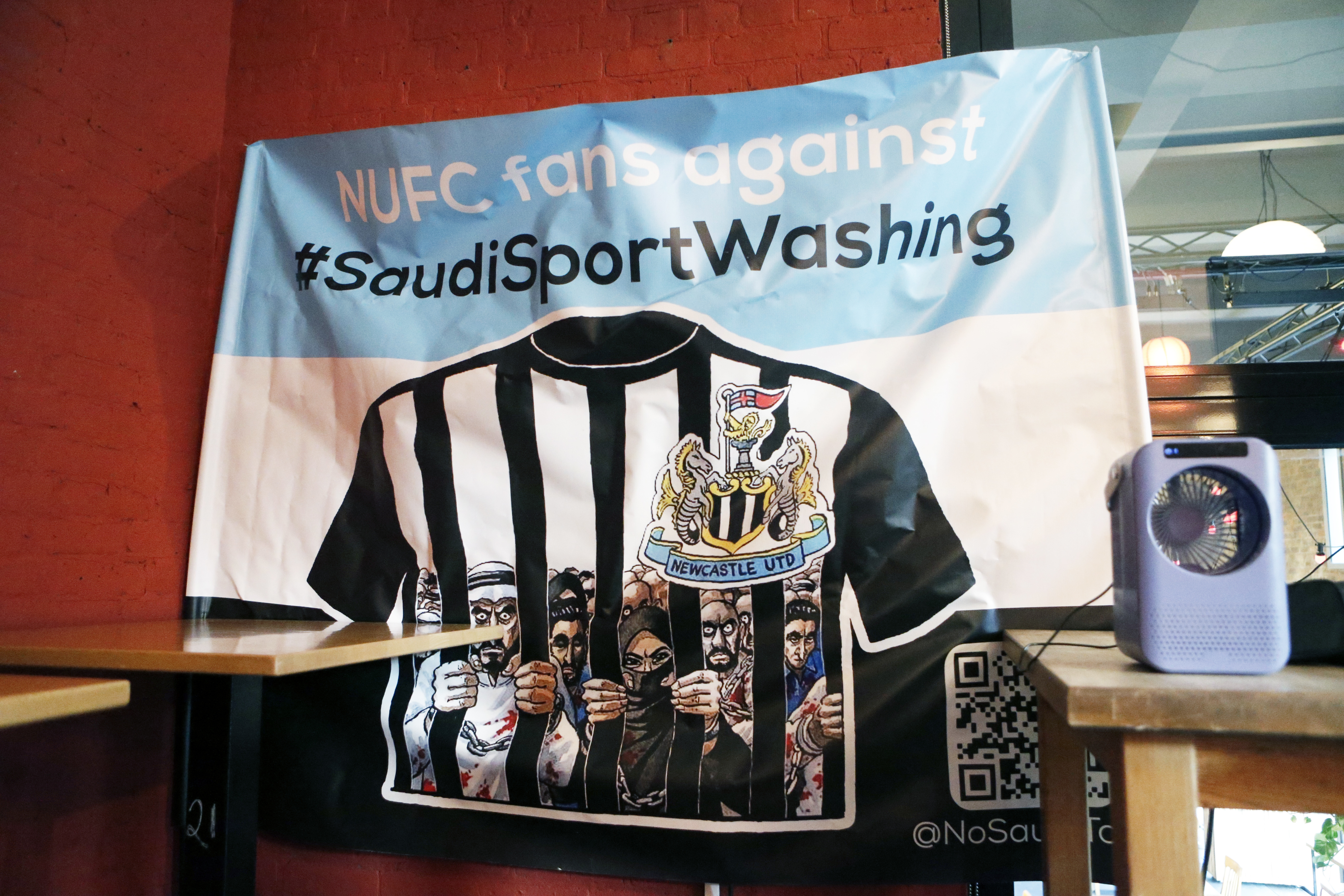 "[But] when has the Saudi national team played abroad in a friendly? It is very rare, and now it really is a coincidence that they are playing in Newcastle.
"So we see the Saudi government is using Newcastle as a tool now to push their agenda."
Loujain al-Hathloul was released in February 2021 after spending 1,001 days in jail under counter-terrorism laws. Al-Hathloul and her family continue to live under restrictions that prevent them leaving the country.
Newcastle have been contacted for a response.