Fernando Santos has no issues with rotating his squad in Portugal's final Group H match against South Korea.
Portugal's place in the knockout stage of the World Cup was assured when they beat Uruguay 2-0 on Monday.
While top spot in the group is not secured ahead of the meeting with Korea at Education City Stadium, Portugal's goal difference (+3) puts them in prime position to go through as winners.
Santos suggested he will make the changes, but he believes utilising more of his 26-man squad is the only way his team will develop.
"We must continue to grow. To me the most important thing is the confidence I have in all of my players, I trust all of them," he said at a press conference on Thursday.
"We have at least three who will definitely play. As for the others, we will have to see.
"The players are in great shape, but we have begun to see fatigue, which can lead to injuries. We have another player who is somewhat fatigued and we'll have to look into that, but we also have to deal with the bookings we have got.
"I'm very confident about who I'll be putting on the pitch. We have to understand for every match we have to make these decisions and I have to play the team I am most confident in regardless of previous results."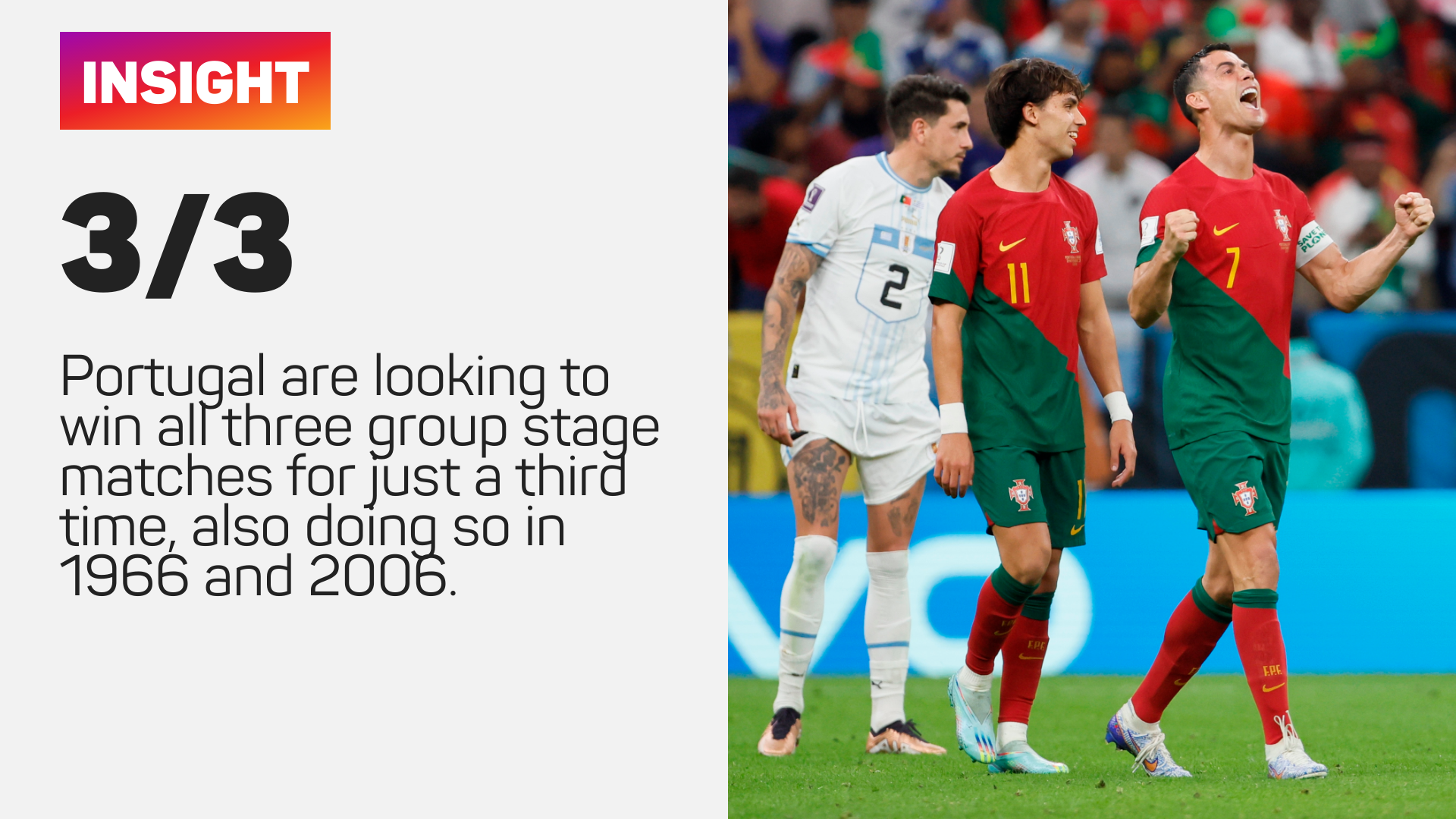 Asked if Ronaldo, who thought he had scored a 119th international goal when he tried to nudge home Bruno Fernandes' cross against Uruguay, would feature, Santos replied: "If he is well enough physically, he will be playing.
"I don't know if the chance is even 50-50, it depends on our training session. It depends if nothing happens and he will be able to play."
Winning the group would mean Portugal are likely to avoid a last-16 tie with Brazil, who look set to claim first place in Group G.
Santos is less concerned about the prospect of facing Brazil than he is about having fewer days in-between matches, however, as winning the group would mean Portugal play their last-16 match on Tuesday rather than Monday.
"At this stage, in terms of not running into Brazil – we're not really concerned about that at this point," Santos explained.
"When you come to a World Cup you strive to achieve something very important, so it's much more important to have at least 24 hours for the players to recover.
"I hope they will all be ready to play but if it's difficult to be in the best shape after four days, then after three days it's even more difficult."