Manchester City remain the likely Premier League champions and are on course to pip weekend opponents Liverpool to the title as the race reaches its home straight.
The top two each have eight games remaining and the first comes on Sunday when they go head-to-head at the Etihad Stadium in what many are billing a title decider.
That is hyperbole of course, but for City it is the last time they will face a team currently in the top five, so by that logical reasoning it is the game where they are most likely to slip up.
Arsenal are the team likeliest to snatch fourth place and a Champions League ticket for next season, while at the foot of the table it is almost too close to call between Everton and Burnley for the third relegation place, with Leeds United now standing just a 12.2 per cent chance of sliding down to the Championship.
Stats Perform AI analysis has given us a strong sense of how the standings might look come the season's final whistle on Sunday, May 22, but the figures also show us there remains plenty to play for.
Pure passion from @PepTeam! @DeBruyneKev's equaliser against Liverpool #ManCity pic.twitter.com/69aPMutNzh

— Manchester City (@ManCity) April 7, 2022
PEP TO WIN THE TITLE BATTLE AGAIN?
Pep Guardiola's City head into the crucial contest with a one-point advantage over a Liverpool side who have been closing the gap since trailing by 14 points on January 15, albeit with Jurgen Klopp's Reds having played two fewer games at that time.
It is clear this remains a title race that could yet go either way, but City stand a 65.6 per cent chance of carrying off the trophy for a second season in a row, with Liverpool, their lone rivals for silverware, having a 34.4 per cent opportunity.
Diego Simeone described City as "an extraordinary rival" after Atletico Madrid's 1-0 defeat at the Etihad Stadium on Tuesday, and the second leg of that Champions League tie follows three days after the Liverpool game.
City's Premier League opponents for the remainder of the campaign will then be, in order: Brighton (home), Watford (home), Leeds United (away), Newcastle United (home), West Ham (away) and Aston Villa (home), with a trip to Wolves also to be arranged for a date to be confirmed.
Liverpool, also with Champions League commitments and an FA Cup semi-final against City to come, have what looks a more daunting Premier League run-in after this weekend, beginning with two huge Anfield games: Manchester United (home), Everton (home), Newcastle (away), Tottenham (home), Aston Villa (away), Southampton (away), Wolves (home).
They are 64.7 per cent likely to finish as runners-up, the Stats Perform prediction shows, and 0.9 per cent likely to be caught by Chelsea for second place. City are 0.3 per cent likely to throw it away and finish third. Now that would be some story.
Of all teams in the top flight, third-placed Chelsea are the most likely to finish in their current position. That is calculated as a 94.5 per cent probability.
8 - @LFC have won eight consecutive away matches in all competitions for the first time in their history. Powerhouse. pic.twitter.com/XNIQ1Xh3fe

— OptaJoe (@OptaJoe) April 5, 2022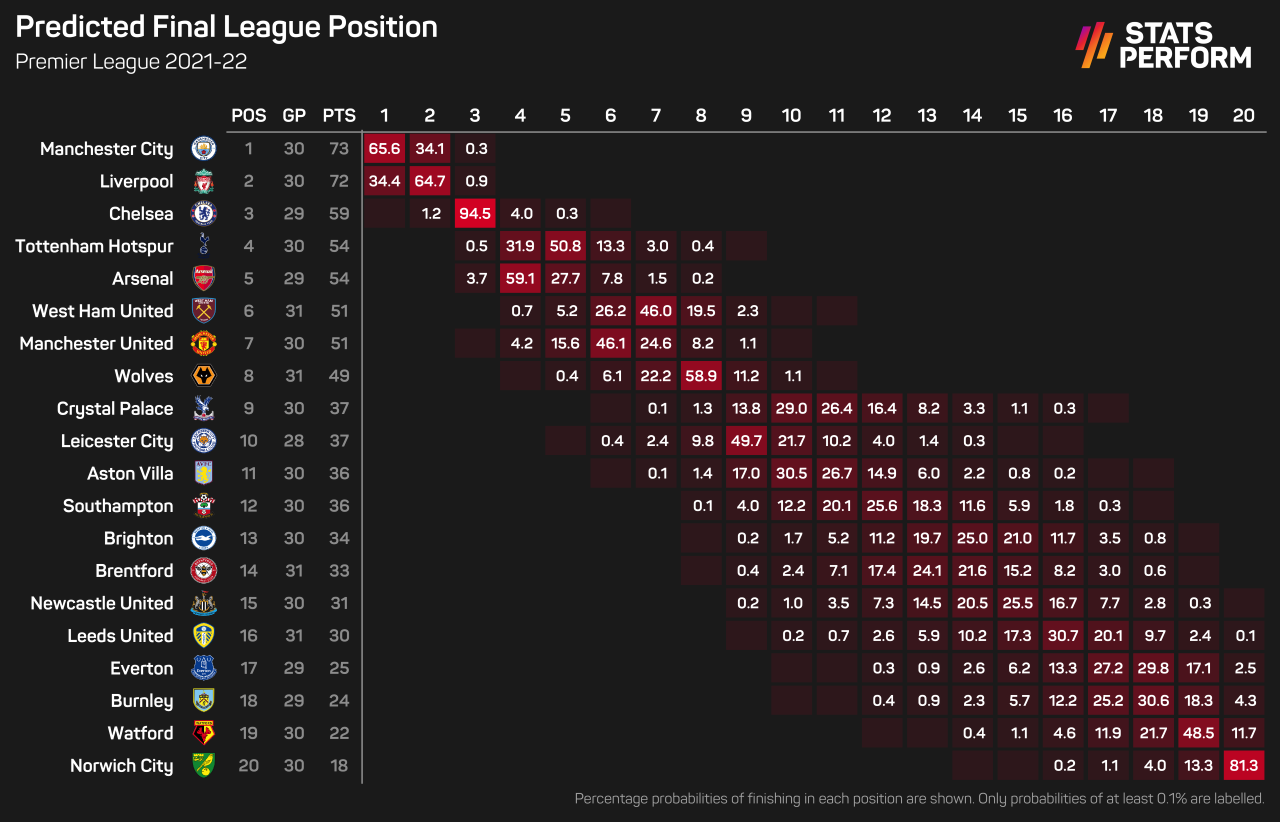 GO FOURTH AND PROSPER?
The last Champions League qualifying berth is the prize that looks to be a slug-off between north London rivals Tottenham and Arsenal, who will meet in a May 12 derby.
Both sit on 54 points heading into this weekend, with Tottenham fourth for now but Arsenal having played one fewer game.
Momentum could change considerably, but for now Arsenal are predicted to have a 59.1 per cent chance of taking fourth spot, with Tottenham given a 31.9 per cent shot (50.8 per cent to be fifth).
Who else might take fourth and secure the riches that come with Champions League involvement? Well, Chelsea are reckoned to have a 4.0 per cent prospect of slipping there (and a 0.3 per cent chance of nose-diving to fifth), while Manchester United are three points adrift of Spurs and the Gunners, sitting in seventh ahead of a weekend trip to struggling Everton, and are given a 4.2 per cent hope of finishing so high.
That would be a massive boost to United's next boss, but it remains a slim hope. In fact, United's most likely finishing position, according to the predictor, is sixth place (46.1 per cent).
Former Red Devils boss David Moyes has probably seen his West Ham side's hopes of a top-four finish slip away. The Hammers are also just three points behind Tottenham and Arsenal but have played more games than both and are given a trifling 0.7 per cent chance of coming home fourth.
All systems go for #EVEMUN  #MUFC | #PL pic.twitter.com/Bz8tn9wRiM

— Manchester United (@ManUtd) April 7, 2022
GOING DOWN WITH THE NORWICH?
The Canaries of Norwich are so far down the relegation pit of despair they can surely smell Championship gas. They stand a 1.3 per chance of survival, and are 81.3 per cent likely to finish rock bottom.
Second-bottom Watford are given an 18 per cent chance of staying up by the predictor, and home games against Leeds, Brentford, Burnley, Everton and Leicester City mean that door to survival should be considered just slightly ajar.
Leeds could yet plummet, but if Norwich and Watford are the likeliest two sides to exit the Premier League, then Burnley and Everton are the two most obviously jostling to avoid joining them.
For now, after a bruising 3-2 defeat at Burnley on Wednesday, Everton are rated 49.4 per cent shots to finish inside the bottom three, compared to 53.2 per cent for Sean Dyche's Clarets.
It is knife-edge stuff, hardly the end of the table where Frank Lampard is at his most comfortable.
Come the final day, Lampard's Everton might need something from a trip to Arsenal, who in turn might need points in that fourth-place battle.
The tension builds towards the bottom of the #PL table  pic.twitter.com/Djo90JP7q0

— Premier League (@premierleague) April 6, 2022
HOW THE NUMBERS ARE WORKED OUT
Stats Perform's League Prediction model simulates the outcomes of the remaining matches to estimate the likelihood of teams finishing in each position.
The model estimates the probability of each match outcome (win, draw or loss) from the latest available betting market odds data or, when not available, by using an internal win probability model that is powered by historical team strengths.
Based on these probabilities, the results of the remaining matches can be simulated. The outcome of the season is simulated 10,000 separate times in order to estimate the likelihood of each team finishing in each league position.