Manchester United manager Erik ten Hag hailed Cristiano Ronaldo's "phenomenal" record of scoring 700 club goals and joked "not many players even achieve 700 games".
Ronaldo hit the latest milestone in his remarkable career with the winning strike in last Sunday's 2-1 win at Everton after being introduced from the substitutes' bench.
The Portugal forward has endured a frustrating time of things under Ten Hag, having so far started just one of United's eight Premier League matches under the Dutchman.
But ahead of facing Omonia Nicosia in the Europa League on Thursday – a match Ronaldo looks set to start – Ten Hag lauded the superstar forward's goalscoring longevity.
"It's phenomenal. Football is [about the] team and we express this in a way," Ten Hag told United's official website.
"I think Cristiano, he knows we can't do it without the team but I must say it's a huge individual performance. If you achieve this, it's incredible.
"Seven hundred club goals. Not many players even achieve 700 games, and he scored 700 goals. I'm really happy for him. I really want to tell you that and I congratulate him."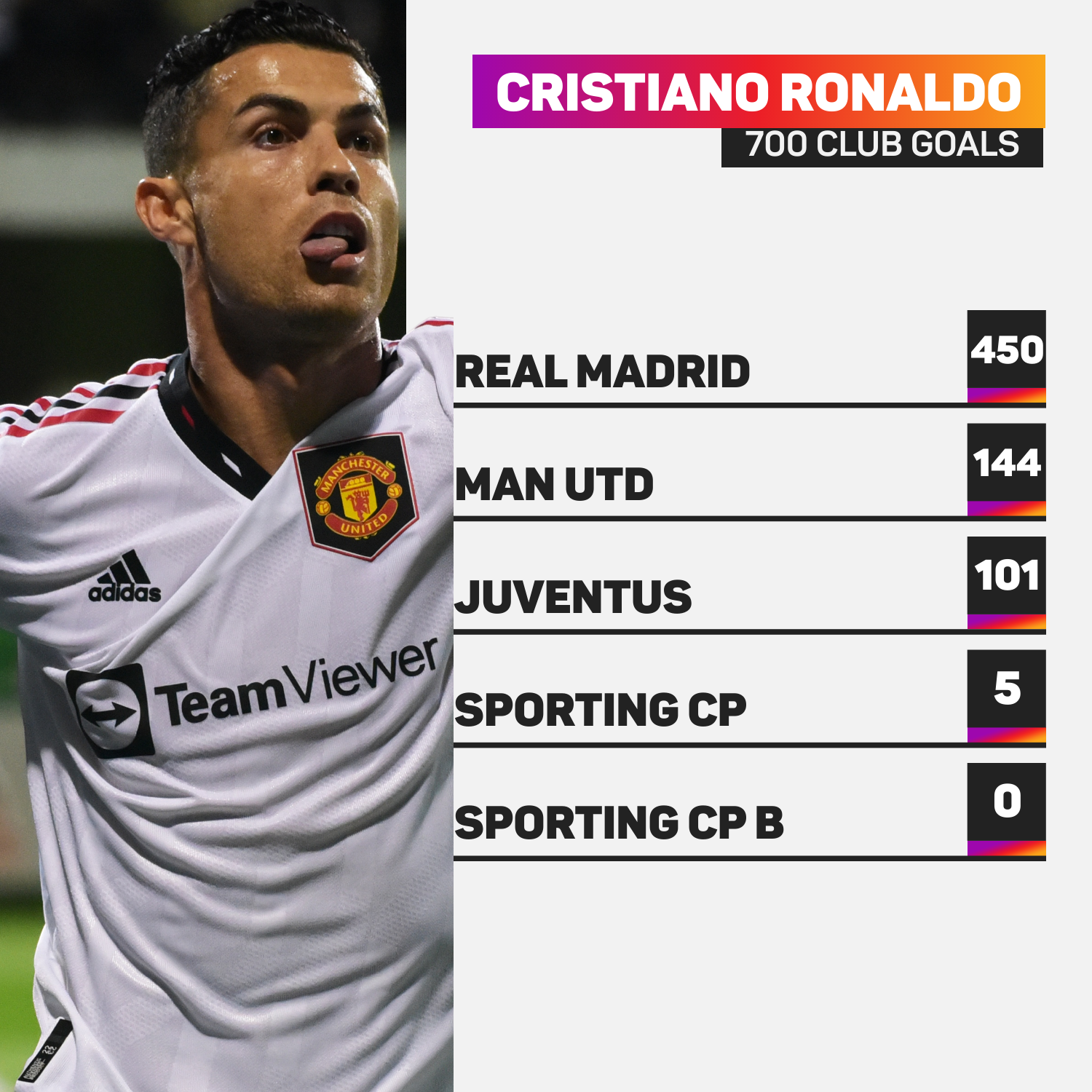 Of those 700 goals scored by Ronaldo, five came for Sporting CP, 118 in his first spell at United, 450 with Real Madrid, 101 at Juventus and 26 in his second stint at Old Trafford.
The 37-year-old will be looking to add to that tally against Cypriot side Omonia as United aim to avoid an unwanted first.
They have lost their past two home European matches, against Atletico Madrid and Real Sociedad – never before have they lost three in a row, with this their 198th game.
United recovered to beat Omonia 3-2 last week and are second in Group E at the midway stage, three points ahead of Sheriff and three behind leaders Real Sociedad.
"It's another important game for us," Ten Hag said. "We want to be first in the group. We are three points behind Sociedad and so we have to win.
"That is the first [target], and we have to score goals, that is the second [target]. So we have to prepare for the game properly because we are playing against a tough opponent.
"They will be ambitious and they will be fighting so they are well organised. It's not easy to score goals. We had that experience last week, so we have to be good."