Newcastle United should ignore the temptation to buy "big stars" and focus on more players like Bruno Guimaraes and Joelinton.
That is the view of Shaka Hislop, the ex-Magpies goalkeeper, who has been hugely impressed by the performances of the Brazilian midfield pair.
Newcastle signed Guimaraes in January for a fee that could eventually surpass the club-record figure of £40million previously spent on compatriot Joelinton.
Brazil international Guimaraes hit the ground running at St James' Park, scoring five goals in 17 appearances before the end of the season – more than in 71 outings over two years for former club Lyon.
Joelinton endured a considerably trickier start to life in England following his 2019 arrival, toiling as a striker as he netted only 10 times in 80 games across his first two seasons.
Yet Eddie Howe has transformed the ex-Hoffenheim man into a dominant, destructive midfielder, contesting the second-most duels in the Premier League this season (529).
Guimaraes and Joelinton were key to Newcastle's impressive late-season form, winning six of the nine games they started together, but Howe's XI could look very different next term after another transfer window.
Since a lucrative takeover last year, Newcastle have been linked to Neymar, Gareth Bale, Eden Hazard and Ousmane Dembele, among others.
But Hislop says his former club should be looking for more players like Guimaraes.
"If big stars become available at the right price and the right fit for Newcastle, I don't see why not," he told Stats Perform.
"But at the same time, while I think there's this temptation, if not an expectation to go for those big stars, one of those January signings was Bruno Guimaraes, who was not a big star, but goodness me, what a player he's turned out to be.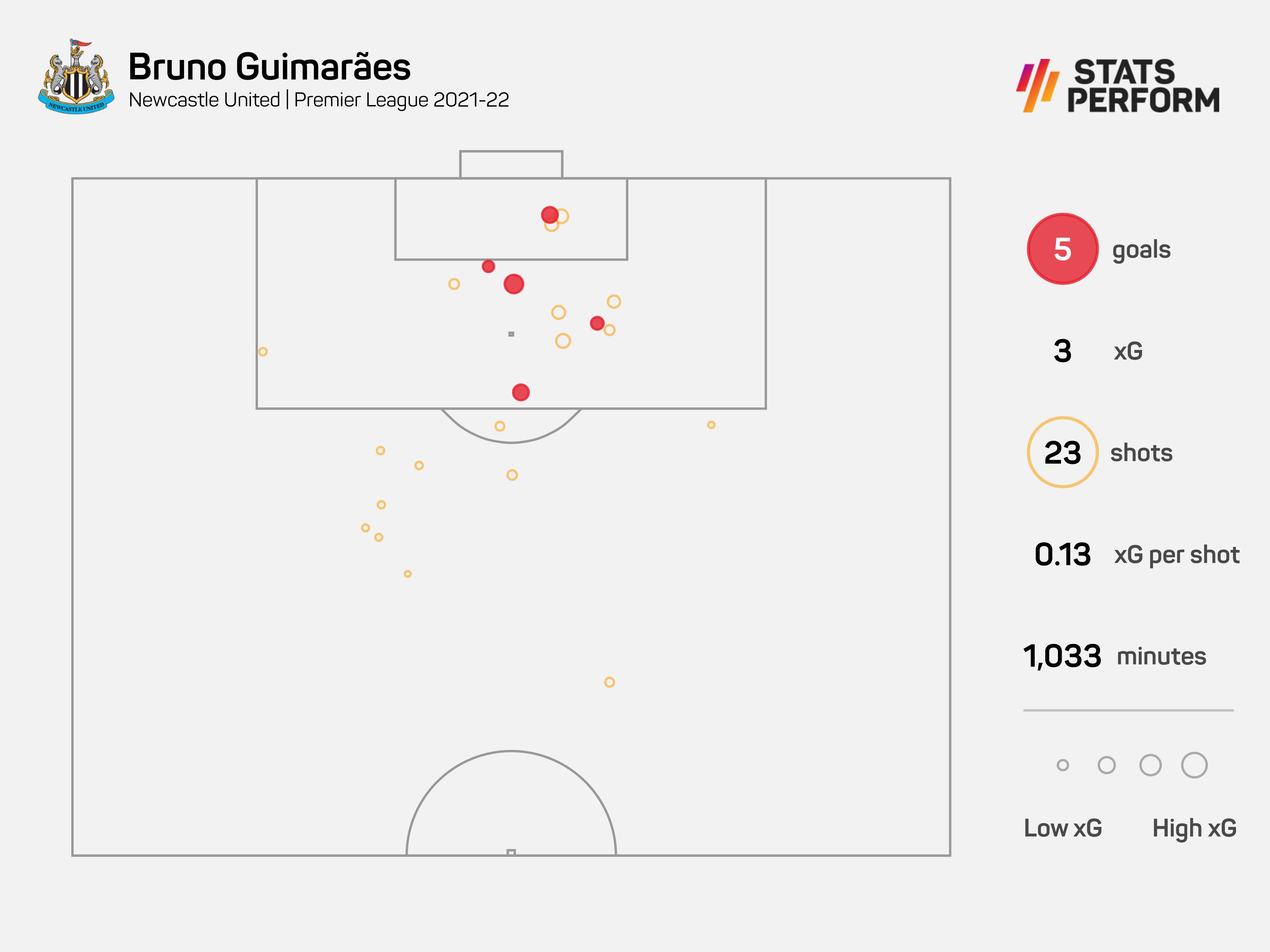 "And I think that's in keeping with what the transfer policy will be.
"At the same time, while I mention Bruno Guimaraes, I've got to mention Joelinton, whom many had dismissed and thought was on his way out.
"And Eddie Howe found his position for him as a defensive midfielder, and he ended up winning [Newcastle's] player of the season – and justifiably so.
"Those are the kind of players, because when you see them, and you see their performances, that's exactly what you want from Newcastle players.
"So while the temptation will be to go for the big names, I don't think that is how they'll do their business – that's not going to be their M.O. so to speak.
"It will be finding those gems and those gems that fit with what Newcastle United stands for."
Hislop was at Newcastle's 2-0 win over Arsenal, watching Guimaraes score the second goal, and he said: "Seeing him live, as I did against Arsenal, just painted his talents in a very different light for me.
"He is so calm under pressure, and I think that feeds to everybody else. He's calm under pressure when he's in possession, he's first to press the ball, he, of course, popped up with the second goal against Arsenal.
"He really is an incredible talent and, again, he epitomises so much about Newcastle or the way that they play under Eddie Howe."
Hislop believes Newcastle may not need as much investment as has been suggested, having earned the fourth-most points in the Premier League in 2022 (38) and the third-most points per game (2.0) – behind only Liverpool and Manchester City.
"Given that stat, where is the urgent need to strengthen?" Hislop said. "Listen, I also understand that when you're playing well that is a perfect time to bring fresh faces in to add competition in the squad.
"I believe that those players who performed so well in the second half of the season deserve the chance to build on that.
"So, if I am adding to the squad, it's around competition for places; having real strength in depth is a need for every Premier League team now.
"Newcastle are not yet competing in Europe, but the hope will be that they put together some decent cup runs and, if you do that, again, your squad will be tested. So, right now, my thinking is just in terms of our squad depth."