Jose Mourinho has challenged Tammy Abraham to build on his performance in the Rome derby after the former Chelsea striker netted twice in a 3-0 win.
Abraham opened the scoring for Roma in the first minute of Sunday's clash with Lazio. That was the fastest goal ever recorded in a Serie A Rome derby.
It also made Abraham only the second English player to score in the match, after Paul Gascoigne, who did so for Lazio back in 1992.
Abraham doubled his tally with a volley in the 22nd minute to take his tally to 15 league goals for the season, with Lorenzo Pellegrini adding a third for Mourinho's team before half-time.
Since the start of 2022, only Robert Lewandowski (12) has netted more goals in the big five European leagues than Abraham (nine), but despite the 24-year-old's sparkling form, Mourinho remains typically hard to please.
"Great performance," Mourinho told DAZN. "Today was really special because it seemed that everything we had planned was put on the field, Lazio in the second half tried to play with pride but we never lost control.
"No doubt, the boys deserved the victory.
"When you say Abraham is fantastic I disagree, he can do even more. I demand a lot of him because I know his potential, I'm not talking about goals but he must play every game with this attitude."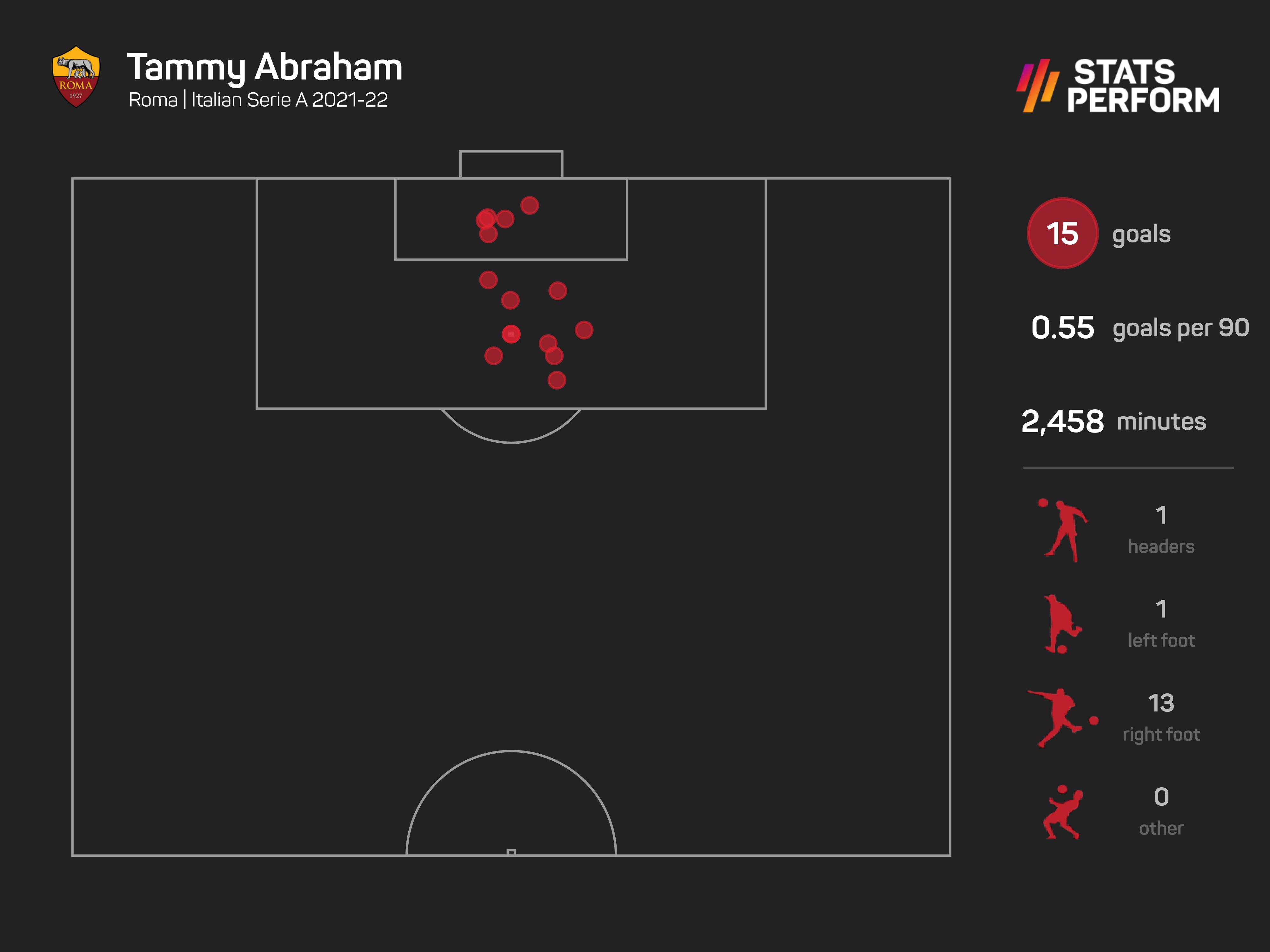 With Roma in such control before the break, their supporters in the Curva Sud began chanting "ole" at every pass, though Mourinho was visibly frustrated by this.
There was a curious moment just before half-time when Mourinho was furious with the Roma ultras in the Curva Sud, demanding they stop making mocking 'ole' chants at every pass.
"I don't like 'ole' things, I don't like how they are interpreted by the players on the pitch. You always need respect for your opponent," Mourinho explained.
Roma's win lifted them to fifth in Serie A, putting them in prime position to secure a Europa League place. Lazio, meanwhile, are two points behind in seventh.
Maurizio Sarri was furious with his side's reaction to conceding after 56 seconds.
"The goal immediately cut our legs and we didn't have the strength to react," he told DAZN. "We immediately lowered our heads and I'm sorry we lost a derby like this, I know how much the fans care.
"We got nervous right away, making mistakes. We immediately lost our minds, we weren't lucid because there would have been time to straighten it."