Micky van de Ven is no stranger to proving people wrong and has total confidence Tottenham can continue to silence the "negative" talk which surrounded the club this summer.
The Dutch defender has been a revelation since he signed from Wolfsburg for an initial £34.5million fee and has helped Ange Postecoglou's new-look team win four of their opening six Premier League fixtures despite the departure of record goal-scorer Harry Kane.
While Van de Ven and Spurs are enjoying a new lease of life under Postecoglou, it has not been a smooth journey for the 22-year-old with a career outside of football considered and a difficult first campaign in Germany navigated before he reached England's top flight.
Van de Ven was on the brink of being released by Volendam during his under-19 days when Wim Jonk's arrival as manager resulted in an unexpected first-team opportunity. Fast forward five years and he is in the Netherlands senior set-up while quickly on his way to becoming a fan favourite in N17.
"I like to prove people wrong, yeah it is true," Van de Ven told the PA news agency after he surprised Lea Valley Primary pupils during a school football session put on by Tottenham Hotspur Foundation this week.
"My dad (Marcel) helped me also a lot at Volendam. It was a difficult situation for me because when people say they don't trust you when you are 17-years-old, maybe you have to look for work or something.
"You have to have a second choice if you can't make it to be a professional football player and you have to switch. I said to my dad, 'maybe I have to work,' and he was like, 'no! Trust me. One day a person will come, you will get your chance and grab it'.
"So, I kept working, pushing, pushing, pushing and there was the chance and I grabbed it.
"Also when I came from Volendam and went to Wolfsburg everybody said the step was too big, but I wanted to prove people wrong, so that is the mentality.
"It is true (for Tottenham) because what I saw before I joined Spurs was that people were really negative about Spurs.
Do you see your team? pic.twitter.com/nuslFgMSTC

— Premier League (@premierleague) September 25, 2023
"Of course, Kane was maybe going to leave and he scored every year 30+ goals, so yeah amazing striker, but we were there to prove them wrong. I think we are doing good now, but it is just the beginning. We need to keep pushing.
"We want to be at the highest level all season, so I don't know where it will end but we want the best."
James Maddison, Son Heung-min and Yves Bissouma have taken the biggest plaudits for Tottenham's transformation from a disjointed, counter-attacking team last season into a front-foot side.
Spurs have scored 15 times in six league fixtures with Son leading the way, but it is at the other end of the pitch where the bravery and boldness in possession begins with Van de Ven and centre-back partner Cristian Romero.
The duo are opposites in style with World Cup winner Romero known for his aggression, while Van de Ven appears calmness personified, but they have quickly built a bond on and off the pitch.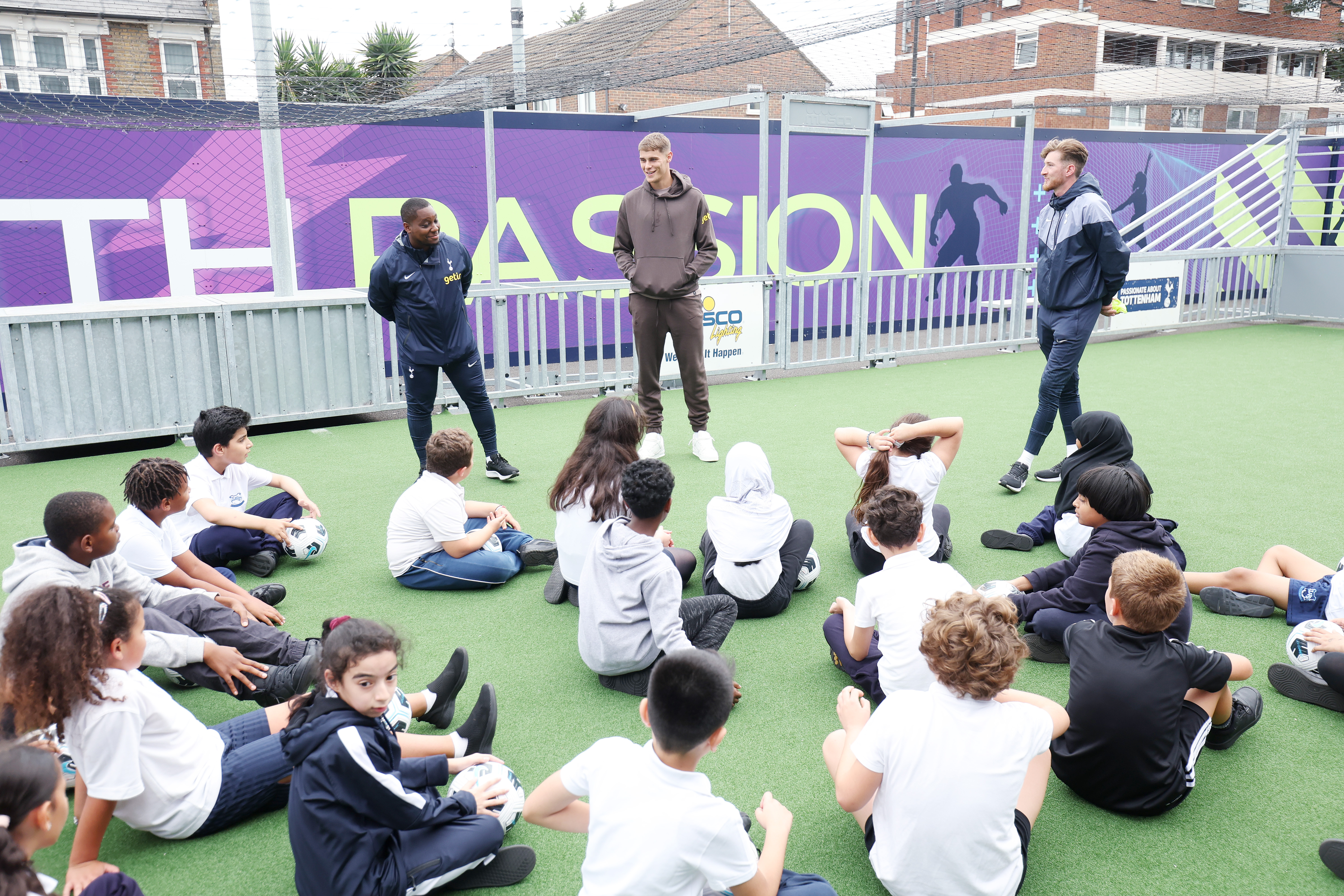 Van de Ven explained: "I think it naturally happened on the pitch and we felt each other quite fast, but when I came he was also really nice to me and showed me 'here is the kitchen and where you can get this', so he was sitting with me and we talked a bit.
"It was really nice the first couple of days I was there, but also on the pitch it felt good.
"Of course he won the World Cup, I saw him play the whole World Cup so I know his quality already.
"I think I know what Cuti's (Romero's) qualities are and Cuti knows what my qualities are, so we know what we expect from each other. I have his back and he has my back.
"Cuti is just an amazing player and I know when I run in one direction, he is in my back because he is always there. We just feel each other and of course it is amazing when you have this as a centre-back duo.
"Of course we are shouting to each other (in games) but it is not in a negative role or something. It is always positive.
"I think I make him maybe more calm and he makes me more aggressive. He will (always) be a more aggressive player and I am a more calm player, but it fits each other well."
While it is early days for the Van de Ven and Romero partnership, the youngest member of the duo is crystal clear about his personal ambitions.
Van de Ven wants to become one of the best defenders in the Premier League like compatriot Virgil van Dijk, who he will face on Saturday night when title contenders Liverpool visit Tottenham.
"I am really looking forward to seeing the fans again in the stadium and they will make it a good game from us," the former Netherlands Under-21 captain added.
"We are going to play our own way and play like we want to play. We don't have fear for Liverpool.
"I think Virgil was the last couple of years and this year also one of the best defenders in the Premier League, for sure.
"The year they grabbed the title he was unbelievable and showed how important he is for Liverpool. He shows how important he is the last couple of years.
"Yeah, that is my ambition to be one of the best centre-backs in the Premier League and I will work hard for it to make it happen, but I just started so hopefully I can be there in I don't know how many years."
:: Micky van de Ven appeared at a school's football session delivered by the Club's Foundation at N17 Arena – a community hub located on the Tottenham Hotspur Stadium campus.