Pep Guardiola wants Manchester City to emulate the great Tiger Woods by never giving up in their title tussle with Arsenal.
City beat the Gunners 3-1 in a thrilling encounter at Emirates Stadium on Wednesday to move top of the Premier League.
The defending champions have played a game more than Arsenal and are only top on goal difference, however, with Guardiola convinced his team have had some good fortune.
Yet he pointed to golf legend and 15-time major champion Woods – who returned to the PGA Tour this week for the first time since suffering serious leg injuries in a car crash in 2021 – as a source of inspiration.
"Right now, we could be 10 or 12 points behind. We are a bit lucky," he told reporters ahead of Saturday's trip to Nottingham Forest.
"If [Arsenal] won at Everton when they played to win, we lost at Spurs, we lost to Arsenal then we are 10 points behind and the game is over.
"Now we could be 10-12 points behind even [with Arsenal having played] one game less. We're top of the league after two nights when they have been top all season.
"You never, ever, ever can give up. The biggest athletes never do. This weekend is the best weekend because Tiger is back. He's playing at the Genesis Invitational.
"We have to learn from the greatest and he never gives up. He is two over, one over, then finishes the last round with birdie, birdie, birdie. Never give up, continue until the end."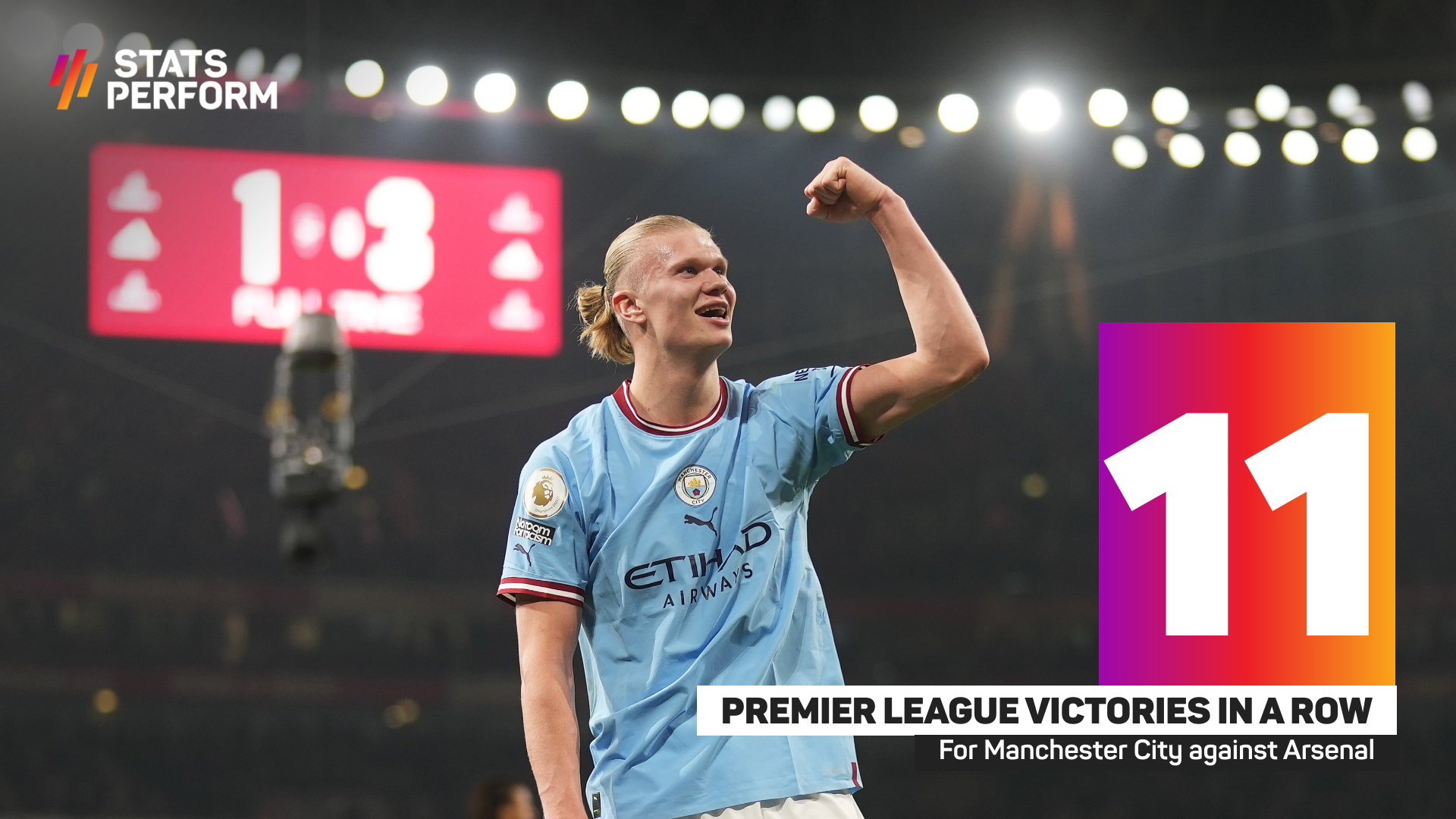 Guardiola said in the wake of City's win in north London that his first-half tactics had been "horrible".
Bernardo Silva was deployed as a left-back until Manuel Akanji replaced Riyad Mahrez early in the second half, enabling the Portugal international to switch to the right wing.
City, who took the lead through Kevin De Bruyne but were pegged back by Bukayo Saka's penalty, went on to clinch the points through Jack Grealish and Erling Haaland.
"I meant in general how I imagined the game, it didn't work, not because Bernardo played left-back," said Guardiola, explaining his post-match comments.
"If it works I am brave, if it doesn't work I am overthinking. Arrogant. 'What is Pep believing, changing tactics? Why don't you play Kevin De Bruyne all the time? Why don't you play the other ones?'
"Because Kevin De Bruyne cannot play all the games. He needs to be fresh here [in the head]. He has to get the message, he can do better.
"I cannot go to sleep or wake up in the morning, have something inside of me visualising what the opponent can do and think: 'The normal thing is play the starting XI that people around the world say is the best.'
"In 14 years, starting with the second team Barcelona, I never took a decision like: 'I am going [to show off].'"
Haaland's neat finish brought up his 26th league goal of the season, though City's use of their star striker had been called into question after the 1-0 loss at Spurs.
Sky Sports pundit Jamie Carragher went as far as to say Haaland "might have picked the wrong club to actually get the best out of him".
Asked about Carragher's comments, Guardiola said: "I understand it. What can I say – I'm open to all opinions. So [Jamie] will have his argument.
"It's important I have the feeling that [Haaland] feels so happy here. Committed. Not because he already scored 26 goals, but it was a surprise for all of us, a real surprise.
"We didn't know him. We knew his stats, his numbers, his laughs when he played at Dortmund, but we are all of us really surprised at how he is as a boy – because he's a boy."
Guardiola is also hopeful Ilkay Gundogan will sign a new contract at City, with his deal set to expire at the end of the season.