Manchester City boss Gareth Taylor wants improved communication between players and officials following Sunday's controversial draw with Chelsea in which he felt the referee handed out bookings "like confetti".
City looked the brighter side and had taken a 1-0 lead via Chloe Kelly's deflected seventh-minute strike, but late in the first half referee Emily Heaslip decided Alex Greenwood had been time-wasting after taking 26 seconds to take a free-kick and dismissed the bewildered captain with a second yellow.
It was an encounter with potential title implications that ultimately saw 10 yellows issued, including a second to Lauren Hemp 15 minutes before Guro Reiten's stoppage-time equaliser, with the decision against Greenwood in particular lambasted on social media and criticised by big names including Ian Wright and Beth Mead.
Taylor, who himself was booked in the second half, said: "We submit a report which normally is fairly straightforward.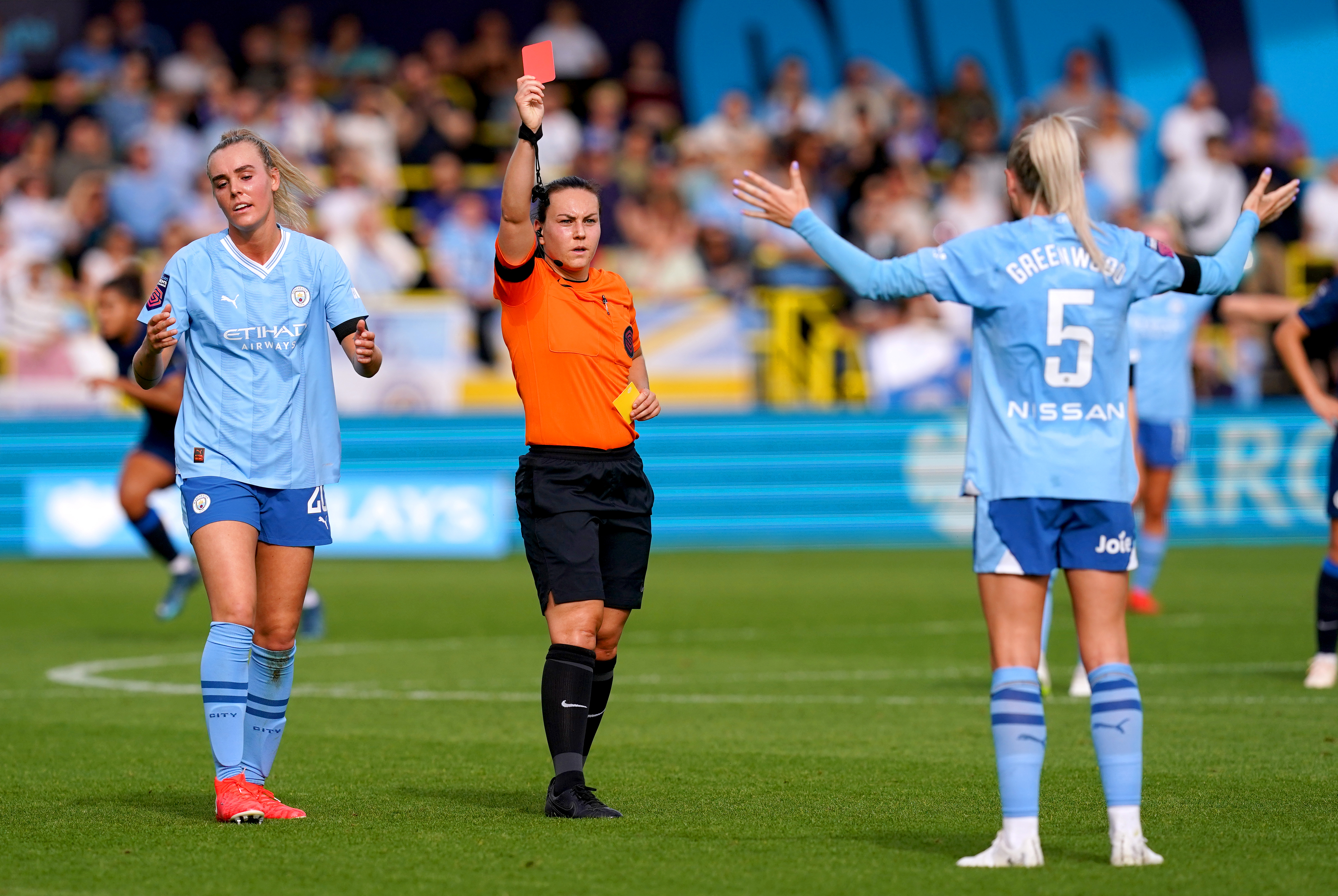 "I think this one will be quite an interesting one, just in terms of some of the feedback I've had from the players as well, in terms of the communication back and forth from the officials.
"Everyone makes mistakes. I think owning those mistakes at times is is much easier to handle, because we all do it, and I think it's just a little bit easier if we get that communication between us, which is really important, so that we can create – not necessarily accountability – but we can create communication between us and go, we're seeing it as this and you guys are seeing it slightly differently, who is right or wrong here?
"It's important we get the feedback. Let's see what we hear back."
City, who also unsuccessfully appealed a three-match ban for Leila Ouahabi, sent off in their season opener, next travel to Everton on Wednesday to kick off their FA Cup campaign, a competition Taylor insisted "is not something to be sniffed at".
City are looking to qualify for Champions League football again after narrowly missing out with a fourth-place WSL finish last year, with success against top sides like Chelsea critical in the short 22-match season.
While Taylor suggested Sunday's decisions "went against us, it always seems to be against us and not Chelsea", he conceded the first yellow of the game, shown to Blues forward Lauren James, was "harsh, and the next thing you know, before you know it, they're handing them out like confetti".
He also brushed aside theories that his side were less disciplined than Hayes', adding: "They always seem to talk around that their discipline is much higher, but I don't think there was any ill discipline from us at all.
"It was a real anomaly of the game and it forced us into a really, really difficult situation which the players coped with so well.
"I've been so impressed with the players and the way they manage that.
"To put four points on the board in both of those games, when you lose players, has been amazing."