Romelu Lukaku finally scored at Stamford Bridge and declared it a "childhood dream" fulfilled as his double sank Aston Villa.
Chelsea scored a battling 3-0 win over a Villa side who gave as good as they got in the first half, with Blues boss Thomas Tuchel admitting they had him worried.
It was Lukaku's lethal finishing that proved key, though, as he slotted a clinical opener and smashed in a clincher in second-half stoppage time.
Those were his only two shots of the game, as Chelsea secured their 600th Premier League win. Manchester United were previously the only team in the league's history to reach that tally.
Chelsea's other goal came from Mateo Kovacic, who pounced on a short backpass from Tyrone Mings to clip in a classy finish early in the second half, taking some of the sting out of Villa.
This was Lukaku's 15th game at Stamford Bridge, spread across appearances representing Chelsea, Everton and Manchester United, and it was the first time he got on the scoresheet.
"I've waited. It's been my dream since I was 11. I've worked hard for this moment," Lukaku said. "It's a childhood dream for me. I'm very happy to be in this situation, but the work has to keep going."
The £97.5million signing from Inter has made a stunning start to his second spell at Chelsea, having barely made an impact on the first team in his previous stint.
Lukaku's opening goal saw him show quick feet to get past Axel Tuanzebe before finishing in style, and the second was a shot into the top-left corner from just inside the penalty area.
"Playing in Italy, I was playing in a league where I would have one or two chances in a game and I had to take them," Lukaku said on Sky Sports, explaining his precision.
"With the experience and the hard work and my team-mates understanding me, I'm very happy with the situation I'm in."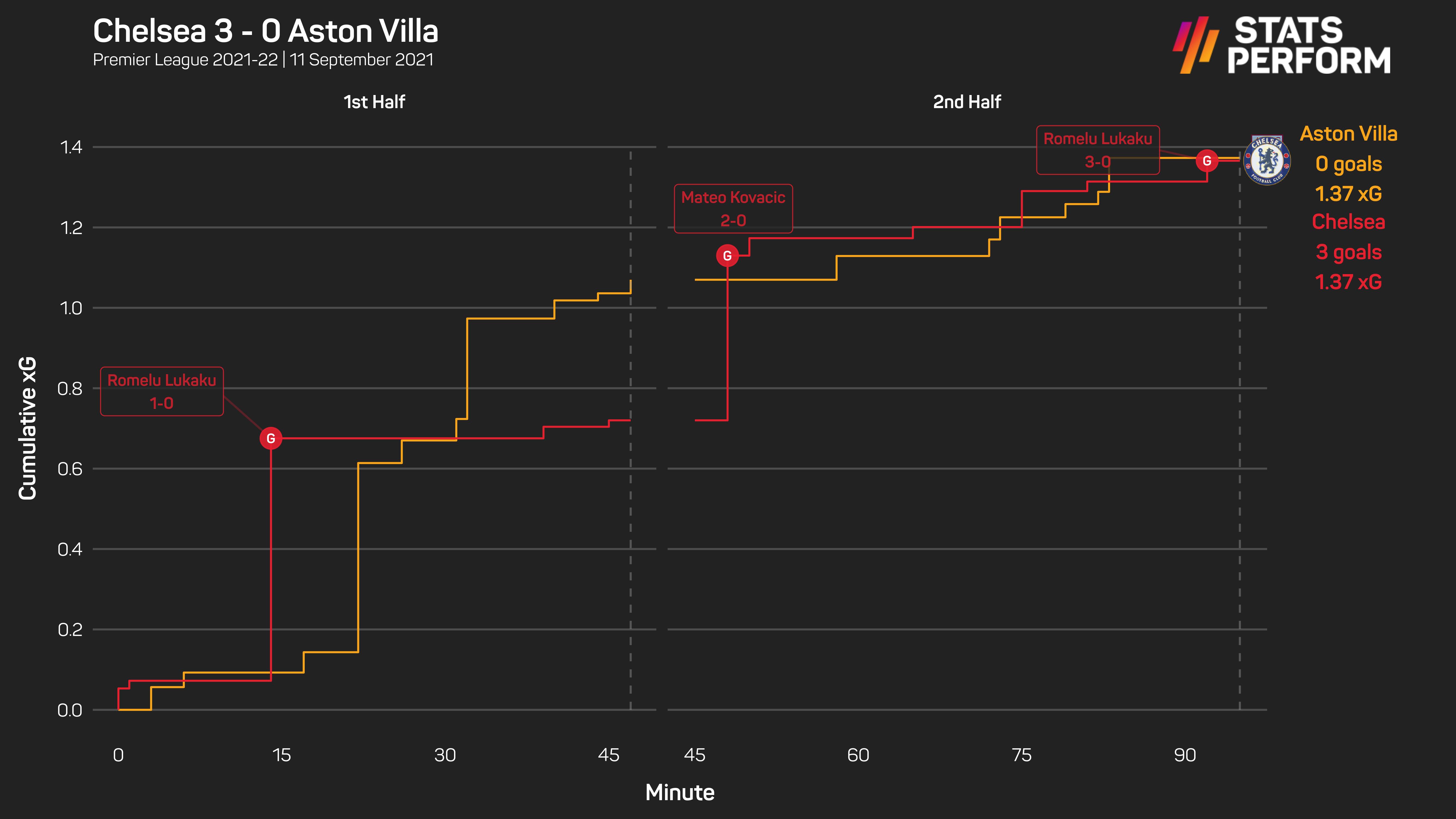 Lukaku was a team-mate of Tuanzebe at United and explained that gave him the knowhow when it came to stepping inside the defender's challenge and offloading a shot with his right foot.
"I've played with Tuanzebe back in the day and he knows I'm left-footed," Lukaku said.
The 28-year-old's delightful second was a satisfying way to cap Chelsea's day.
"The contact was good. I hit it cleanly and the touch was good," Lukaku said. "I got it out of my feet quickly. That's just work, a lot of finishing day-in and day-out. That's just pure training."
Tuchel was concerned by Villa's sharp performance before the interval, but he said Chelsea were "more controlled, more fluid" in the second half. He felt others could have done better with chances for the hosts but had no complaints about Lukaku.
"He is full of confidence and totally aware of what he's going to do, what he wants to do," Tuchel said. "He is absolutely confident to score and that helped us a lot."
Tuchel fielded new recruit Saul Niguez in his starting XI but substituted the Spanish midfielder at half-time.
The addition from Atletico Madrid struggled to get to grips with the high-tempo game on his debut, winning just one of nine duels and giving away a team-high three fouls.
"Saul had a bit of trouble to adapting to the intensity and our structure and style of play and the intensity of the Premier League," Tuchel said.
The Chelsea boss said making the change and bringing on Jorginho in Saul's place was "hard to do", but pointed out: "He had some big mistakes, passing mistakes and errors. You could see he was not fully adapted."
Tuchel insisted the 45-minute outing for Saul could be brushed aside, declaring it his own responsibility that the selection did not work out.
"I'm happy because we escaped with a perfect result on a perfect evening for our striker," Tuchel added.