For the second consecutive year, Romelu Lukaku is returning to a former club. This time around, there is greater confidence he will be a success.
Lukaku's second attempt to forge a career at Chelsea proved as frustrating as his first.
Underused at Stamford Bridge as a young player before departing for Everton, Lukaku would argue he was misused last season.
The unstoppable force who had fired Inter to the 2020-21 Serie A title was gone, with the Belgium forward looking a little lost in Thomas Tuchel's system.
Now, though, Lukaku is back at Inter. Antonio Conte may no longer be at San Siro, but Lautaro Martinez, Lukaku's former strike partner, crucially still is.
The main man in Lukaku's absence, Martinez improved his goal output from 17 in 2020-21 to 21 last season, albeit that tally was still only enough to finish third in the Capocannoniere race.
Lukaku had been second the year before with 24, beaten by Cristiano Ronaldo, but his focus in returning to Italy is again on team success, with Inter having just lost the Scudetto to Milan.
"I don't care about the top scorers' ranking, I tell you honestly," Lukaku told DAZN ahead of the new season. "I only think of the Scudetto.
"Yes, the goals come, but we are at Inter, here we play for the Scudetto and not for individual things."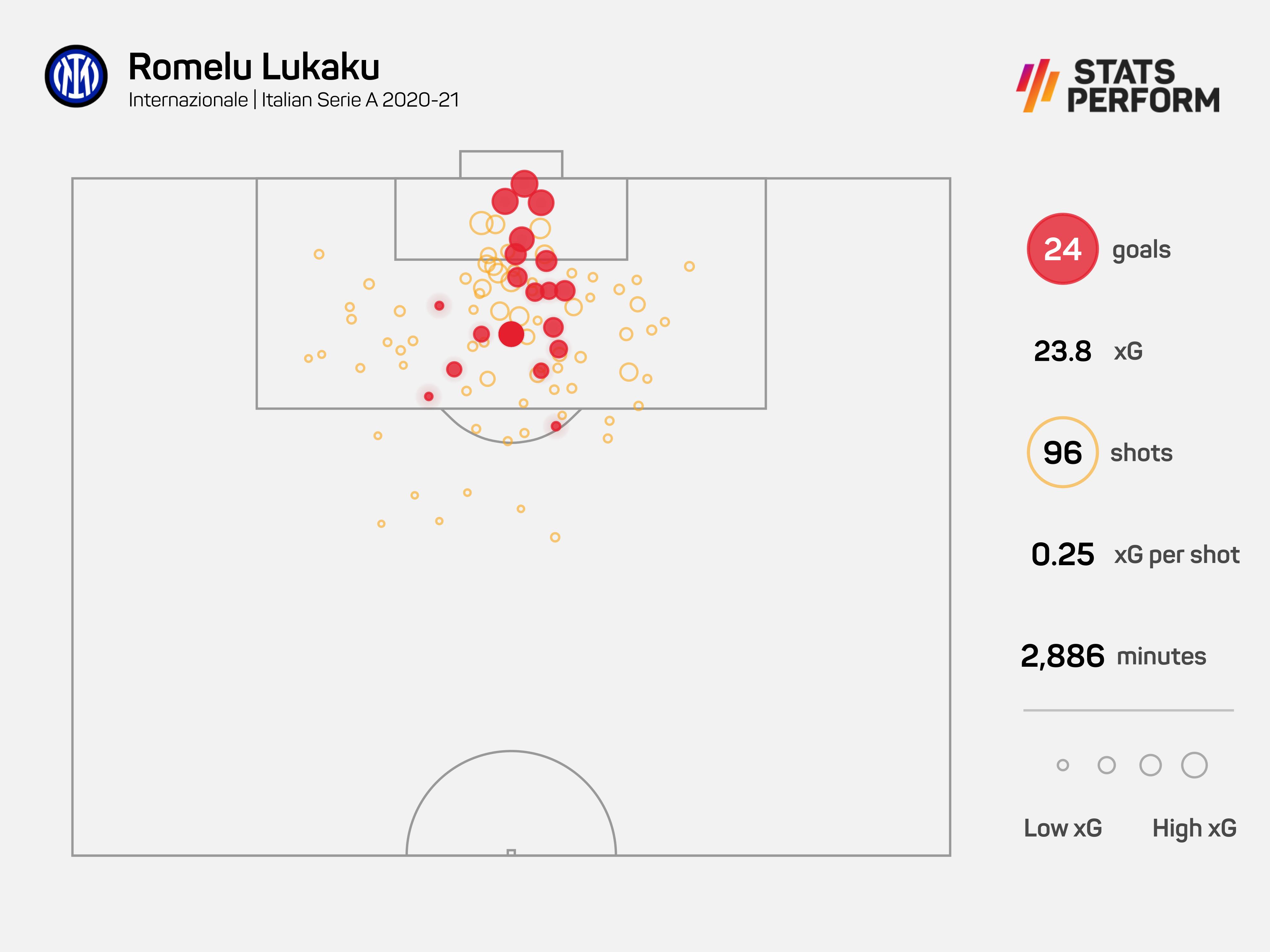 Succeeding as a team means playing as a team, and Lukaku and Martinez undoubtedly did that in 2020-21.
The pair created a combined 29 chances for one another, with eight of those leading to goals. That goal-assist combination made Lukaku and Martinez the most effective partnership in the division, ahead of Ruslan Malinovskyi and Duvan Zapata at Atalanta (seven goals).
The five goals Lukaku laid on for Martinez contributed to his 11 assists for the season, trailing only Malinovskyi (12) in that regard.
Indeed, since Opta's Serie A assist data began in 2004-05, Lukaku is the only player to score 20 or more goals and provide 10 or more assists in the same season.
Lukaku's inability to contribute a single assist in the Premier League last term therefore illustrates how spectacularly Chelsea failed to get the best out of him. Netting just eight times himself, he failed to link up with any Blues team-mate for more than a single goal.
That is not to say Lukaku and Martinez clicked instantly at Inter; in the former's first season in Italy, in 2019-20, he scored 23 goals but assisted only two. One of those two assists saw Lukaku tee up Martinez, but the Argentina forward did not return the favour even once.
In 2020-21, unlike at Chelsea, Lukaku was able to make the most of his best attributes for the benefit of both himself and his team-mate.
Rather than consider Lukaku a target man, Conte allowed his number nine to turn and run with the ball, with five of his assists coming following ball carries – along with four of his goals. Only Luis Muriel (12), another Atalanta player, contributed to more Serie A goals following carries than Lukaku's nine.
None of his eight Chelsea goals came following carries as he recorded only 4.4 carries per 90 minutes, down from 7.7 at Inter.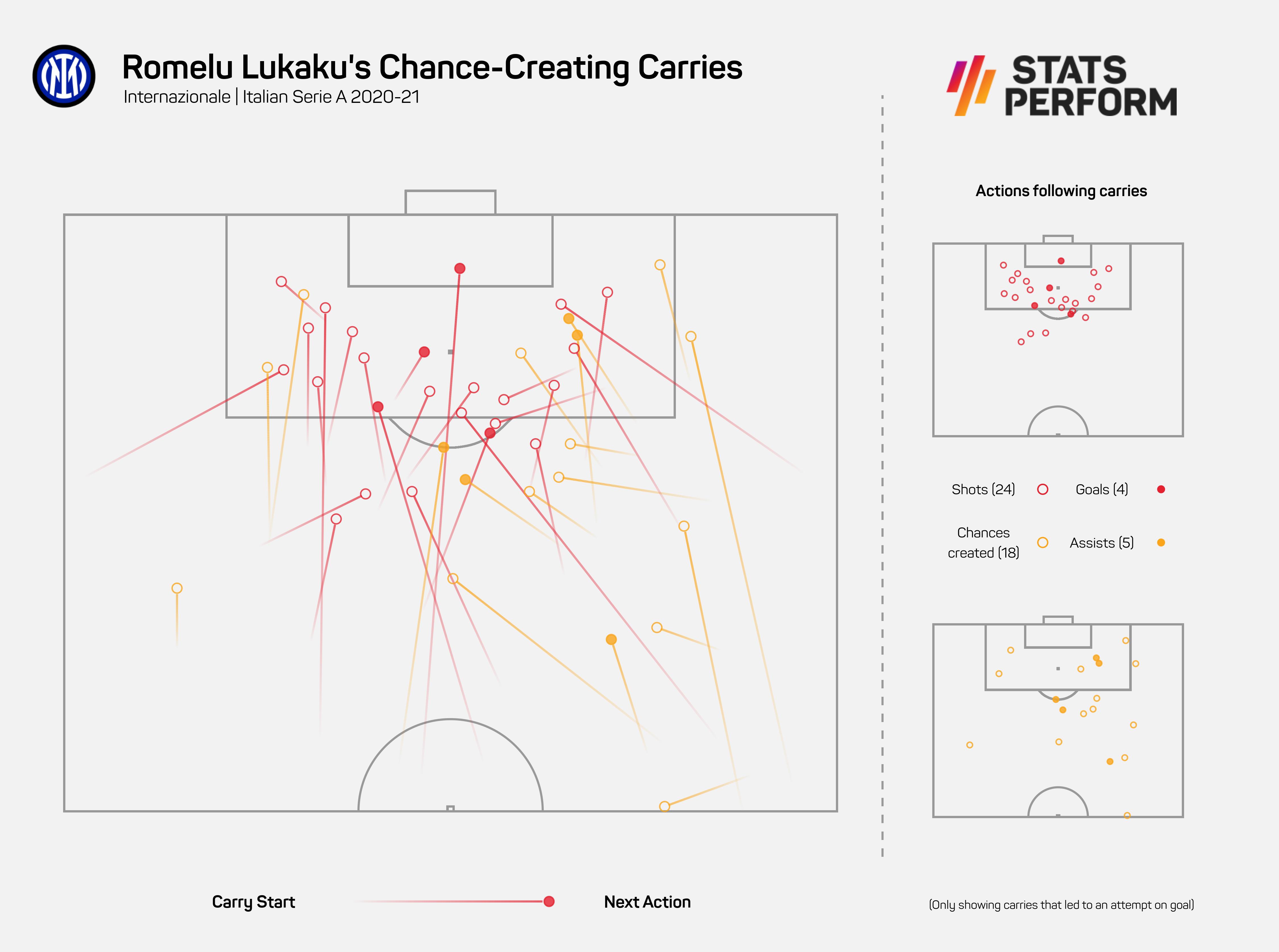 With Simone Inzaghi still using the same 3-5-2 formation that suited Lukaku so well, he and Inter will hope his reintegration now is seamless.
There remain other issues at the Nerazzurri, and goals were not necessarily the biggest problem Inzaghi's side had last term; they scored just five fewer than the previous season and led the league in that regard.
With three fewer victories than in their title-winning campaign, Inter finished two points shy of rivals Milan.
Yet Lukaku either scored or assisted in 22 of Inter's 38 games in 2020-21 and in 20 of their 28 wins – both league highs that show how vital his contributions can be.
The Nerazzurri will now head into the new season feeling confident they have re-signed the one man most likely to dominate Serie A matches on his own... or with a partner.