LaLiga, home to the European champions, returns on Friday for another season.
Real Madrid ended the previous campaign by winning the Champions League, the prize they covet most, but it was also a successful year in domestic action.
Carlo Ancelotti's men eased to a record-extending 35th league title by 13 points – that is the gap Barcelona have sought to bridge in the transfer market during the close season. So, just how successfully have they done that?
Stats Perform AI has predicted the outcome of the coming campaign, estimating the likelihood of teams finishing in each position informed by their expected results in each match.
These are calculated using betting odds and Stats Perform's team rankings – based on historical and recent team performances – and have thrown up some interesting results, with Barca seemingly left still with plenty to do.
MADRID MAINTAIN BUFFER TO BARCA
Given their 35 titles, given their 13-point gap, given their status as European champions, it is surely no surprise Madrid are considered the clear favourites to scoop Spanish football's top prize once again.
The data makes Ancelotti's side 58.75 per cent favourites to retain their crown.
Barca recovered from a dismal start last season to finish second, and they are forecast for the same result again after investing hugely in Robert Lewandowski and Co.
But there is only a 17.0 per cent chance of the title heading to Camp Nou, with Atletico Madrid a predictable third in the rankings and rated as a 12.3 per cent shot.
Those three clubs have accounted for the past 18 championships since Valencia finished top in 2003-04. Now, under Gennaro Gattuso, Valencia have a mere 0.08 per cent chance of returning to the summit, deemed ninth favourites among 11 teams with any hope at all.
Sevilla (4.74 per cent) and Villarreal (4.66 per cent) are the sides most likely to upset the established order.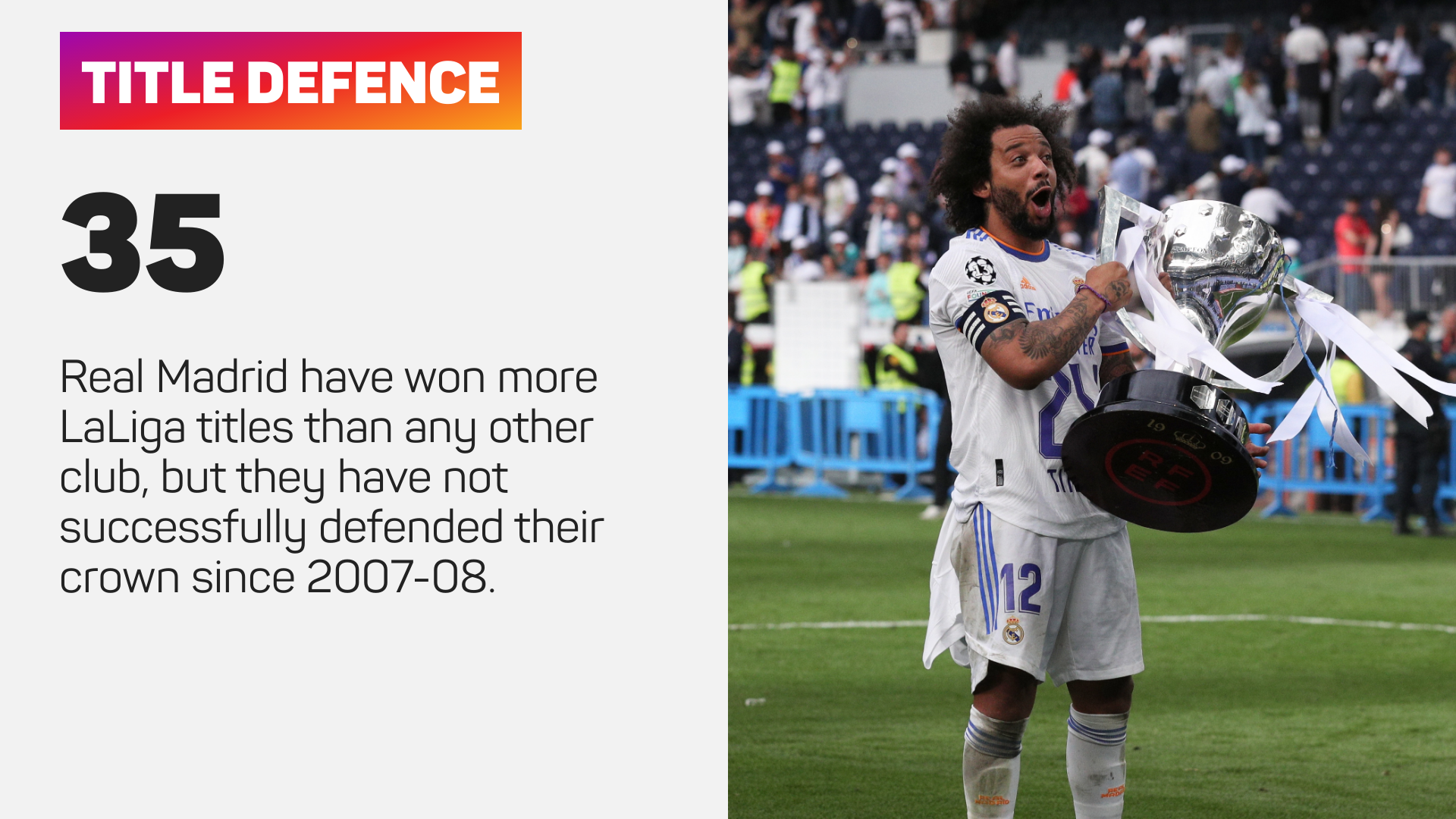 PRECIOUS FOURTH PLACE UP FOR GRABS
There realistically remains only one of the four Champions League places on offer after taking into account Madrid (95.68 per cent), Barca (79.31 per cent) and Atletico (71.56 per cent). Last season, that belonged to Sevilla.
Yet despite Sevilla's high ceiling seeing them fourth favourites for the title, Stats Perform AI expects them to be pushed out of the top four.
After losing defensive duo Jules Kounde and Diego Carlos, Sevilla are given a 47.45 per cent of qualifying for the Champions League, just behind former coach Unai Emery's Villarreal (48.66 per cent), who were seventh last season but reached the semi-finals of Europe's elite club competition.
Real Sociedad (24.79 per cent) and Real Betis (20.39 per cent) are both firmly in the mix, too, although every team in the league have at least a 0.04 per cent hope of contending for Champions League glory.
Athletic Bilbao are expected to be on the outside looking in from eighth place (7.48 per cent for Champions League, 7.42 per cent for Europa League and 10.51 per cent for Europa Conference League).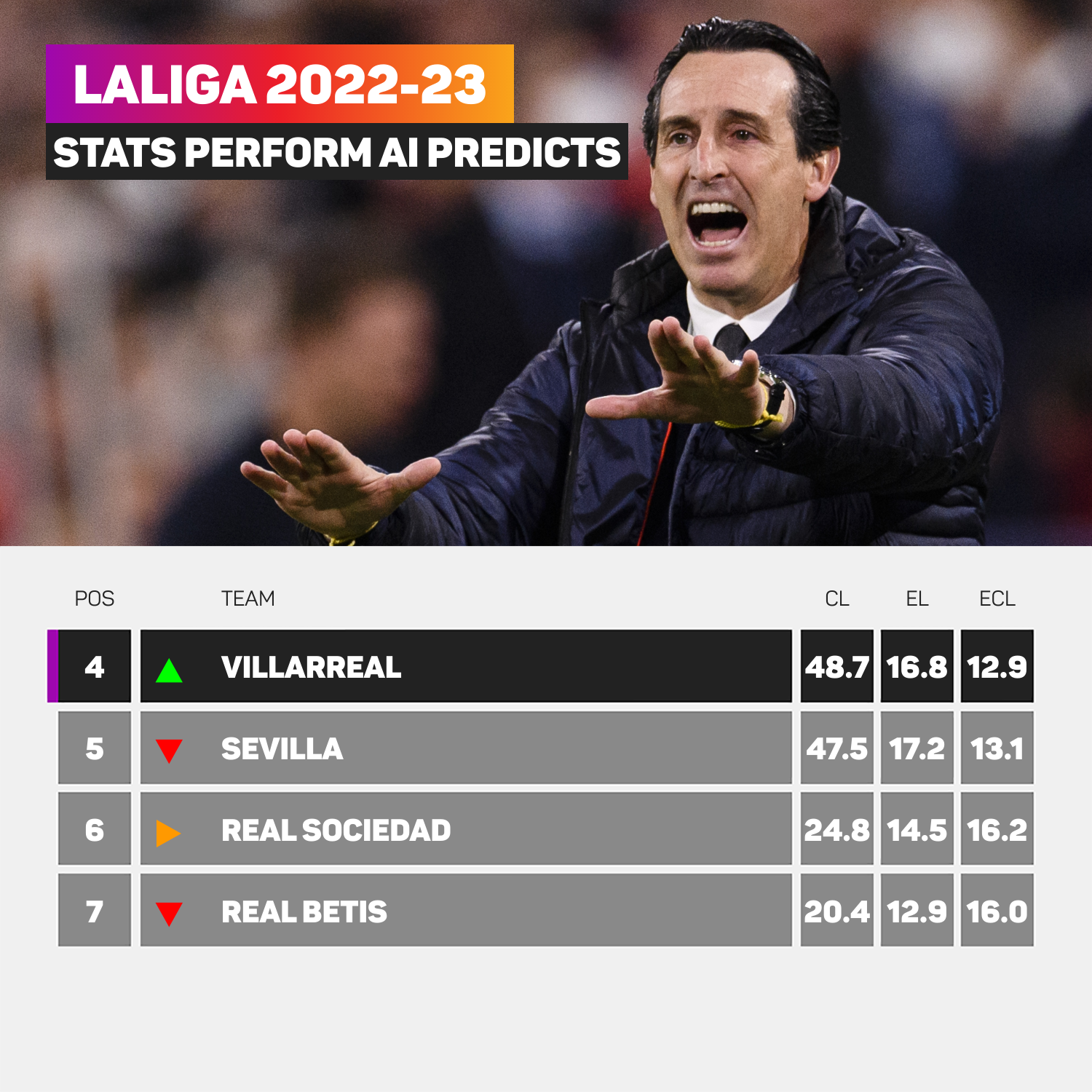 NO ESCAPE THIS TIME FOR MALLORCA
The fight against the drop went right to the wire last term, with three teams still in the mix on the final day.
Granada were the surprise victims of a dramatic scrap, relegated just two weeks after winning 6-2 at Mallorca. Mallorca then earned seven points from their next three games to stay up alongside Cadiz at Granada's expense.
That late recovery may have rescued Mallorca for another year, but Stats Perform AI predicts their LaLiga stay will last no longer than that.
They are 41.27 per cent favourites to go down, even considered more likely for demotion than Girona (39.95), who were promoted via the play-offs.
Real Valladolid, another promoted side, are ranked as the third relegated team (32.74 per cent), yet there is very little to choose between a clutch of clubs, with Cadiz (31.8 per cent) again at risk alongside Elche (31.48 per cent), second-tier champions Almeria (28.86 per cent) and Rayo Vallecano (27.46 per cent).