Pep Guardiola believes Manchester City's FA Cup win over Arsenal will be an irrelevance by the time next month's top-of-the-table Premier League clash between the teams comes around.
The City manager said his team were "so satisfied" to get the better of Gunners in the fourth round of the cup, earning a 1-0 win thanks to Nathan Ake's second-half strike.
He was taking the win in isolation, rather than as part of any grander scheme, and was thrilled City followed up their 4-0 third-round win over Chelsea by beating another heavyweight opponent to reach the last-16 stage.
City last won the FA Cup in 2018-19 when they thrashed Watford 6-0 in the final, and that is Guardiola's lone triumph in the competition.
He has landed four Premier League titles since arriving in Manchester in 2016, however, and is hopeful a fifth could arrive this season, but City are chasing Arsenal for now, trailing by five points, having also played a game more than Mikel Arteta's Gunners.
The teams meet at Emirates Stadium on Wednesday, February 15, and they also play at the Etihad Stadium in April, with those two games being potentially pivotal in determining where the silverware ends up.
Guardiola said his players were "incredibly happy", but he added: "It's not the Premier League, it's another competition. We are happy to be there after beating Chelsea and Arsenal in the first two rounds.
"It will be a completely different day in Emirates. Mikel doesn't rotate much in the Premier League.
"The FA Cup is an important competition, and we are so satisfied, but this will be forgotten by them when we are there."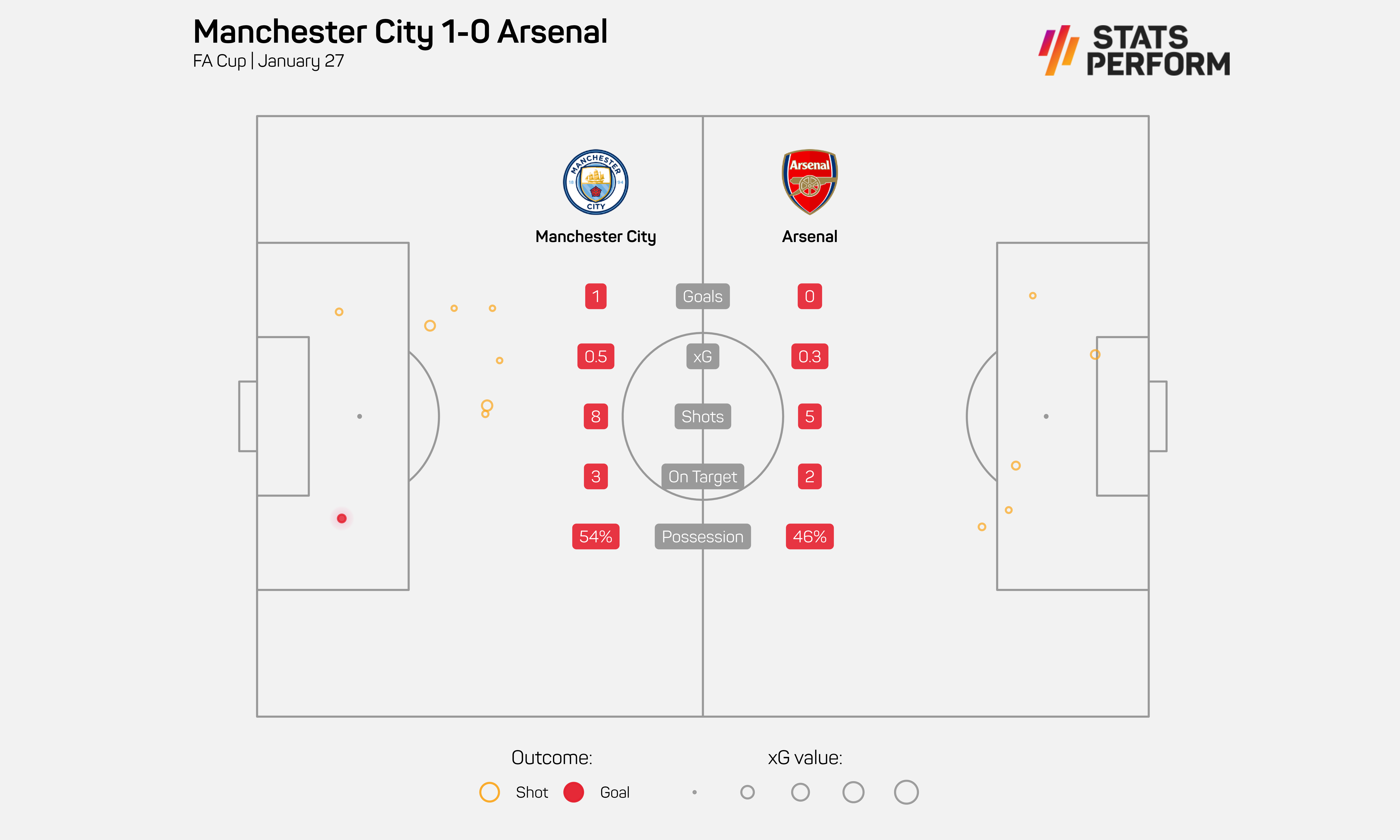 The point about rotation certainly carries weight, given Arteta named several key players from his Premier League team on the bench for Friday's cup game, including captain Martin Odegaard, former City left-back Oleksandr Zinchenko and Brazilian forward Gabriel Martinelli.
"The impact from Oleks, Odegaard…. we know it's going to be different with more pressure," said Guardiola, looking ahead to the next meeting.
City have won 13 of their last 14 games against Arsenal across all competitions, including each of the last six, so that is a trend they will hope extends for the rest of this campaign.
Guardiola feels he has benefited from seeing Arsenal at close quarters, and he was struck by their man-to-man marking, while he sees great strength in the substitutes his former assistant Arteta introduced in the second half.
"Martinelli is an incredible weapon. Odegaard plays in the pockets," Guardiola said. "They are a really good team, otherwise they could not be where they are. They are aggressive; they know exactly what they have to do.
"We knew it would be a difficult game, but we were able to beat them and go to the next round. They saw what we can do. We saw what they can do."
There was one blow for City on an otherwise positive night as John Stones suffered a suspected hamstring injury, forcing him off shortly before half-time, with Guardiola saying he suspected the defender was "not ready" from the opening minutes.