England have a good enough squad to win the World Cup and should be feared by other competing nations, according to Three Lions midfielder Declan Rice.
Gareth Southgate's side finished top of Group B with seven points after beating Iran 6-2 and Wales 3-0 either side of a goalless draw with the United States.
It is the first time since 2006 that England have finished top en route to the last 16, where Group A runners-up Senegal now await on Sunday.
Following shock defeats in the group phase already for France, Argentina, Belgium and Germany, Rice believes England's serene progress is a sign they mean business.
"I didn't see the France [loss to Tunisia] last night. I saw the result and there have been a lot of shocks in this tournament," he said at a press conference on Thursday.
"You can't take anything for granted. That's why we're doing so well and maybe why we are not getting the credit we deserve.
"It could have been banana skins for us in any of the three games, but we've done well in all of them.
"We've seen big nations lose but we have not put ourselves in a position where we've felt under pressure. We've always felt in control of the group.
"When you start to play better teams, your level goes up. These are the games you want to be involved in and get remembered forever. We'll be ready for those type of games.
"Other nations will always look at us and the quality that we have in the squad. Why should we not be feared?
"If you look at our attacking players, we have world-class, unbelievable talents across the board. Across the whole team, we have players who have won the biggest trophies."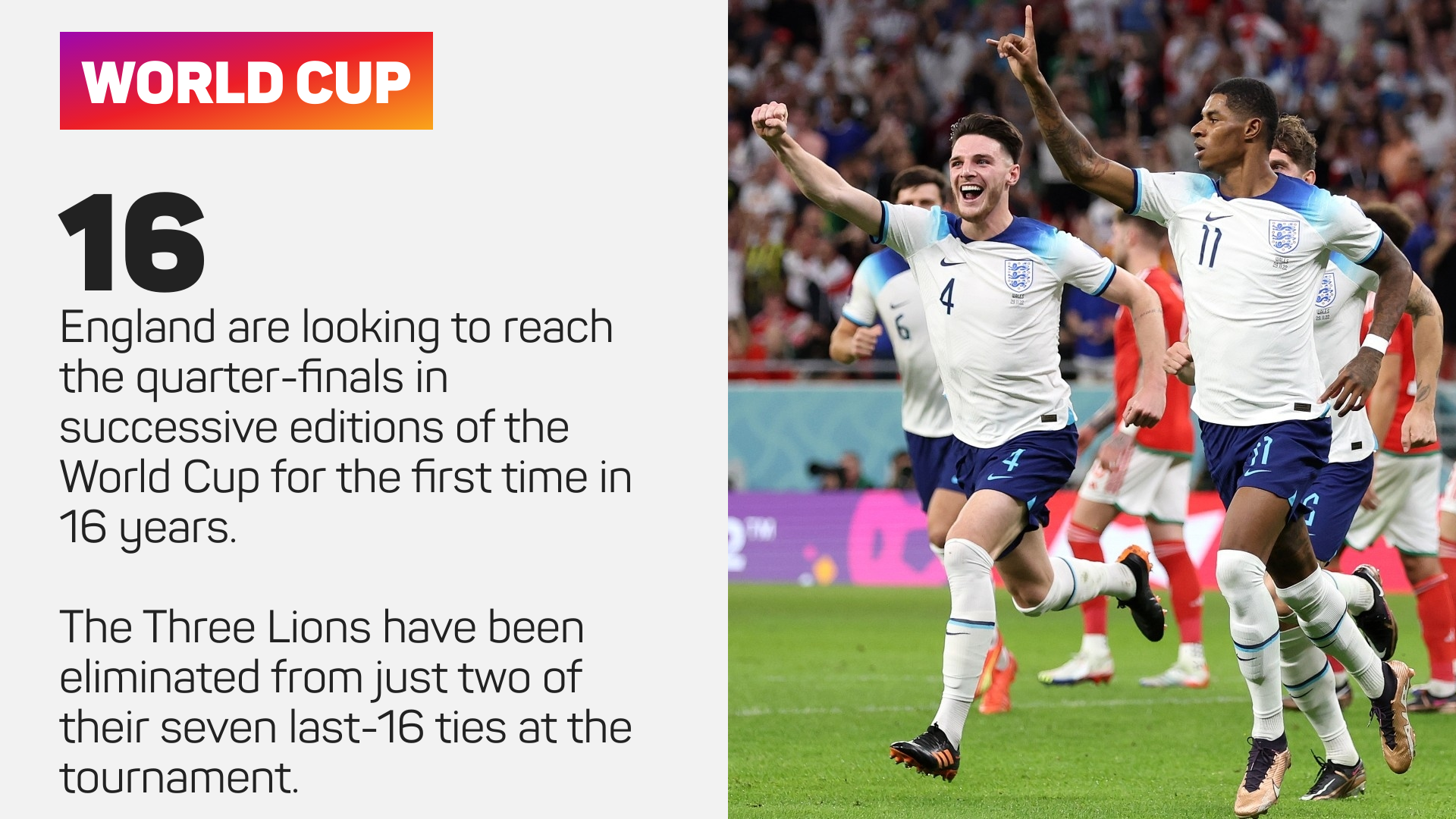 England have not lifted the World Cup since 1966 and Rice accepts that partly explains why his side are perhaps not as fancied as others to go all the way in Qatar.
"We're one of the biggest teams here. It's down to us to prove it on the pitch," he said. "Teams like France have won World Cups and done it consistently. We want to change that.
"All those big nations, we want to show that we're here. We are not here for the round of 16; we want to go all the way."
The nine goals scored by England is the most they have ever managed in the group stage at a major tournament.
Rice is one of seven players to have started each of England's matches in Qatar and he was also a regular in their run to the Euro 2020 final, which they lost to Italy on penalties.
The West Ham midfielder is hoping to use that feel-good factor created last year to propel England to an even bigger achievement this time around.
"It was obviously COVID back then so we couldn't see anyone, friends or family," he said. "But we saw videos of the fans back home and it brought all the fans together.
"We will try to keep going, try to lift everyone. It's obviously really close to Christmas now, so hopefully we'll give them the best Christmas present."