Emma Hayes credited the togetherness of her players as the driving force behind Chelsea's fourth successive Women's Super League title following a 3-0 victory over Reading.
Chelsea sealed the trophy courtesy of goals from Guro Reiten and a Sam Kerr double.
And Hayes admitted the fear of losing galvanised Chelsea, who added to their FA Cup trophy they won against Manchester United earlier this month.
CHELSEA. CH𝟒MPIONS

— (C)helsea FC Women (@ChelseaFCW) May 27, 2023
"The fear of losing drives me more than the will to win," Hayes said.
"This year we knew we had to grind and dig out results, sometimes when maybe we didn't create as many chances. It's just unbelievable character from the players.
"This feels like a victory for the team because my staff have carried me in so many ways this season, especially when I was unwell. I think the team has carried each other. When senior players didn't play as much, other seniors picked them up.
"In the second part of the season we saw our newer players start to bear fruit and we found different ways to win, and you have to, it can't look the same all the time.
"When you are always chasing the whole year, it almost felt like the pressure wasn't on us in so many ways because we were never in the front position for long. We've had different experiences being in first and second and to be honest with you we like being in both of them."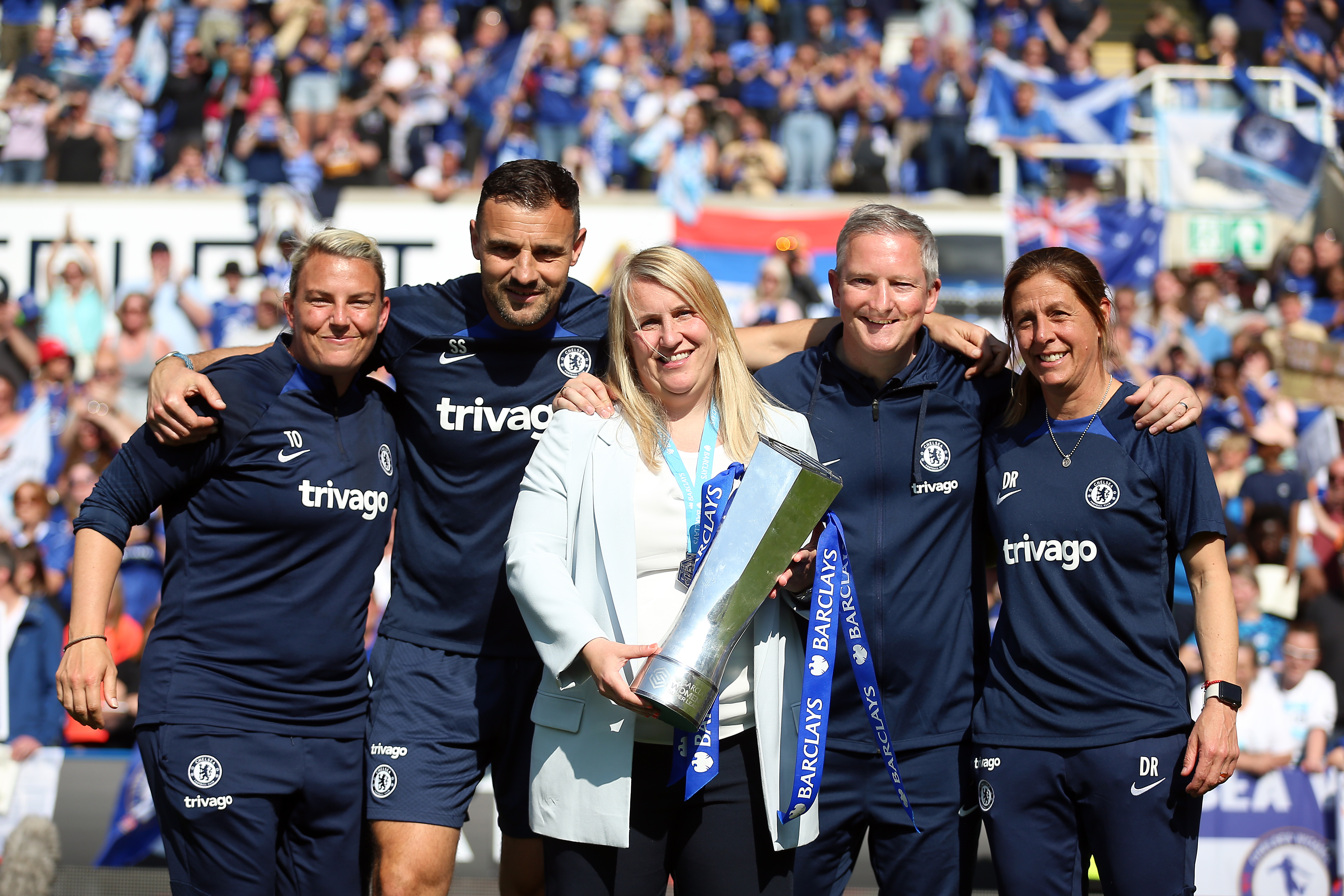 Hayes labelled Reiten as one of the world's best players after the winger set up Kerr to make it 1-0 before getting on the scoresheet herself in the 42nd minute to double Chelsea's lead.
The Norwegian has been instrumental for the Blues this season having picked up 20 league goal contributions and filling the boots of Fran Kirby and Pernille Harder who have had injury-stricken campaigns.
"She's my player of the season," Hayes added. "She's grown up, she's exceptional in this team, she's got an unbelievable mind, very wise.
"She's funny and witty but most importantly she has an eye for a pass that is second to none. She doesn't even need to see where Sam (Kerr) moves, she just gets half a yard and is always going to deliver it to her.
Still in awe of this @Guro_Reiten assist against Leicester earlier this season. #CFCW pic.twitter.com/XvTUEaeaPk

— (C)helsea FC Women (@ChelseaFCW) May 10, 2023
"Guro Reiten needs to be recognised as one of the best players in the world because she is."
Reading manager Kelly Chambers conceded her side failed to show enough fight throughout the campaign, which resulted in their relegation.
She said: "The frustrating thing for me was we hadn't done enough of that this season, having that fight, spirit and that work ethic, intensity. We were able to do that today but if we were able to that in other games it might have looked completely different.
"We can't use any excuses, at the end of the day we haven't been good enough in moments this season that potentially would have kept us up."