After coming through part one of a huge week unscathed – albeit with Karim Benzema suffering an injury scare – Real Madrid now turn focus to a huge showdown with fierce rivals Barcelona at Camp Nou.
While the odds were massively stacked in Madrid's favour when protecting a 5-2 lead in their Champions League last-16 tie with Liverpool, going through 6-2 aggregate winners, the opposite is true in their LaLiga title battle with Barca.
Madrid have struggled for consistency domestically and are nine points adrift of the leaders with 12 rounds of games to play after this weekend. Put simply, it is win-or-bust for Los Blancos' outside title hopes.
Carlo Ancelotti's side have a great recent record against their Clasico foes in the league but, regardless of Sunday's result, is it already too late in terms of getting their LaLiga campaign back on track?
Stats Perform looks at how the two sides are shaping up heading into their fourth of five meetings this season, and whether Madrid have any realistic chance of catching Barca.

Camp Nou the fortress
Madrid have dropped points too frequently this campaign, particularly away from home. Indeed, they have won just three of their past seven league games outside of the Bernabeu, failing to win back-to-back since October.
Barcelona, by comparison, have won four in a row at Camp Nou without conceding and have taken 32 points from a possible 36 at home this campaign.
Only Paris Saint-Germain can boast a better home record across Europe's top five leagues, collecting three points more than Barca, albeit having played one game more.
On the face of it, then, Los Blancos have their work cut out picking up a point this weekend, never mind the three points they desperately need.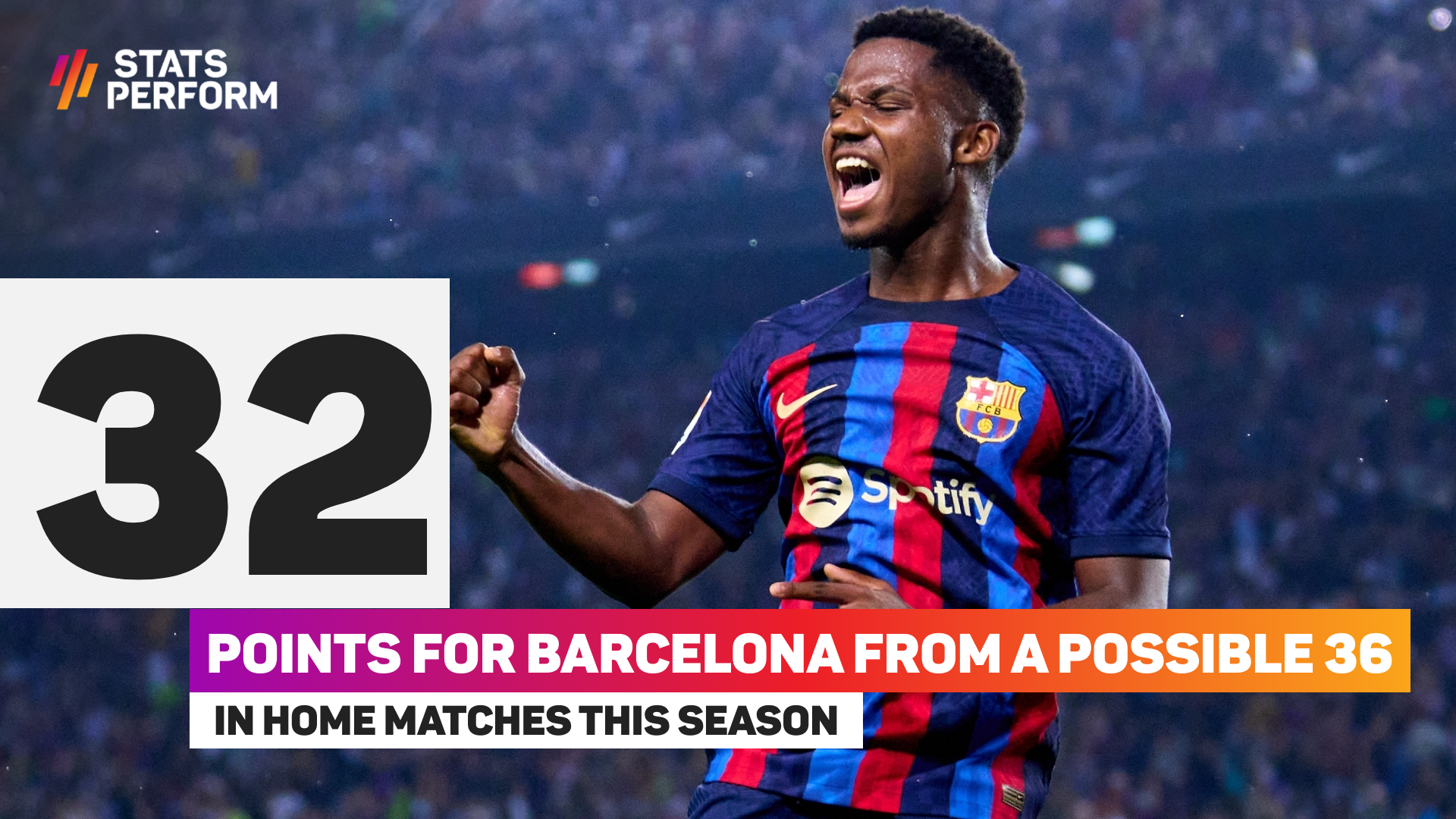 But Madrid have won five of their past six league games against Barca, including their past two visits to Camp Nou – only once before, between January 1963 and February 1965, have they won three in a row there in the competition.
This Barcelona side is a lot different to the ones Madrid faced in those past two seasons, though, as was clear to see in their two recent cup encounters.
The Catalans claimed a 3-1 win in the Supercopa de Espana final in January and a 1-0 win in their Copa del Rey semi-final first leg two weeks ago, with the second leg at Camp Nou to come in early April.
Those 1-0 wins are something they have become accustomed to in the league, too, with nine of their 21 victories coming by that scoreline – more than they have ever recorded in a full season.
Xavi's side have found a way to break down and see out wins against any type of opponent, and their four-year wait for a league title is surely therefore coming to an end.

Madrid far from majestic
Opta's prediction model certainly suggests as much, giving Barca a 93.2 per cent chance of finishing top and Madrid just a 6.7 per cent likelihood of overhauling their great rivals.
However, given the six-point swing on the line on Sunday, those figures could change fairly drastically should the visitors win again at Camp Nou.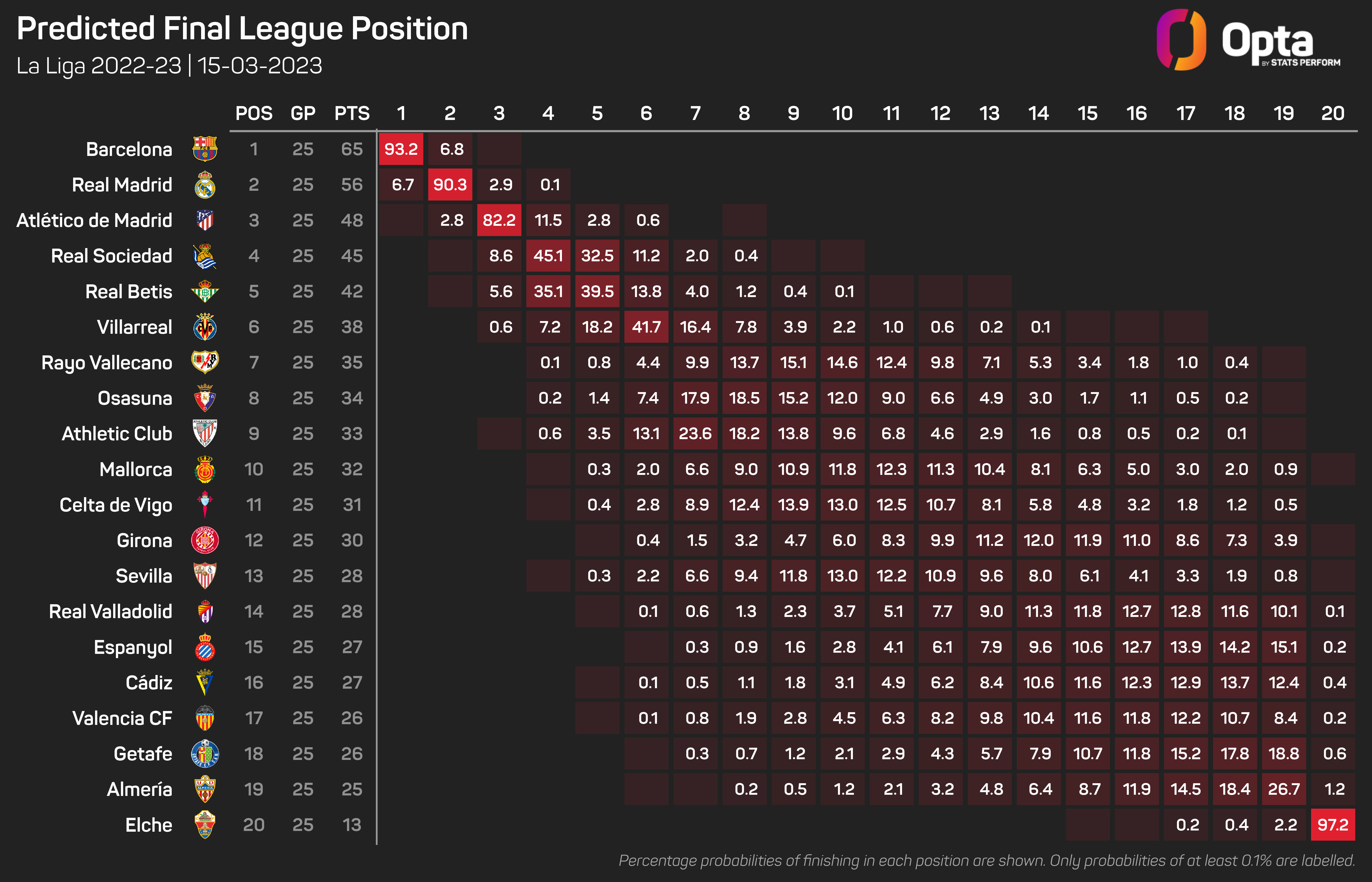 That is why this meeting is so important to both Barca and Madrid; effectively the final chance for any sort of jeopardy to be injected into the title tussle between Spain's biggest two clubs.
But not only will Los Blancos have to beat Barca, they will realistically have to string together a long run of wins and require Xavi's men to drop at least six more points.
On the four occasions Barca have dropped points this season, they have responded with winning streaks of seven, five, seven and two, with this latest run still ongoing.
Madrid, meanwhile, have not put together a winning run of more than four games in the league since mid-October, losing to the likes of Rayo Vallecano, Real Mallorca and Villarreal since then.

So you're telling me there's a chance?
Ancelotti has repeatedly vowed Madrid will fight Barca all the way, while opposite number Xavi has predicted the title race may go the distance.
In the long history of LaLiga, though, no team has ever led by as many as nine points at this stage and not gone on to win the title.
Do you remember this clàsico?#LaLigaHighlights pic.twitter.com/1ZRWYSnLql

— FC Barcelona (@FCBarcelona) March 15, 2023
But if Madridistas are after a crumb of comfort, there have been two occasions of a team squandering a lead of six points or more after 26 games, which would be the scenario the sides find themselves in if Madrid win.
One such instance will be all too familiar to those Madrid fans, with their side failing to finish top when eight points clear of eventual champions Valencia in the 2003-04 campaign.
The other occasion was 42 years ago when Real Sociedad, six points behind heading into the final stretch, overtook Atletico Madrid to land the title.
Effectively, then, Madrid must win at the home of their biggest rivals or else they will be tasked with achieving something that has never before happened in the Spanish top flight.
The odds may not be in their favour, but if last season's run to Champions League glory taught us anything, it's that you can never write this Real Madrid side off.