Andy Cole does not understand criticism of 27-goal Manchester City striker Erling Haaland as he prepares for his Premier League record to be broken.
Haaland needs just seven more goals to match the 34 netted by Cole for Newcastle United in 1993-94 and Alan Shearer for Blackburn Rovers in 1994-95.
The City superstar has played only 25 league games so far this season, averaging a goal every 75 minutes.
Cole averaged a goal every 106 minutes across 40 matches, while Shearer scored every 111 minutes over 42 games.
Barring injury, it appears inevitable Haaland will beat two of the Premier League's greatest goalscorers, yet Cole is not bitter.
"Records are there to be broken, it's that simple," he told Stats Perform. "When people have mentioned it to me, it's not as if I'm going home and crying and saying: 'Oh no!'
"I've said to people it doesn't bother me in the slightest, I don't care. If someone deserved to break that record, go ahead and do it.
"I'm not going to sit here rocking myself to sleep in the hallway hoping he doesn't do it; it doesn't bother me because I'm not so conceited. I'm really not.
"I don't care if he does it. I'll be the first one to congratulate him. Records are there to be broken."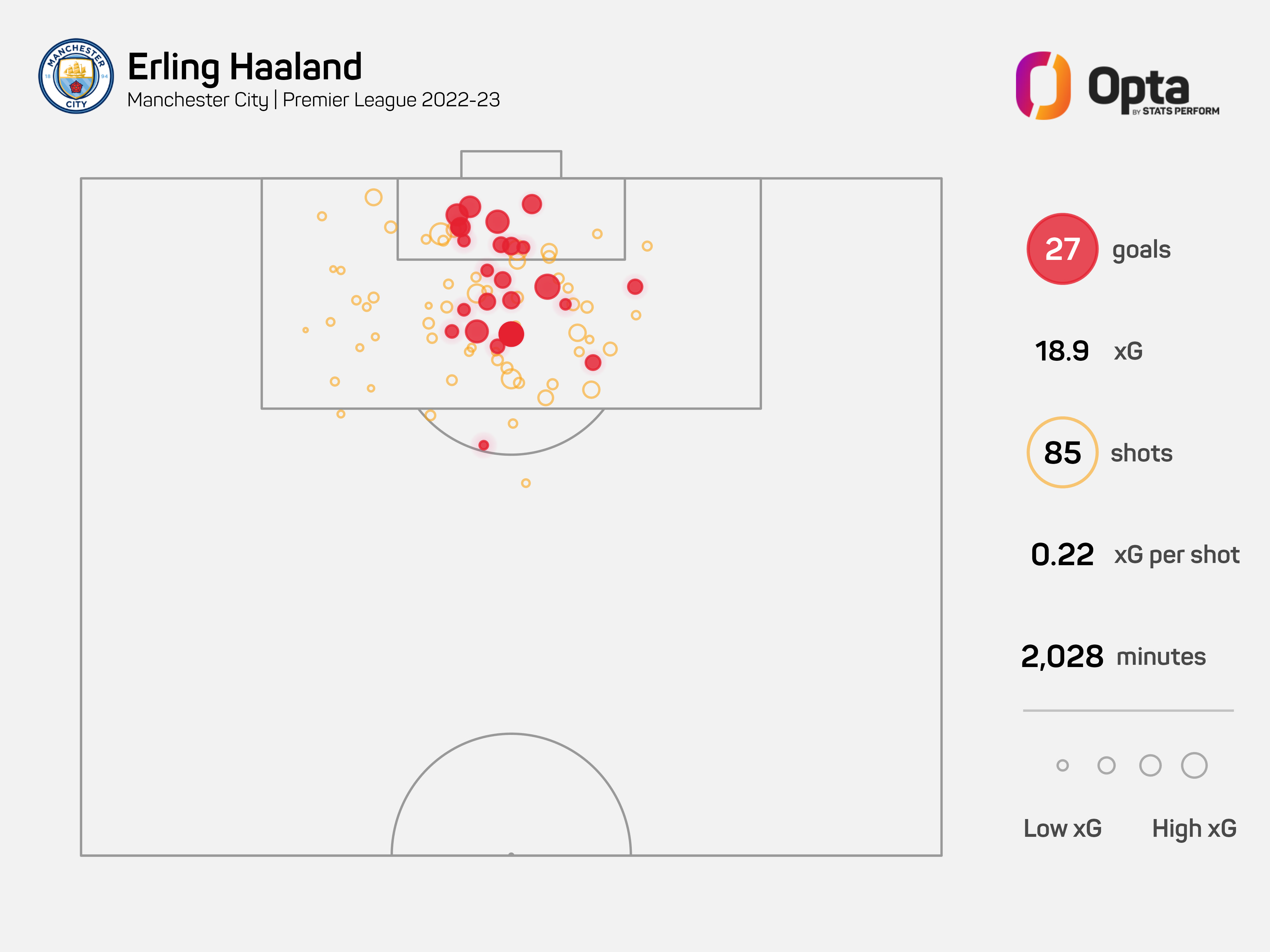 Haaland has been "absolutely phenomenal" for City, according to Cole, although he "will want to improve in getting involved in the play a little bit more".
Cole does not doubt he will be able to do that, adding: "He's still a baby and is still learning the game."
But with City trailing Arsenal in the Premier League title race, it has been suggested they have suffered for having Haaland up front.
Cole said: "People say he shouldn't have signed for Man City because he doesn't fit in.
"But if I've got 27 goals by February, and everyone's telling me that I've made the wrong move... what's the right move, then?
"You've got 27 goals by the end of February, and you've got the chance to get to 40 goals. I'm not sure what everyone expects for him."
The former Newcastle, Manchester United and City striker added: "I don't think there's anything to actually think about.
"Because when people say he's made the wrong move or he's gone to the wrong club, what is he supposed to do? He's gone to clubs, scored goals, is far beyond anyone else in the Premier League for scoring goals.
"He's made the wrong move? He doesn't fit? How does he not fit? If he's got 27 goals so far, by the end of February, but he doesn't fit and doesn't get involved in the play, we don't need to have that conversation.
"We don't need to have that conversation and to talk about getting involved and doing other things. It's as simple as that. Now, it's a crazy [conversation]."