It's a funny old game, but it might take gallows humour to raise much of a smile around north London this season. 
Tottenham's season-opening streak of three straight 1-0 wins bought Nuno Espirito Santo substantial early goodwill as the Portuguese began his reign as head coach, yet there was plenty that did not sit right. 
Spurs were riding their luck, out-shot 25-8 by Wolves at Molineux and beaten on the expected goals count there too. Similar applied to the fantasy start to the season when they edged out champions Manchester City. 
But Wilfried Zaha and Crystal Palace were ruthless interlopers to Nuno's honeymoon in early September with their 3-0 Selhurst Park demolition, and now Chelsea have repeated the trick, scoring freely in the second half at the Tottenham Hotspur Stadium. 
Chelsea also won 3-0 but might easily have had five or six. Sixty years have passed since Tottenham Hotspur were English champions. It might be a matter of months before Chelsea can describe themselves as such again. 
-3 - Spurs have lost consecutive Premier League matches by a 3+ goal margin for the first time since their opening two games of the 2011-12 campaign (0-3 vs Man Utd, 1-5 vs Man City. Backslide. pic.twitter.com/zE9NBKIeiq

— OptaJoe (@OptaJoe) September 19, 2021
It was glaringly obvious this was not the game in which to put on a show, much as Tottenham wanted to pay homage to Jimmy Greaves, whose "funny old game" catchphrase has become part of the immemorially cliched lexicon of the English game. 
Greaves netted 220 league goals for Spurs and is their all-time record scorer, but he also plundered 124 in the old First Division for Chelsea, and his allegiances for this game would have been split. 
On the day his death at the age of 81 was announced, and a host of Spurs greats turned out to pay tribute, it was Greaves' first club who showed they are light-years ahead in London. 
As Tottenham and Arsenal prepare to confect a battle perhaps for fifth or sixth place this season, Chelsea have the title in their sights and the second-half exhibition in this space-age stadium was one that Greaves would have surely quietly admired. 
Thomas Tuchel watched his team fail to hit the target in the first half, but he struck bullseye with a substitution at the break, hauling off Mason Mount and introducing N'Golo Kante. 
The game changed absolutely from that point on, Chelsea finishing 10-2 ahead in the shots-on-target stakes, at times queueing up to score against a lamentably dire Spurs. 
As Chelsea's game took off, Spurs flatlined. Harry Kane, who said last month he would be "100 per cent focused on helping the team achieve success" this season, must be wondering what form that success might take. He and Son Heung-min were deadly in the early stages of last season; here, they played almost like strangers, the intuitive chemistry that defined their partnership woefully absent. 
Kane had two shots, a free-kick into the wall and a 22-yard grass-cutter that Kepa Arrizabalaga clutched fuss-free. Of course he will score again for Spurs, and add to his 166 Premier League goals, but Greaves' club record should be safe for a good while on this evidence. He has scored just once in his last nine league games against Chelsea now. 
Spurs won 65.4 per cent of the first-half duels and Tuchel, whether he had that exact data or not, realised what was wrong. 
"We lacked energy and we lacked being more relentless in duels, to decide 50-50 balls for us," Tuchel told Sky Sports. "I had the feeling we wanted to impress by pure skills." 
He told his players they would get reward by showing aggression and getting on top of those 50-50s. 
"We spoke clearly about it at half-time," Tuchel added. 
Thiago Silva was "outstanding" for Chelsea, Tuchel noted, and the Brazilian's header in the 49th minute gave Chelsea the breakthrough. 
Kante's 25-yard strike bounced off the left shin of Eric Dier and left Hugo Lloris flat-footed as Chelsea moved 2-0 in front, before the team in royal blue got the third they deserved as Antonio Rudiger scored in stoppage time.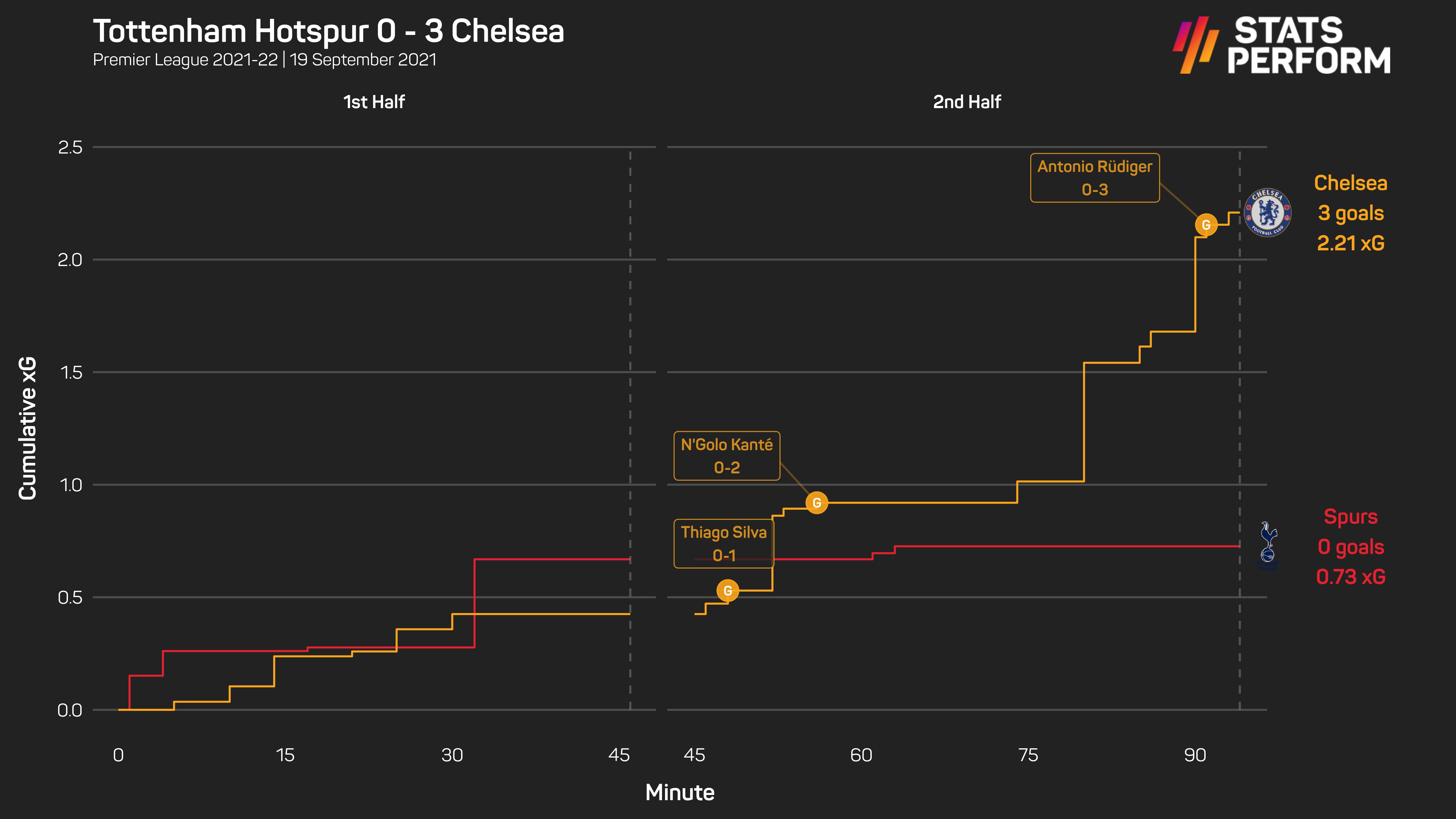 Spurs are a work in progress, of course they are. But this was ultimately a heavy loss against a Chelsea side who won handsomely despite Romelu Lukaku performing in a low gear throughout. 
Steve Perryman, Martin Chivers, Glenn Hoddle. They all watched on as Spurs were humbled. 
'Greavsie' joined Spurs shortly after they won that last league title all those years ago, and it might be decades more before they seriously challenge again. Kane said Spurs would "hopefully put in a great performance in his honour", but perhaps that tribute will have to wait seven days. 
It's the derby against Arsenal next Sunday as the two north London giants, both lurching somewhere between transition and turmoil, duke it out. 
Perhaps parochial bragging rights will be the zenith of their achievements this season, as this excellent Chelsea side go after the prizes that matter.