It is easy to imagine how Manchester United landed on Casemiro's name in the week that followed their shambolic 4-0 defeat at Brentford.
United were preyed upon by the Brentford press, giving up three chances and two goals from high turnovers as Christian Eriksen – a false nine in their previous match – ended up as the deepest midfielder and struggled badly.
Through two games, no Premier League side have allowed more shots following high turnovers than United (eight).
At the very least, Casemiro – a five-time Champions League winner anchoring one of the great modern midfields at Real Madrid – should make United harder to play against.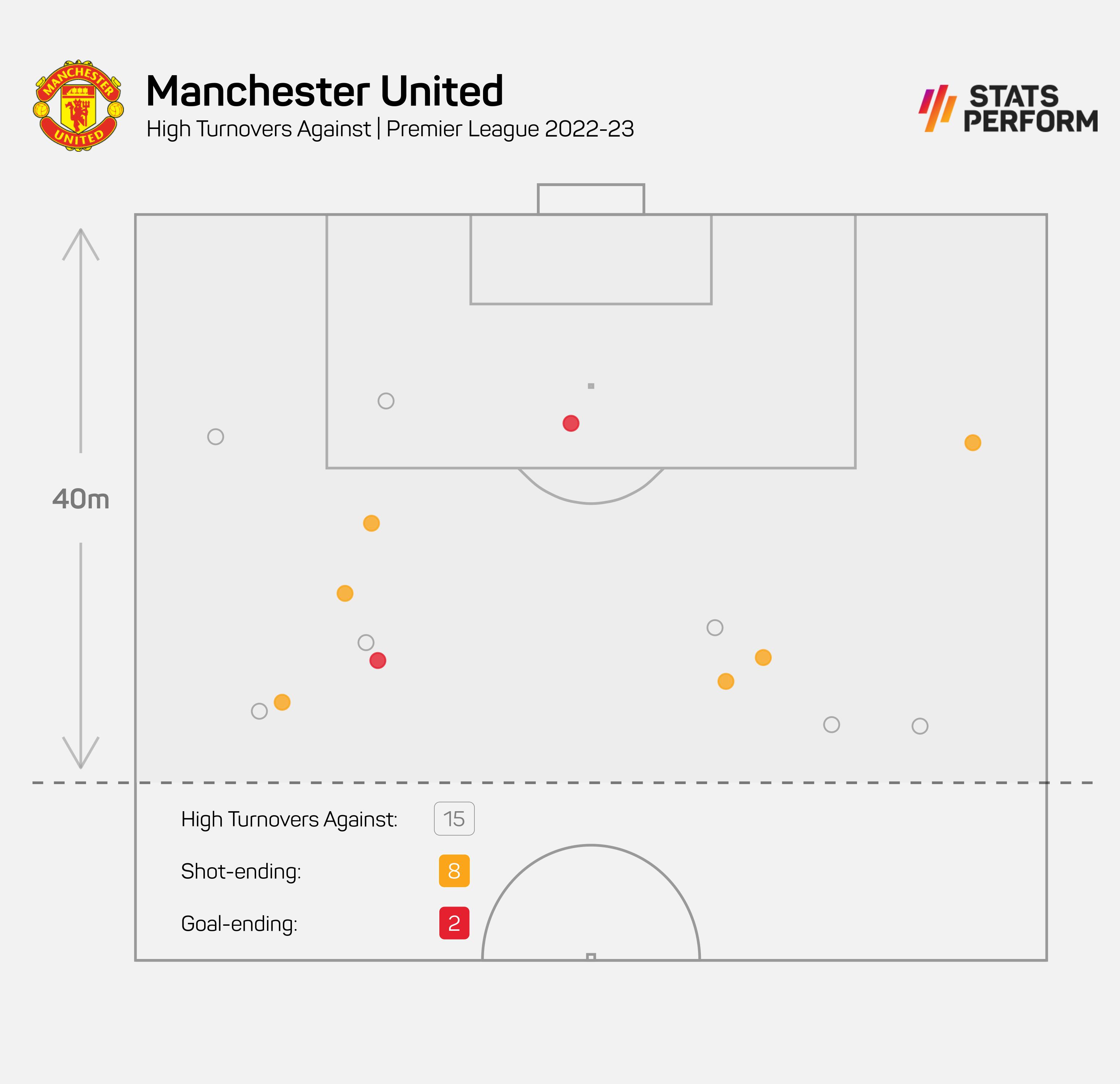 Yet the 30-year-old, whose arrival at Old Trafford appears imminent, possesses a vastly different profile to the previous two midfielders United very publicly pursued – ultimately unsuccessfully.
The progression from Frenkie de Jong to Adrien Rabiot to Casemiro was not a particularly obvious one, but have the Red Devils now ended up with the right man?
No more 'McFred'
Few United fans who have seen their 'McFred' midfield repeatedly overrun in recent seasons would complain about the club recruiting an upgrade on Fred.
The numbers would suggest that is what they are buying in Casemiro, who is comparable to his Brazil team-mate by several metrics.
Only two LaLiga midfielders made more recoveries than Casemiro (230) last season, yet his 8.0 per 90 were topped by Fred's 8.7. Fred matched Casemiro for tackles per 90 (both 2.8) and edged him in terms of interceptions (1.4 to 1.3).
However, Casemiro's physical presence ensured he won 59.7 per cent of his duels, far outperforming Fred's 47.8 per cent.
And the Madrid man, crucially, is more effective with the ball once he has won it.
Carlo Ancelotti's side attempted 43 shots at the end of sequences that started with Casemiro recovering possession, seeing the midfielder lead LaLiga in this regard and trail only Marcelo Brozovic (44) across Europe's top five leagues.
Although just 27.6 per cent of Casemiro's passes were played forward – versus Fred's 30.4 per cent – he was at the heart of so many Madrid attacks.
Casemiro played 34 passes to players who immediately created chances for team-mates, which compared very favourably with Rabiot (12), Scott McTominay (18), Fred (19) and, indeed, De Jong (22).
Carrying United's hopes
There was an obvious appeal to the attempted signing of De Jong, who would have offered something different to the United midfield.
Highly skilled with the ball at his feet, De Jong's carries progressed the play 113.6 metres upfield per 90 last season. United's five midfielders (Fred, McTominay, Eriksen, Bruno Fernandes and Donny van de Beek) have progressed the ball only 384m combined so far this season – or 192m per 90.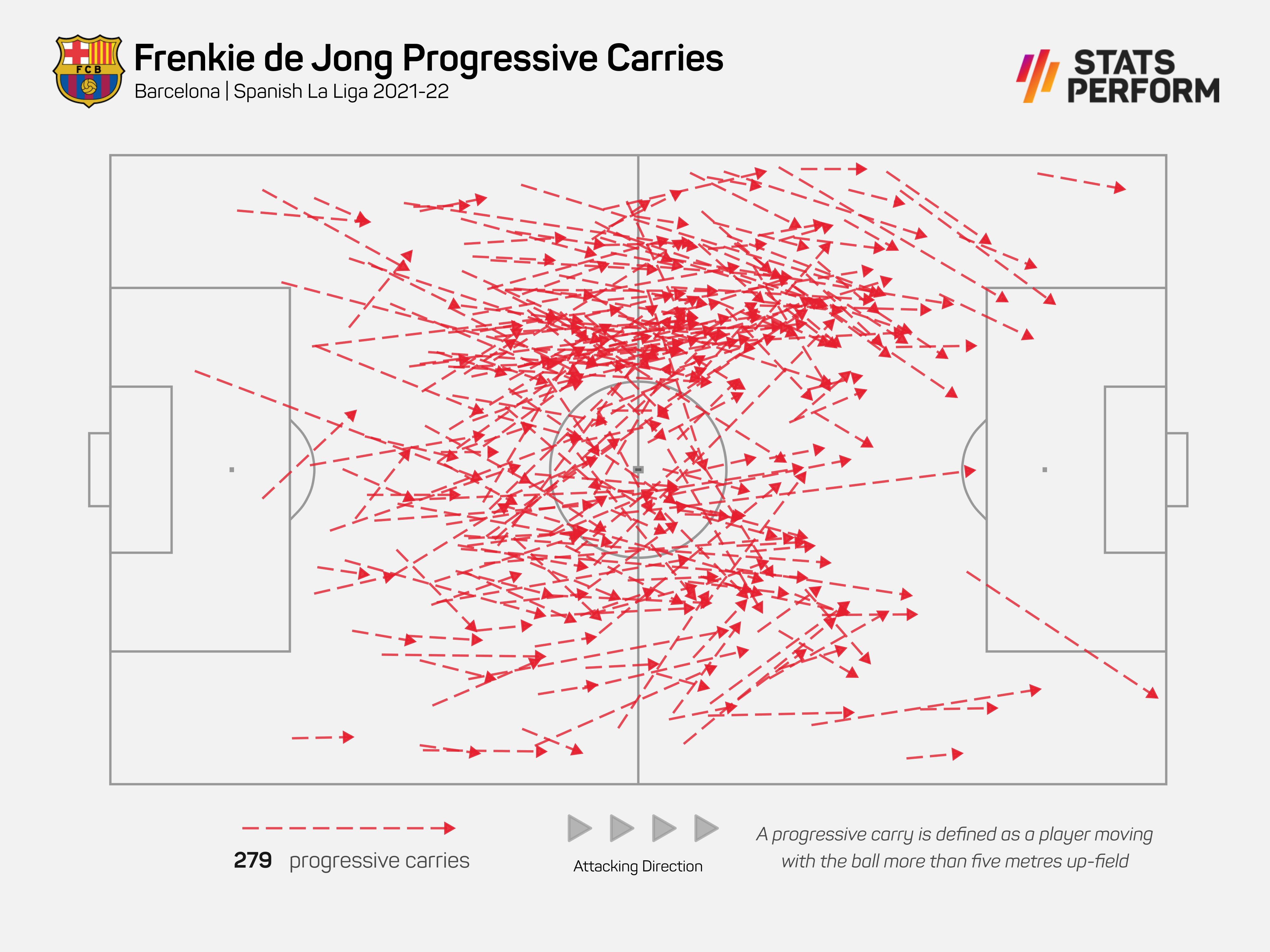 Casemiro clearly cannot offer this dynamism either, given he carried the ball just 54.3m upfield per 90 last term.
And United could seemingly still benefit from a player of De Jong's talents, as Casemiro is used to being able to rely on others in midfield to fulfil this role; he was by far Madrid's least progressive midfield carrier in 2021-22, behind Toni Kroos (80.6m), Luka Modric (85.7m), Eduardo Camavinga (91.1m) and Federico Valverde (133.3m).
But considering the difficulties in getting that deal done with Barcelona, United's scattergun approach has at least – via Rabiot – picked out a player capable of helping them both with and without the ball.
No Premier League team has conceded more goals at this early stage than United, while they have only netted themselves courtesy of an own goal.
One man alone may not be able to get United's season back on track, but Casemiro is primed to give it a good go.