Sergio Aguero is proud to look back on his career achievements after announcing his retirement at the age of 33.
The Barcelona forward confirmed his decision to retire on Wednesday at an event featuring president Joan Laporta and the Blaugrana's first-team players, while representatives of Aguero's other clubs – including Manchester City manager Pep Guardiola – also attended.
Aguero, who starred for Atletico Madrid before becoming a City great, suffered chest pain in the draw with Deportivo Alaves on October 30, which the club confirmed was down to a heart arrhythmia.
Further tests resulted in the Argentina forward being ruled out for three months to undergo a "diagnostic and therapeutic process". After consultations with specialists, Aguero was told it would be too great a risk to continue playing.
Aguero was in tears as he confirmed his retirement at Camp Nou but is happy with what he achieved throughout an astounding career.
"I was in good hands with the medical staff who did their best, who told me the best thing would be to stop playing," Aguero said.
"So, ten days ago I made that decision, but I want to tell everyone I did everything to have some hope, but there wasn't very much.
"You have all of our support ... we wish you all the best, Sergio"

— Barça president @JoanLaportaFCB to @aguerosergiokun pic.twitter.com/H2GLVEKCCE

— FC Barcelona (@FCBarcelona) December 15, 2021
"I'm very proud of the career I've had, I'm very happy. I always dreamt of playing football since I was five, my dream was to play in the Primera [Argentina] – I never thought I'd get to Europe, so I want to thank everyone.
"Atletico took a bet on me when I was just 18, people at City – you know how I feel about City, I did everything to the best I could there, I'm very grateful because they looked after me very well, and everyone here at Barca. The team has been great to me, without doubt one of the best clubs in the world.
"I'm grateful because they treated me really well, and of course the Argentina national team, what I love the most. I'm grateful to everyone who's come today, my family, people who've worked with me, and to my team-mates – most recently of Barca – I think I always did my best to help them win.
"I also give my thanks to my team-mates who helped me to grow, and I'll leave now with my head held high, happy. I don't know what awaits me next, but I know there's lots of people who love me and want the best for me. I'm grateful to everyone who's here, all the clubs I played at, and I'll always remember the amazing things."
Aguero helped City win five Premier League titles during his time with the club – his last-gasp goal against QPR in 2012 securing one of the most memorable titles successes in the competition's history.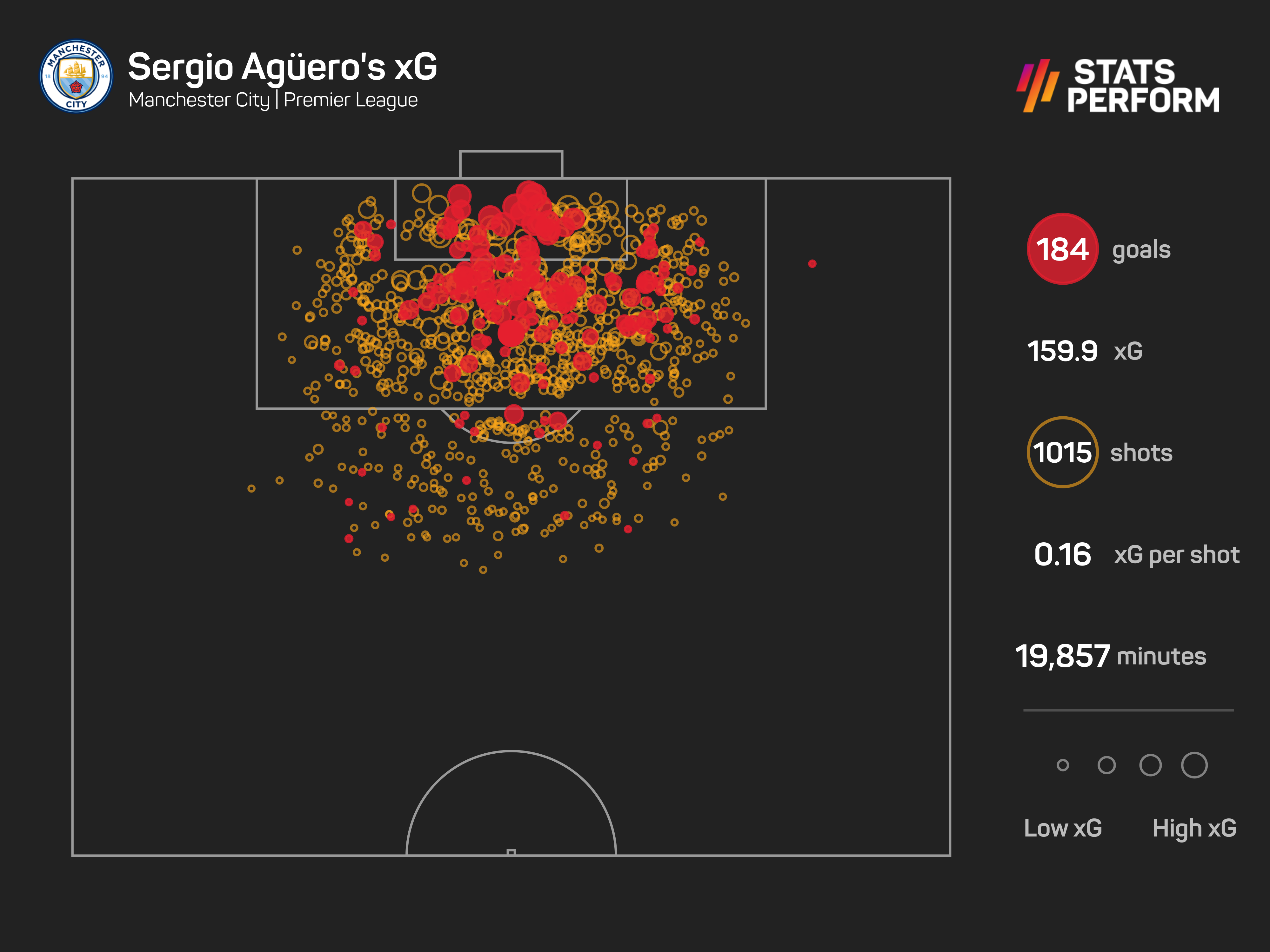 He left City having scored 184 times in the Premier League at a rate of one every 108 minutes, the best frequency of any player to net at least 20 in the competition's history. In fact, Aguero could play another 2,520 minutes of Premier League action (the equivalent of 28 full games) without scoring, and he would still have the best minutes-per-goal ratio of any player to have scored 20 or more.
The City player closest to that ratio (min. 20 goals) is Edin Dzeko, who scored a goal every 141.6 minutes for City in the English top flight. 
Aguero is also the Premier League's highest-scoring overseas player and holds the record for the number of goals scored for one club.
His only goal for Barcelona came in a 2-1 defeat to Real Madrid in October. A calf injury prevented him from playing more before his heart issue, though he helped Argentina win the Copa America in Brazil during the off-season.
Asked if he had processed the change in his life, Aguero replied: "I feel okay right now, obviously the first two weeks were really difficult. When they did the first physical test on me in the clinic, the medical staff called to say there was a big possibility I wouldn't be able to keep playing.
"I started to process then but it wasn't easy. I'm still processing everything – one of the doctors told me straight up, that's enough. When it was definitive, it took another few days to process. Right now, I'm okay but it was difficult."