Keyshawn Davis has his sights trained on gold after dominating his first Olympic fight, while Charley Davison wants a "Battle of the Super Mums" with Mary Kom in Tokyo.
American Davis earned a unanimous decision in his lightweight (57-63kg) round-of-32 bout with Dutchman Enrico Lacruz at the Kokugikan Arena and declared that was just the start.
Team GB fighter Davison is eyeing a clash with fellow mother Kom, a superstar of the sport, after coming through her first Olympic fight.
Boxing action at the Games on Sunday certainly delivered on its promise.

DAVIS: GOLD IS ALL I'M MISSING
Davis won all three rounds in his debut Olympic bout against Lacruz of the Netherlands and is determined to become the youngest winner of this event since Oscar de la Hoya was crowned champion aged 19 in 1992.
He said: "I feel great, I got a unanimous decision on my Olympic debut. I felt like I could have given more, but I did what I had to do.
"In my previous competitions, especially in the amateurs, each day I got better and better, got more in the groove. Today was just the start and there is more to come."
The 22-year-old added: "The gold medal is the one and only thing that I need to put on my resume as of right now. That's the only thing I am focusing on."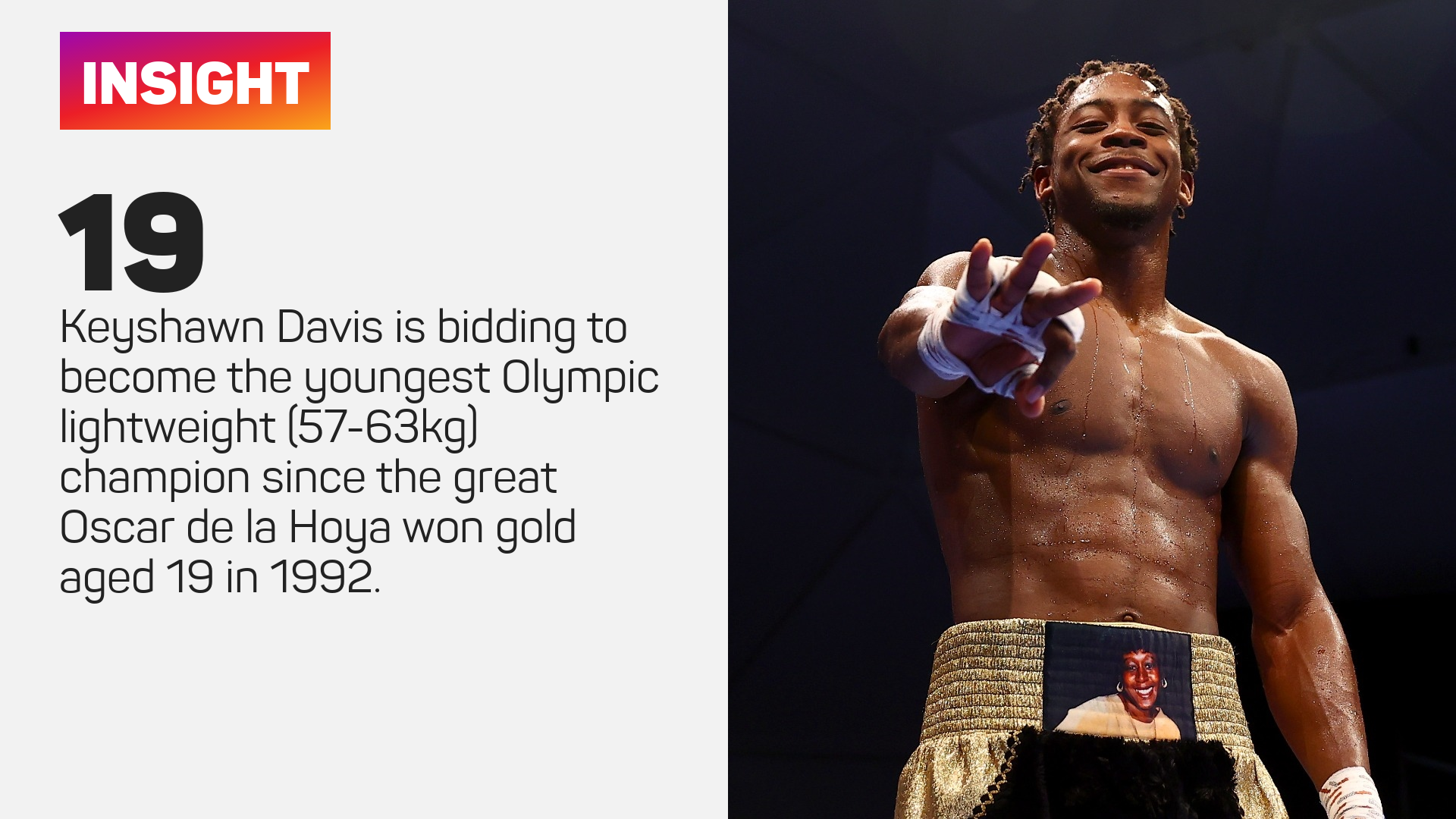 DAVISON TARGETS MOTHER OF ALL FIGHTS
Davison only joined the Great Britain Olympic programme last year as a mother of three and beat Morocco's Rabab Cheddar on points in her maiden Olympic fight.
The 27-year-old flyweight would relish the chance to step into the ring with Indian mother of four Kom, the 38-year-old six-time World Championship gold medallist who is in her half of the draw and made it through to the last 16.
Asked about the prospect of that fight taking place, she said: "We were only taking about that earlier. What a fight that would be, the 'Battle of the Super Mums'. I'd love that.
"I know her background, and she is a brilliant athlete who has done so well in the sport. She was the first one to do it as a mum, so I'm basically following on from her."
NAKIMI IN THE HUNT TO EMULATE ADAMS
Japan's Tsukimi Namiki beat Catherine Nanziri on points in the women's flyweight (48-51kg) round of 32.
Namiki, a bronze medallist at the 2018 World Championships, had the better of all three rounds of her fight with Ugandan Nanziri.
Nicola Adams is the only female boxer to win an Olympic medal on home soil, with gold in London nine years ago, but Namiki could also achieve that feat.