Bryson DeChambeau insisted the job is not over for the United States after racing clear of Europe on day one in their quest to wrestle back the Ryder Cup.
Team USA have their biggest opening-day lead at the Ryder Cup since 1975 thanks to a dominant start – DeChambeau and his team-mates earning a commanding 6-2 advantage on Friday.
Ryder Cup holders Europe struggled for answers at Whistling Straits, where hosts USA starred in the morning foursomes and afternoon four-balls.
DeChambeau teamed up with Ryder Cup rookie Scottie Scheffler in the four-ball, halving their matchup against world number one Jon Rahm and Tyrrell Hatton.
Powerhouse DeChambeau hit an astonishing 417-yard drive on the 581-yard par-five fifth hole, setting up an eagle to put himself and Scheffler one up in their four-ball contest with Rahm and Hatton.
Reflecting on the team's red-hot start, DeChambeau told reporters: "Proud of the team. Super proud.
"They fought hard every single shot out there, from what I saw, and, again, looking back on it, this is a great start, but the job's not over. We have two more days. A lot more golf. And we cannot lose our mindset to win."
On DeChambeau's fifth-hole bomb, Scheffler added: "That was probably the most excited he's ever been on a golf course was on number five. That wind, we had it on one of our practice days, and we figured out what he needed to do, so to have an opportunity to do that in competition was amazing. I was jacked up for him as well.
"I think he pushed it a little bit, but he smashed it. So thankfully he pushed it just a touch. If he pulls that ball at all, it's weird, there are two towers behind the green, I can't even describe to you - they are like 250 or 200 yards right of where I'm trying to hit my drive, and it's crazy for him to be able to commit to that shot.
"I know he's very happy to make a three as well; if he made a five, he said he was probably going to go home. It was great. That was a good spark for us and good momentum for the rest of the day."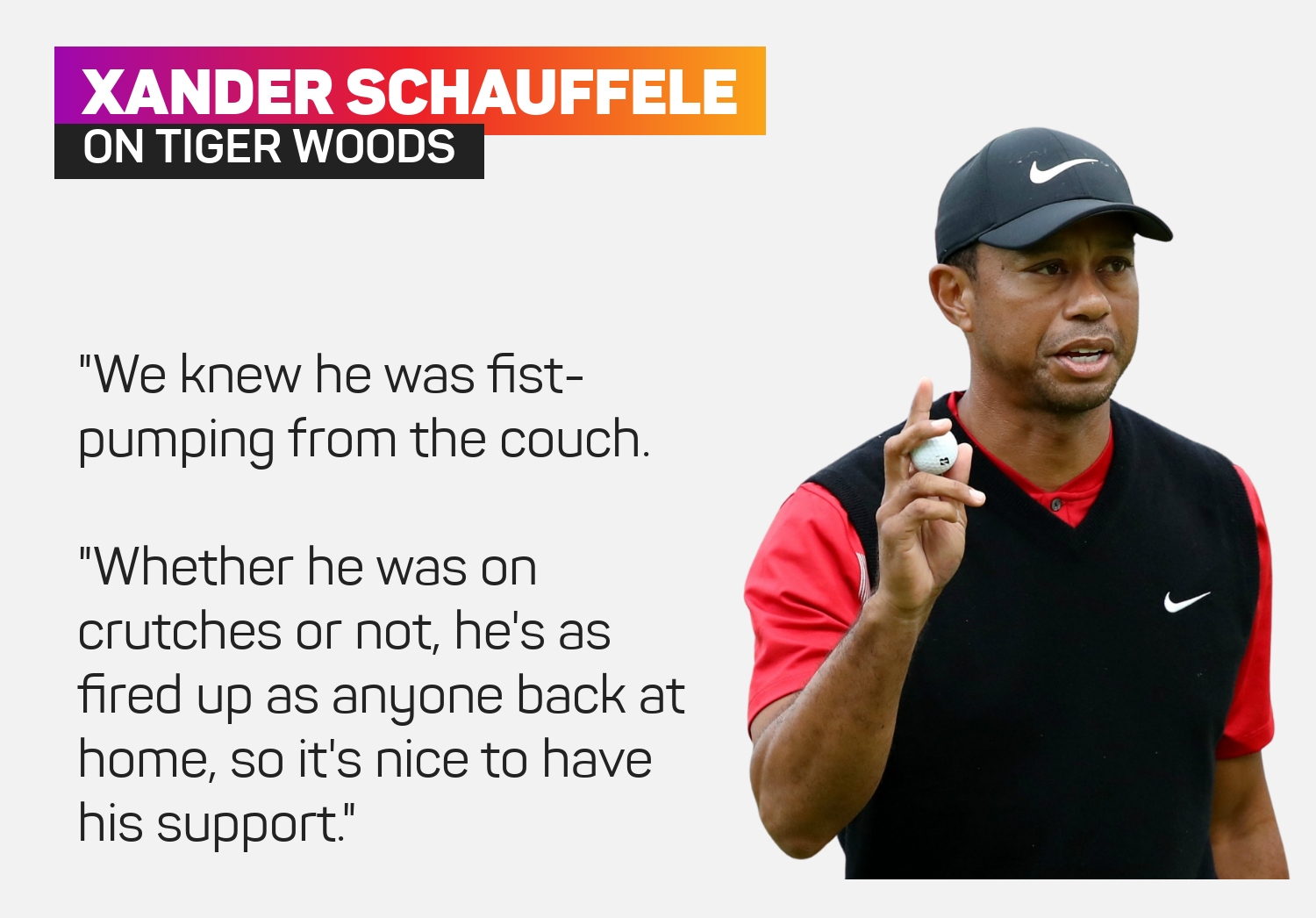 Tiger Woods is absent from this year's Ryder Cup as the 15-time major champion continues his recovery from the February high-speed car crash near Los Angeles that left him with serious leg injuries, and it remains to be seen whether he is capable of playing again on tour.
Despite not being among Team USA's Ryder Cup roster, the American superstar still had a telling influence on Friday, having reached out with a few words of encouragement.
Xander Schauffele revealed Woods sent a message on Thursday and Tony Finau elaborated on the text.
"Harry [Harris English] mentioned to me walking down number nine, like how cool it was that Tiger is so into it," Finau said during his post-round news conference. "I think that's the big thing is he's so invested in this team.
"He's not here physically, but you know, I think the gist of basically what he was saying was I'm cheering you guys on, I'm right there with you and go fight and make us proud.
"We were able to do that, and if TW's watching, thanks for that text, brother, I think it helps us a lot."