Rory McIlroy had to be restrained by team-mate Shane Lowry as tempers boiled over after a dramatic end to the second day's play at the Ryder Cup in Rome.
The world number two became involved in a heated exchange with Patrick Cantlay's caddie Joe LaCava on the 18th green at Marco Simone and the arguments later continued in the car park.
Pictures emerged of McIlroy shouting and angrily pointing his finger at someone outside the clubhouse before being pulled away and pushed into a waiting car by Lowry.
A furious Rory McIlroy confronted a Team USA caddie in the car park, after he was spotted waving his cap in McIlroy's face when lining up his final putt on 18… pic.twitter.com/N0SaDg7AsS

— Sky Sports Golf (@SkySportsGolf) September 30, 2023
Europe captain Luke Donald revealed McIlroy had felt a "line had been crossed" by LaCava as he celebrated Cantlay holing the lengthy putt that ultimately secured a vital fourballs point for the United States.
At the time, however, both McIlroy and playing partner Matt Fitzpatrick still had putts remaining that could have halved the match.
McIlroy thought LaCava had stepped across his line as he celebrated by waving his cap in jocular reference to Cantlay's hatless appearance.
There had been reports throughout the day that Cantlay had not been wearing a team hat in protest at not being paid to play, something he denied.
McIlroy took exception to LaCava's actions and a row broke out between the pair which the watching Lowry also became involved in.
Donald said: "Obviously I was on 18 and I saw it unfold. When Patrick made that putt, Joe was waving his hat – there was some hat-waving going on throughout the day from the crowd, not our players.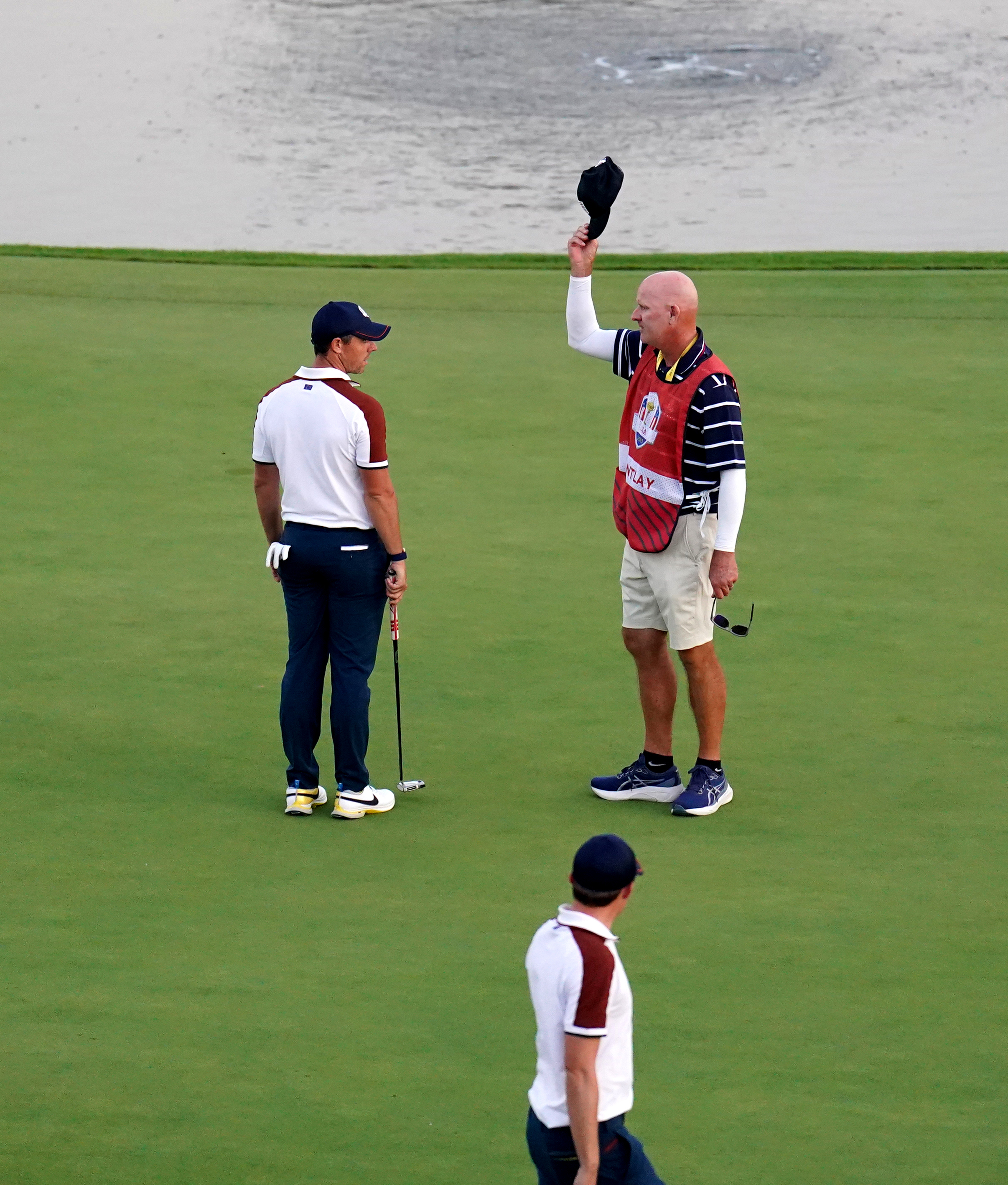 "I talked to Rory and he politely asked Joe to move aside as he was in his line of vision, he stood there and didn't move for a while and continued to wave the hat and I think Rory was upset about that.
"Rory felt the line was crossed on the 18th green. He is a passionate player – we all are in this event – and I will speak to him later about it."
After the match but prior to the car park incident, McIlroy said the matter would merely add motivation to his desire to succeed on Sunday.
The Northern Irishman said: "Obviously they had a great finish and Patrick made three great putts at the end to seal the deal, so hats off to them.
"They played a great match, yes, a few scenes there on 18 and just fuel for the fire tomorrow."
Cantlay was also asked about what occurred beside the 18th green after the match but gave little information.
"He is the best," he said of LaCava, who is better known for his previous work with Tiger Woods. "That is all there is to say."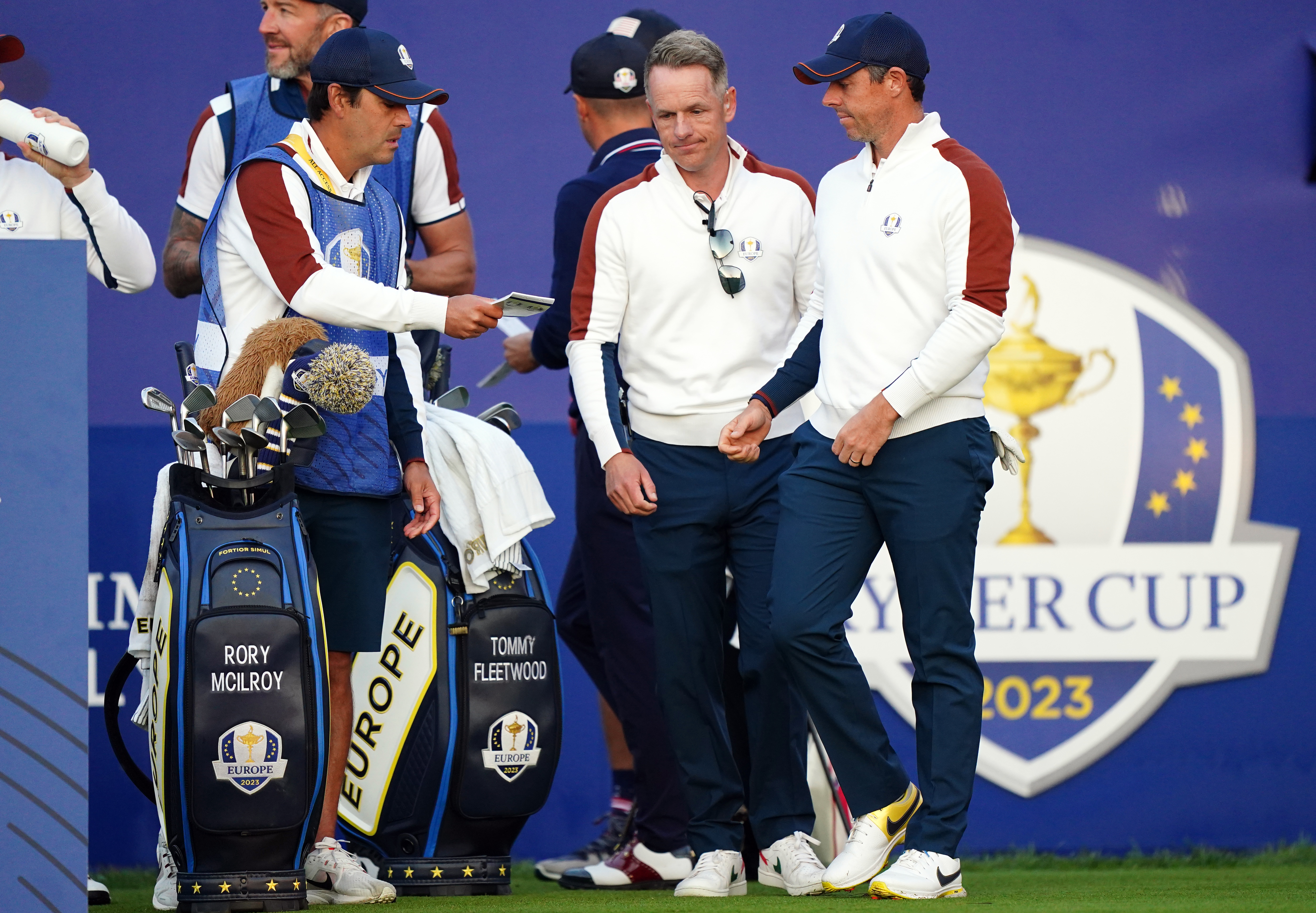 Donald was not aware of what later happened in the car park when he spoke to media after a day which his European side ended lead 10.5-5.5.
Donald said: "I will talk with Rory when I get back. I didn't see the incident personally, I saw the one on 18.
"We always try to play with passion and energy but play with respect and that will certainly be my message to the players."
US captain Zach Johnson said: "What I saw on 18 was a phenomenal putt and a celebration by some of our guys.
"I saw passion and all of what is great in the Ryder Cup come out, and to my knowledge, based on what I was told, that was defused after the match so I'm told it is all good. That's really all I know."