Rory McIlroy has placed himself firmly at the front of the Ludvig Aberg "bandwagon" ahead of the rising star's Ryder Cup debut.
Aberg was hailed as a generational talent by Europe captain Luke Donald after he gave the 23-year-old Swede one of his six wild cards for the upcoming contest against the United States.
A former world number one amateur, Aberg only turned professional in June but won the final qualifying event in Switzerland and will make the quickest transition from the amateur ranks to the Ryder Cup in the contest's history.
Turn Pro in June Ryder Cup debut in September

Welcome to #TeamEurope, Ludvig. pic.twitter.com/tuRkw1cetQ

— Ryder Cup Europe (@RyderCupEurope) September 4, 2023
Such has been Aberg's meteoric rise that McIlroy, the world number two and four-time major winner, said he had been excited to play alongside him in practice at the Ryder Cup venue on Monday.
"There's a few new faces on the team and I thought it was a great exercise in terms of getting to know one another a little bit better," said McIlroy, who teamed up with Tommy Fleetwood but lost 3&2 to Aberg and Viktor Hovland.
"I had an opportunity to play with Ludvig for the first time on Monday, which I was excited about. I told him I've been looking forward to this for a while."
Asked if Aberg had lived up to his expectations, Mcllroy added: "Probably exceeded them. Everyone talks about what a great driver of the golf ball he is, which he is. The ball-striking is incredible.
"But I was really impressed with his wedge play and how he can sort of control his trajectory with shorter clubs. I was on the bandwagon before and I'm certainly at the front of it now."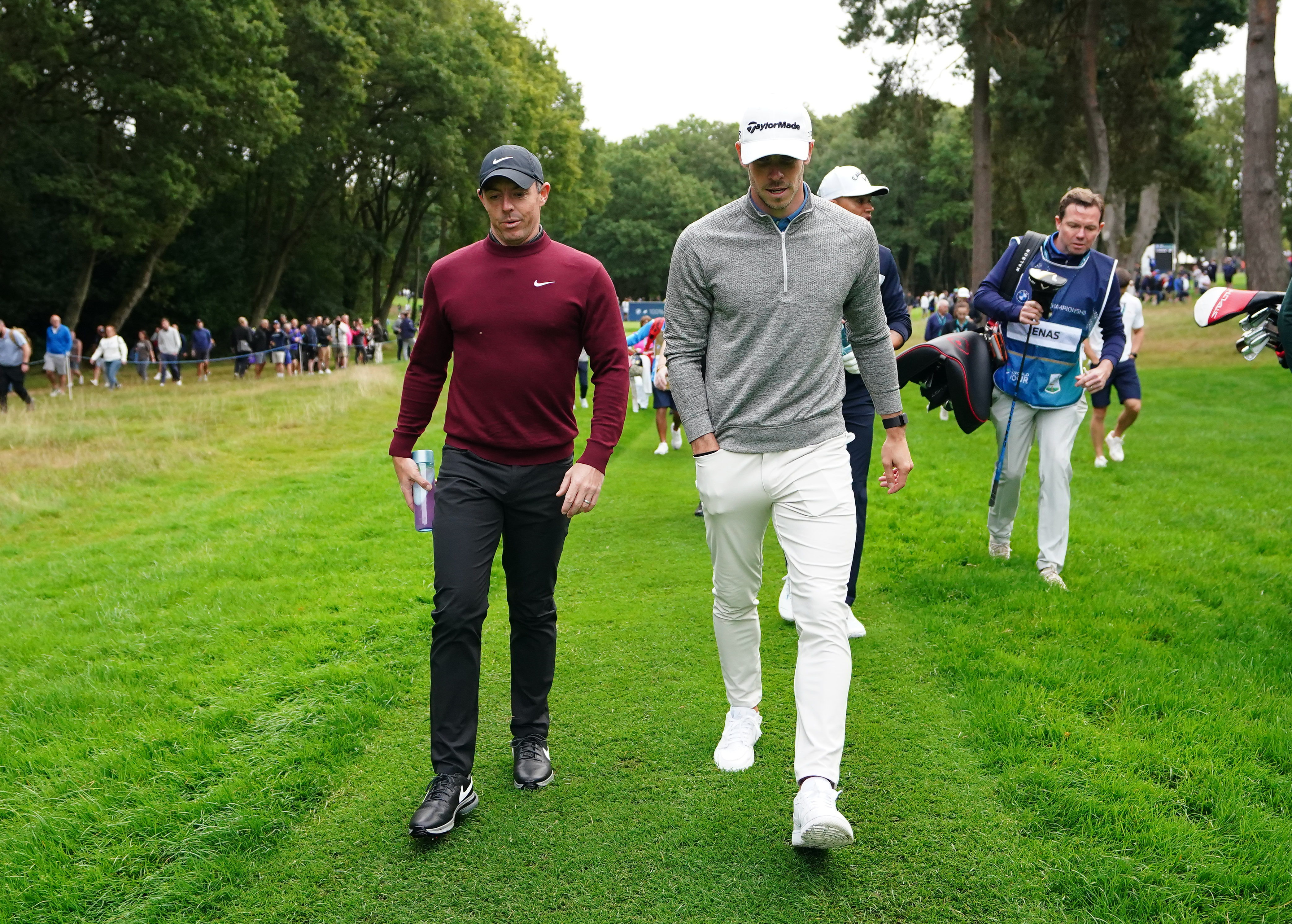 McIlroy partnered Shane Lowry and Ian Poulter (twice) in the last Ryder Cup at Whistling Straits, but lost all three matches as Europe suffered a humiliating 19-9 defeat in Wisconsin.
The 34-year-old was also left out of a session for the first time since making his debut in 2010 and gave a tearful television interview after beating Xander Schauffele in the opening singles on the final day.
"I told a story on Monday night to the team about watching Brookline in '99 on TV and crying after America came back and Europe lost, and obviously I cried in Whistling Straits in 2021, so not much has changed," McIlroy said.
"I feel as someone that should go out there and win points for the team, I didn't do that. Whether it would have made a difference to whether we won or lost if I did play well that week, who knows.
"We're not used to playing for other people in this game, and you go out there and you're playing for your team-mates, you want to do well for them.
An emotional Rory McIlroy after his singles victory.#TeamEurope #RyderCup pic.twitter.com/nhvkUlVV5V

— Ryder Cup Europe (@RyderCupEurope) September 26, 2021
"I felt like I didn't do that and I felt like I didn't give a good account of myself and that stung and the scoreline stung. First time I had been dropped in a session in The Ryder Cup. It was a difficult week for me.
"But that emotion was real and what I said at the end of that tournament was all true.
"It is by far the best experience in sport, and standing shoulder-to-shoulder with your team-mates in an environment like that is I think the epitome of what competition and what sport is."