Stephen Curry is confident he will not miss any of the remainder of the NBA Finals despite hurting his foot in the Golden State Warriors' Game 3 defeat to the Boston Celtics.
The Warriors went down 116-100 at TD Gardens to slip to a 2-1 deficit, with Curry scoring a game-high 31 points despite the losing effort.
What was of even bigger concern to the Warriors was the sight of Curry's leg getting caught under the huge frame of Al Horford when jostling for a loose ball deep into the fourth quarter.
Curry was down for a considerable amount of time and when he did manage to get back to his feet he was noticeably limping and did not return for the remaining minutes.
Speaking about the injury after the game, Curry told reporters: "I'll be all right. I got caught. Obviously I'm in some pain, but I'll be all right. I'll see how it feels tomorrow and get ready for Friday.
"That's [a foot strain] what it felt like, and we'll see how it responds. Not much else to say. I don't feel like I'll miss a game. I'll take advantage of these next 48 hours to get ready."
Curry likened the injury to the one he sustained against the Celtics back in March during a similar scenario coming up against Marcus Smart.
The Warriors' talisman, however, does not believe it is as severe as the issue that caused him to miss the final month of the regular season.
"[Horford is] a big body, obviously," Curry added. "I haven't seen the play, so I don't know if it could have been avoided or not. 
"I was in that situation with Marcus back in the Bay, and you just want to get your foot out of there. That's all I was trying to do at that point, knowing the position I was in. 
"Like I said, for what I feel like, it's not as bad. So hopefully it responds well over the next two days."
Head coach Steve Kerr said of Curry: "I didn't say that [there was no concern]. 
"The injury didn't force him out of the game, but I took him out down 14 with two minutes left because we weren't going to catch up.
"We will know more tomorrow."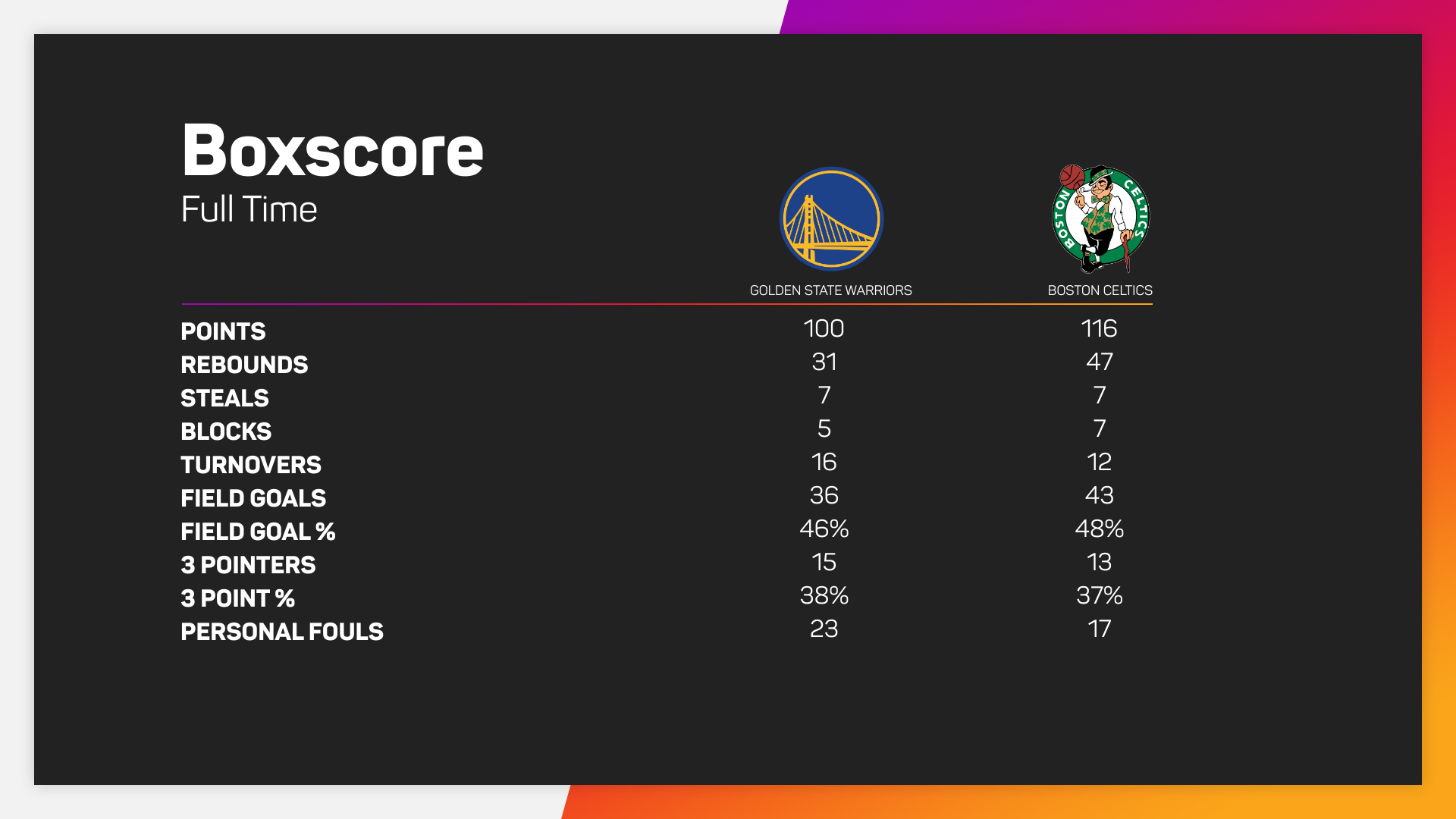 It was a night to forget for Draymond Green, who contributed just two points and struggled defensively leading him to admit afterwards: "I was s***."
Kerr was somewhat more diplomatic, adding: "He had a tough game, but I trust Draymond as much as I trust anybody. 
"You know, he always bounces back from losses and from tough nights individually. He'll be back on Friday."
A hostile home crowd jeered Green with chants of "f*** you Draymond", with Kerr adding sarcastically: "Classy. Very classy."
Green was asked if his struggles could have anything to do with the post-game recaps he has been supplying on his podcast. 
He replied tersely, saying: "No. I don't see much difference on the podcast than I say to you right here, so nah. What's the X's and O's that I said on the podcast?
"If that's X's and O's, you're reaching for something. It's all good, though, keep going.
"The only thing, you find that they are taking X's and O's away from your podcast? Well, the only thing you said is [Derrick] White, Smart and Horford. Hmm.
"You went for it. Appreciate the podcast promo you just gave me, though. The Draymond Green Show. Next time just mention it that way."