Miami. That's where this started. Where Carlos Alcaraz and Iga Swiatek were both champions at the same tournament for the first time.
Expect it to become, if not the norm, a regular occurrence over the coming years. Like Serena and Roger, and like Pete and Steffi before them, Carlos and Iga could well become the tennis royalty that reign above all others on the tour.
The 19-year-old Alcaraz heads to Roland Garros with four titles on the ATP tour this season, while 20-year-old Swiatek has five on the WTA circuit. Those are both tour-leading figures, with Alcaraz triumphing in Rio de Janeiro, Miami, Barcelona and Madrid, while Swiatek has won in Doha, Indian Wells, Miami, Stuttgart and Rome.
It is a global game, and these two are world leaders, based on their recent form. The Miami Open was as recently as April, and now the French Open awaits.
Swiatek has shown she can win big in Paris already, storming to the title without dropping a set as the world number 54 in October 2020, against all expectations. Nobody, Swiatek included, saw that coming, but the emergence of Alcaraz has been longer heralded, and now that is happening too.

"Practically unstoppable". "An overwhelming favourite". What the greats say about Swiatek and Alcaraz
Martina Navratilova, who landed the French Open singles at the height of her career in 1982 and 1984, won 74 consecutive tour matches in the latter year. That puts Swiatek's current streak of 28 into some perspective, albeit the young Pole is just seven away from matching the longest run on the WTA circuit since the start of the year 2000.
According to Navratilova, the Roland Garros tournament starts with an obvious prime contender.
"It's Swiatek against the field," she said, describing the Polish player as an "overwhelming favourite".
"Clearly, the pressure is not bothering her," Navratilova added, as quoted by the WTA website. "She's just embracing that. It's great to see – when you are the favourite, and you keep on winning."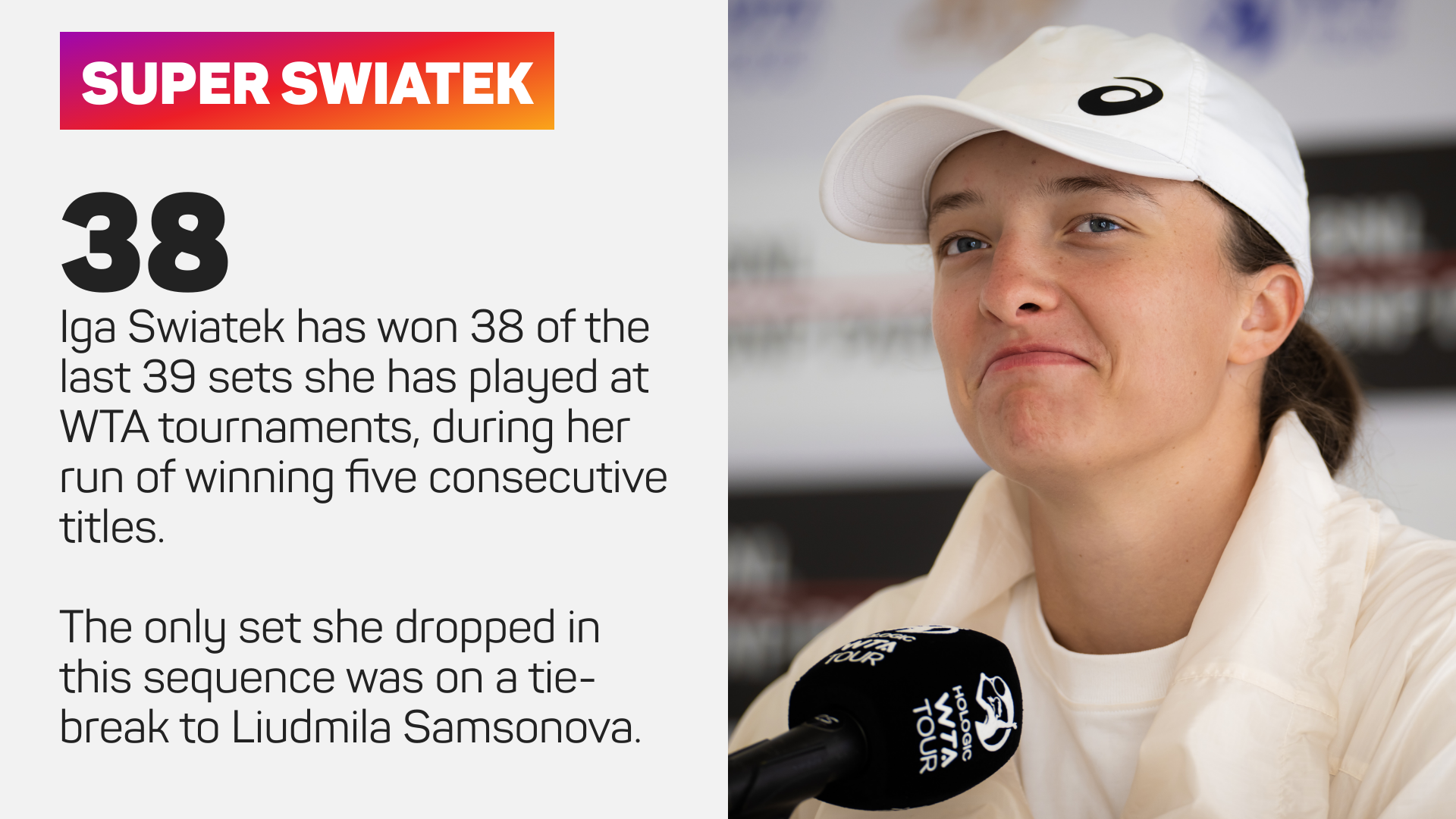 When Novak Djokovic lost to Alcaraz in the Madrid semi-finals, the disappointed Serbian said: "He held his nerves very well. For somebody of his age to play so maturely and courageously is impressive."
This is greatness recognising potential greatness.
Rafael Nadal had been beaten by Alcaraz in the previous round and accepts there is a changing of the guard in motion.
"When adrenaline goes up, he's practically unstoppable," Nadal said of his fellow Spaniard, "but then in some moments he commits errors, but it's logical because he plays with a lot of risk. It's his way of playing, and in that sense I think he has the level to be able to win against anyone in the world."
2 - Carlos #Alcaraz is the second-youngest player to win two Masters 1000 titles, at 19 years old, after Rafael #Nadal won Monte-Carlo and Rome in 2005, at the age of 18. Formidable. pic.twitter.com/UokEXhFzIZ

— OptaAce (@OptaAce) May 8, 2022

Handling the pressure, in their own words...
Swiatek, a natural introvert, travels with psychologist Daria Abramowicz, and is learning on the move how to handle the pressures of life at the top. Winning her last five tournaments points to a remarkable mentality, with Swiatek now firmly established as the WTA number one.
"I already know that I did some great stuff this season, so I feel like I can just play freely and not think I have to win some tournaments, or I have to win some matches, or I have to save some points," Swiatek said in Rome.
"This year, the pressure that I always put on myself, it's a little bit lower. For sure the expectations around are higher, but I never had a problem to cut it off and not to think about it. Also I'm gaining experience at that. I think with more and more tournaments, it's going to get better and better for me to cope with all of that."
Alcaraz, who has become physically mightier in the past 12 months, appears to have the mental steel that a champion requires, albeit he has yet to win one of the four majors.
He is embracing the hype around his French Open prospects by encouraging title talk.
In Miami, he said: "This year, I think that people are going to think that I'm going to be one of the favourites to win Roland Garros, but I always said that I have a different view. I don't have it as tension; I have it as a motivation. I really look forward to going to Paris, to fighting for the grand slam, and I am really looking forward to showing my great level in a grand slam too."
After triumphing in Madrid, he went a step further, telling Tennis TV: "Yes, I think I'm ready to win a grand slam."

What can they achieve?
Alcaraz and Swiatek would not be the youngest champion duo in a single edition of the French Open – Michael Chang was 17 years and three months when he triumphed at Roland Garros in 1989, and women's champion Arantxa Sanchez was only three months older.
They would be the youngest champion pairing this century, however. Currently, the youngest winners at the same French Open in the 21st century are Nadal and Henin, who turned 19 and 23 respectively during the 2005 tournament.
World number six Alcaraz is a long way off number one in the ATP rankings, but at the start of the year he sat 32nd, an awful long way from sixth spot. He is skipping steps as he races up the ladder and seems destined for the top.
He sits third in the Race to Turin, which ranks performances in the calendar year rather than on a rolling basis and decides the line-up for the end-of-season ATP Finals. There, Alcaraz is closing on leader Nadal and just a sliver (3,490 to 3,460 points is the margin) behind second-placed Tsitsipas, who has played 11 tournaments to Alcaraz's seven.
In 2022, @AlcarazCarlos03 has become youngest...
* @MutuaMadridOpen, @MiamiOpen & @RioOpenOficial champion
* ATP 500 champion (152 events)
* Player to beat both Rafael Nadal & Novak Djokovic
* Top-10 Player since Nadal in 2005
* Top-20 Player since Andrei Medvedev in 1993#MMOPEN

— ATP Media Info (@ATPMediaInfo) May 8, 2022
For Swiatek to be champion, she must break the run that has seen eight different women crowned in the last eight years: Maria Sharapova, Serena Williams, Garbine Muguruza, Jelena Ostapenko, Simona Halep, Ash Barty, Swiatek and Barbora Krejcikova.
The men's singles has been rather more predictable over the same period, with Nadal winning five times, Djokovic twice and Stan Wawrinka once. Nadal in 2005 was the last teenager to scoop the men's title.
The last woman to truly dominate at Roland Garros was Justine Henin, who won four years out of five from 2003 to 2007.
Swiatek can make it two from three, and if she reaches the title match, it would be a brave person to back against her given she has won 16 consecutive sets in finals.
With her five titles already this year, Swiatek is one away from becoming the first woman to beat that total in a season since Serena Williams won seven in 2014.
She is a red-hot favourite, while Alcaraz is a serious contender. A repeat of Miami would shock nobody who has been paying attention.
As the Big Three of the men's game begins to break up, and the Williams sisters dot the i's and cross the t's of their careers, the future of tennis looks to be in secure hands.