Eddie Jones has the respect of England's players but must deliver results if he is to lift pressure from his shoulders ahead of next year's Rugby World Cup, according to former Australia captain George Gregan.
Experienced coach Jones had his future called into question on the back of another poor Six Nations campaign for England, who finished a distant third behind Ireland and champions France with two wins from five matches.
Jones is under contract until after the 2023 World Cup and has been given the support of the Rugby Football Union (RFU), although performance director Conor O'Shea confirmed in March the search is under way for the 62-year-old's long-term successor.
Former Australia boss Jones has repeatedly stated that peaking in time for next year's showpiece in France is his big aim, with his side's three-Test series Down Under – their first summer tour in four years – providing an opportunity to further experiment.
While Gregan can understand the questions being asked of Jones, the retired scrum-half – who played under Jones for Australia and the Brumbies – understands supporters want to see signs of progress now.
"I think pressure is always there with a head coach," said Gregan, ahead of Saturday's first Test in Perth. "I'm not going to speak on his behalf, but he knows that as a head coach it's all results driven in professional sport.
"If you're not getting the results, and particularly if you're not getting consistent Ws [wins], then it does come around: 'Why is the team not performing?' That was definitely the case with Six Nations where there's patches of really good performances.
"But then obviously some things also which can get taken out of your hands, which is decision-making, you lose plays in the bin, all that kind of stuff. But that's rugby. And so how do you adapt? And how do you adjust? But they're all good experiences and learning experiences.
"I know there was no Jonny May, there was no Owen Farrell, there's a lot of players missing in that Six Nations campaign, they'll probably take part in this coming tour. And then he's built a nice squad."
Gregan is supporting The Open Championship Claret Jug Tour, partnered with HSBC UK, and he added: "I think you've always got your eyes a little bit ahead for the World Cup. And that's definitely the case for someone like Eddie and all coaches, but it's also the here and now, and they'll be looking to really improve and try not to drop out of games. I think every good team wants to do that."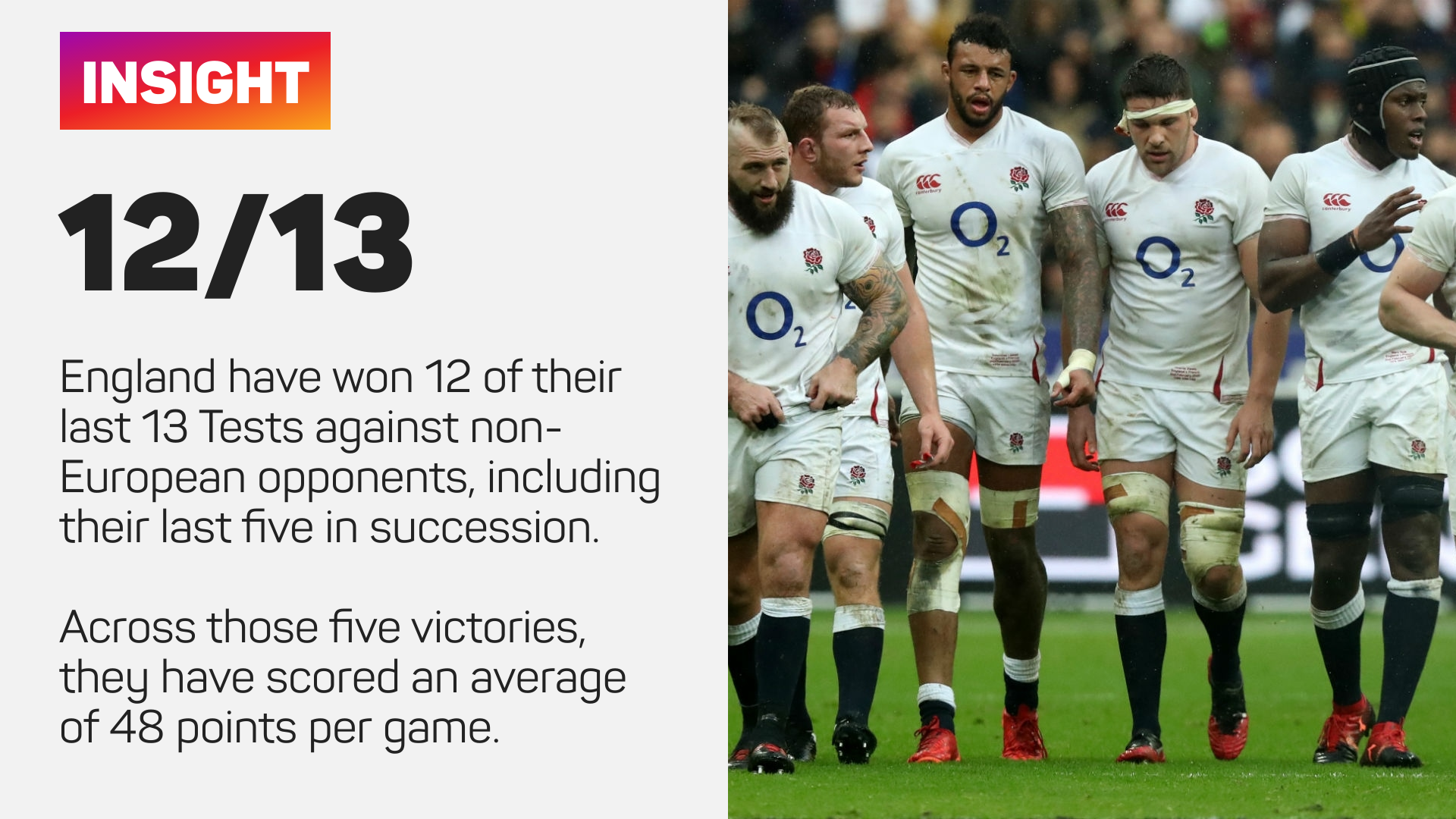 England may have struggled for consistent form, but they have won their last eight Tests against Australia since October 2015, conceding an average of just 14 points per game across the last four of those matches.
Jones is undefeated against his country of birth during his near-seven-year England tenure, meanwhile, and famously oversaw a series whitewash in 2016.
Gregan believes the England boss will have the full backing of his dressing room.
"Eddie is a real players' coach. He's really driven to create the best environment for his players to perform," Gregan said. "He's the hardest marker on the team's performance on himself. I think you see that a lot.
"He'll deflect to the team when it's doing well, and he'll take ownership when it's not doing well. That's a classic head coach, and he's never wavered from that. And I think that's why the players really respect him.
"He's hard, he's very consistent in terms of his messaging. He's very clear on what he wants the team to do. But he also empowers the playing group to try and do that. And that's the coach's coach.
"And ultimately, I think from my experiences with Eddie, he really wants the players to be sort of taking the reins on the field and making sure they're really comfortable making decisions to provide support.
"But as you know, coaches are sort of in the grandstand, there's only a limited amount that they can do once the players are on the pitch. I think that's what he tries to do, and all good head coaches try to encourage those leaders and the players on the field to make good decisions, which hopefully put you on the right side of the ledger."
In our matchday squad for ??? ????? ????

??? ??????
???? ??? ??????????
????? ???????? #AUSvENG pic.twitter.com/gJDwwRJ1Fy

— England Rugby (@EnglandRugby) June 30, 2022
Australia have lost three straight Tests heading into their first fixture with England this weekend, two of those by a margin of no more than two points – the last time they lost more successive games was a four-game stretch from June to August in 2018.
However, the Wallabies have won their last four matches on home turf, and four of their past seven when hosting European opposition, which Gregan believes will make for an entertaining series.
"England playing Australia in any sport is always exciting – particularly rugby," Gregan said. "Obviously there's that little touch with Eddie being a former Wallabies coach and obviously Australian. And he's had a great record against the Wallabies since he's taken over the helm in English rugby.
"It's gonna be a fantastic series, Dave Rennie, the Wallaby coaching staff and the playing group will be really targeting the series as something, which is another step in the right direction for being consistent and beating some of the top international teams.
"Perth, Brisbane and Sydney, on the bounce. So, three big Test matches over three consecutive weeks. And I think both teams, stating the obvious, will want to get off to a pretty hot start in Perth, because it's always good to be one up in those types of series."

:: The Open Championship Claret Jug Tour will visit schools, golf clubs, city centres and HSBC branches.