Luka Doncic moved to a "whole different level" in the view of Dallas Mavericks team-mate Dwight Powell after hitting a historic 60-point triple-double against the New York Knicks.
The three-time NBA All-Star ended with figures of 21-for-31 shooting, 21 rebounds, 10 assists, two steals and a block in one of NBA's all-time great individual showings.
Doncic's magic inspired the Mavs to a 126-21 home win over the Knicks on Tuesday in a contest his side trailed 112-103 with less than 30 seconds to go in the fourth quarter.
He scored seven of the Mavericks' 11 points in the overtime period to complete the comeback en route to topping Dirk Nowitzki's franchise record of 53 from December 2004.
"Guys say all the time that we see it and we know his greatness, but he's showing up on a whole different level in a whole lot of different ways," Mavs center Powell said.
"This tonight, there's not really any way to accurately describe that. It's hard to believe – what he's done is different."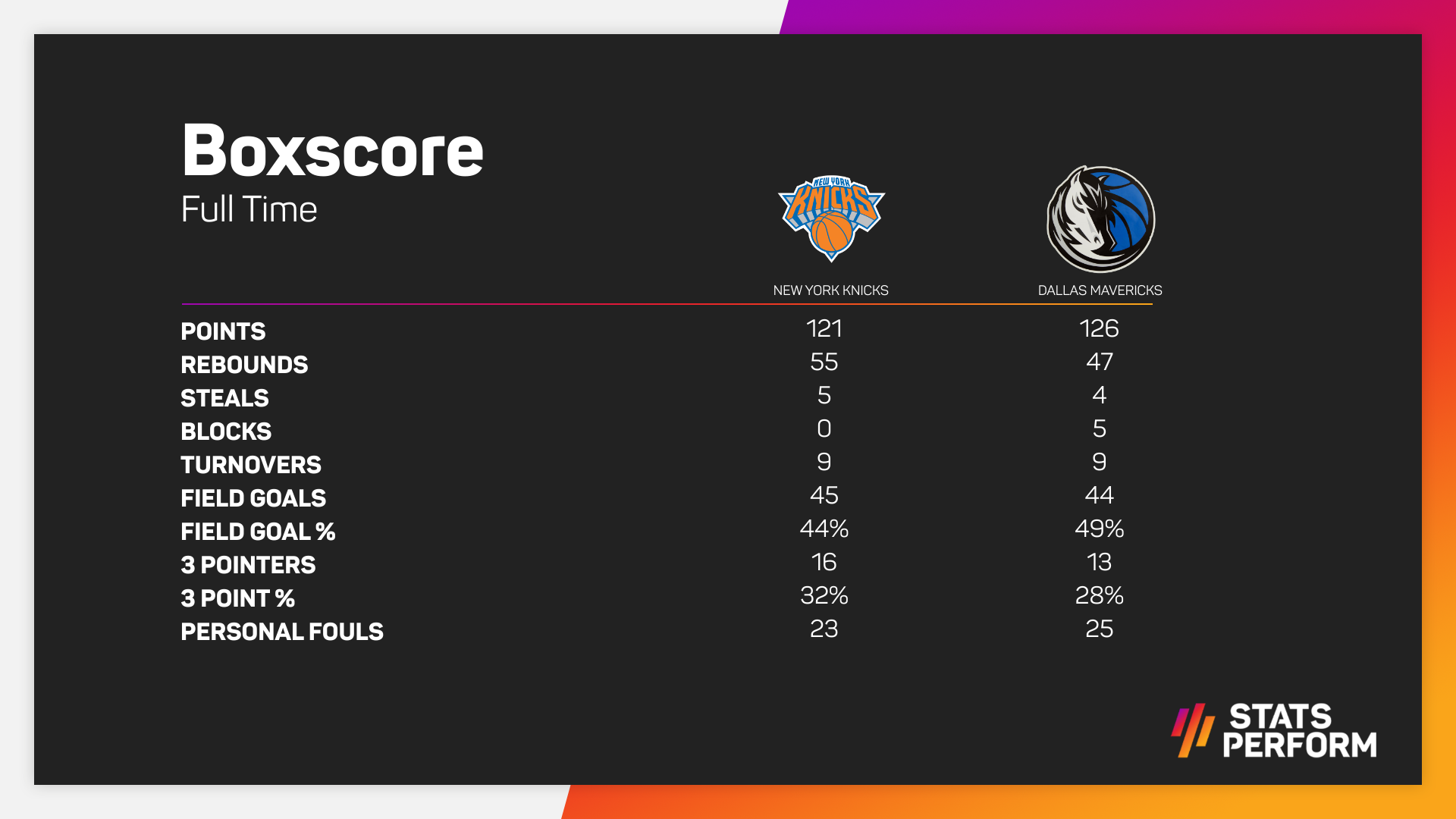 Doncic is the only NBA player in the post-Wilt Chamberlain era to have a 60-point game, a 21-rebound game and a 10-assist game in the same season – let alone the same game.
The 23-year-old tied the record for the highest-scoring triple-double in NBA history, level with James Harden's 60 for the Houston Rockets against the Orlando Magic in 2018.
Chamberlain, who did so twice, and Elgin Baylor are the only others to have registered at least 20 rebounds during a 50-point triple-double game.
Reflecting on the highest-scoring individual performance of the season, Mavs coach Jason Kidd said: "To do something that's never been done before, that's hard to do.
"There's been some great players before him. Elgin Baylor and Wilt... he was in that class, and then he separated himself and made his own class."
60 PTS
21 REB
10 AST

Luka Doncic is the first player EVER in NBA history to record 60+ PTS, 20+ REB, and 10+ AST in a game.

Historic. pic.twitter.com/ik8MdBYbFR

— NBA (@NBA) December 28, 2022
Dallas became the first team in at least two decades to win a game in which they trailed by at least nine points in the final 35 seconds with their comeback against the Knicks.
With four seconds on the clock and still trailing by three points, Doncic was sent to the line for two free throws.
He made the first, before intentionally missing the second, tracking down his own rebound and putting it back in to tie the game, which Dallas won to go 19-16 for the season.
"I thought we won the game," Doncic said of his late heroics in regulation time. "Then I see it's tied. I was like, 'Oof.' I didn't know what to do.
"The whole team just keeps going. Everybody just kept it together. We believed. But now I'm tired as hell and need a recovery beer."