Novak Djokovic has brought up his 378th week as world number one.
That sees the 35-year-old, 22-time grand slam champion overtake Steffi Graff as the outright record holder for the amount of weeks spent at the top of the world.
Djokovic won his first major in 2008, and has not looked back.
To mark his achievement, Stats Perform has used Opta data to run through the key numbers from Djokovic's stellar career.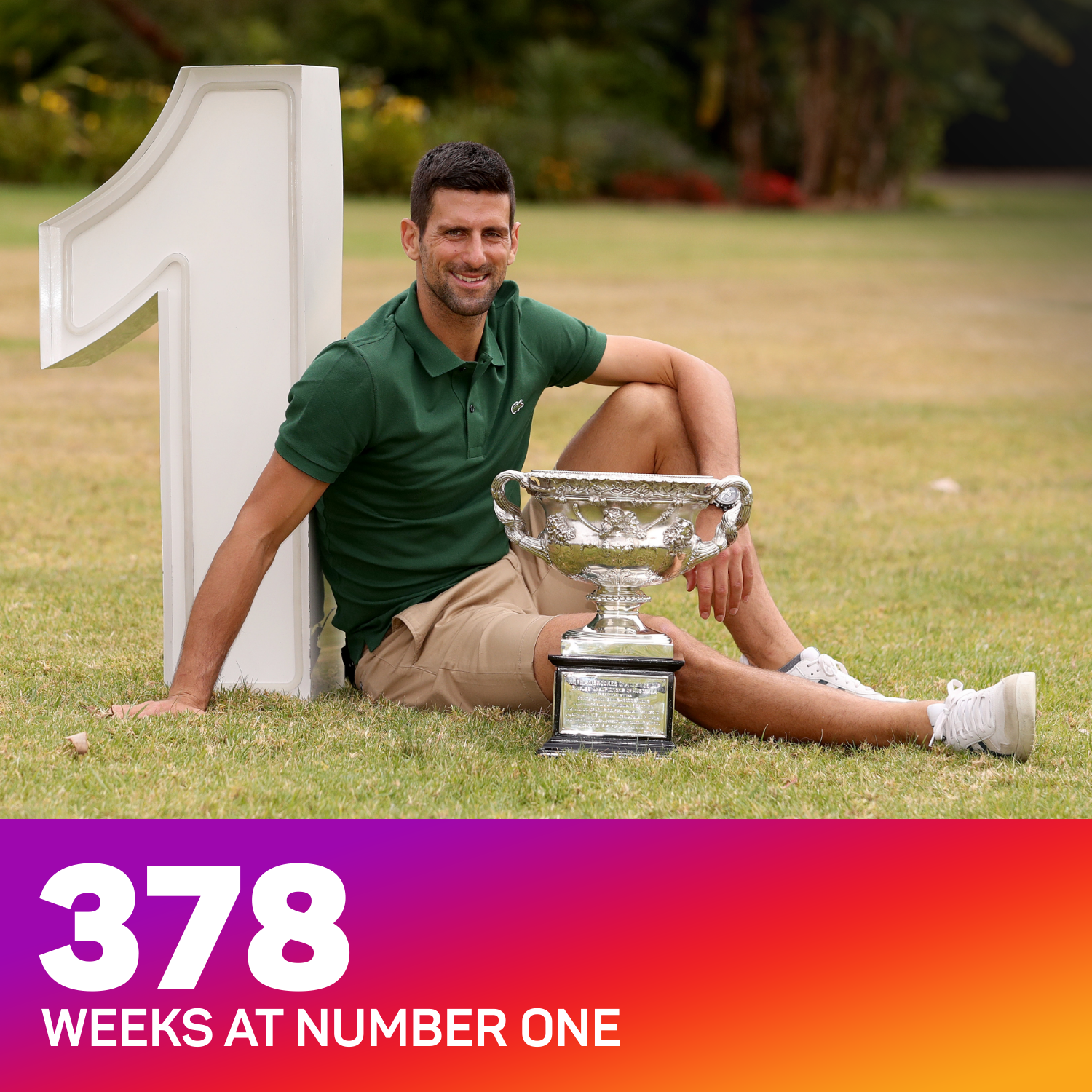 ATP Tour titan
7 - Djokovic has been year-end number one on seven occasions, one more than Pete Sampras and two more than Roger Federer, Rafael Nadal and Jimmy Connors.
93 - Djokovic has won 93 ATP Tour titles. Only three players have won more in the Open Era.
1,249 - The Serbian has played 1,249 matches on the ATP Tour. Just Nadal (1,288), Ivan Lendl (1,310), Federer (1,526) and Jimmy Connors (1,558) have played more.
350 - Djokovic has featured against top-10 opponents 350 times, more than any other player in history. He has won 243 of these matches.
A master at work
22 - Only Serena Williams (23) has more major titles in the Open Era than Djokovic, who is tied with Nadal for the most grand slam triumphs when it comes to men.
33 - Djokovic has played in 33 grand slam finals, the most by any male player in the Open Era. Only Chris Evert (34) has more when it comes to female players.
37 - He has won 37 per cent of the grand slam titles on offer since (and including) his maiden major success in Melbourne in 2008. Nadal has won 32 per cent (19/60) and Feder 13 per cent (8/60).
28 - No player has won more consecutive matches at the Australian Open than Djokovic (28), while he has won 28 straight at the Wimbledon, too.
10 - Djokovic is the first player to play a minimum of 10 semi-finals at each of the grand slams.
6 - Djokovic has reached an average of six finals in each of the Grand Slam tournaments. He is the only player to do so and is the first player to play a minimum of 10 semi-finals in each of the Grand Slam tournaments. Sustained. pic.twitter.com/plfFbiHRZ9

— OptaAce (@OptaAce) February 27, 2023
2 - After his 10th triumph at the Australian Open, Djokovic became the second male player in the Open Era to secure 10+ titles in a single grand slam, after Nadal (14 French Open titles).
38 - No player has won more ATP 1000 titles than Djokovic (38), Eleven of those titles were won without losing a set.
6 - Djokovic has won the most ATP 1000 titles won in a single season (six).
Nemesis Nadal
59 - Nadal is the player Djokovic has faced the most times in his career (59). The Spaniard has lost 30 of those matches, marking Djokovic's best win tally against a single opponent.
179 - Djokovic has faced players from Spain 179 times, winning 131 matches and losing 48.
29 - He has won 130 matches against left-handed players, losing 40. Of those 40 defeats, 29 were inflicted by Nadal.
100 - Djokovic has a 100 per cent record against four players: Gael Monfils (18-0), Jeremy Chardy (14-0), Milos Raonic (12-0) and Andreas Seppi (12-0).
7 - Since playing his first ATP-level tournament in Umag in 2004, Djokovic has ended the year as the world's number one in seven years. No other male player has achieved this feat, with Pete Sampras being the next best with six. Unrivalled. pic.twitter.com/1a5QyC6gnb

— OptaAce (@OptaAce) February 27, 2023