Anthony Davis rued his last-gasp miss in the Los Angeles Lakers' dramatic loss to rivals the Los Angeles Clippers and acknowledged no one will feel sorry for the team's struggles.
In a dramatic conclusion to Thursday's contest, the lead changed hands five times in the final 63 seconds with Reggie Jackson's driving layup with four seconds on the clock proving decisive for the Clippers.
Davis, who had a team-high 30 points and 17 rebounds, had the chance to snatch it on the buzzer but he missed a running floater as time expired and the Lakers went down 111-110 to suffer a fourth defeat in five – all matches LeBron James has missed with knee soreness.
It was a tough pill to swallow for a Lakers side who had trailed by 17 points with four minutes left in the third quarter.
"I got the ball and the lane was open, I just watched it like seven times," a frustrated Davis said of his late play.
"I saw a lane, I mean the ball touched every part of the rim, can't ask for a better look. Tough play, tough miss, just frustration from the miss then just losing this one, but the guys fought hard, made big plays on both ends of the court.
"The ball was in, then just rolls out. So tough, tough play. It's a rivalry but not a rivalry. We always want to beat these guys and they're ahead of us in the standings so that's a frustration too."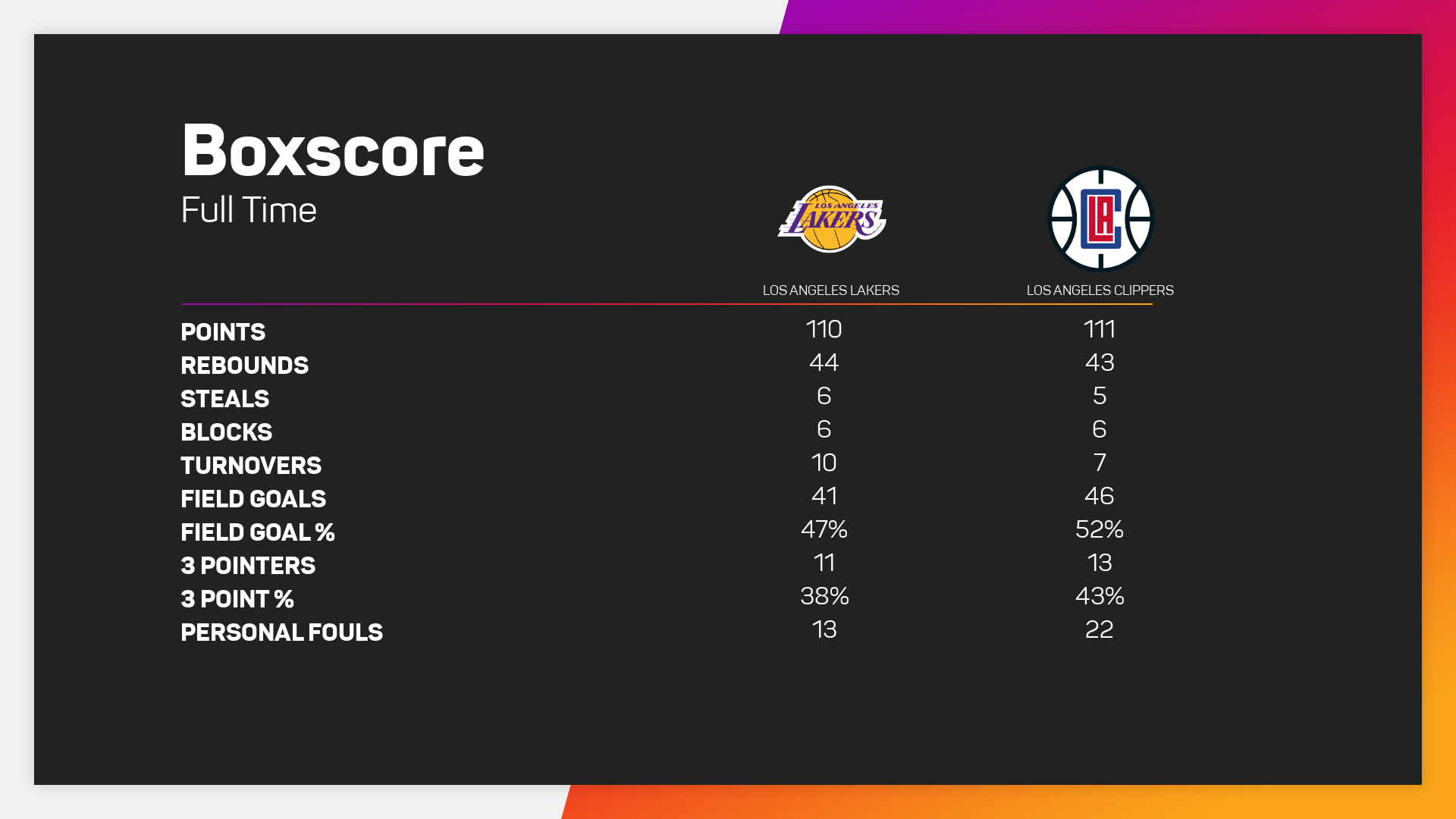 The Lakers have had issues with their roster all season, with Davis and James missing significant parts of the campaign. Indeed since December 17, the Lakers – who are now 25-28 – have had James and Davis together in the line-up only once.
Carmelo Anthony also had to take a seat with a hamstring worry, an injury head coach Frank Vogel said will be further evaluated on Friday.
"We're fighting, dealing with injuries all year, COVID earlier in the year," Davis added.
"It's an uphill batter for us now, missing LB, gotta just keep plugging away, obviously no moral victories, no one will feel sorry for us, we don't want anyone feeling sorry for us.
"But we gotta find a way, keep pushing."
The Clippers are making quite the habit of earning dramatic wins. Since January 11, the team have had three victories in games where they have been behind by at least 24 points and on this occasion were taken to the wire having opened up a significant lead.
"We just want to give the fans their money's worth," said Jackson, who finished with 25 points.
"We're confident in ourselves, how we play and our approach to the game. We never really got rattled."
The Clippers now sit at 27-27 for the season having won four of their past six matches.