In recent years, the notable absentee at the ATP Finals has been Roger Federer, with his last appearance in the tournament coming in 2019.
The lack of Federer at the showpiece event will be felt even more apparent this year after the Swiss maestro retired from tennis in September, though it is the absence of a player at the other end of his career that is more relevant in Turin.
World number one Carlos Alcaraz had to withdraw from the tournament after suffering an abdominal tear, which means his status at the top of the men's game is in jeopardy.
Rafael Nadal has spoken well of his 19-year-old compatriot in the past, but is not ready to pass the torch just yet, and could even topple Alcaraz from his number one spot.
The 22-time grand slam champion has finished as year-end number one five times previously, most recently in 2019. Should he accomplish the feat again this year it would put him in joint-second for most year-end finishes at the top of the ATP Rankings (since 1973) along with Pete Sampras (six).
In order to do so, Nadal will need to win the tournament, something he has never done before.
However, he comes into his 11th appearance in good form, and has won 32 per cent of his return games in 2022, the highest percentage by any player this year, and has converted 43.8 per cent of his break points in 2022, the third best amongst all players.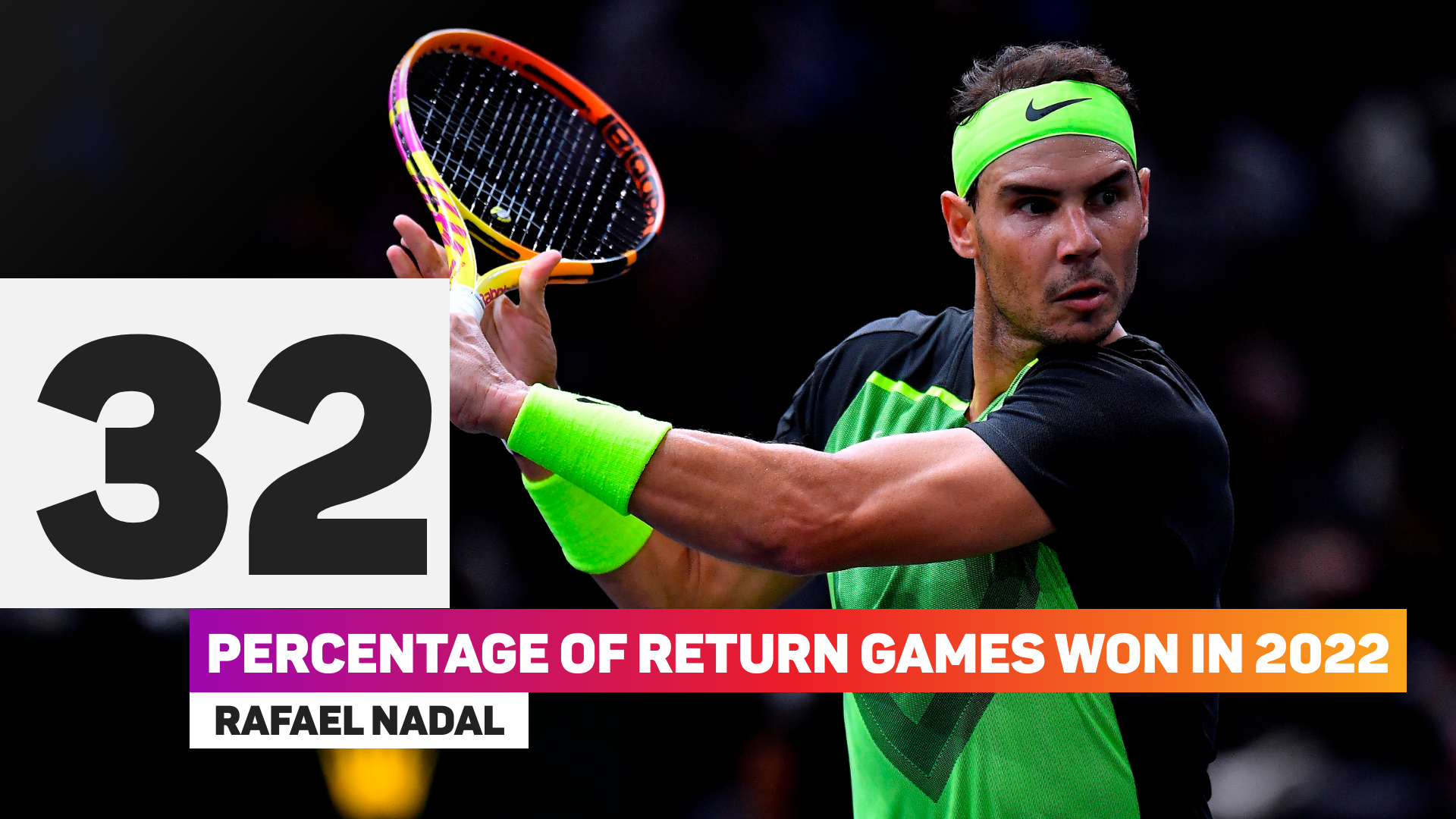 Stefanos Tsitsipas, meanwhile, is the other competitor who can knock Alcaraz off top spot, though his task to do so is a little more complicated as he needs to win every match on the way to the title in Turin.
No player has played more matches in 2022 than Tsitsipas (80), 21 on clay, 11 on grass and 48 on hard courts; he has won 59 of them and lost 21.
Should neither man win at the Pala Alpitour, Alcaraz will breathe a sigh of relief and earn his first year-end number one finish, having taken his place after winning the US Open in September.
Nadal has been drawn into the Green Group with Casper Ruud, Felix Auger-Aliassime and Taylor Fritz, while Tsitsipas will be in the Red Group alongside Daniil Medvedev, Andrey Rublev and Novak Djokovic.
Djokovic can equal Federer record
One man surprisingly unable to end the year as number one is Djokovic, despite having done so on more occasions than anyone else in history (seven).
However, the 21-time grand slam champion can still make his mark in Italy.
Djokovic has had an up-and-down year, only playing in two of the four grand slams due to his vaccination status, though he was able to win Wimbledon for the seventh time, beating Nick Kyrgios in the final.
Should the Serbian go all the way and lift what would be his sixth ATP Finals title, he will go level with Federer for most victories since the tournament began in 1970.
Among the eight participating players in this year's tournament, Djokovic has won 87 per cent of his service games in 2022, the best percentage among these players and the sixth overall.
It would be quite the ending to the year for Djokovic, who finds himself in the unusual position of sitting eighth in the world rankings, and at the age of 35, who knows how many more appearances he will make at the event?
Strong field promises fireworks
As is the intent of the format, the ATP Finals should be a tightly-contested few days as the best men's players in the world come together.
Ruud will be looking to add to an already impressive season, having reached two grand slam finals and winning three tour-level titles, while Fritz is aiming to carry on the fine lineage of American players to have won the tournament.
Players from the United States have won the ATP finals 16 times, with Sampras and Ivan Lendl winning five of them each. It is the most by any country and 10 more than next best Switzerland (six, all Federer) and Germany (also six, three wins for Boris Becker, one for Michael Stich and two for last year's champion, Alexander Zverev).
Auger-Aliassime has had a strong end to the year, beating Djokovic at the Laver Cup before winning three titles in as many weeks in Florence, Antwerp and Basel.
Only John Isner (895) has recorded more aces in 2022 than Auger-Aliassime, who has registered 852 in total, averaging 10.9 per match.
"All the players who participate [at the ATP Finals], I have already faced them, I have beaten them," the Canadian recently said. "So for me, there's no reason why I can't show up to this tournament with the aim of winning it."
Medvedev was world number one as recently as September but enters this tournament in fifth, though he did win the Vienna ATP 500 event last month, while his first opponent in Turin, Rublev, enters with a 2022 record of 49-18, looking for his second straight 50-win season.
Whoever comes out on top at this year's ATP Finals, the race for supremacy in 2023 promises to be as delightfully chaotic.