Kevin Durant believes the United States are starting to become more comfortable as a team with the Olympic gold medal in their sights after surviving a stern test from Spain.
Durant was instrumental for Team USA, scoring 29 points as they claimed a 95-81 quarter-final victory at Tokyo 2020.
Gregg Popovich's team trailed narrowly after the first quarter and were then 10 points down in the second before finding their rhythm to go into the half tied.
They pulled away in the final two quarters to set up a last-four meeting with Australia, with Durant seemingly growing more confident Team USA will live up to expectations and seal the gold medal.

"WE'RE IN A GOOD SPOT"
Team USA were in a 39-29 hole with under three and a half minutes left in the second quarter, but then went on a 14-4 run to level matters at 43-43.
Durant felt avoiding going into the second half with a big deficit was critical and, according to the two-time NBA Finals MVP, a roster stacked with elite talent is gelling at the right time.
"We didn't want to go into the half down double digits. This team [Spain] runs their sets with precision, they run it with pace and then on the defensive side of the ball they do a good job of running and jumping and playing together on the defence," said Durant.
"So we knew we didn't want to get down big against this team.
"We're in a good spot right now. Guys are starting to understand their roles and just get more comfortable within the team.
"In this setting, it's always hard to get your footing as an individual player because you don't want to step on toes.
"I love how we stuck with it throughout this whole period of time and guys started figuring out what we need to do.
"You've just got to finish it. We're supposed to be here. For us it's about getting a gold."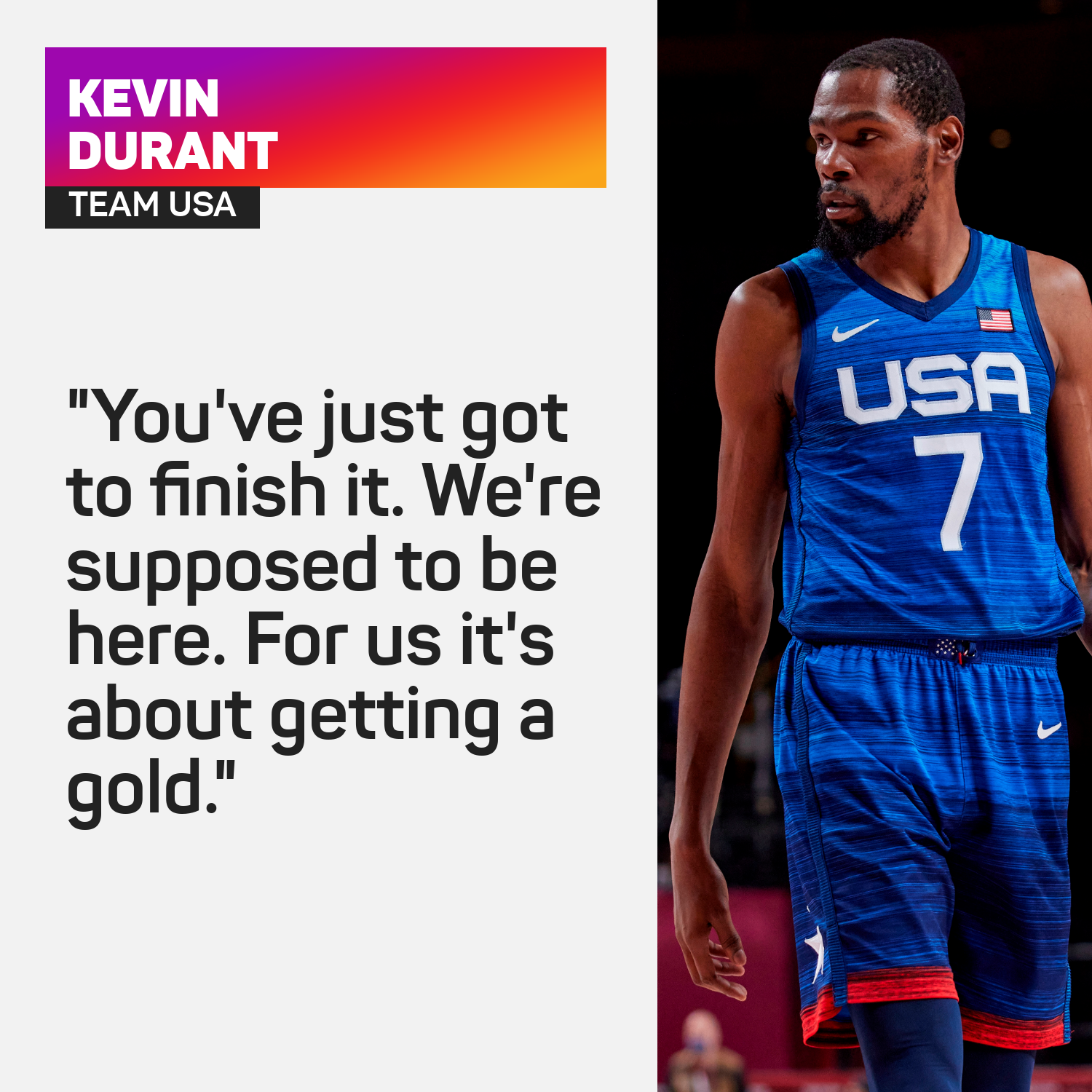 BOOMERS TO SPOIL THE PARTY?
An uneven exhibition schedule prior to the Games saw the USA lose to both Nigeria and Australia.
Australia were 91-83 victors last month and they have continued to impress since getting to Tokyo.
The Boomers set up a rematch with the gold medal favourites in fine style on Tuesday, sweeping aside Argentina 97-59 to secure their place in the semis.
Five Australia players reached double figures, Patty Mills leading the way with 18 points as he went three of four from beyond the arc.
SLOVENIA'S 'UNBELIEVABLE' ACHIEVEMENT
Slovenia were similarly dominant in seeing off Germany in their last-eight clash, easing to a 94-70 victory.
It means a battle between Durant and Co. and Slovenia superstar Luka Doncic for the gold medal is still very much a possibility.
Zoran Dragic was the star of the show against Germany, top-scoring with 27 points on 11 of 13 shooting, while Doncic added 20 of his own.
"It's unbelievable, a country of two million being top four in the world," Doncic said of Slovenia reaching the semis. "We already achieved a lot by just going to the Olympics, it was our first time in history."
Slovenia have never lost a competitive game in which Doncic has featured, if that run continues for two more games, they will be Olympic champions.
"It's going to be very, very hard," he added. "We've got some tough opponents but we're going to be ready, we've got nothing to lose and I hope we win two more."
France stand between Slovenia and a place in the final, having overcome Italy 84-75.
Rudy Gobert tallied 22 points and nine rebounds for France and Evan Fournier put up 21 to keep their hopes of repeating their preliminary round win over the USA in the final intact.