Team GB sprint star Dina Asher-Smith hailed Marcus Rashford and his England team-mates for "showing a really good sense of moral leadership for our nation".
Manchester United striker Rashford earned plaudits for his work lobbying the government to provide free school meals during the height of the coronavirus pandemic last year, while he and the rest of the Three Lions squad who reached the final of Euro 2020 this month were also vocal in the fight against racism, continuing to take a knee throughout the tournament in a united showing against racial prejudice.
Asher-Smith, who will be going for gold in the 100 and 200 metres at the Tokyo 2020 Olympics, has herself spoken out about her experiences of racism and in March she received the column of the year award by the International Sport Press Association for an article she wrote in the aftermath of George Floyd's murder.
She has also been a vocal supporter of the protests taken by Naomi Osaka and Lewis Hamilton in the past and the 25-year-old, a die-hard Red Devils supporter, hopes to do more in the area of social activism once the Olympics have finished.
"I think what Marcus and all the other players have been doing is fantastic and it made me so proud to watch them and see how they conducted themselves," Asher-Smith told a roundtable of journalists at a pre-Games Team GB call.
"I think they've done fantastically throughout the Euros. I think they surpassed all our expectations in the nicest way.
"They are actually a credit to our nation and showing a really good sense of moral leadership for our nation and I think as sports people we are really proud and definitely as a Brit, and a black Brit, especially throughout the Euros I was really proud of them. I think they represented both the nation and our community incredibly well.
"Social activism is something I'd love to increase, but with the Olympics and everything I've been one-track minded towards Tokyo. But definitely once we're past this point, because I definitely compartmentalise things, when I'm over this little compartment of my life that's definitely something I want to increase because you do have to give back.
"I think it's an essential part of being not only an athlete but someone who has had an opportunity and the only reason I'm here today is because of the good will and hard work of so many other people in teams and throughout my community and so many opportunities I've had, whether that's grants or school teachers taking extra time to take me to a club or telling me about a club.
"It's goodwill of other people so it would be entirely selfish to not give back when you have the opportunity to in your career and I'm really proud of how the footballers have done that throughout the year and how they conducted themselves throughout the Euros."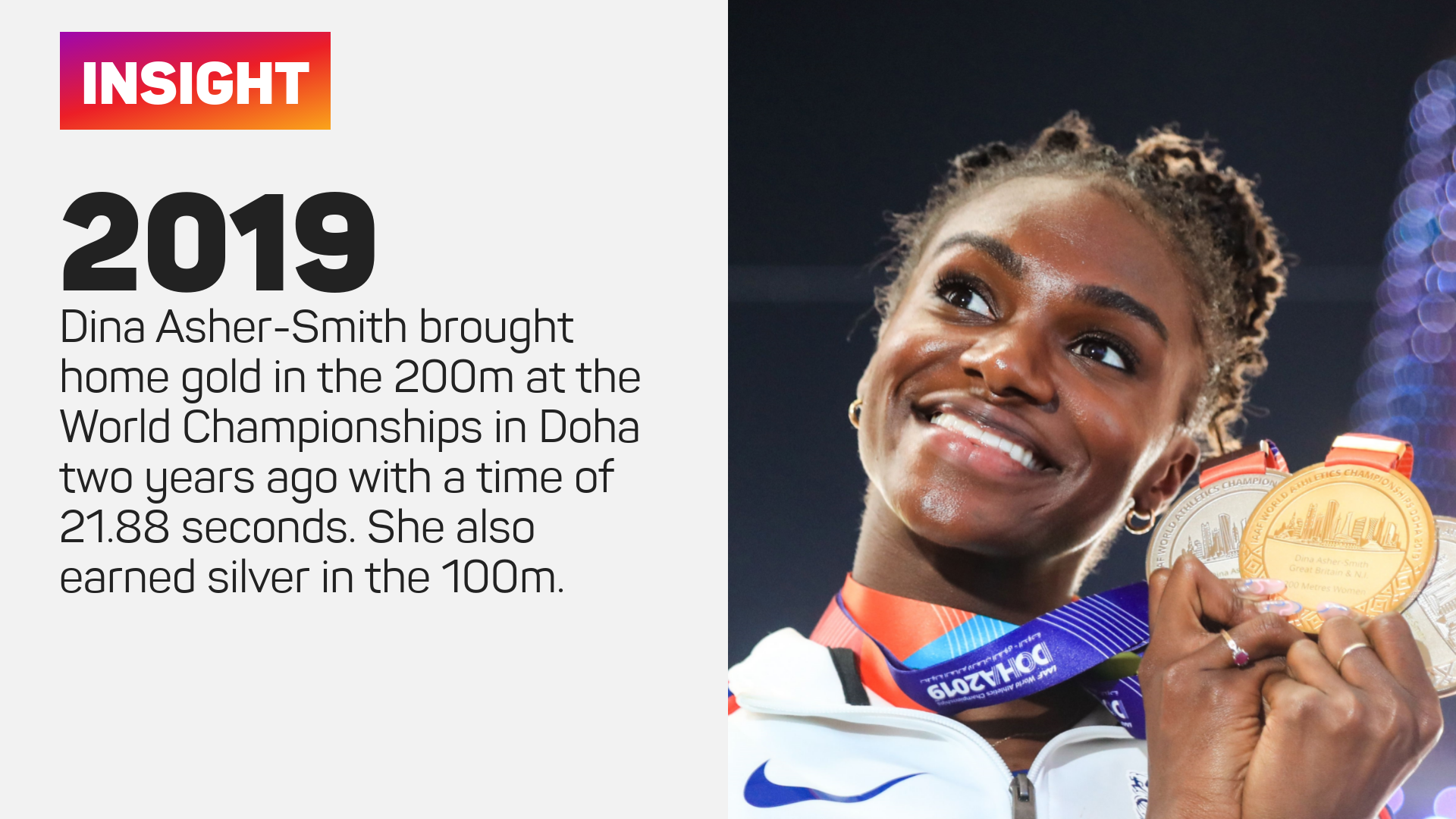 Athletes competing in Tokyo are set to have more scope to protest at the upcoming Olympics after the IOC relaxed its controversial Rule 50, which previously forbade any "demonstration or political, religious or racial propaganda in any Olympic sites, venues or other areas".
The IOC will allow athletes to make protests prior to competitions starting, though anyone doing so on podiums or medal ceremonies – similar to the famous Black Power salute made by Tommie Smith and John Carlos at the 1968 Mexico City Olympics – could face sanctions.
Asher-Smith always expected a climb down, adding: "I think to see the IOC lifted the ban, I was entirely unsurprised.
"Protesting I see as a fundamental human right, so if you were to penalise someone for standing up against racial inequality how on earth would that go? You know what I mean? How on earth would you enforce that?
"Would you revoke somebody's medal for saying racism is wrong? I honestly thought that was always going to happen otherwise they would have just been faced with loads of athlete protests at the Games and it would have been really embarrassing, you can't really tell people not to.
"Unless they want to say they're against people saying they're against racism I didn't know how that was going to go.
"Some of the Olympics' most iconic moments have been the Black Power salute by Tommie Smith way back when, and that is something people remember the Olympics for, that's something they're very proud to see at the Olympic Games."
Asher-Smith, the reigning 200m world champion, also hopes she can play her part in inspiring young women to take part in sports over the course of the next two weeks.
"I think the next fortnight has great potential to inspire an entire generation of young women as we do with every Olympics," she said.
"But I think it's becoming increasingly important nowadays. We have significant drop-off rates of young women.
"They hit teenage years, they're all very active in the sporting field or active world, then they hit between 11 and 15 and drop out in their droves.
"Then it's under 10 per cent get enough exercise or get the government recommended guidelines of exercise and engage on aesthetic grounds rather than having fun.
"I hope the next fortnight shows not only can you make a viable career out of this. Being a sportswoman in whatever you want to do is a viable career it's not just track and field, it's not just tennis, it's not just football there are many avenues you can go down to be a career sportswoman.
"But also that it's fun, that it can completely change your life, develop lifelong friendships, it's not just about doing sport for a physical goal to lose weight, to gain this, to alter your body but also for self-esteem, your mind, your mental health and to live a fulfilled and enriched life.
"I think the Olympic Games has an incredible chance to inspire so many women and also women who have had babies, and the Paralympics as well, women who have very different life circumstances to all of us, so I think it's a great platform and showcase for all the sports we love."