England have not so far entertained the neutral at Euro 2020, but heavyweight clashes with Germany rarely disappoint.
The old rivals on Tuesday meet at a major tournament for the first time since the 2010 World Cup, where chaos reigned in another last-16 bout.
A stodgy England approach – not out of keeping with this year's group stage, a Rob Green error aside – gave way as the knockout phase began. The teams shared 35 shots – the only Three Lions tournament game to feature at least 17 for each side since 1998 – and England's 1.13 expected goals (xG) surpassed each of their prior three matches in South Africa.
Germany won 4-1.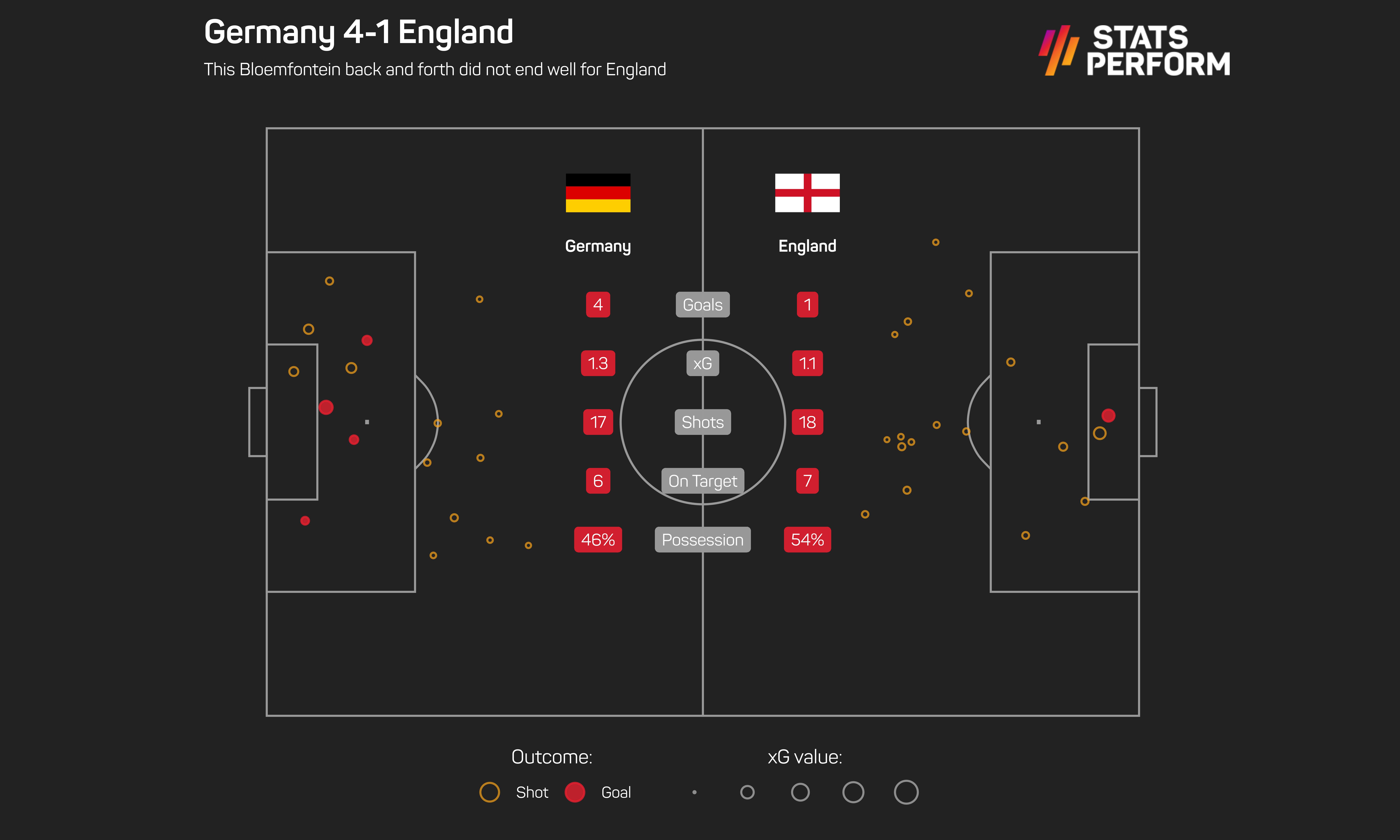 Control is the name of the game now, though – at least for Gareth Southgate's England.
As Germany traded blows with the big boys in Group F, conceding first in each of their fixtures and extending their run without a clean sheet at a major tournament to eight matches, England kept their guard up.
The Three Lions have 15 clean sheets in 19 games, including three in three at the finals – as many as in 14 matches at the past three major tournaments combined and already more than their two at Euro 96.
At the same time, England netted just twice in Group D, becoming the lowest-scoring pool winners in Euros history.
These statistics do not suggest an exciting, attacking outlook, even if the squad list does. But criticism of Southgate will soon fade if the result goes his way at Wembley this week.
Express yourself
Jack Grealish, Harry Kane, Raheem Sterling, Marcus Rashford, Jadon Sancho, Dominic Calvert-Lewin, Phil Foden and Bukayo Saka – England's eight attacking options – registered a combined 147 goal involvements in the league in 2020-21.
It is easy to see why fans want these players to be let off the leash. Premier League Golden Boot winner Kane has had five shots, one on target and 11 touches in the opposition box in 246 minutes.
But England's rapid starts to matches have been too easily forgotten.
In each of their group games, the Three Lions hit the post inside 11 minutes. Raheem Sterling's lob against the Czech Republic was touched onto the post when it could have become England's earliest Euros goal at one minute and 47 seconds. That honour still belongs to Alan Shearer (2:14) – against Germany in 1996.
Southgate's side had at least 60 per cent of the possession in the opening quarter of an hour of all three matches. Nine of their 22 attempts came in this period.
The issue has been capitalising on this dominance, with Sterling's header against the Czech Republic the only time England have netted before the 15-minute mark.
Southgate has been level-headed in his assessment of performances so far but acknowledged his team have "run out of steam a little bit in a couple of games".
Unable to either race into a big early lead or maintain this initial frantic pace, England have settled for slowing the play instead, ensuring to avoid the sort of setbacks that saw Shearer's goal cancelled out by Stefan Kuntz on 15 minutes in 1996.
They have been successful in this regard of late, their past four wins – over the course of five matches – coming by 1-0 scorelines. Only in 1990 have England previously had five 1-0 wins in a calendar year.
Don't give it away
In the second half against the Czech Republic, with protecting a narrow lead their only apparent aim, England did not attempt a single shot.
Yet this performance stood completely at odds with the previous most recent example of the Three Lions failing to muster an effort after half-time. Against Spain in the Nations League in 2018, Southgate saw a three-goal lead at the interval almost wiped out.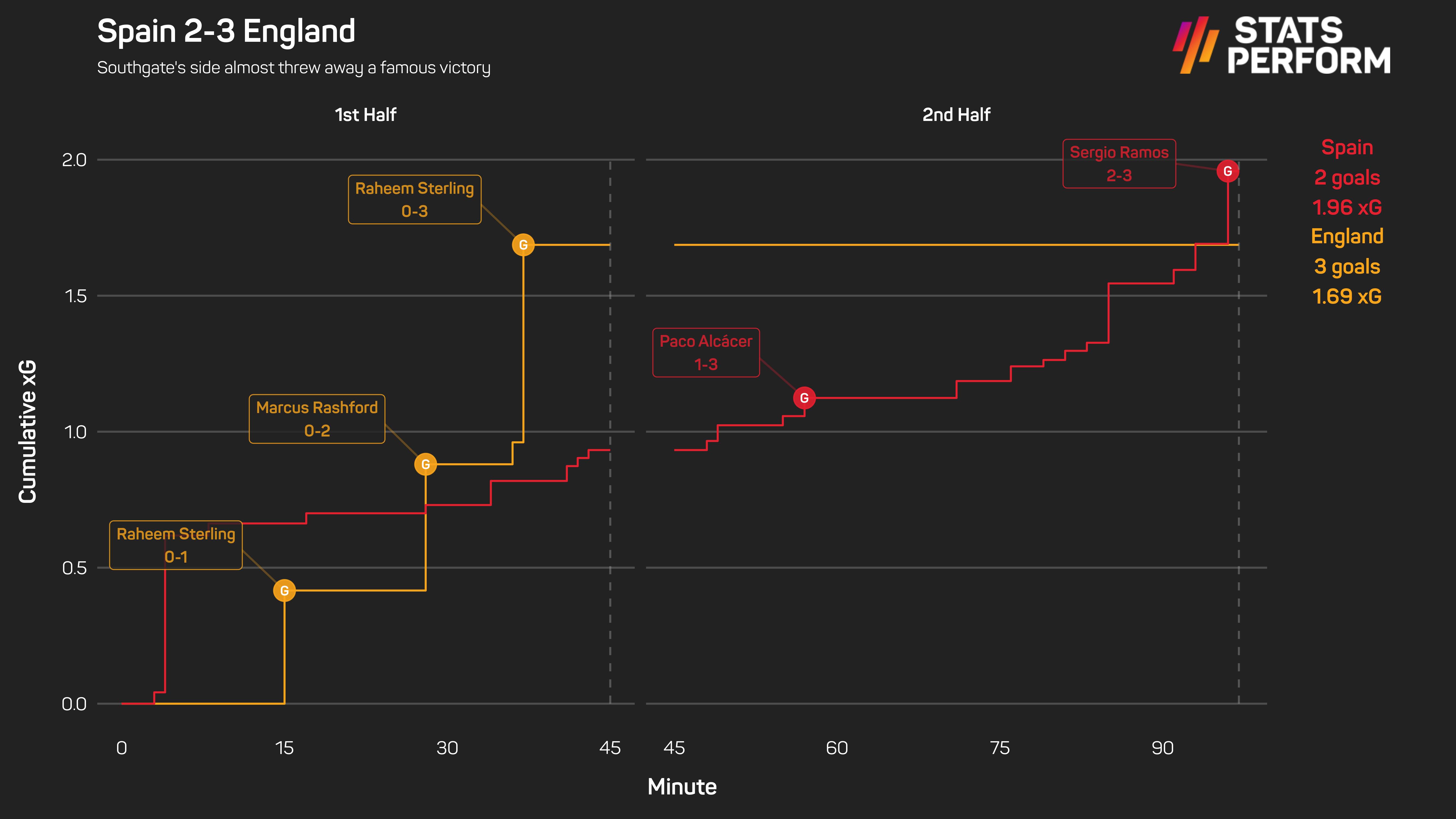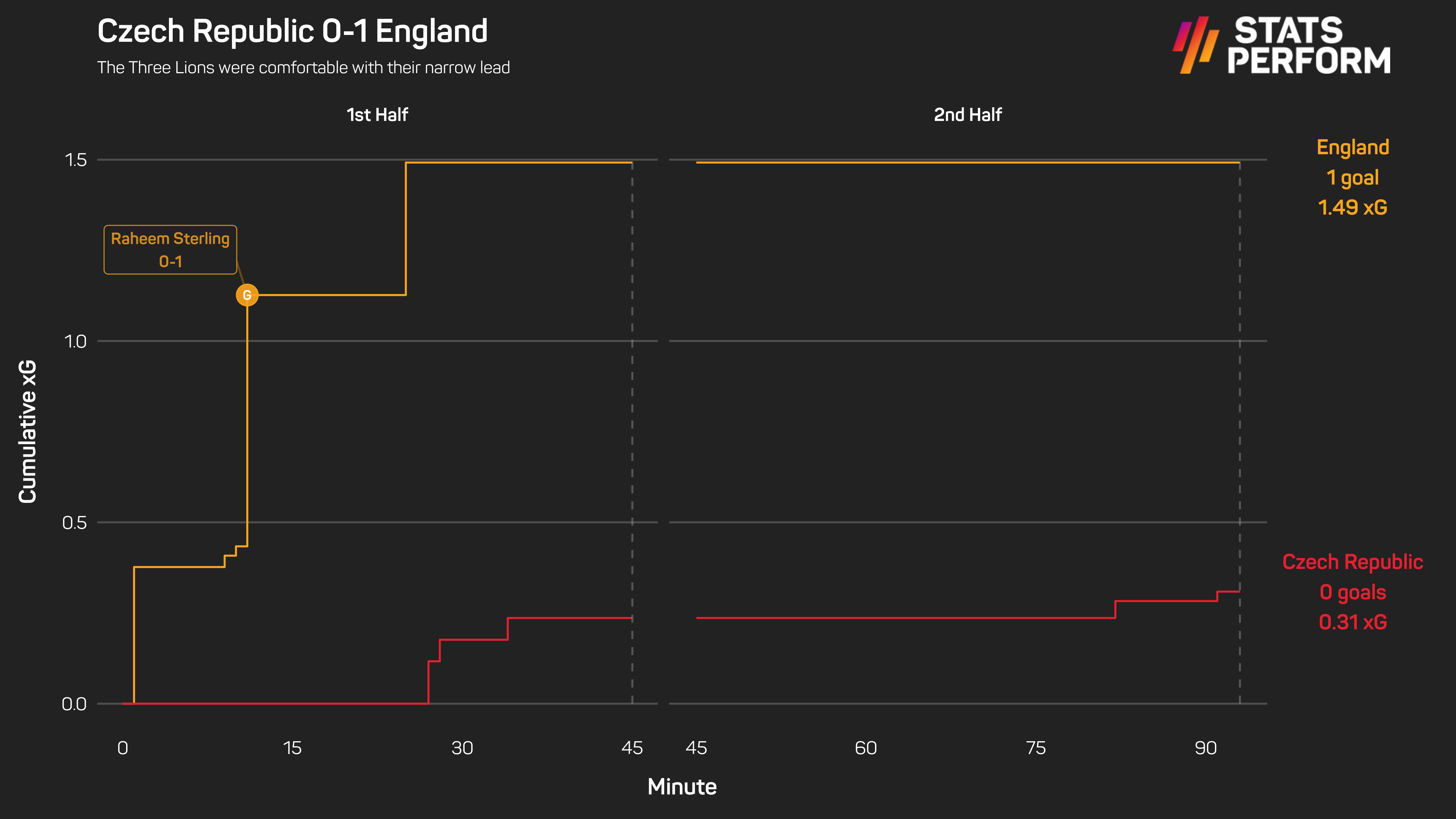 England look to be able to manage games now. Even after the goalless draw with Scotland, Southgate spoke of the need to "manage the tournament as well as the game".
They have been versatile in that sense.
In the win over Croatia, England ceded 60 per cent of the possession after the restart and 81.6 per cent in the final 15 minutes, yet their opponents' six second-half chances were worth a meagre 0.3 xG combined.
That figure stood at just 0.07 xG as the Czech Republic attempted in vain to rescue a result in an uneventful second period in which England preferred to keep the ball a little more (53 per cent of the possession).
England have given up opportunities worth 0.77 xG across their three second halves. In the group stage, Spain (0.93) were the only other team below 1.0 in this sense.
Besides against Croatia, when Sterling struck on 57 minutes, England have benefited from not needing to chase a result, with their own second-half xG of 1.57 the seventh-lowest.
"We look difficult to play against," was Southgate's summary, one he will hope holds true against Germany, whose average possession percentage (64.7) far outweighs Croatia's (55.5).
With or without the ball, though, England have managed to dictate the pace of the play – and it is slow.
While averaging 4.5 passes per sequence in the first round – the seventh-highest – Southgate's side ranked last for both direct speed (0.98 metres progressed upfield per second) and directness (17 per cent of distance covered per sequence was upfield).
Crucially, the opposition were slowed, too. Only against Spain (0.87) did teams progress fewer metres upfield per second than against England (1.1), whose opponents moved upfield with a tournament-low 19 per cent of their distance covered per sequence. Croatia and the Czech Republic each fell below their averages in both metrics when facing England.
"I felt like we've been in control in the games," said captain Harry Kane, adding: "I feel like we're in a controlled place going into the big match on Tuesday."
But the worry will be whether England remain capable of responding, picking up the pace should their plodding plan fail and they fall behind.
In the 20 games that followed the 2018 World Cup, England conceded first four times and won on each occasion.
However, since then, in 12 outings, they have lost both such matches without scoring (1-0 v Denmark, 2-0 v Belgium). In Russia, Southgate's side were beaten in all three games in which they trailed at any stage.
After the Scotland stalemate, Southgate said of his reluctance to throw on additional offensive players: "If we had to chase to win, with no consequences for conceding, then you might approach it differently."
So, perhaps it might take England to concede first for fans to see the all-out attacking approach they crave.
If that happens, though, the form book suggests the Three Lions may well end up bidding their tournament hopes arrivederci.