After another busy off-season at Bayer Leverkusen, many would have tipped a slow start with a new face in the dugout.
With Peter Bosz relieved of his duties, Simon Rolfes and Leverkusen turned to Gerardo Seoane on the back of three consecutive Swiss Super League titles at the helm of Young Boys.
Star winger Leon Bailey also headlined the departures at BayArena, a year on from Kai Havertz's big-money move to Chelsea. Factor in major international tournaments prior to the 2021-22 campaign – Euro 2020, the Copa America and the Olympic Games – and it made for a challenging pre-season.
But Leverkusen have hit the ground running in the Bundesliga – a 4-0 rout of Borussia Monchengladbach and wins over Augsburg (4-1), Stuttgart (3-1) and Mainz (1-0) helping Die Werkself to second place through six games, three points behind leaders and champions Bayern Munich.
Leverkusen sporting director Rolfes told Stats Perform: "We're happy with the start of the season because it was a difficult summer for us but also the other teams who have a lot of international players. This summer with the Copa America, Euros, Olympic Games... there were a lot of players from us involved. A player from us won the Copa America and Olympics, so only the Euros we missed.
"That's why the pre-season was really difficult. The players step in, week by week, and I think one week before the start of the season, we had our final squad together. The transfer market due to coronavirus was also very different and late. That's why I'm very happy. We had good opponents."
"We were not happy with the last season," said Rolfes, whose Leverkusen finished sixth in 2020-21 while losing in the DFB-Pokal last 16 and Europa League round of 32. "A very good start but the end was difficult. We reached international competition okay, but we are ambitious and want more this season. You can imagine the Champions League is a big goal but also the DFB-Pokal and Europa League to go further.
"What's very important for our club is development. One thing is performance and also the result at the end of the season, but development is very important. Develop the players, make them better. Then we have the chance to also perform today in the best way. We have a lot of young players – we want to develop them to their best level. That's also good for the performance today."
Seoane's 13 points after six Bundesliga matches represent the best record of any Leverkusen head coach since Sami Hyypia (15) in 2013. For the North Rhine-Westphalia outfit, it is their best start to a top-flight season since 2019-20 (also 13), while they have only scored more goals after six matches in 2008-09 (18) than in the current campaign (16).
Leverkusen have exceeded their expected goals (xG) tally by almost eight goals this Bundesliga campaign – 7.7 (16 goals at 8.3 xG), a league best.
"One important point is football knowledge," Rolfes replied when asked what attracted Leverkusen to 42-year-old Swiss coach Seoane. "Also the leadership, that's very interesting. The leadership of the group as a head coach is very important. If you're in training, the assistant coaches can do things. If you don't feel so comfortable or don't have so many qualities, you can find the right team.
"The leadership as a head coach, you must have. That's a big strength, besides the football knowledge he has. He speaks six different languages – very good for an international squad to speak with the players in their language. That helps a lot to get the right connection to take them on their way and development."
Under Seoane, Leverkusen play a more patient brand of football, allowing their opposition more time on the ball in the Bundesliga rather than consistently pressing high up the field.
Through the first six games last season, Leverkusen allowed 11.1 passes per defensive action, compared to 12.2 with Seoane in charge, as Leverkusen look to instead create counter-attacks from deeper positions – their averaging starting distance at 38.6 metres from their own goal, compared to 42.2m previously. Their 17 direct attacks this term dwarf last year's six at the same stage.
Leverkusen recorded 8.7 high turnovers per match through six rounds last season, compared to 5.3 this time around, but they have scored four goals from such situations already in the Bundesliga – at least twice as many as any other side and more than any other team in Europe's top five leagues in 2021-22. They actually had fewer goals (three) from high turnovers after six games last time out, proving more ruthless this term.
Still, Leverkusen's philosophy remains the same, despite a new coach and altered approach, and it will continue to be the case with Seoane and beyond under Rolfes.
"We choose players, signing as a club," Rolfes said as he discussed the need to adopt a clear vision, instead of changing philosophy with every coach. "We sign the players for a specific style to get the most out of the squad, the player and to develop them in the best way. If you play in the totally other direction than you want to develop the players, you will not succeed. That's important to have a clear vision as a club. How you want to play and then choose the right coach in the best case.
"Every head coach of a pro team has their specific style. That's not the problem, but the main direction has to be clear. That's my task at the end to choose the right coach for the main direction. And then, the individual approach or quality of the coach, it's important you get something fresh in the club, team. The main direction is important and the club has to define the vision."
Leverkusen are one of Germany's biggest clubs, but not since the 1993 DFB-Pokal have they celebrated silverware.
They have come close on numerous occasions in the Bundesliga – runners-up in 1996-97, 1998-99, 1999-2000, 2001-02 and 2010-11 – while they also reached the 2001-02 Champions League final, succumbing to Real Madrid and Zinedine Zidane's iconic volley in Glasgow. There were Pokal final appearances in 2001-02, 2008-09 and 2019-20, too.
But an exciting and entertaining Leverkusen, even in the post-Havertz era, are on the right track amid Bayern's domestic and European dominance.
And that is thanks to teenage sensation Florian Wirtz.
The 18-year-old prodigy has continued to shine, filling the huge void left by countryman Havertz, amid rave reviews from across Europe.
Wirtz, who was prised from boyhood club Cologne last year, is the youngest player in Bundesliga history to reach 10 goals.
Leverkusen's Wirtz has already been directly involved in eight Bundesliga goals (four goals, four assists) in 292 minutes across the first six matchdays in 2021-22. Only Borussia Dortmund star Erling Haaland has had more direct goal involvements this term than the teenager.
Since Opta's detailed data collection began in 2004-05, only Patrick Helmes in 2008-09 and Stefan Kiessling in 2013-14 had previously registered as many direct goal involvements for Leverkusen after the first six matches to a Bundesliga season
Setting the standard across Europe, the new face of Leverkusen averages 37 minutes per goal involvement, which ranks best among players in the top five leagues (minimum 100 minutes played), ahead of Madrid superstar Karim Benzema (41 minutes). The 34-year-old Frenchman is the only one of those players to have exceeded his xG by a larger margin (4.8) than Wirtz (3.2) this season.
Already capped three times at international level, Wirtz has scored in four straight games, including Leverkusen's Europa League win against Ferencvaros on matchday one.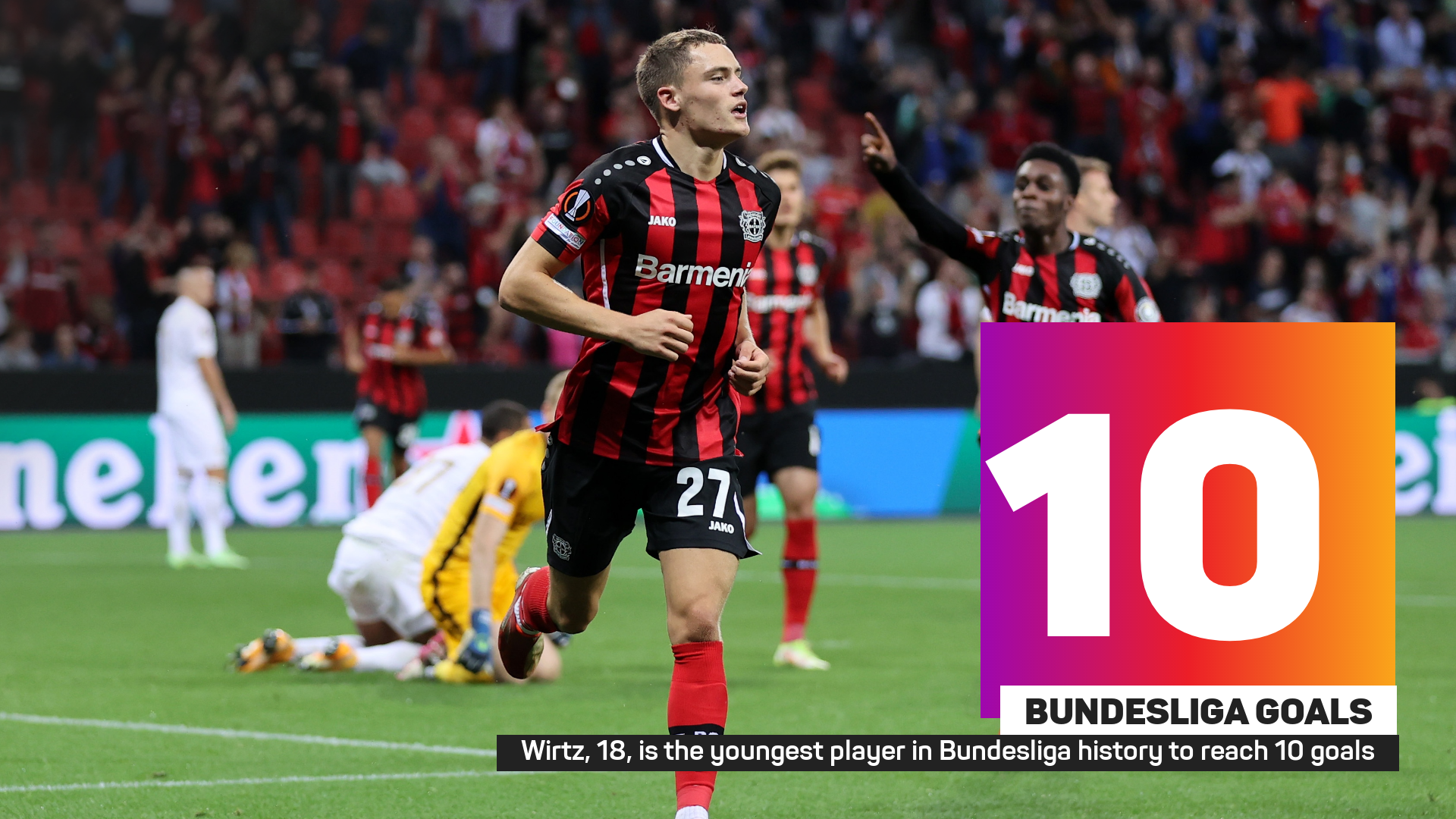 As Wirtz soars to new heights, Leverkusen are reaping the rewards of a unified philosophy and their faith in the midfielder.
"I think it's a real good example of how the club is working and how the club is thinking," Rolfes, who made almost 400 appearances for Leverkusen between 2005 and 2015, said. "The situation with Kai and Florian. Florian was here or came in the winter [of 2020] and made eight appearances after the lockdown with the first team. Then at the end of the [2019-20] season, Kai went to Chelsea.
"For sure, we got a lot of money for Kai, but we decided to focus on Florian Wirtz for the number 10 position. We don't sign any player as a replacement for Kai. For sure, we had some money to spend on an experienced player in the number 10 position, but we didn't do that. We said okay, the young guy will be the future and has the potential to replace or play very good in that position. We have him already in the club, so we trust him and try to develop him. That's why we sign players in other positions, where we needed improvement.
"That was a big sign for the player and for the chance you have as a young player in Leverkusen. If you have the ambition and quality, we count on you and give you the chance to develop. With development, there is also performance. That's why it's a great story for Florian but also for us as a club."
Wirtz's exploits have not gone unnoticed, however, with Bayern reportedly trying to sign the Germany international, while the likes of Manchester United, Liverpool, Chelsea and Arsenal have also been linked.
But Leverkusen have no plans to sell as Rolfes – who first watched Wirtz as a 13-year-old – added: "He has a long contract until 2026. We do not have to sell players early. We want to develop him, develop our team and club with him.
"So, there are rumours, okay. You cannot avoid that, but it's not our goal to sell him. The players at one time or point in their career make the next step to world-class level, that's okay for us, but not too early. He is a really young player. That was also with Kai – he was also extraordinary and some years with us and then maybe there's the next step. But not too early.
In February, Leverkusen extended their partnership with Stats Perform for the use of Edge Analysis – the most sophisticated football match preparation tool available.
Powered by tracking and event data, Edge Analysis applies unique AI models to unlock objective, dynamic and predictive insights to enhance pre and post-match analysis processes, delivering unique performance insights on all upcoming opponents. The platform uses over 100 AI-driven KPIs to deliver eight unique patented AI models, delivering objective insights within seconds, all linked to video.
"Data/sport technology is very important for us because I think there's huge potential in the future," Rolfes said of the deal. "Data will be better and better because the cameras/GPS tracking provides more precise data.
"We have now not only data in the computer and no one has the time to analyse it, we have the tools with AI, and find the right KPIs for you. That's very important for the match preparation and for the scouting process to be fast, really precise. That's why we invest in that topic here. That's through partnership and investing in our staff to get knowledge, to develop because, at the moment, we are only at the beginning. That's why you have to invest, to be a pioneer or leader in that topic."