Erling Haaland has done rather well for Manchester City since arriving.
Fine, that may be something of an understatement. The 22-year-old has filled his boots and then some since he moved to the Etihad Stadium from Borussia Dortmund last year.
Haaland has 42 goals in 37 games for City, with 28 of those coming in 26 Premier League appearances.
Pundits will say they had their tongues firmly embedded in their cheeks when some suggested the Norwegian might find English football trickier to conquer despite his domination of the Austrian and German top-flights, but few could have anticipated such a relentless flow of goals.
Those doubts appeared after Haaland's blank against Liverpool in the Community Shield defeat in his first official outing for the club, while he also failed to score in City's 1-0 loss at Anfield two and a half months later.
6 - Erling Haaland has scored more hat-tricks in all competitions this season (6) than every other Premier League player combined (5).

6 - Erling Haaland
1 - Mohamed Salah
1 - Ivan Toney
1 - Son Heung-min
1 - Phil Foden
1 - Leandro Trossard

Gamebreaker. pic.twitter.com/zrgyztn42G

— OptaJoe (@OptaJoe) March 18, 2023
He did find the net against Liverpool in their EFL Cup fourth-round win in December though, and should he be fit to take the field against Jurgen Klopp's men on Saturday, Haaland will be hoping to get closer to a record that many thought would never be broken.
With 11 games remaining, Haaland is just seven short of claiming the record for the most goals in a single Premier League season, with Andrew Cole in 1993-94 for Newcastle United and Alan Shearer for Blackburn Rovers a year later both managing 34, albeit in campaigns that lasted 42 games.
Haaland is just four behind Mohamed Salah's record for a 38-game Premier League season, set in 2017-18.
So perhaps the question is not 'will he break the record?' but 'when?'
Haaland has missed just one league game so far, and the injury that caused him to pull out of Norway's Euro 2024 qualifiers did not sound particularly serious, so even if he does miss the visit of Liverpool, he still has plenty of time to find the necessary goals.
After all, he scored eight in his last two games before the international break, hitting five against RB Leipzig in the Champions League before another treble against Burnley in the FA Cup.
As they fight Arsenal for the league title, City's remaining fixtures see them face Liverpool (h), Southampton (a), Leicester City (h), Arsenal (h), Fulham (a), West Ham (h), Leeds United (h), Everton (a), Chelsea (h), Brentford (a) and Brighton and Hove Albion (a).
With the leaky defences of Liverpool, Saints and Leicester this season, it would not be a complete shock if he has already reached the magic number of 35 by the time he lines up against Arsenal for a crucial title clash.
In the corresponding fixtures against those 11 opponents, Haaland scored 10 goals (two against West Ham, Leeds and Brighton, one against Southampton, Fulham, Arsenal and Everton, zero against Liverpool, Chelsea and Brentford and he did not play at Leicester), so even repeating his efforts against them will be more than enough.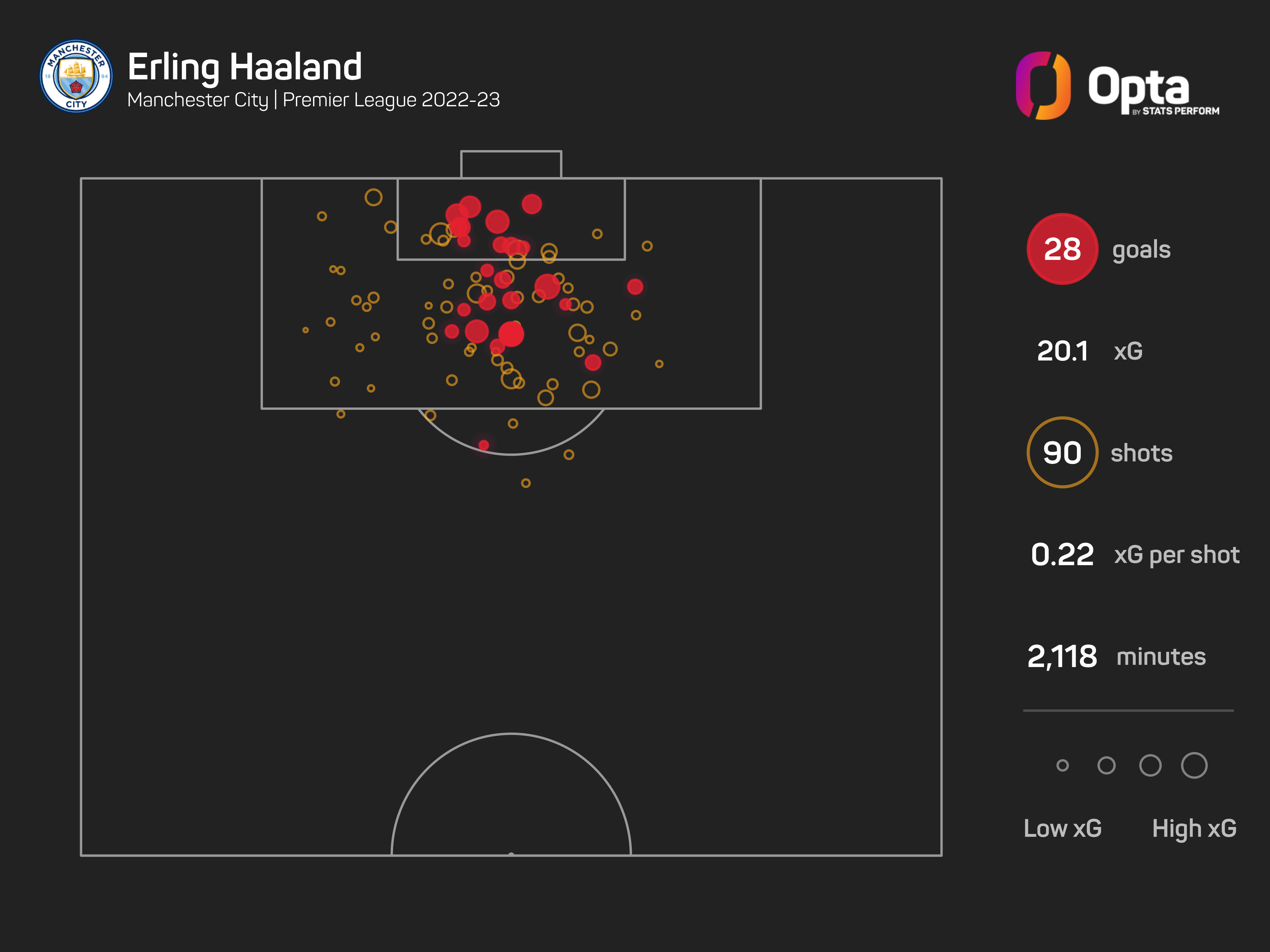 With 28 goals in 26 league games, Haaland is averaging 1.1 goals per game. That means if he can play in each of City's remaining games, he should reach 40 by the season's end.
That could be asking a bit too much from him, especially considering City also have a Champions League quarter-final against Bayern Munich coming up, and head coach Pep Guardiola has been known to rest his stars for league games once that competition gets to the latter stages.
Continuing the rate though – assuming he continues to play and the re-arranged game at Brighton is not scheduled beforehand – would see him break the record against Leeds on May 7, appropriately a former club of his father.
While reaching 40 might be beyond him – emphasis on "might" – finding the seven required to overtake Cole and Shearer actually seems borderline routine for a player who has produced the numbers he has.
In just the Premier League, Haaland has four hat-tricks, as many as the rest of the league combined (Phil Foden, Son Heung-min, Leandro Trossard and Ivan Toney all on one).
He also doesn't have to worry about opportunities being created for him by his immensely talented City team-mates, having had 43 Opta-defined "big chances" – a chance from which a player would be expected to score – 15 more than the player with the next most (Toney).
Haaland's shot conversion rate of 31.1 per cent is also well above any other player to score at least six goals in the Premier League this season, ahead of Brighton duo Kaoru Mitoma and Pascal Gross (both 26.1 per cent).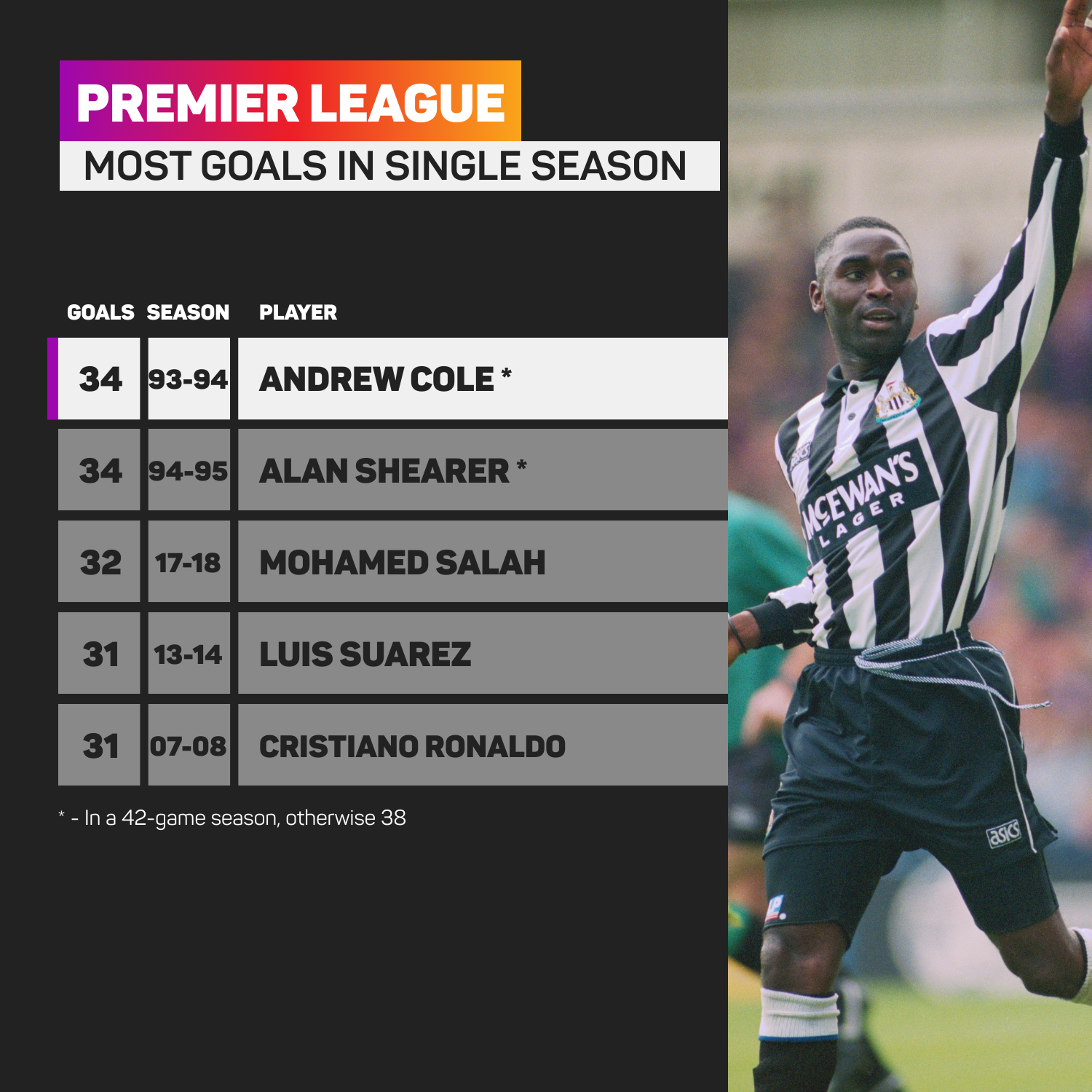 He averages a goal every 75.6 minutes, comfortably ahead of Newcastle's Alexander Isak (103.8), Tottenham's Harry Kane (119.3), Leeds' Rodrigo Moreno (123.1) and Liverpool's Roberto Firmino (129).
Former Newcastle and Manchester United striker Cole recently told Stats Perform it "doesn't bother" him if Haaland breaks his record.
"I've said to people it doesn't bother me in the slightest, I don't care. If someone deserved to break that record, go ahead and do it," he said.
"I don't care if he does it. I'll be the first one to congratulate him. Records are there to be broken."
It looks like a record that will indeed go soon, and it may be the first of many that the irrepressible striker shatters.