There was a handy demonstration of the depth of quality Italy have on their bench early in the first half at the Stadio Olimpico.
Wales defender Ethan Ampadu – in what would prove not to be his worst contribution to a 1-0 defeat – booted a pass out of play near the halfway line. As it bounced past Roberto Mancini, the Azzurri coach flicked an expensively leathered heel behind him to bring the ball under control.
The crowd roared, in the palm of Mancini's hand and the lap of a feelgood factor engendered by the standout team of the group stage. It was a reminder of the velvet touch that defined Mancini's playing days at Sampdoria and Lazio and there is plenty of that sort of thing to go around in his squad.
Nicolo Barella starred in the back-to-back 3-0 wins over Turkey and Switzerland, showing plenty of the form that led Mancini to label him a "complete player" and one of the potential stars of Euro 2020.
Then Manuel Locatelli enjoyed a night he can dine out on for the rest of his days, scoring a stylish brace against Switzerland to set Europe's big hitters on high alert for the Sassuolo midfielder.
Injury robbed Mancini of the lavishly gifted Lorenzo Pellegrini, but even if the Roma playmaker had been available, it would have been tricky to imagine a situation where Marco Verratti would have a fight on his hands to win a place in the starting XI for the knockout stages.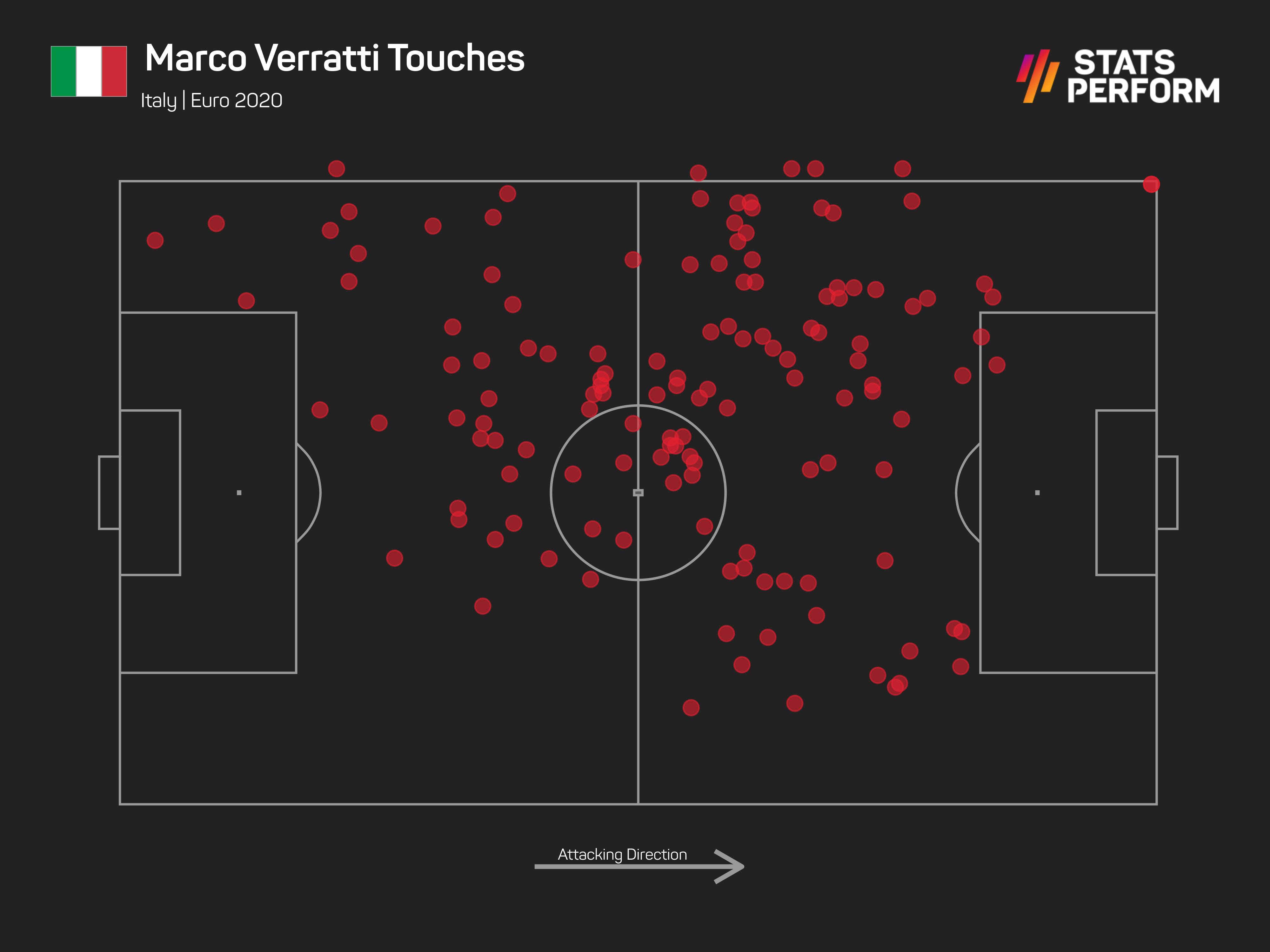 Fitness woes are a near-permanent feature of Verratti's career and he headed into the tournament with work to do. A knee complaint was his 10th setback of the 2020-21 season, including two positive tests for coronavirus.
In the Paris Saint-Germain star's absence, Barella and Locatelli made hay. A rotated line-up for Sunday's final Group A assignment gave Verratti a chance to shine and he made sure not to let it slip by.
A twinkled-toed shuffle around Aaron Ramsey drew a fitting "oohhhh" from the crowd, who had been content to boo any previous involvement from Wales' Juventus man.
Of course, when Verratti is at his best, opposition midfielders can feel as meaningfully involved as those in the stands.
1 - Marco Verratti led all players in the Italy vs Wales match for touches (136), passes completed (103), chances created (5) and tackles (4), as well as assisting the only goal of the game. Gifted. #EURO2020 pic.twitter.com/akWQSbejgM

— OptaJoe (@OptaJoe) June 20, 2021
There was some lovely tight control and a fizzed shot wide before the half hour, belying the tell-tale blue tape on his right knee. Joe Allen got close enough to Verratti to foul as half-time approached and he clipped a delightful free-kick to the near post, where Matteo Pessina found a finish to match for the decisive goal.
After Amapdu's red card for a stamping 55th-minute challenge on Federico Bernardeschi, Wales dug in manfully – Joe Rodon again superb at the heart of defence with a team-high six clearances and two interceptions – to avert the threat of Switzerland overhauling them in the second automatic qualifying spot on goal difference.
Gareth Bale even flashed a glorious chance to equalise narrowly over on the volley, after which Verratti slid in to win possession inside his own half and launch another Italy attack, one of his four successful tackles.
By full-time, he had created five chances, including the goal, and completed a fairly absurd 103 out of 110 passes (93.6 per cent) – 70 of those coming in the opposition half, while three of Verratti's four crosses were successful.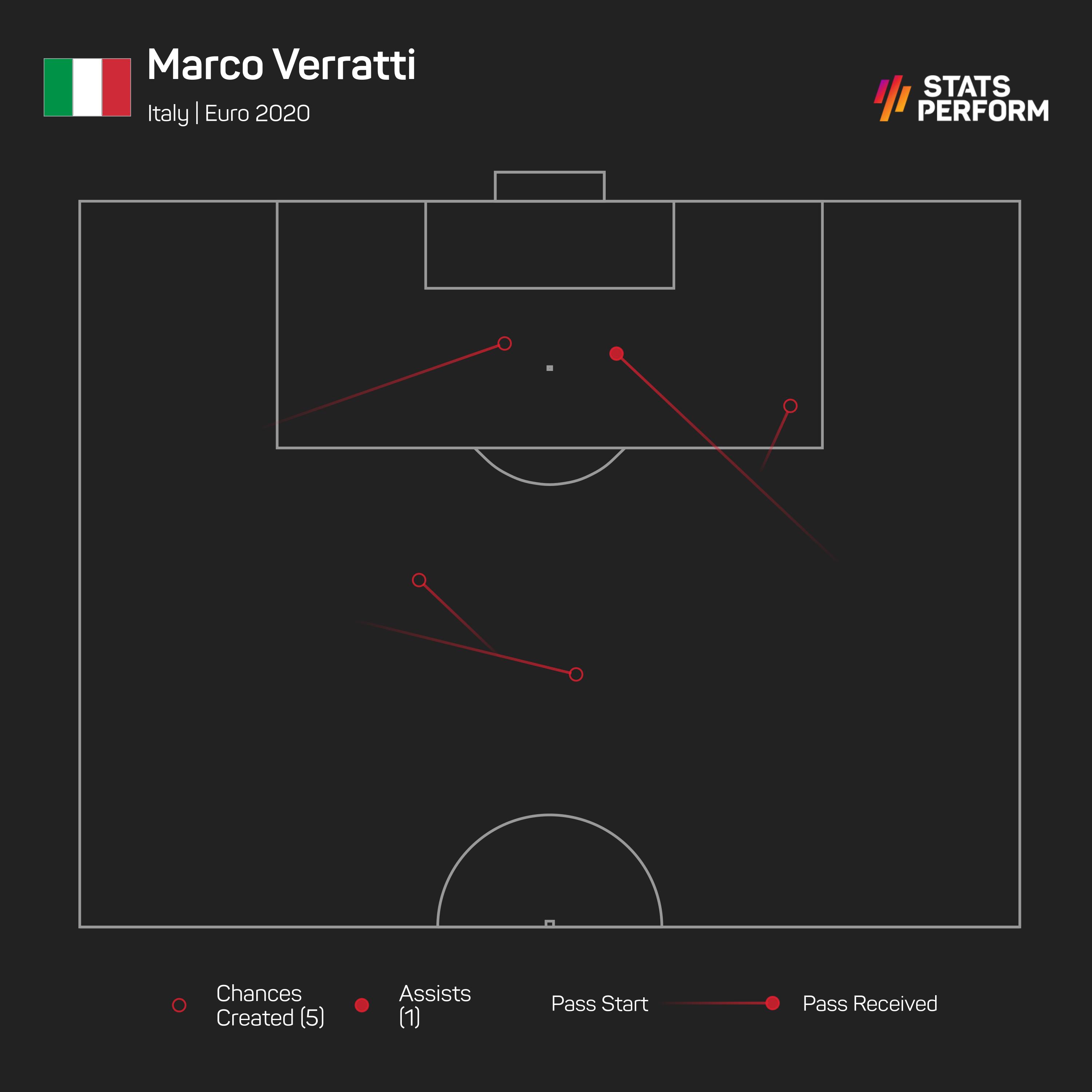 Reserve goalkeeper Salvatore Sirigu replacing Gianluigi Donnarumma for the final minutes was another demonstration of the close bond and team spirit fostered by Mancini in his Italy camp, as were the now familiar mass celebrations on the sidelines for Pessina's winner.
That atmosphere might mean a player of Verratti's ample talents can accept a return to the bench with good grace, after a performance that made sure of three wins out of three and gave Mancini a useful problem. For everyone else in the tournament, an Italy side on a record-equalling 30 game unbeaten run just look like a problem.