Urs Fischer is not the kind of coach to get overexcited easily. Indeed, there has been little serious talk of a title charge at Union Berlin, despite the fact they have occupied one of the top three spots for much of the season.
"It's even more surreal than it was before the game," Fischer said after Union won 2-1 at RB Leipzig on February 11. "Forty-two points in the 20th round, what should I say?"
A week before, Fischer had insisted 40 points was the only target after Union scraped an unconvincing home win over Mainz.
But that target has been surpassed, and next up it's Bayern Munich, and if Union win, then why shouldn't their fans, players and even coach start to think that something magical could be just around the corner?
The only frustration for Union ahead of Sunday's trip to Allianz Arena is that they do not head to the home of the 10-time reigning champions as league leaders.
Bayern's defeat at Borussia Monchengladbach last Saturday handed Union, hosting lowly Schalke a day later, a chance to move top with a win. Yet a frustrating 0-0 draw, the first time they had dropped points since before the World Cup, instead sees them sit third, with Borussia Dortmund having leapfrogged into second.
All three teams sit on 43 points and, with 13 rounds of games remaining, the title race is wide open.
Union returned to form in style on Thursday, beating Dutch giants Ajax 3-1 at home to seal their progression in the Europa League.
"It really doesn't get any better. I'm not only proud of the team, we can all be proud of ourselves," said Fischer afterwards.
With the help of Opta data and a German football expert, Stats Perform looks at what has been behind Union's remarkable campaign.
Look, they're at it again (and the fourth one is clearly because people can't spell it right). pic.twitter.com/qxCqABCBMH

— 1. FC Union Berlin (English) (@fcunion_en) February 24, 2023
More than one way to play
"Everybody is obsessed with pressing, pressing and pressing, leaving huge gaps for players to exploit," Lewis Ambrose, a football writer based in Berlin, told Stats Perform.
"Why I think [Union] are doing so well is they just don't buy into that. It's about protecting our box and the other team can have it as much as they want, they're just not allowed to do what they want with it."
The data suggests this is the case. Union head into Sunday's game with the fewest pressed sequences of any side in the Bundesliga.
On average, they allow their opponents 15.8 passes outside their own defensive third before a defensive action occurs. Opta defines this as passes per defensive action (PPDA).
PPDA is the number of opposition passes allowed outside the pressing team's own defensive third, divided by the number of defensive actions by the pressing team outside their own defensive third. Essentially, a lower number means a team presses more frequently, while a higher number suggests a more passive approach.
Union have won the ball back in the opposition's third on 76 occasions across 21 league games this season, the second-lowest total in the Bundesliga after Bayer Leverkusen (69). Heading into the weekend, they also ranked in the bottom six for high turnovers (151) and bottom four for shot-ending high turnovers (19), scoring just once from such situations.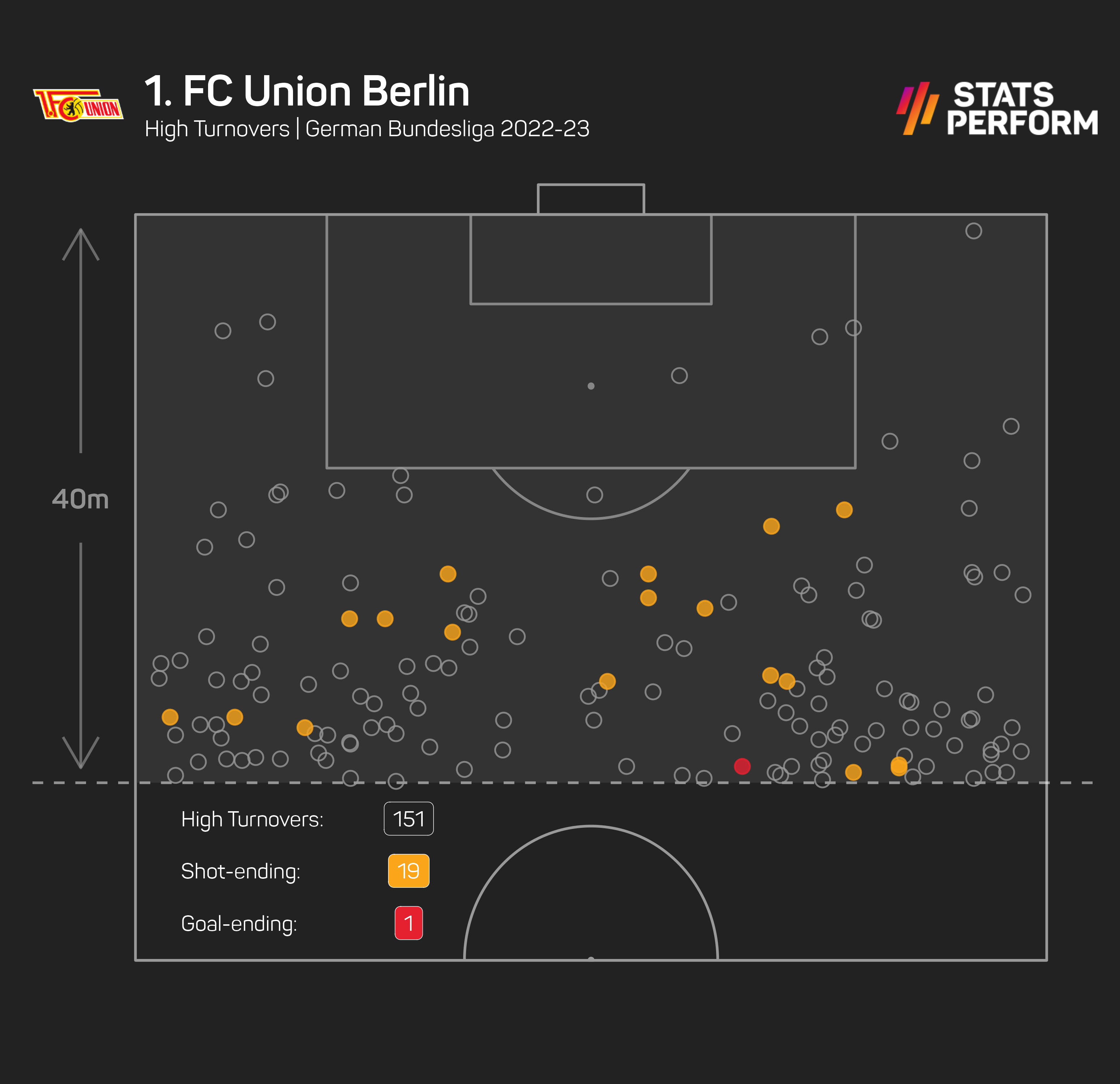 Bayern, on the other hand, lead the league with 138 instances of winning possession in the opposition defensive third, while they have the lowest PPDA (10.4). Their six goals from high turnovers is a joint-league high along with Eintracht Frankfurt, while Bayern are way clear in terms of high turnovers (237) and shot-ending high turnovers (42).
But Union are going about things their own way, and it's one of the secrets to their success.
Defence first
"Most Bundesliga teams are happy to play in a 'you score three, we'll score four' type of way, and it all ties into nipping the ball high up the pitch," Ambrose explained.
"Union have gone 'let's make sure nobody takes the ball in our final third, and they'll come onto us and leave gaps that way'.
"In a league where everybody plays one way, they play the complete opposite way."
Sunday's game is between the two sides to have outperformed their expected goals (xG) more than any other Bundesliga teams this season.
Bayern's league-high 45.03 xG has been improved on by 15.97, with the team scoring 61 goals, and this is by far the biggest margin in the competition. Union, meanwhile, have netted 11.15 goals more than they would have been expected to, based on the quality of opportunities they have created and shots they have taken (35 goals from 23.85 xG).
Going the other way, Union have conceded the second-fewest goals in the league (24), behind only Bayern (21). Yet their defence has been the best when it comes to expected goals against (xGA).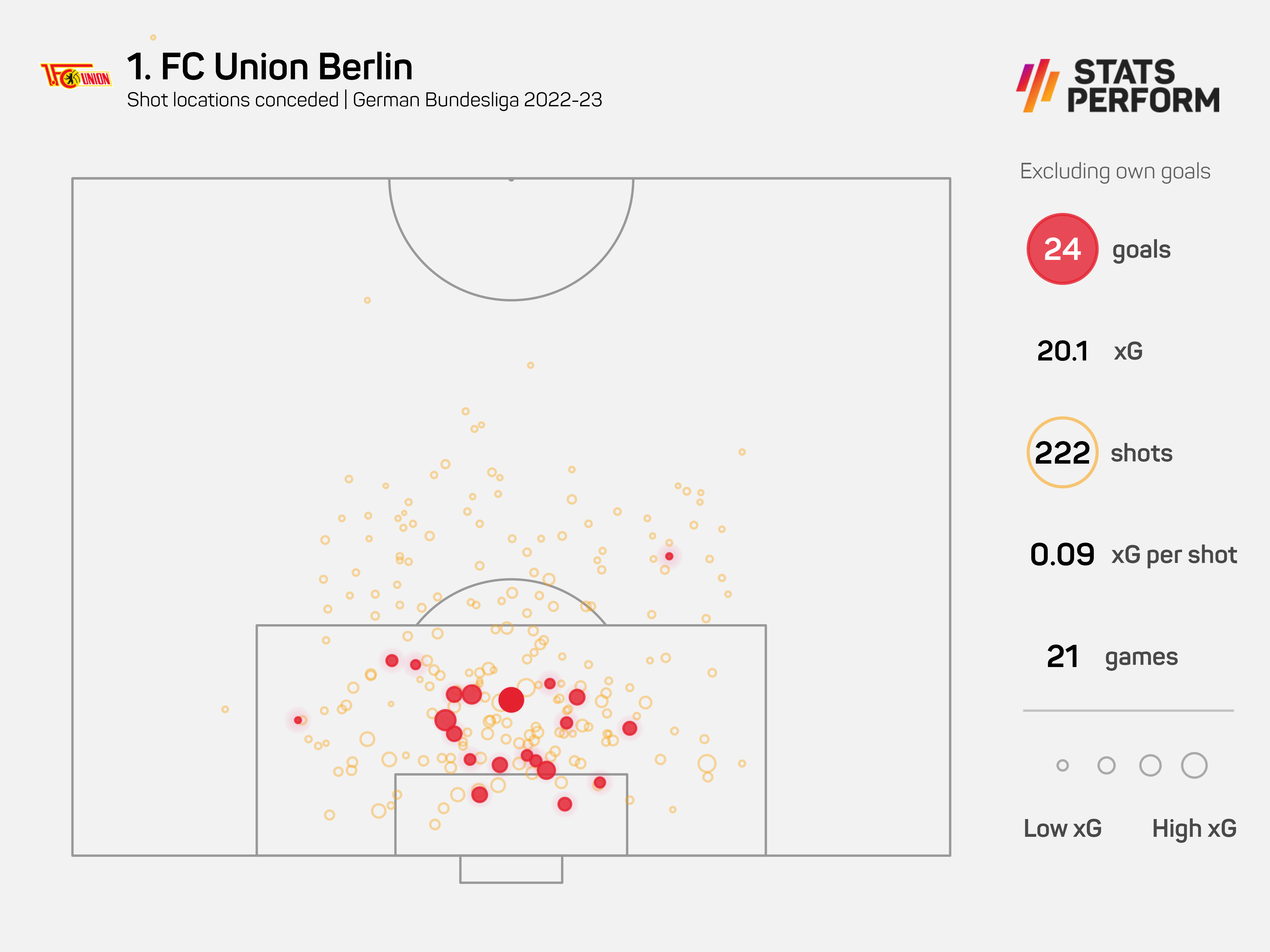 Union have actually conceded close to four goals more than would have been anticipated. This, combined with their 23.7 expected goals on target conceded (xGOT), which gives more credit to shots that end up in the corners compared with shots that go straight down the middle of the goal, shows they have been subject to some quality finishing from the opposition.
An uncompromising coach
Fischer was hardly the most celebrated of defenders during his playing career, which he spent entirely in his home country of Switzerland.
His coaching career, too, saw him lead FC Zurich, Thun and Basel before he made the move to Germany's second tier in 2018. The rest, as they say, is history.
Fischer got Union promoted in his first season in charge and after securing 11th in the 2019-20 season, took them up to seventh the following year and a remarkable fifth last term.
He has overseen 123 Bundesliga matches, winning 53 (43.1), losing 38 and drawing the other 32. As you'd expect, his team do not score many (176 in 123 Bundesliga matches, an average of 1.4 per game), but equally they keep things tight, conceding 169. Fischer has averaged 1.55 points per game in the top flight.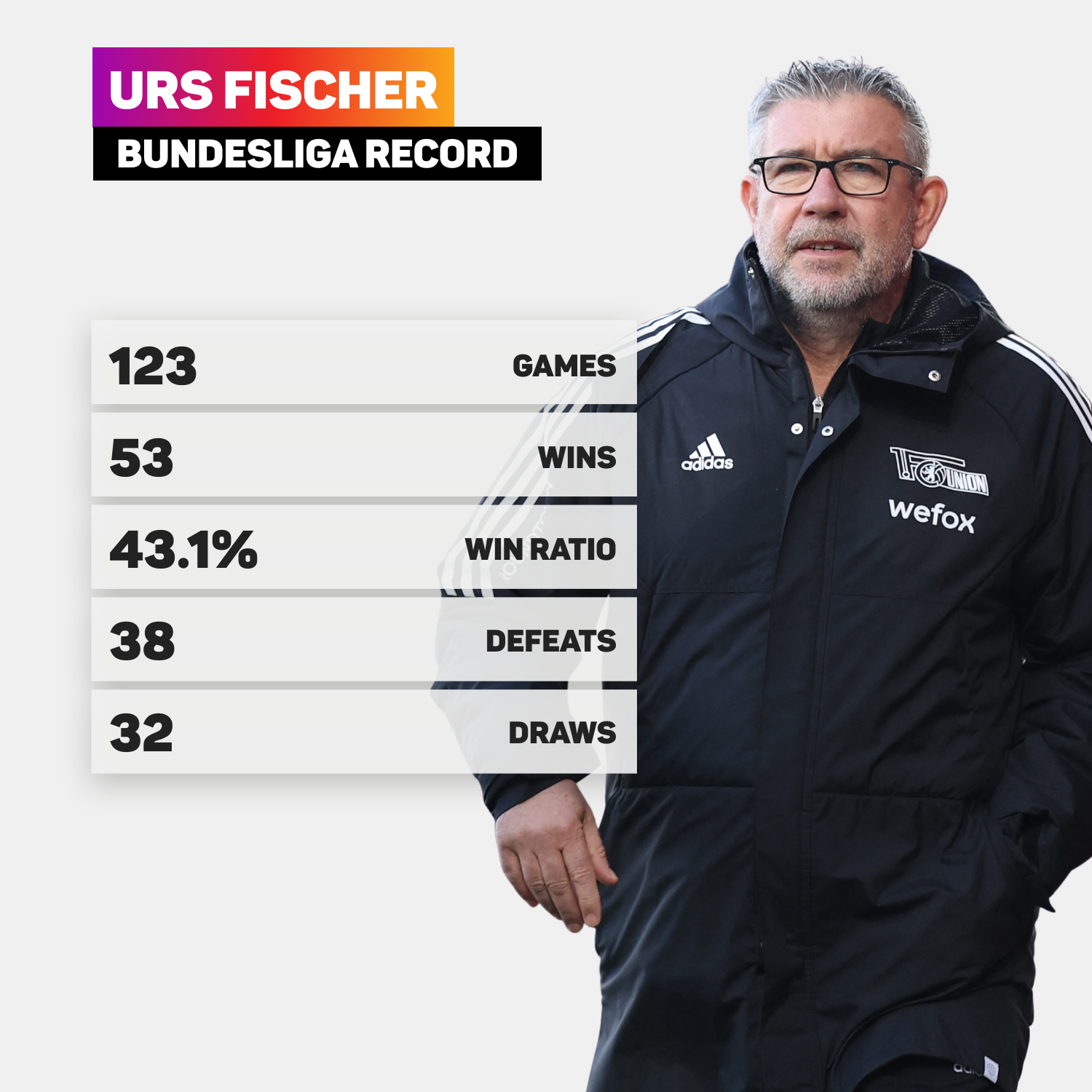 Ambrose believes Union are the perfect fit for Fischer, saying: "I can't imagine Fischer taking one of the top jobs in Germany and doing well.
"The only way it's ever going to work is if every player buys in, leaves their ego at the door, parks that to one side and is willing to sacrifice having fun on the pitch. I'm sure they're having the time of their lives, but if they're willing to sacrifice any flair, ego, they have to fight for the team and every loose ball."
The noisy neighbours
Hertha Berlin have for years been the prominent club in Germany's capital, but as they struggle at the wrong end of the table after scraping to survival last season, it's Union who are taking the bragging rights.
Since Union's promotion in 2019, they have won six of the nine derby meetings with their city rivals, who have taken just two victories. Union have won the last four by an aggregate score of 12-4.
"They're the model club," Ambrose says. "They don't spend much money, the fans get involved, the results improve, whereas Hertha have pumped money in chasing magic results and fallen deeper into crisis."
Going all the way...
Bayern are unbeaten against Union Berlin in the Bundesliga (W4, D3) – they have only faced Rot-Weiss Oberhausen and SV Darmstadt (both eight times) more often in the top flight without ever losing. Indeed, Bayern are the only current top-flight side that Union have never managed to beat.
Yet a 1-1 draw in the reverse fixture in August showed Union's mettle, and what better time to break their duck than now? After all, they have more league wins than Julian Nagelsmann's team this season (13 to 12) and have won each of their last three Bundesliga away games, equalling a club record.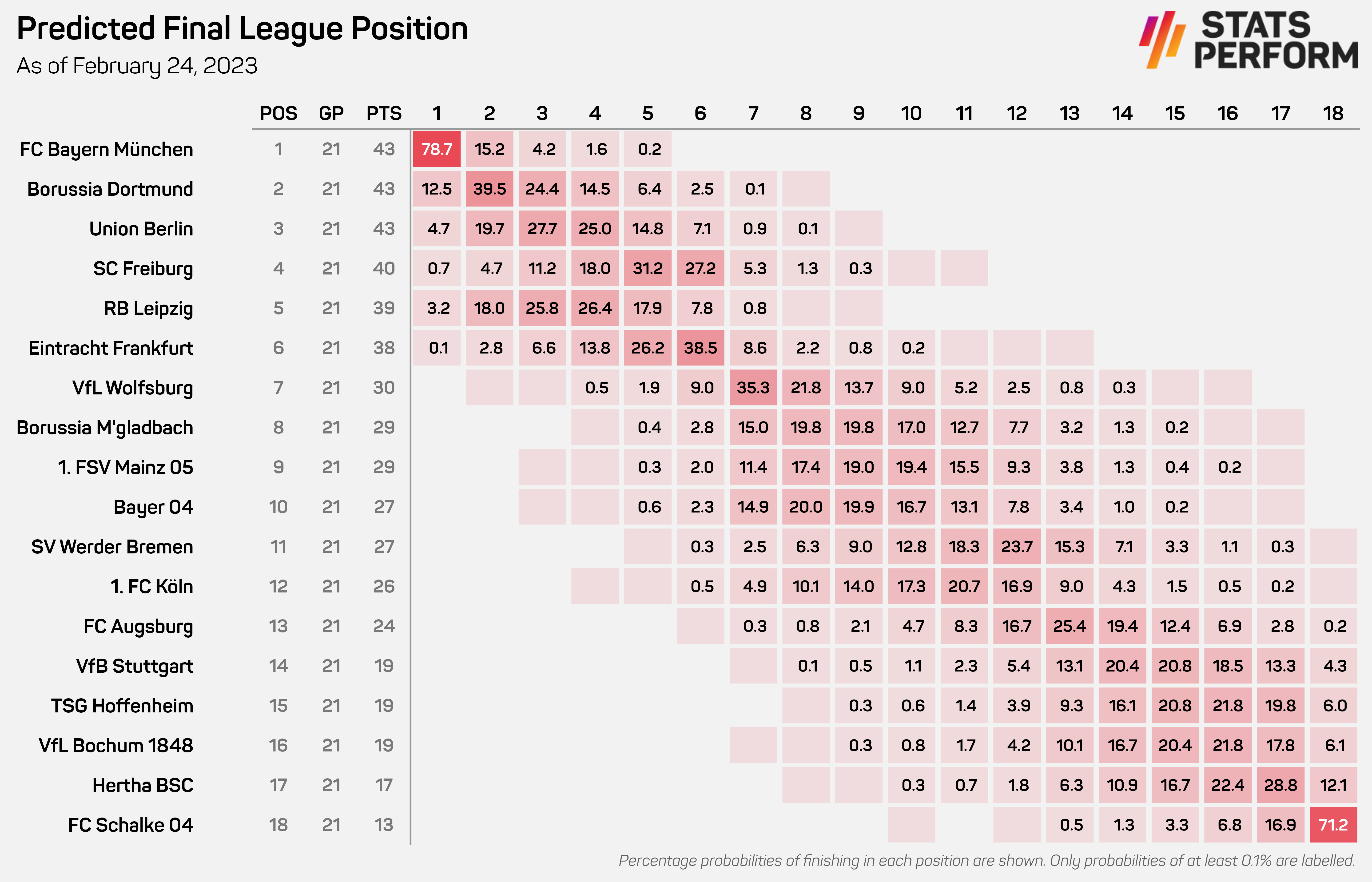 Ambrose thinks Union will ultimately fall short due to results such as last week's draw to Schalke, but he sees no reason why the underdogs shouldn't believe they can pull off a sporting miracle.
"If they lose on Sunday, or finish six, seven points short, nobody is going to say they've failed," he said.
"I think they think they can [win the league] and they'll never admit it. They won't buy into the idea of a race, they're just riding the wave and enjoy it week by week.
"They'll back themselves to win any game at home because the atmosphere is brilliant and teams hate going there, and they'll probably back themselves to beat anyone away as well.
"There's no reason for them not to believe."