For many athletes, the opportunity to compete at an Olympic Games is the realisation of a childhood dream.
But for Team GB middle-distance runner Josh Kerr that alone is not enough to assuage a burning desire for success.
"I've been building up for this since I was nine years old," Kerr told Stats Perform ahead of making his Games debut in the 1,500 metres at Tokyo 2020.
"It wasn't a dream aged nine of competing in an Olympic final, it was of winning and being on the top step of the podium.
"I've had a picture in my mind a lot of times as to how an Olympic final might pan out because it is something I've wanted for so long."
That thirst to be the best led Kerr to swap his Edinburgh roots for the University of New Mexico, where he won three NCAA Championships and set the NCAA 1,500m record.
Upon turning professional the accolades continued to rack up as he took possession of the Scottish Indoor 1,500m record and the Under-23 British 1,500m benchmark.
The Brooks Beast club runner now splits his time between training and living in America and competing on the European circuit.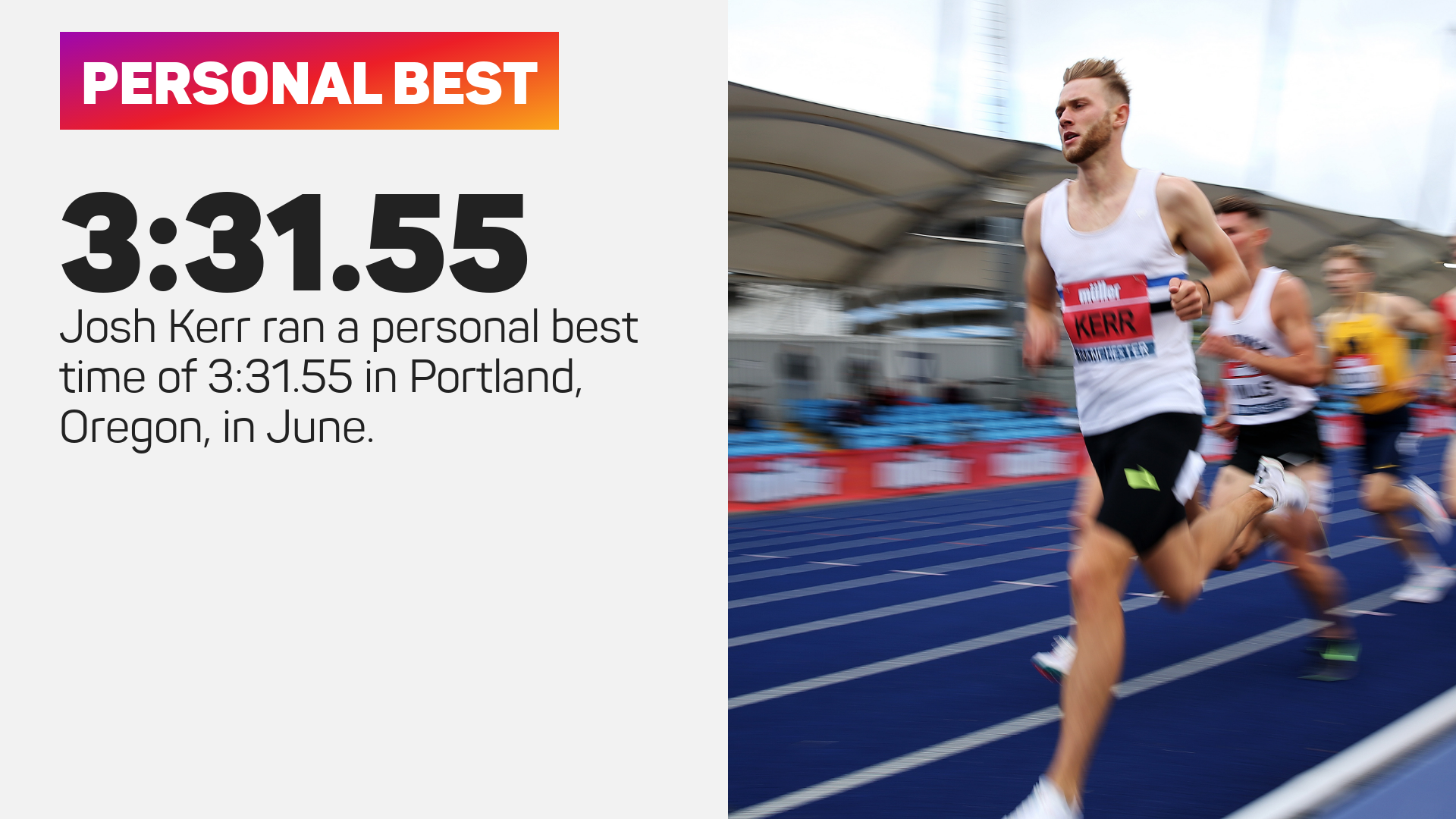 His hunger for winning stems from a competitive family environment growing up. His father was a professional rugby player, while his brother Jake is a one-cap Scotland international who joined Bristol Bears from Leicester Tigers in April.
A relaxed Kerr said: "I want to win, I've always wanted to win. My Dad was a professional rugby player and my brother is a professional rugby player, we have that competitive nature of wanting to win.
"It used to be the same when I was tackling my brother playing rugby on the beach, you just have that in you. It's your mindset."
Kerr opted to remain rooted in the United States upon completing college, a decision he says was based on several factors.
"If you build a brand and a profile here, the sponsorship is more lucrative than I'd get in the UK," he said.
"I was at Uni here for four years, I've built a life out here and my girlfriend is here.
"Of course I miss my family, but they come and visit me and I try to speak to them every day. I love living here and having everything in place that I need."
Kerr will land in Tokyo on Tuesday, a week before the men's 1,500m heats begin.
The 23-year-old is heading to Japan in good shape, clocking up three wins in June – including pipping Edinburgh AC club-mate Jake Wightman, who will also race in Tokyo, at the British Championships in Manchester to punch his Olympics ticket.
That followed running a 3:31.55, Kerr's personal best performance, in Portland. That time was the fastest 1,500m outdoor time clocked in the United States – a record formerly held by the great Seb Coe.
But for Kerr the attention is on peaking on the biggest stage of all in Tokyo.
"My main focus is on medals, not fast times or appearance fees. I know I need to be looking to run sub-3:30 in the Olympics final on August 7, that is what is in my mind," said Kerr, who did not make it out of the heats when representing Great Britain in the 2017 World Championships but placed sixth when making the final in Doha two years later.
"I live for major championships, if I don't make it onto a team I'm not happy. It didn't go well for me in the 2017 World Championships, but you have to learn from that and improve. I've done that, you look back at what didn't go well and work to put it right, to be better.
"I feel in phenomenal shape, I'm ready to throw everything into this and then after August 7 I can't imagine I'll race again this season."
These Games are taking place a year later than planned with the coronavirus pandemic having forced a postponement 12 months ago.
While for some athletes the delay was a cause for frustration, for Kerr it has proved to be a "blessing in disguise".
He explained: "I finished the season late in 2019 so I didn't have a lot of time off and only a short holiday.
"So, coming into an Olympic year you'd probably have wanted more time off and I picked up a bit of an injury early last year.
"When I heard the Olympics were off it was obviously like, damn that is a shame, but actually a bit of a blessing in disguise. I was determined to be ready for 2021 and have thrown everything at it.
"I've had to sacrifice family time due to the pandemic and that has been tough not being able to see them, so I have just focused on putting in the work and being absolutely ready to give it my all in Tokyo."
The Olympics are taking place in the absence of spectators at venues in Tokyo, which remains under a state of emergency due to COVID-19 infection rates.
Kerr is not fazed by that prospect, adding: "There were many races behind closed doors during the pandemic.
"It's obviously not the same as having people there to watch but at least it will be nothing new when it compares to racing in Tokyo."