Mohamed Salah has dreamed of breaking Liverpool's Premier League scoring record since his breakthrough campaign at Anfield.
The Egypt international needs just two strikes to surpass Robbie Fowler's 128-goal benchmark for Liverpool ahead of Sunday's clash at home to fierce rivals Manchester United.
Salah has failed to hit his own lofty standards this campaign, finding the net nine times in 24 league outings for Jurgen Klopp's side.
The former Chelsea and Roma forward hopes he will not have long to wait to celebrate making history for the Reds.
When asked by Sky Sports about beating Fowler's mark, the 30-year-old said: "This record especially, I think for me, it is really special.
"I think when I came, after my first season, I had 32 goals, and I thought I want to be the top scorer for Liverpool in the Premier League.
"I had that in my mind that I need to chase it. That was one of my motivations. Every day I [would] just wake up and I'd want to break that record.
"For me, it is going to be special. To be number one will be special for my career here in Liverpool. It's something I've been really chasing."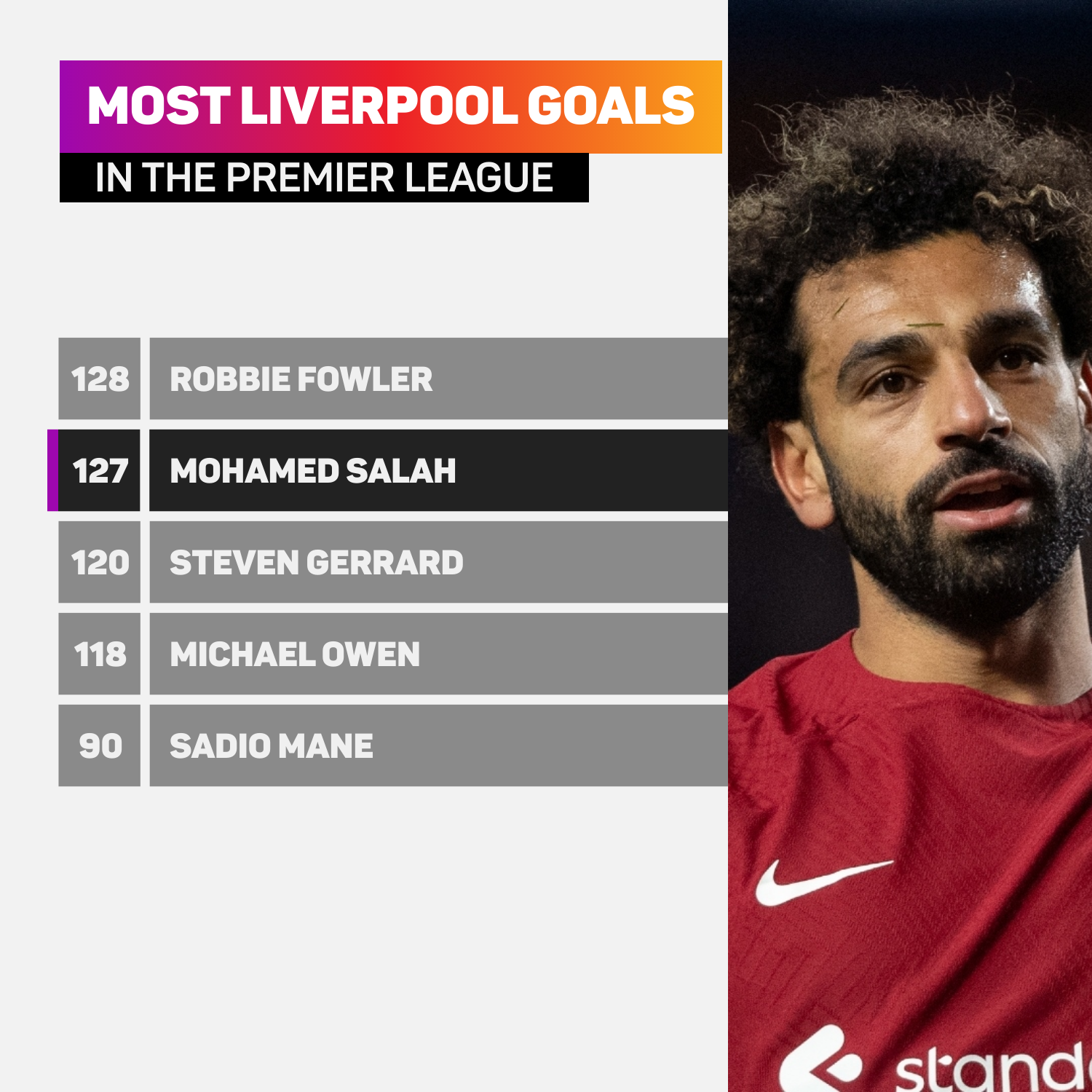 Erik ten Hag's United present the perfect opportunity for Salah to enjoy a landmark moment, having netted 10 times in all competitions against the Red Devils – no Liverpool player has scored more.
Salah will look to add to his tally of nine goals in his past five outings against United as he strives to surpass Fowler's haul.
"I think I started to look more at that number maybe when I scored 15, 20," he continued. "But then I was thinking that it is still so far away – more than 100 goals.
"I wasn't sure how many seasons I would be here, because it was my first season and after how many seasons [will it take] to break that record.
"But if you break it after six seasons then that is something great and something that I will be very proud of."
+ goals in every season as a Red...

@MoSalah pic.twitter.com/dgTHnvtHJF

— Liverpool FC (@LFC) March 4, 2023
Salah already boasts the record as the top-scoring African in the Premier League, while he grabbed Liverpool's European scoring record with a goal in the recent 5-2 Champions League defeat to Real Madrid.
While he suggested Fowler's record may mark his greatest Liverpool achievement, Salah insisted personal milestones are no replacement for team success.
"I've had good ones at Liverpool," he said of his record-breaking exploits, before adding: "To be fair, as long as we achieve something as a team that is the most important thing for me.
"I don't want to be in a smaller team and be the only one breaking records. For me, I want to win trophies, I want the players to be happy, and I'm in a top club.
"To break that record in a club like Liverpool is something [that is going to be] huge."