Lisandro Martinez can recover from a tricky start to life at Manchester United, former Red Devils striker Louis Saha has told Stats Perform.
Argentina international Martinez, a £56.7million signing from Ajax (€66.8m), was hauled off at half-time with United 4-0 down to Brentford last weekend.
That came on the back of an equally disappointing display in the 2-1 loss to Brighton and Hove Albion on the opening weekend.
Speaking after that match, Brighton midfielder Adam Lallana revealed the Seagulls deliberately targeted new signing Martinez with aerial balls into the box.
Much has been made of Martinez's size, which is officially given as 5' 7" by the Premier League, and Saha accepts that is something the defender will have to deal with.
"Size does matter," Saha said. "You know it changes perception of you. That will pose challenges from time to time, but he does have other qualities.
"I remember Gabriel Heinze wasn't the biggest but he managed to get to every header and was a threat in both boxes, so it's more about how you adapt.
"The Eredivisie is different in style. Yes, teams like to play on the floor in this league [the Premier League], but there is a bit more aerial competition when you play direct teams.
"Brentford and Brighton both identified there was maybe a possibility to do something in that area. He was taken off [at Brentford] but that could have been any defender.
"There's more to it than thinking 'oh yes, if he has been five centimetres bigger he would have won the challenge'. That's unfair, but it is something he'll have to address quickly. 
"He needs to learn to anticipate the situation and communicate better. All this may change in a few weeks, though of course it's a big challenge and something he must face."
United have started their campaign with back-to-back losses for the first time since 1992-93, which was also the most recent occasion they found themselves bottom of the table.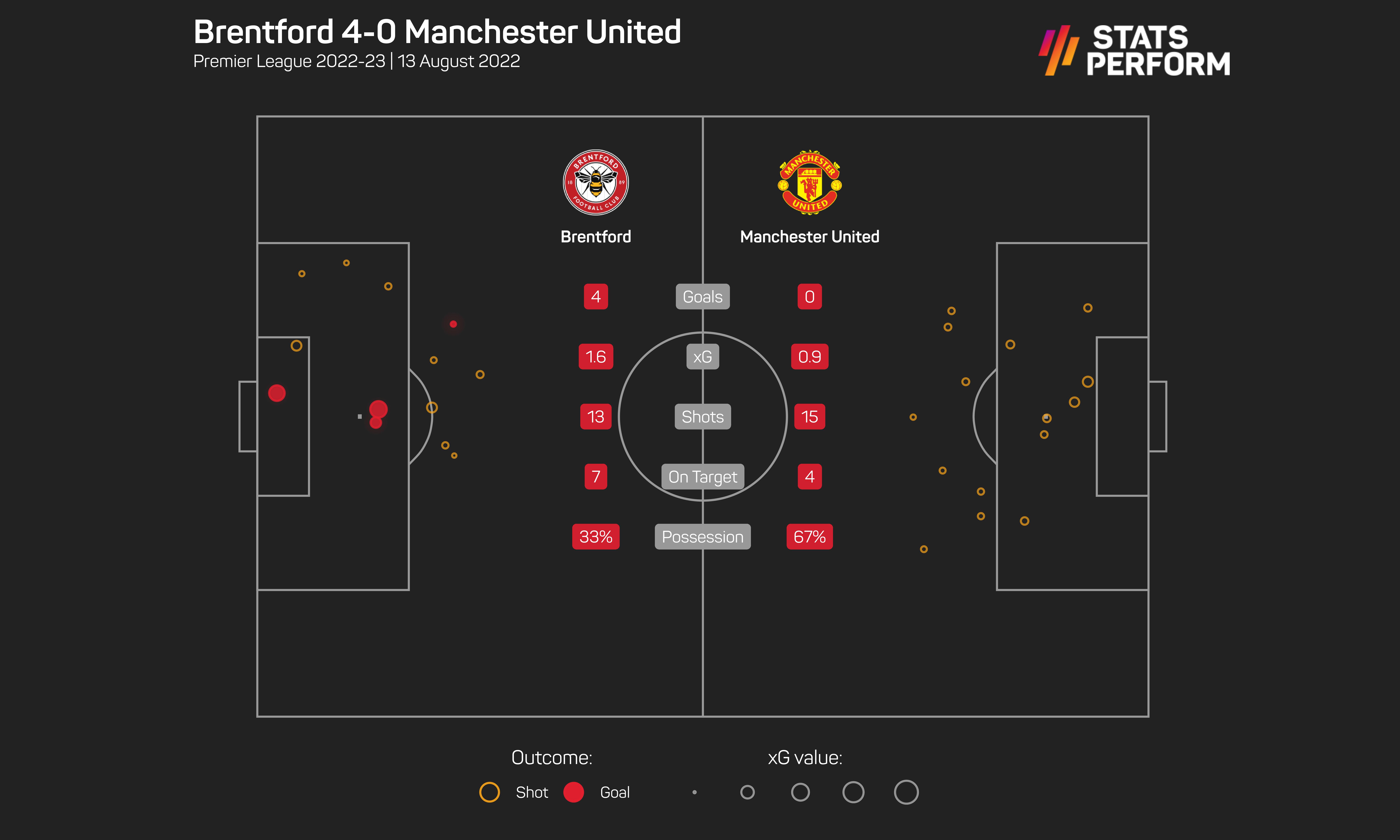 Erik ten Hag is the first United manager since John Chapman in 1921 to lose his first two matches, meanwhile, in what has been a chastening start for the Dutchman.
Saha, who won four trophies in five seasons at Old Trafford, believes it is down to the players to turn things around heading into Monday's huge showdown with Liverpool.
"It's a shocking start," Saha said. "We were all kind of confident that things were looking better because of the pre-season games. But that has completely changed. 
"The first half against Brentford it was just shocking. You can blame individuals, but the overall performances of the side is really bad and they need to address it. 
"It's not only down to attitude, it's also the approach. It's more about getting the right tools in place for you to approach the game correctly. 
"Technically, you have a manager who is going to determine the tactics and the positions, but the aggression you put into the games is down to the players. 
"This is where we tend to see that they have the ability to stay in their comfort zone. You have to consider that every 50-50 is an opportunity to establish yourself. 
"You are not at a club that should be accepting less running, less sprinting, less winning balls. It's just about winning."