Marcus Rashford's remarkable resurgence on the pitch is completely unrelated to the Manchester United departure of Cristiano Ronaldo, according to club great Andrew Cole.
Rashford scored United's second in Sunday's 2-0 EFL Cup final win over Newcastle United, as the Red Devils ended a trophy drought that stretched back almost six years.
That was his 25th goal of the season across all competitions, already three more than his previous best return for a full campaign, and United still have at least 17 matches to play in 2022-23.
Rashford has looked more confident and threatening all season, but his form has hit new heights since the World Cup – in that time, his 17 goals (all competitions) is five more than any other player from the top five leagues, and he is one of only two (Victor Osimhen, 11) to reach double figures for non-penalty (np) goals (16).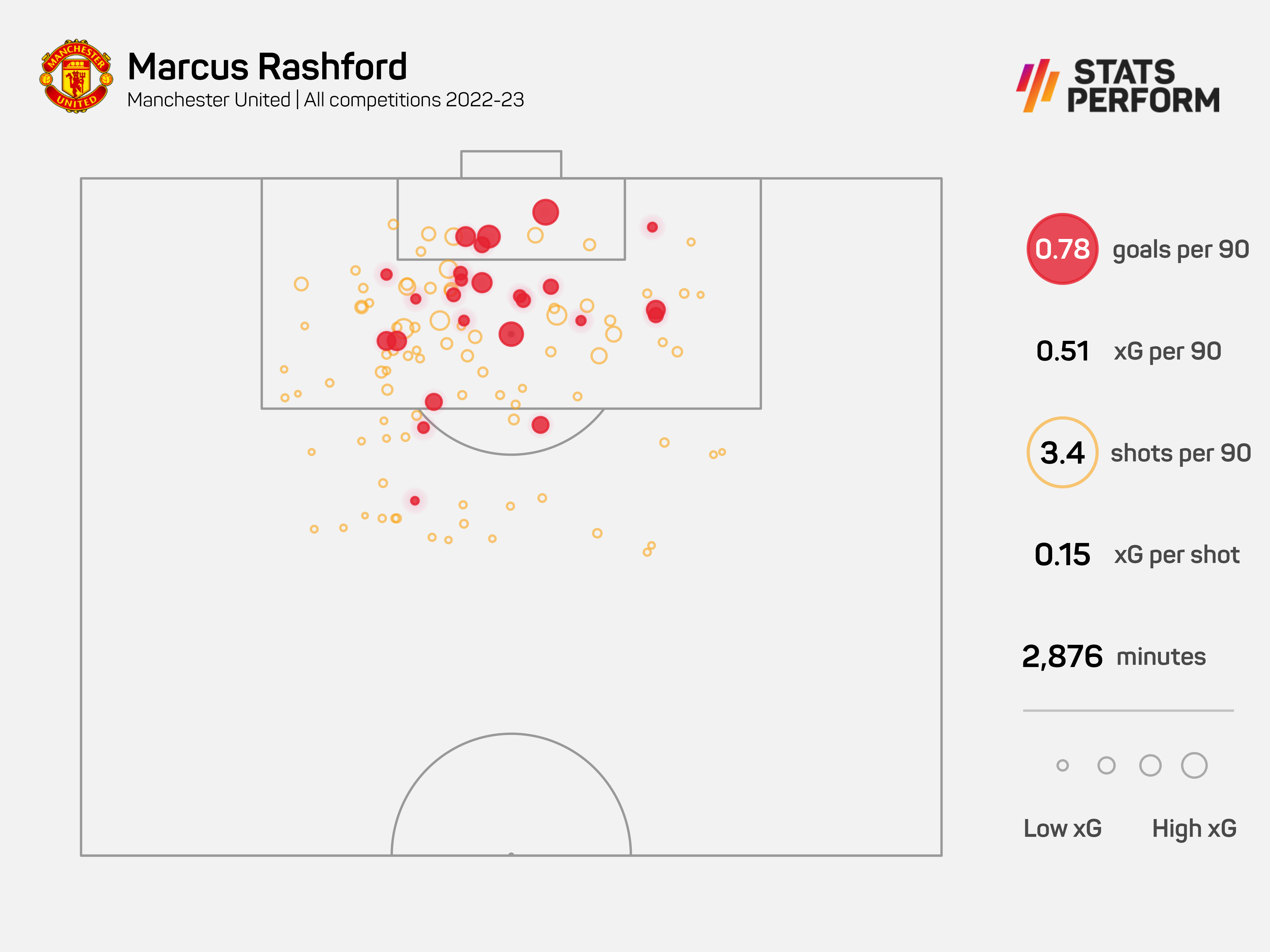 Those come from a np-xG (expected goals) of just 8.0, meaning he is scoring twice as many goals as the average player would expect given the quality of his chances.
Rashford's positive 8.0 np-xG differential since the World Cup considerably exceeds that of every other player from the top five leagues, with James Ward Prowse second on 4.3 (six np goals, 1.7 np-xG).
This is a far cry from Rashford's form last season when his goals frequency of 0.27 per 90 minutes was the worst of his United career – the 0.78 goals every 90 minutes this term is comfortably his best such return.
Given the biggest upturn in Rashford's form has come since the World Cup, some have speculated whether Ronaldo's exit – which was confirmed during Qatar 2022 – has had something to do with it.
But Cole, a treble winner with United in 1999, refuses to accept that, convinced there is a simpler explanation.
He told Stats Perform: "I'm an individual. I'm not going to get involved in the Ronaldo thing because he left. Ronaldo wasn't there 18 months ago when Marcus Rashford was struggling.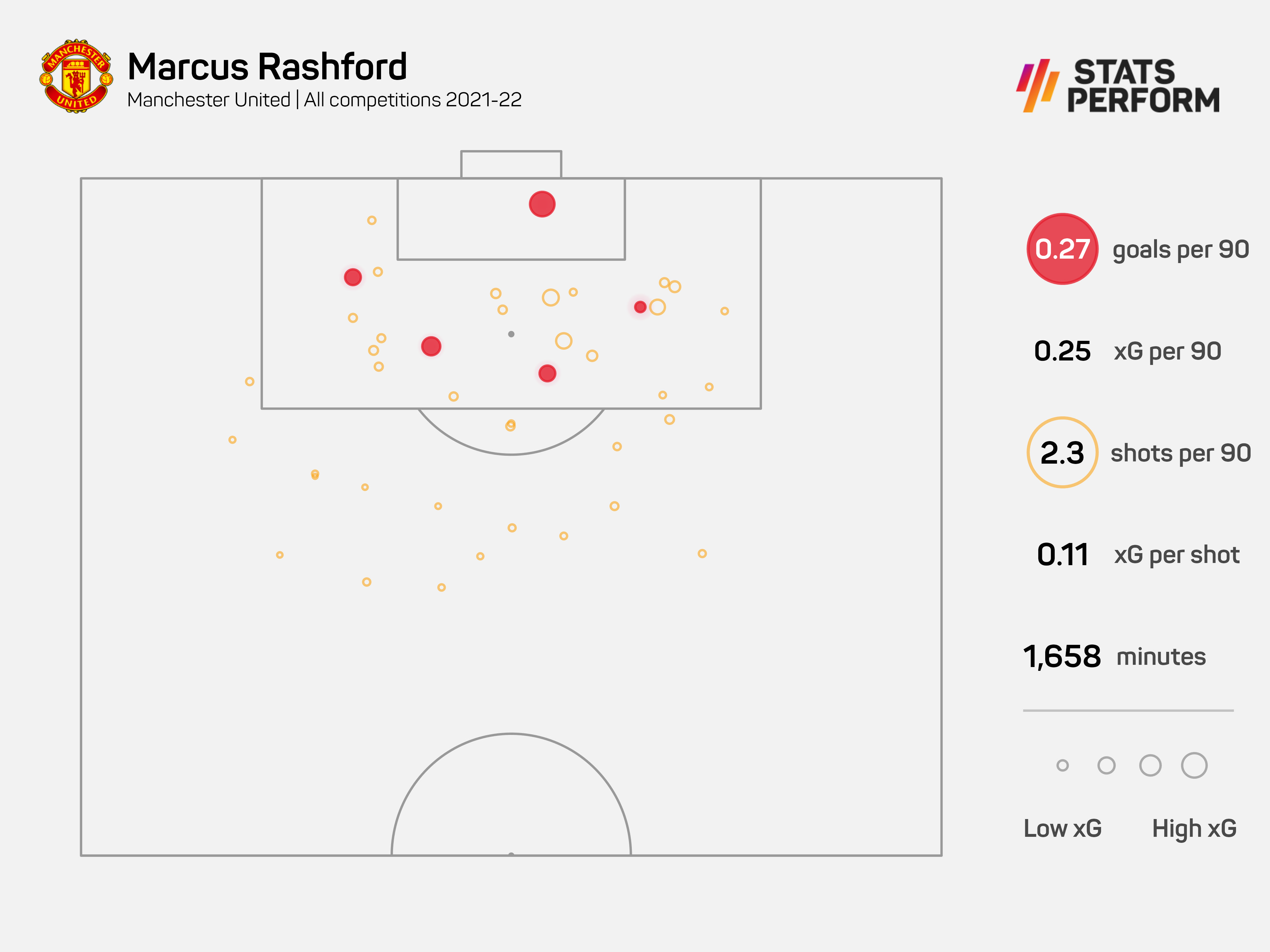 "So, because Ronaldo's left now, all of a sudden [there's a perception] it's because he's left. It doesn't make sense for me. When Ronaldo wasn't at the club, Marcus found himself in a bit of form that he couldn't get himself out of, so I'm not having that.
"The [Erik] Ten Hag effect, I think. No doubt, the manager will be believing in him, telling him how good he is. But ultimately, as individuals, he could have taken his eye off the ball a little bit with what he was doing off the field.
"It could have been a little bit of that as well, but to see him in this really fit form now, the way he's playing, I think it's testament to him. For me, personally, it doesn't really matter what anyone else does with you.
"Monday to Friday, once you cross the white line, it's you as an individual, and also Monday to Friday, someone's telling you how great you are.
"If you don't believe how great you are, once you cross the white line, it makes no difference what anyone else tells you because you've got to tell yourself that.
"I'm looking at him now, he seems to be telling himself, 'I'm at that level that I want to be at'. That's why he's playing so well."
But with spells of such form from one individual come questions of dependency, or over reliance.
Since the World Cup, no team across the top five leagues has scored more than United (43), while their average of 2.3 every game sees them rank sixth, which again is commendable given the top five have all played at least six games less than Ten Hag's side.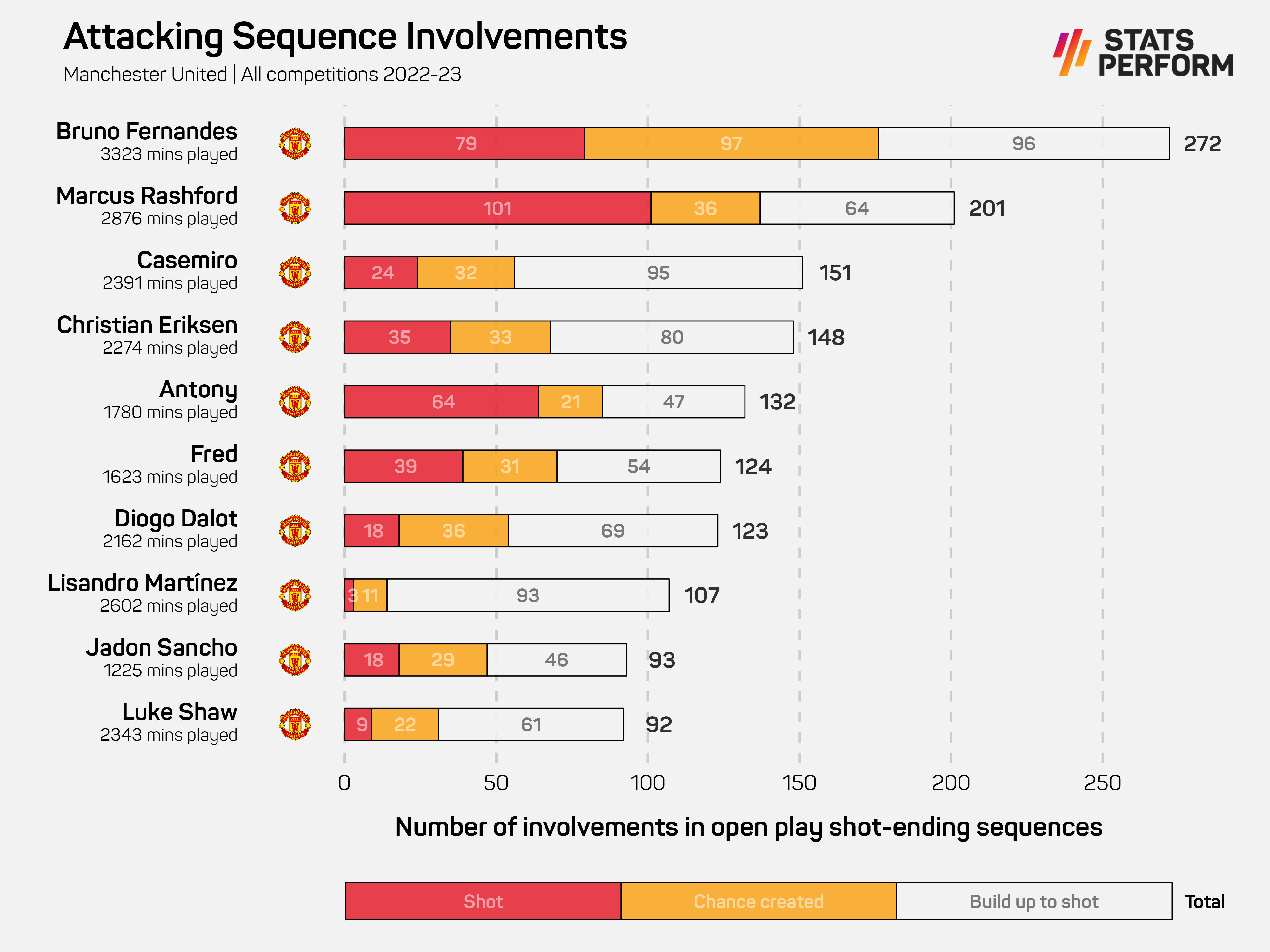 However, no other United player has scored more than seven goals (all competitions) this season. While Ten Hag has received due praise for inspiring a huge improvement around the club, it is difficult to imagine them being on their current trajectory without Rashford's form.
And Rashford's numbers since the World Cup represent something of an anomaly – relying on him to score double his xG for the rest of the season would be unfair and unlikely.
This concern is not lost on Cole, who during the 1998-99 treble-winning season was one of five United players to score at least 10 goals.
"Do we need that depth? Of course we do, if we look at all the top teams in Europe, they have that depth," he continued.
"And yeah, I would say if [Rashford] did pick up an injury, which naturally I don't want, you're going to turn around say, 'where are the goals going to come from?'
"Because they're not really being spread around the team. Marcus has got a majority of them. Yeah, you might get sporadic [contributions]: Antony might get one in four games or whatever; Casemiro scored [on Sunday]; [Jadon] Sancho is getting himself back and is getting a goal every now and then.
"But if you're going to be challenging for major honours, you've got to have goals coming from all areas, and at this moment time Manchester United are relying on Marcus because he's in that form.
"No doubt they'll look to address that problem [a lack of goals elsewhere] in the summer."